May 12th, 2008
El Salvador: bekannt fuer Waffen, Ex-Guerrillas, Surfstraende und "Pupusas "(knusprig angebratene Maisfladen mit cremiger Fuellung und und somit unsere kulinarische Neuentdeckung)
El Salvador: known for guns, ex-guerrillas, surf spots and "Pupusas" (crispy pan-fried corn tortillas with a soft filling and therefore our culinary new discovery)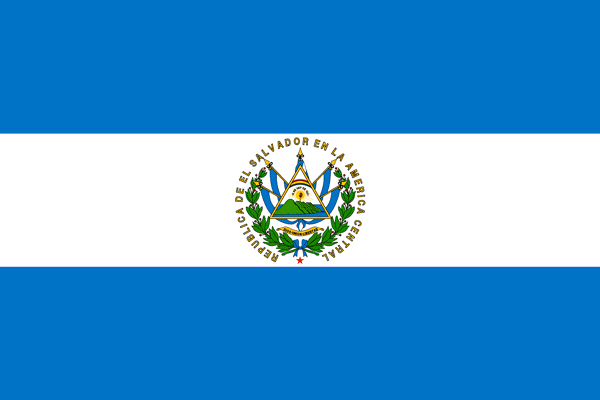 Nach unserem kurzen Halt in Monterrico/Guatemala, geht es weiter nach El Salvador. Das recht kleine Land hat, obwohl sogar noch kleiner als Belize, 20 mal soviele Einwohner, naemlich knappe 7 Millionen. Geplantes Ziel ist El Tunco, ein kleines verschlafenes Nest und Surferparadies.
Weil wir fuer unsere Rucksaecke nicht zwei extra Plaetze bezahlen wollen ($2,50), beissen wir in den sauren Apfel und quetschen sie fuer die naechsten drei Stunden auf unseren Schoss.
After our short stay in Monterrico/Guatemala we head for El salvador. Even smaller than Belize it has 20 times its population which is almost 7 million residents. Our next destination is El Tunco a pretty small town and a surfer's paradise.
Since we're not willing to spend $2,50 on two extra seats for our luggage we have to swallow the bitter pill and squeeze them on our lap for the next three hours.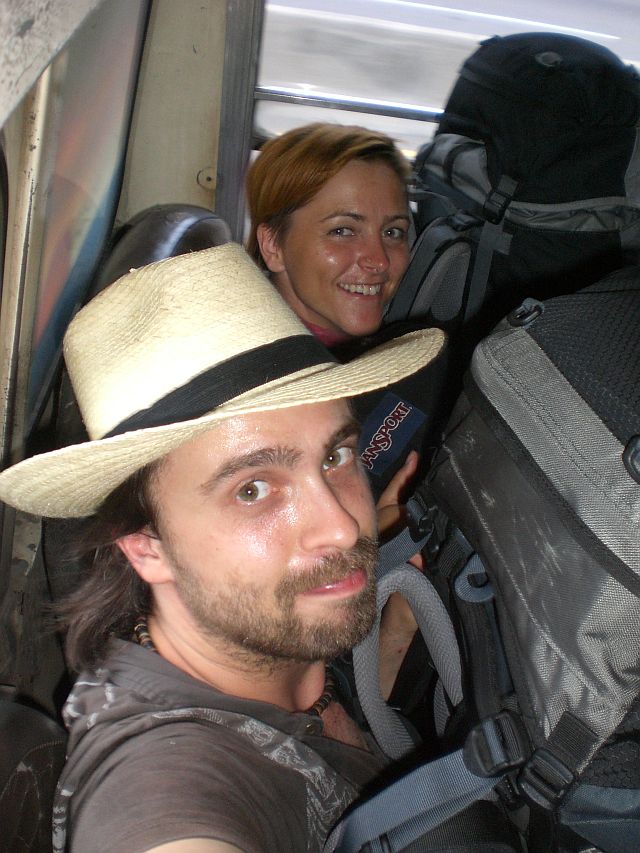 Es bleibt zu bemerken, dass die Strassen hier zur Abwechslung gut oder ueberhaupt asphaltiert sind. Daumen hoch!. Wir sind von El Salvador ziemlich ueberrascht, es sieht ein bisschen so aus wie in Amerika: Einkaufszentren, jede Menge Reihenhaeuschen und Gruenstreifen am Strassenrand…
The properly paved roads they do have here just have to be mentioned at this point. Bumps are rare for a change , thumbs up! We're pretty amazed by El Salvador, everything looks a little bit like in the States: shopping malls, dozens of cute American townhouses and grass strips on the roadside….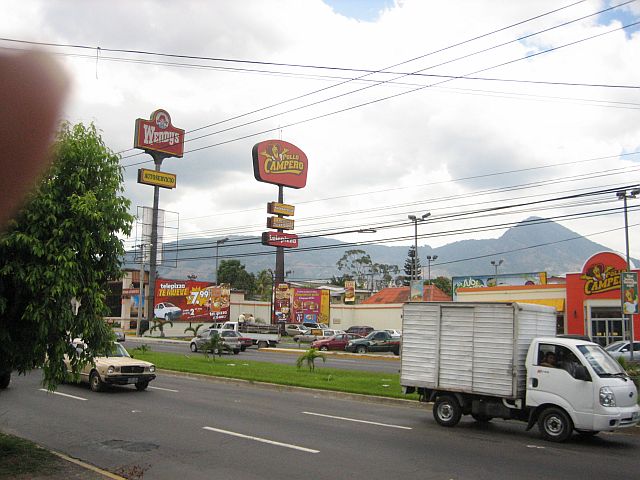 Kurzer Zwischenstop in San Salvador. Wenn die Suche nach dem Busbahnhof zum Stadtbummel wird…
Short stopover in San Salvador. If changing the bus becomes a sightseeing trip…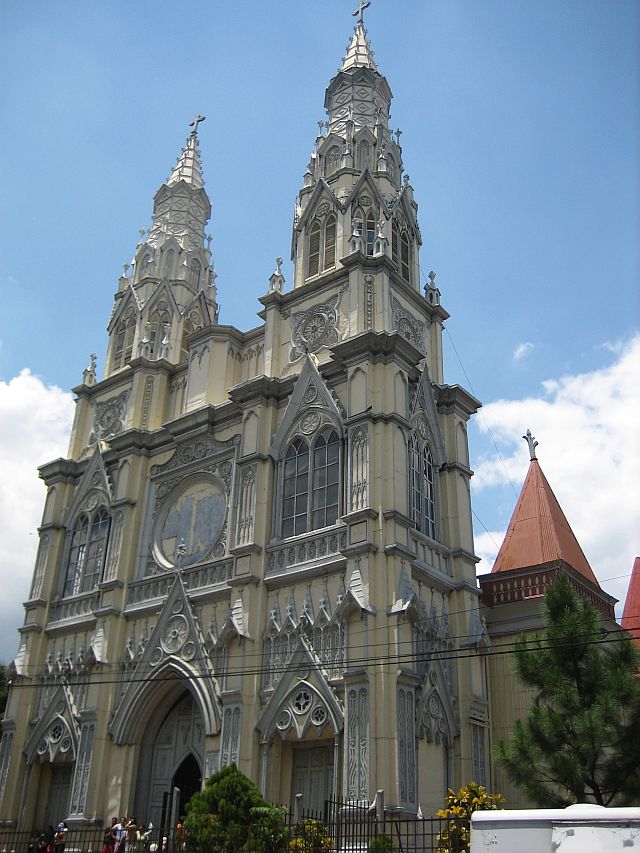 Am Busbahnhof angekommen, gilt es wiedermal den richtigen Bus ausfindig zu machen. Der hier ist's schon mal nicht…
At the bus station we have to choose the right bus once more. This can't be it, that's for sure…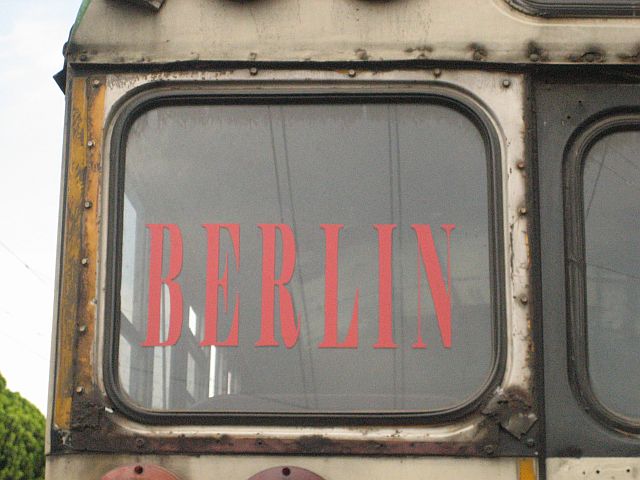 Dann kommen wir in El Tunco an, nach gewohnter Abzocke am Grenzuebergang, ungefaehr 6 mal Umsteigen und insgesamt 12 Std. Fahrt!! Im "La Sombra" freuen wir uns ueber die ueblichen zwei Dinge nach solch einem Tag: Eine Dusche und ein Bett! Gut, dass es hier noch ein Zimmer fuer uns gibt, denn es ist schon spaet und einen Plan B gaebe es in dem verschlafenen Nest nicht wirklich.
Finally we arrive in El Tunco, after the usual rip-off at the border, at least 6 transfers and a total of 12 hours bus ride!! At the "La Sombra" we're looking forward to the usual two things after a day like this: a shower and a bed! Luckily they have a room available since it's night already and there is not really an other option to stay in this one-horse town.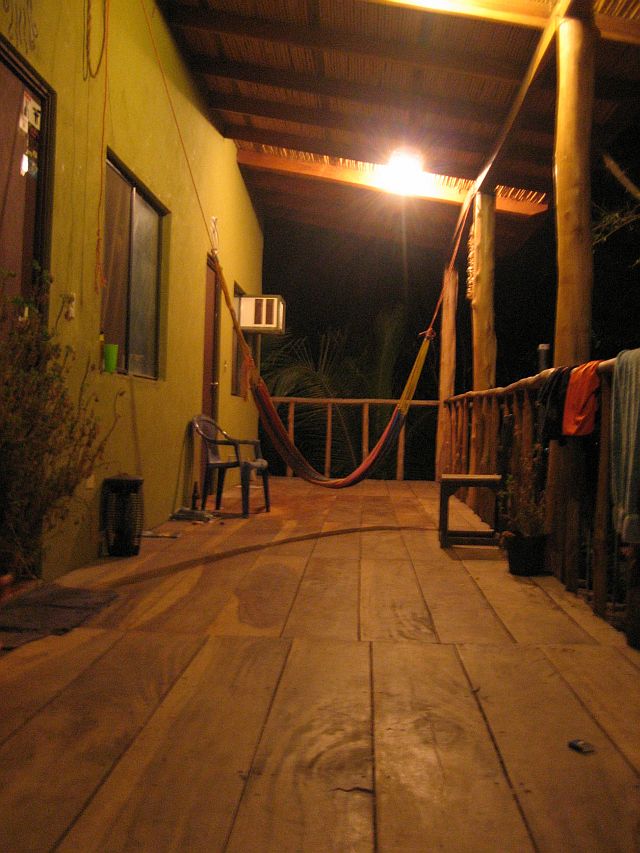 Wir treffen James aus Suedafrika (cooler Typ, Surfer und Alex Schachgegner)
We meet James from South Africa (nice guy, surfer and chess opponent)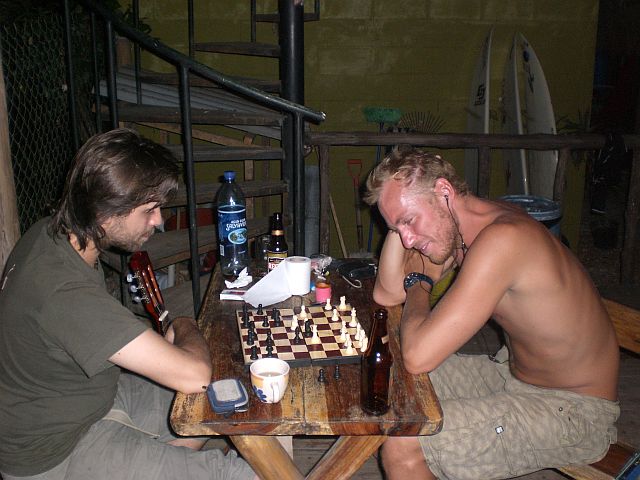 Waehrend der Partie kriegt es Alex sogar noch hin, uns ein leckeres Abendessen zu zaubern….James und ich sind total begeistert, endlich mal wieder was "ordentliches" zu essen zu bekommen.
During the chess match Alex even manages to prepare a delicious dinner for us….James and myself are truly delighted to finally get some decent food.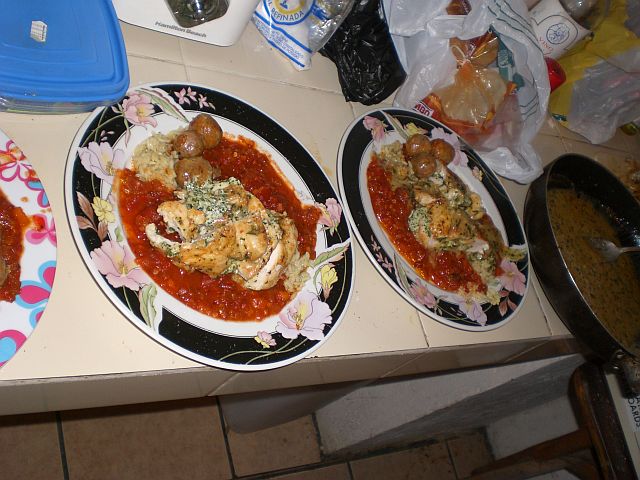 Als besonders Schmanckerl gibt es zum Dessert einen unglaublichen Abendhimmel – zwar nicht den ersten Sonnenuntergang auf unserer Reise, aber immer wieder wunderschoen anzuschauen.
And as a special treat for dessert we get to witness a beautiful evening sky – not for the first time on our trip though but always stunning.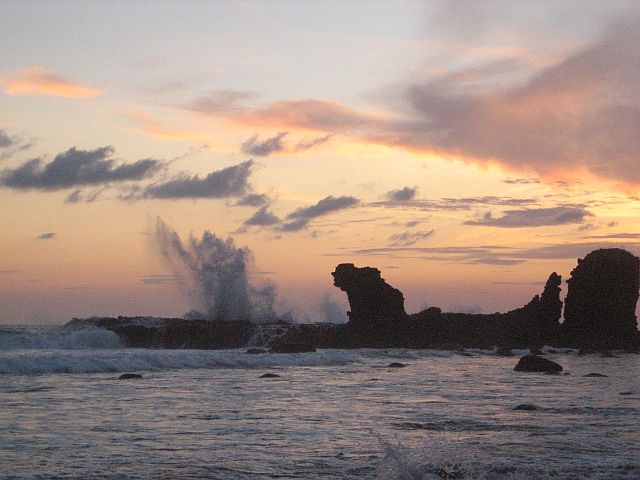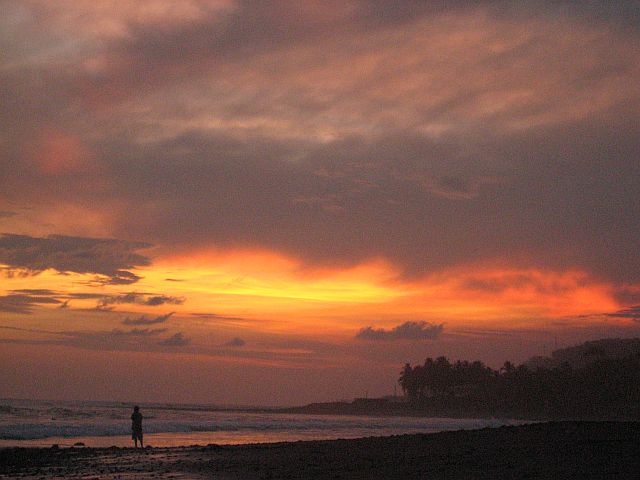 Ein neuer Tag = neue Sorgen! Karinas Haarfarbe ist laengst ueberfaellg und bedarf dringender Auffrischung. Zu ihrer Ueberraschung gibts im Supermarkt ne ziemlich gute Auswahl.
A new day = new worries! Karina's haircolor is overdue and desperately needs a touch up. To her surprise the supermarket has a quite good assortment.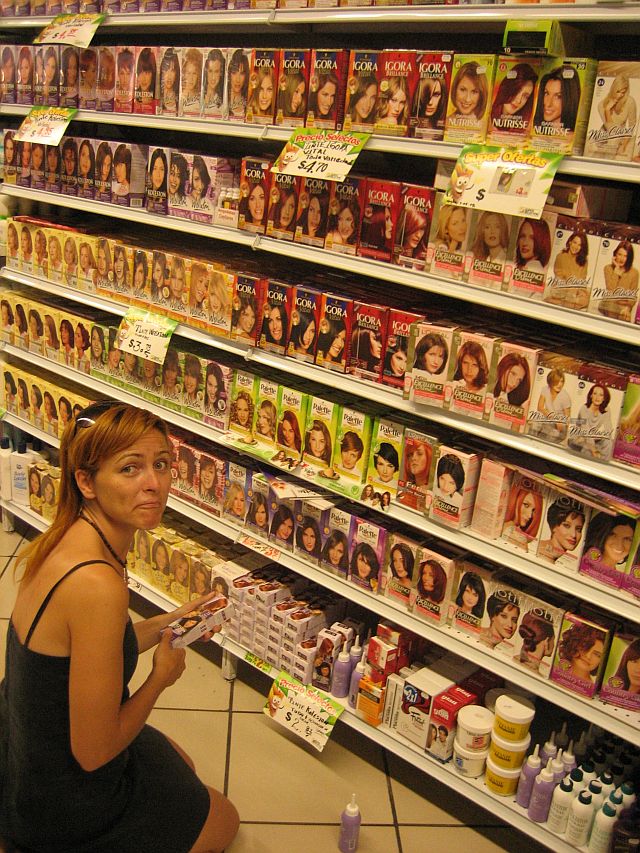 …und die haben hier auch noch Wellafarben!
…and they even carry Wella colors!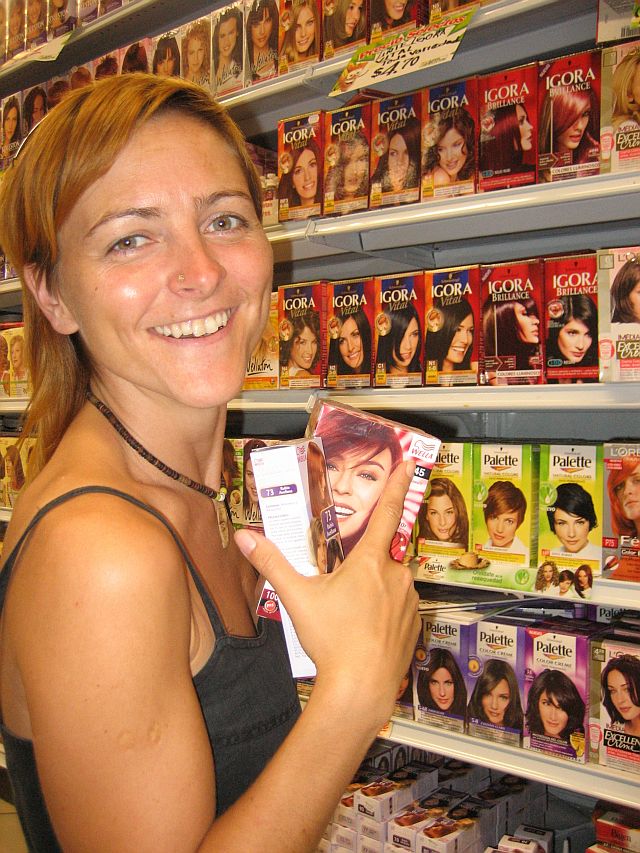 Unglaublich, was sich Salvadorianer so alles in die Haare schmieren – Gorilla-Rotz und Rhinozeros-Sabber!
Unbelievable what Salvadorans style their hair with – gorilla snot and rhinoceros slobber!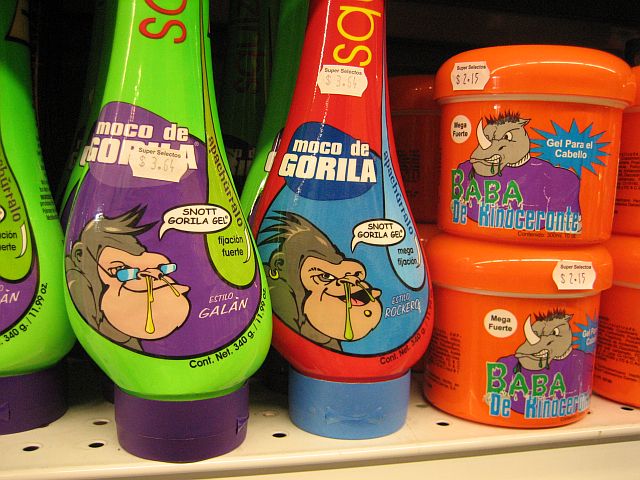 OK, Haarfarbe aus der Fertigpackung? Das geht dann doch gegen die Friseurehre!…ein richtiger Friseurladen ist auch schnell gefunden. Gott sei Dank haben sie auch noch Wellafarben. Als ich der Besitzerin erzaehle, dass ich als Trainerin in Deutschland und New York gearbeitet hab, ist sie hell auf begeistert. Wenig spaeter stehen wir im Lager und ich kann mir die Farben aussuchen, die ich brauche! Willkommen im Friseurhimmel!
OK, premixed haircolor? That's really against Karina's work ethic!…a real salon is found quickly. And they even happen to carry Wella colors. After telling the owner that I've worked as a trainer in Germany and New York she is totally thrilled and seconds later she invites me to choose the colors I'll need from her storage! Welcome to heaven!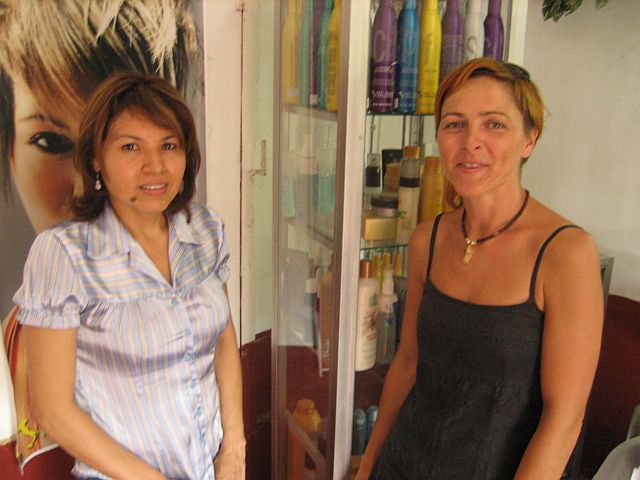 OK, Herr Gruenert, mit dem Haarschnitt hat ja alles schon mal ziemlich gut funktioniert, jetzt geht's an die Haarfarbe. Bereit fuer die naechste Lektion?
Alright, Señor Alex, since the last haircut worked out very well it is now time for doing the haircolor. Ready for the next lesson?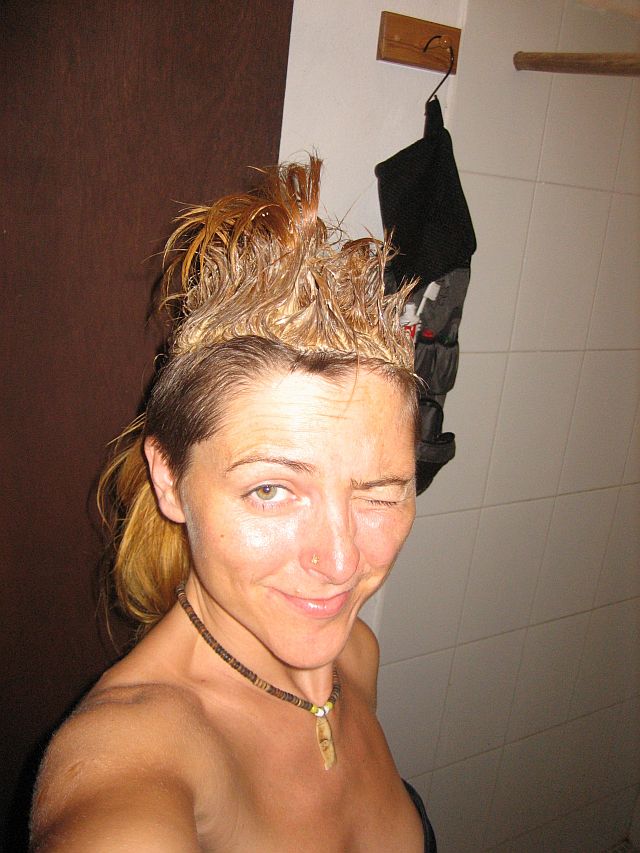 Nach ein paar Tagen am Strand ist unser naechster Stop Alegria, ein kleines malerisches Bergdorf und das zu Hause vieler Kuenstler in El salvador. Wir wohnen im Casa Alegre. Die Besitzer, Memo und Paola, ebenfalls Kuenstler bieten freie Kurse fuer einheimische Kinder an.
After a couple of days at the beach our next stop is Alegria, one of the most picturesque mountain village in El Salvador and also home for plenty of artists. We stay at the Casa Alegre. The owners, Memo and Paola, also artists offer free art classes to local kids.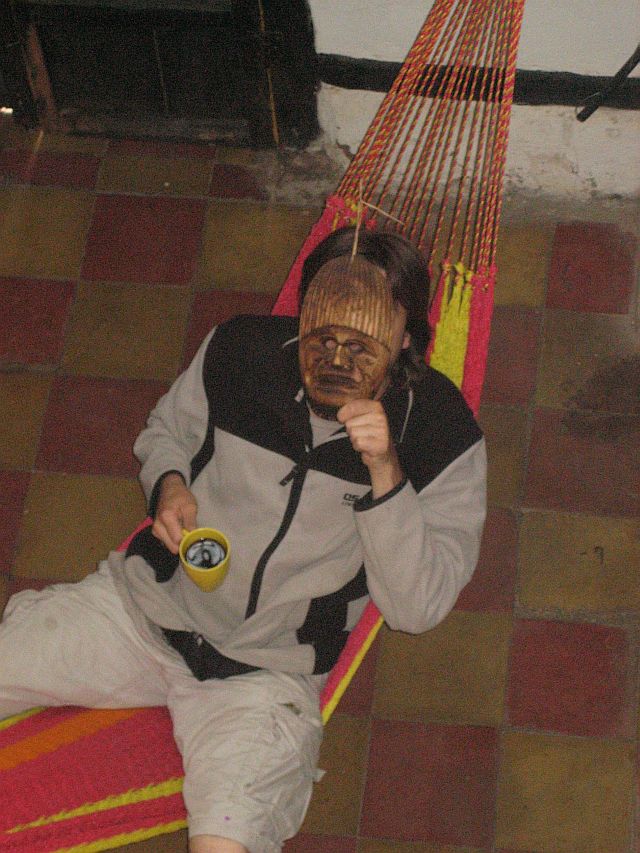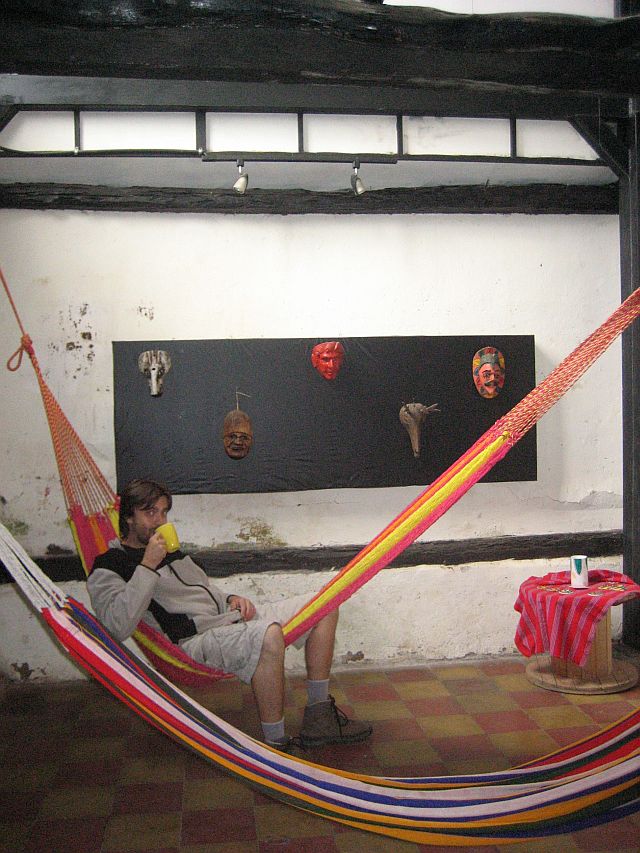 Ehemals Kaffeeland ist Alegria nun die Blumenhauptstadt des Landes.
Once coffee country Alegria is now the nation's flower-growing capital.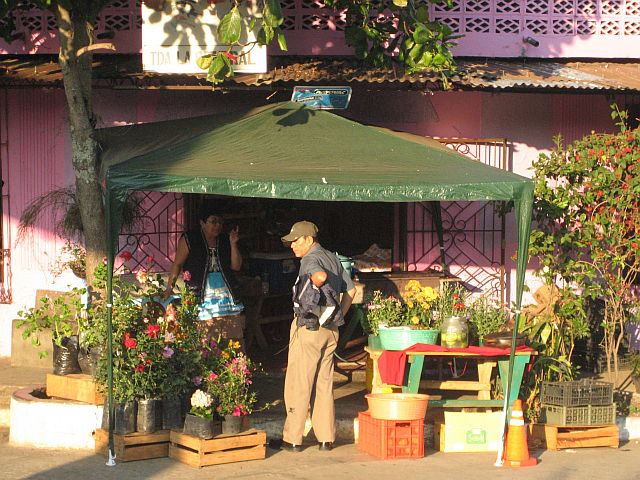 Blick auf den Marktplatz.
View over the main square.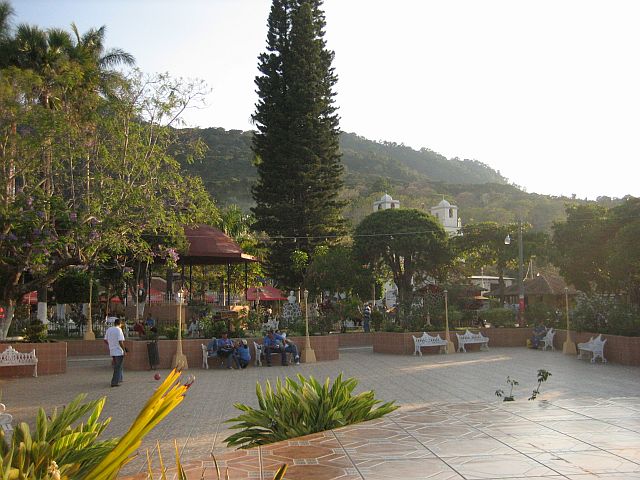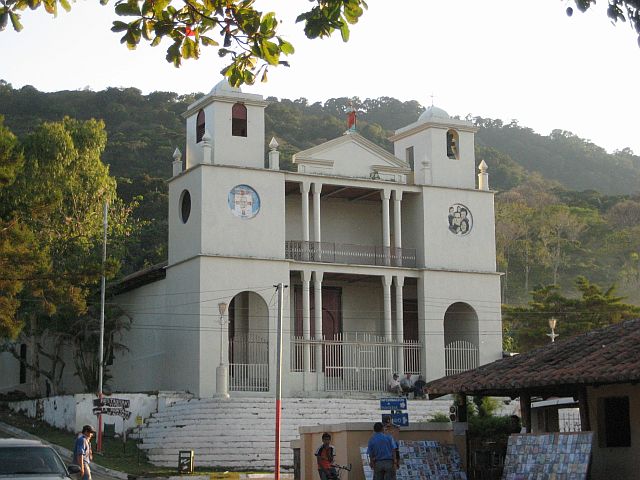 Weiter geht's nach Leon/Nicaragua. Schade, dass wir nicht genuegend Zeit fuer Honduras haben, da uns nur noch ein paar Tage bleiben, um Alisa (unsere Freundin aus Connecticut/USA) in Managua/Nicaragua zu treffen.
We continue our journey to Leon/Nicaragua. Too bad that we don't have enough time for Honduras since we only have a little time left to be in Managua/Nicaragua where we'll meet our friend Alisa from Connecticut/USA.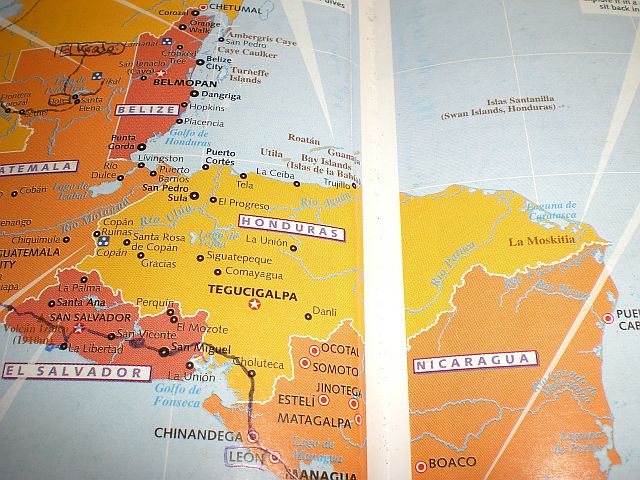 La bandera de Honduras