Auf den Spuren der Mayas / Following the Mayan footprints
Palenque – eine der wohl beruehmtesten Maya Ruinen in Chiapas/Mexiko

Nach zwei Militaerkontrollen und einer 9 stuendigen Hoellenfahrt spuckt uns der Bus um 6 Uhr morgens in Palenque aus. Beim Zaehneputzen direkt am Busbahnhof treffen wir Wibke und Gordon. Zwei Deutsche, die in Mexico City studiert haben und sich nun etwas Zeit nehmen, um durch Mexico zu reisen.
Palenque – one of the most famous Mayan sites in Chiapas/Mexico
After two military checks on our bus and a 9 hours hell ride we finally arrive in Palenque at six o´clock in the morning. While brushing our teeth directly at the bus station we meet Wibke and Gordon. Two Germans who have studied in Mexico City and now decided to take some time to travel throughout Mexico.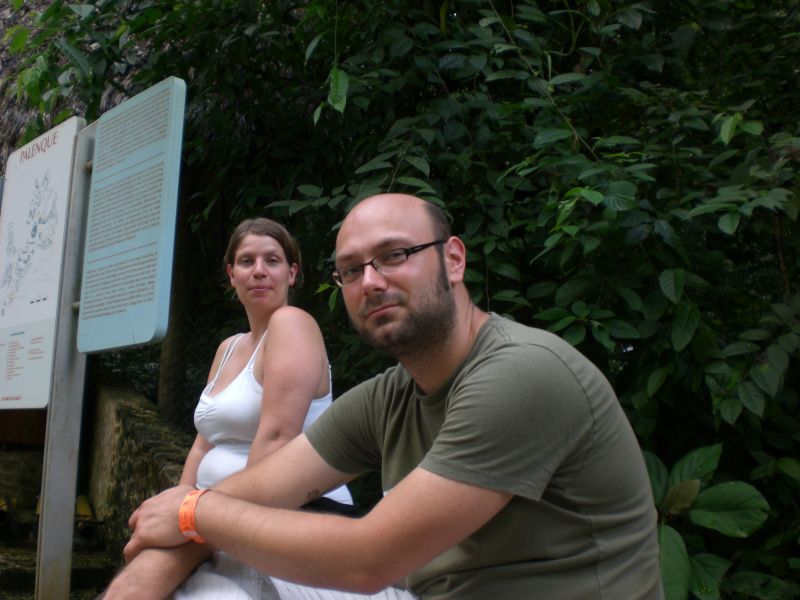 Nach der langen Fahrt sind wir entsprechend hungrig und stuertzen uns auf fast alles, was wir kriegen koennen.
After the long trip we're really hungry and go for almost everything.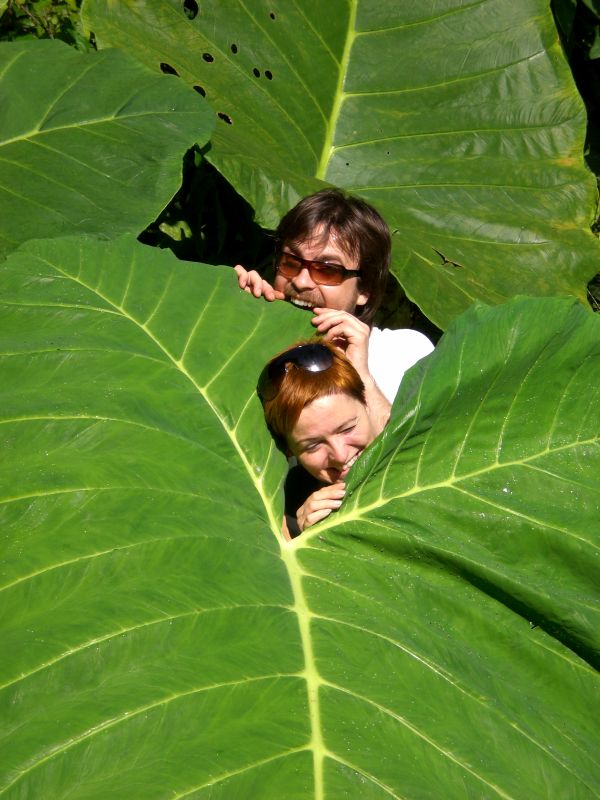 Gestaerkt geht es dann endlich zu den Ruinen und Wibke mit Fachlektuere in der Hand entpuppt sich als hilfreiche Reiseleiterin.
Prepared for the day we finally get to see the Mayan ruins and Wibke happens to be an ideal tour guide with her Mayan pamphlet.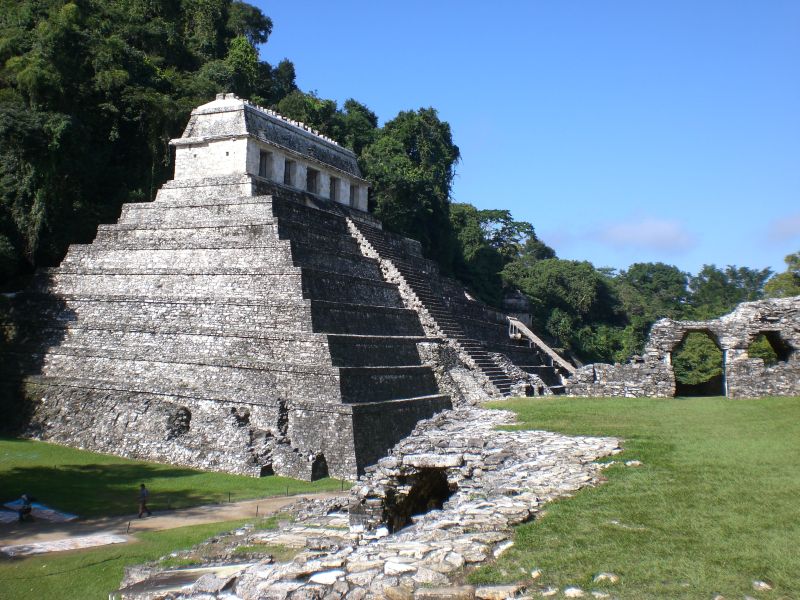 Steile Treppen haben die vielleicht gebaut…
Pretty steep stairwells…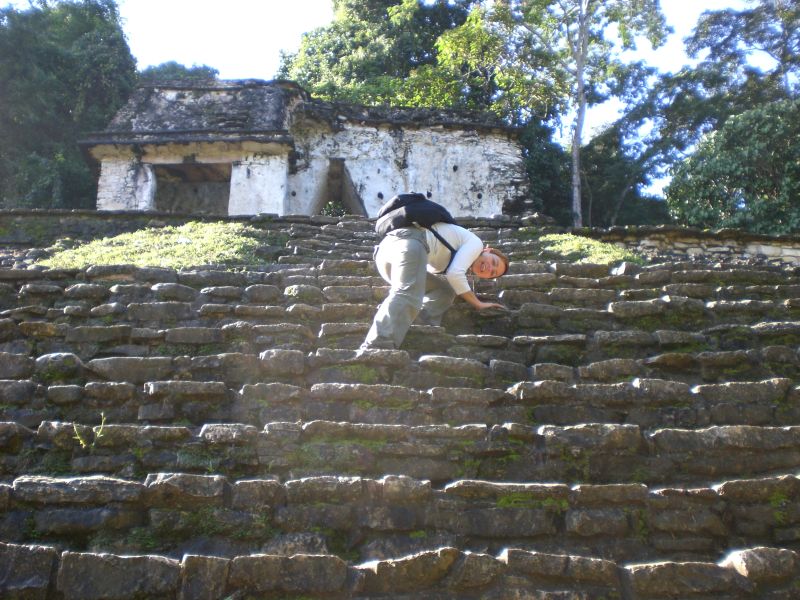 ….also passt auf, wo ihr hintretet, oder…..
….so better watch your step or….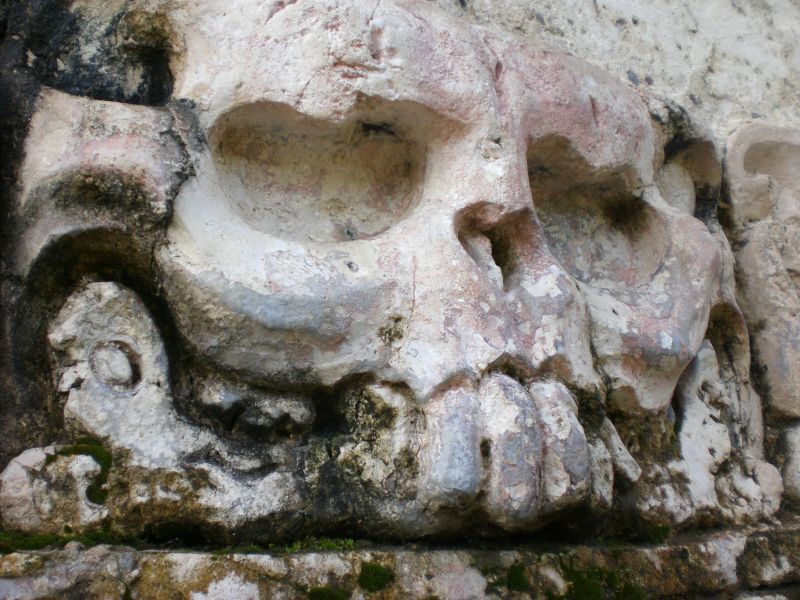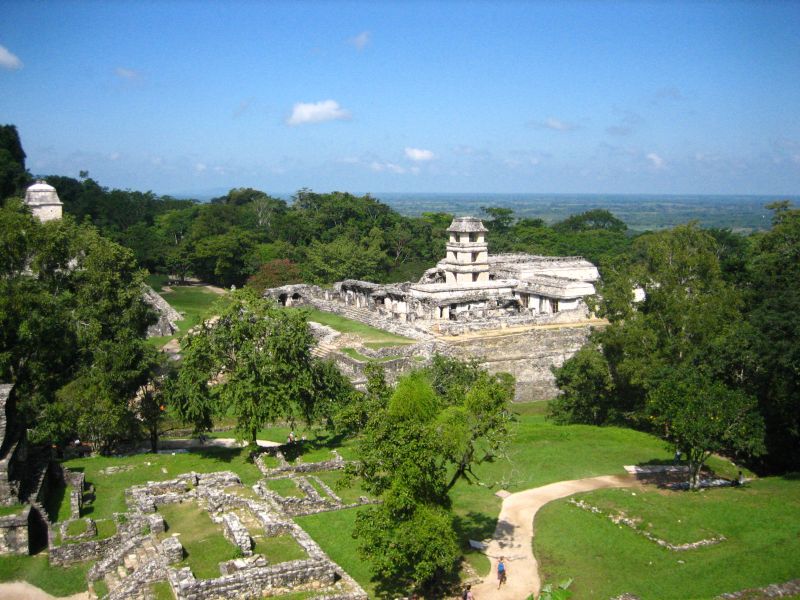 Fliegende Haendler sind hier ueberall und halten Ausschau nach Touristen.
Bargainers are offering their goods everywhere waiting for tourists.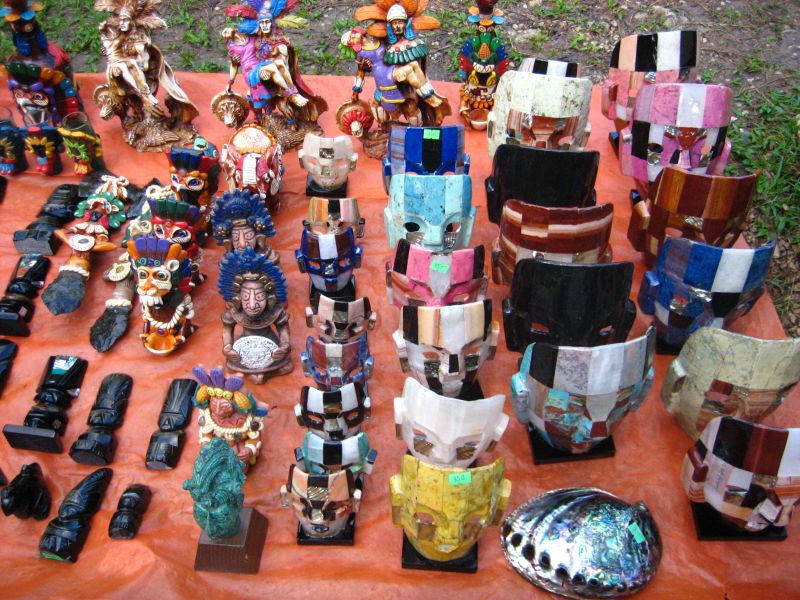 …und was die hier alles verkaufen?! (kleiner Scherz)
Quiet strange things they do offer! (just kidding)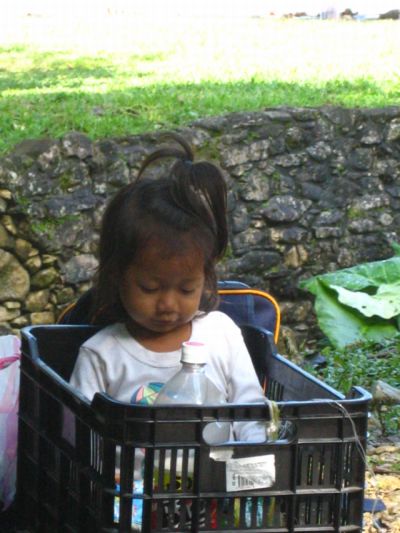 Wir sind total begeistert, dass die komplette Anlage in Palenque direkt in den Dschungel eingebettet ist.
We're absolutely fascinated that the complete site is embedded into the jungle.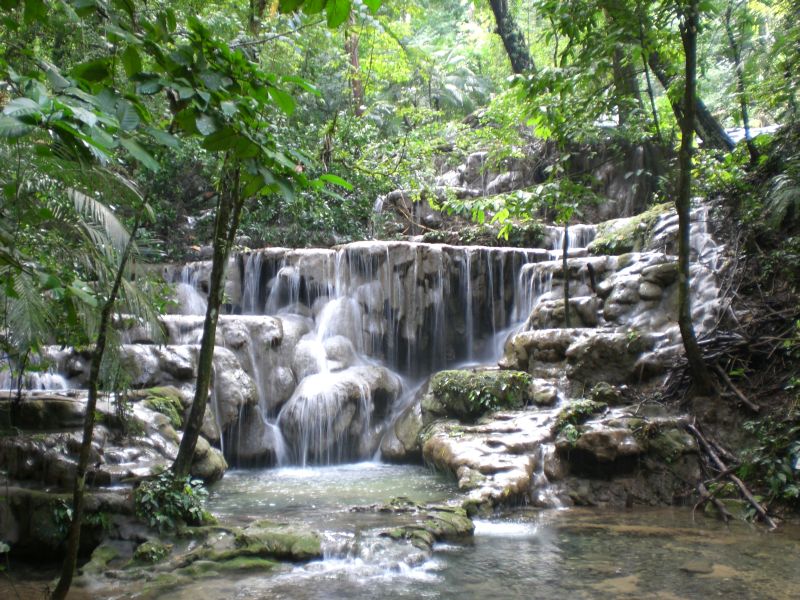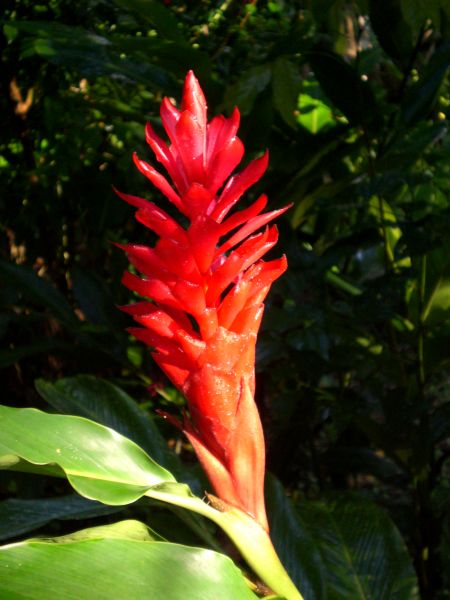 …greif die Liane Jane….
…reach for the liane Jane…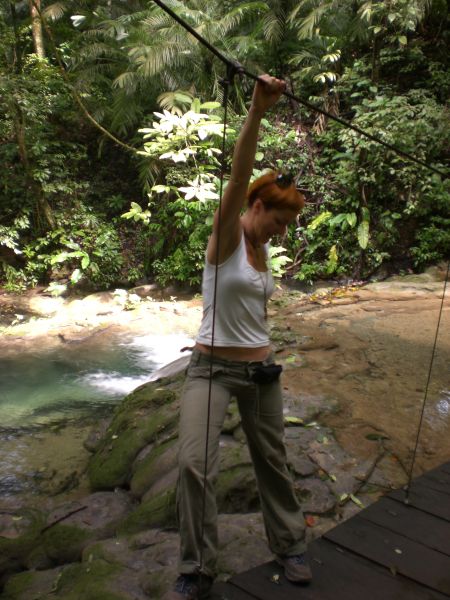 Zurueck im "Jungle Palace" in El Panchan (unsere kleine Huette)…
Back at the "Jungle palace" in El Panchan (our nice little hut)…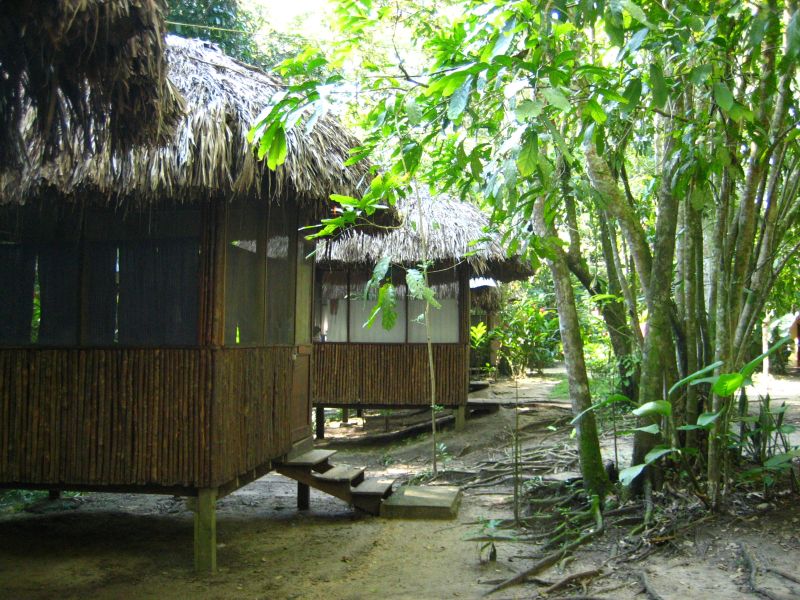 …macht Alex seine Hausaufgaben.
….Alex is doing his homework.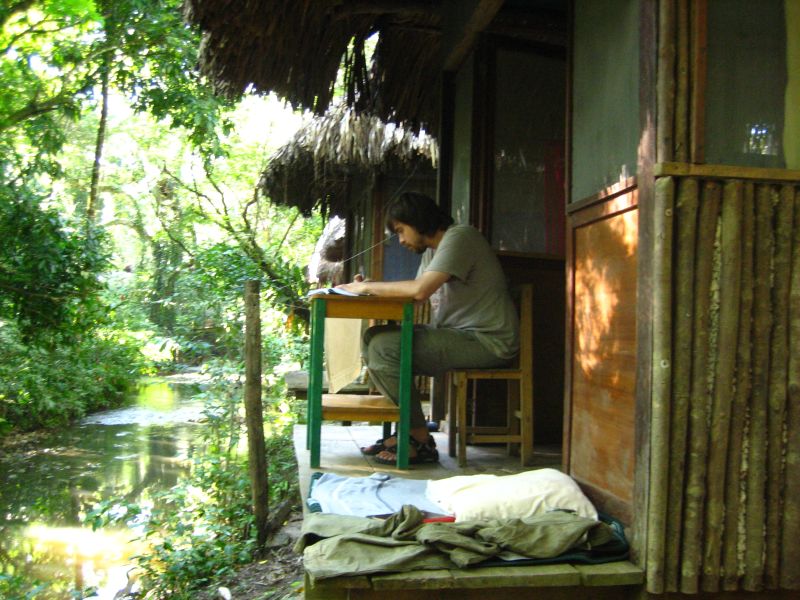 Nach zwei Tagen geht es dann weiter nach Flores/Guatemala, einer Insel im Peten Itza See. Da der Bus sehr frueh abfaehrt, muessen wir morgens um halb fuenf schon raus. Der Minibus bringt uns bei starker Klimatisierung und graesslicher Saxophonmusik zum Rio Usumacinta, wo wir endlich aussteigen duerfen. Wir werden in Boote verladen und eine halbe Stunde flussaufwaerts zum anderen Ufer geschippert.
After two days we travel on to Flores/Guatemala, a small island in the lake Peten Itza. Since the bus will leave early we have to get up at five o' clock in the morning. The minivan gets us to the Rio Usumacinta with freezing air condition and awful saxophone music. We're glad to get off and are proceeded to get onto boats that bring us half an hour upstream to the other side.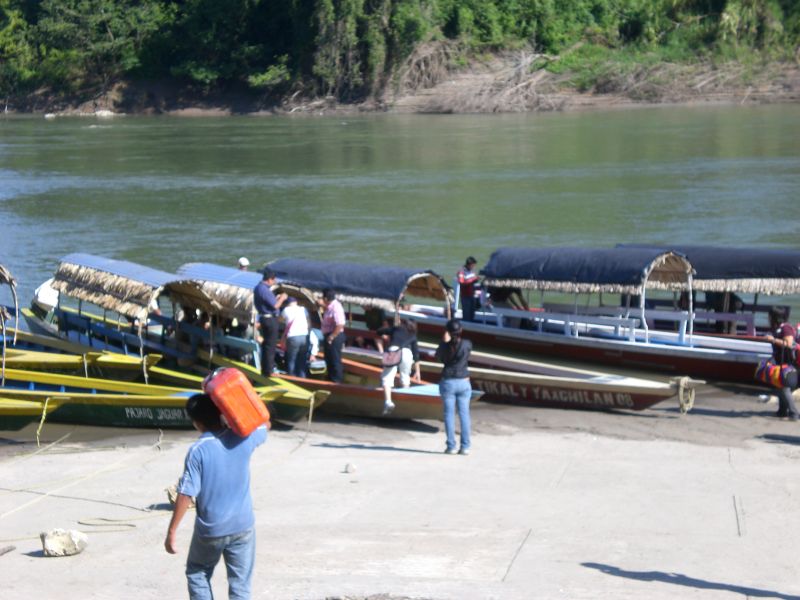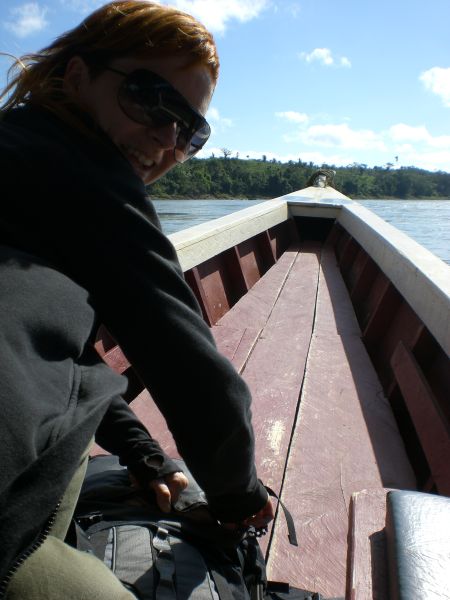 Soll das etwa die Grenze sein?
Is this supposed to be the border?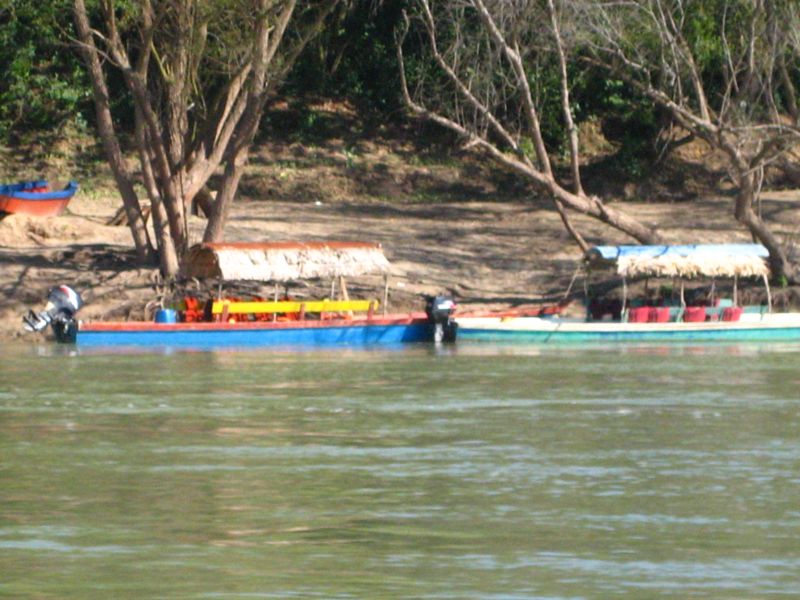 …hm, keine Ahnung? Auch unser Busfahrer will uns keine Auskunft geben, stattdessen muss er wohl erst seine Pokerrunde beenden….
…hm, no idea? Even our bus driver doesn't want to give us any information, instead it looks like he first got to finish his poker game….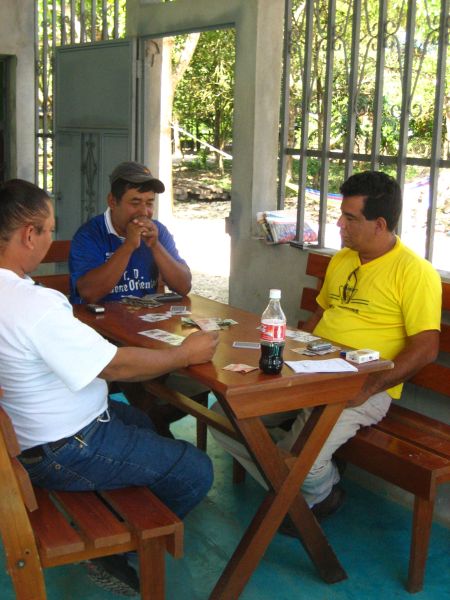 …um seinen Bus zurueckzugewinnen?!
…to win back his bus?!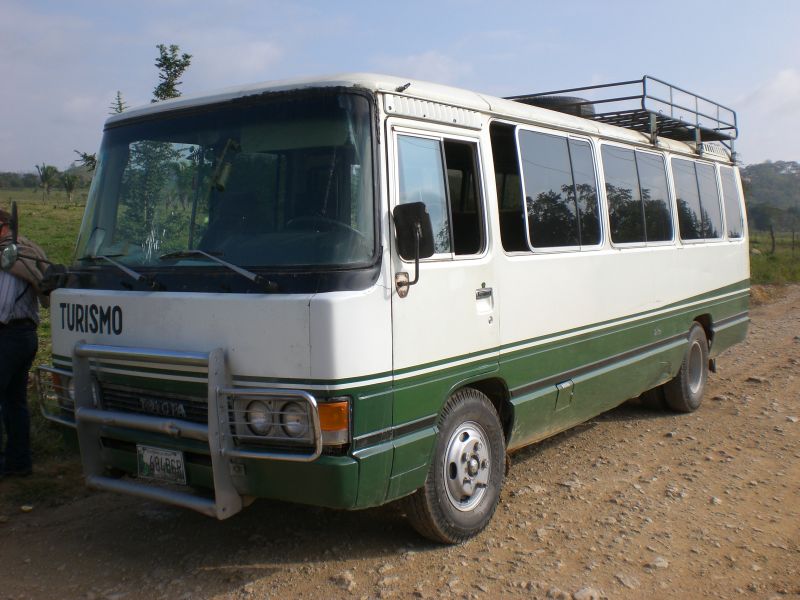 Gluecklicherweise war er erfolgreich beim Poker und so koennen wir nach…45 min!!! losfahren….und dann braucht es nochmal 10 min bis wir wirklich in Guatemala einreisen! Das war wohl die ungewoehnlichste Grenzueberschreitung, die wir bisher hatten.
Fortunately he was very successful with his poker game and so we are ready to go…after 45 min!!!! and then it takes another 10 min until we really can enter Guatemala! This was by far the most unusual frontier crossing we've ever had.
Drei unglaubliche Stunden Schotterpiste liegen vor uns…
Three incredible hours of gravel road are ahead of us…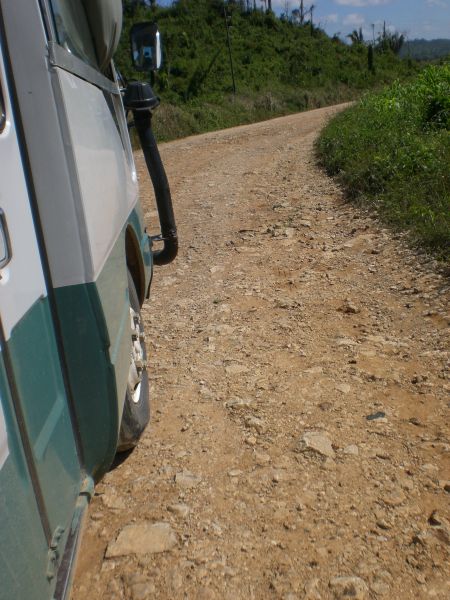 …bis wir endlich in Flores ankommen.
…until we finally arrive in Flores.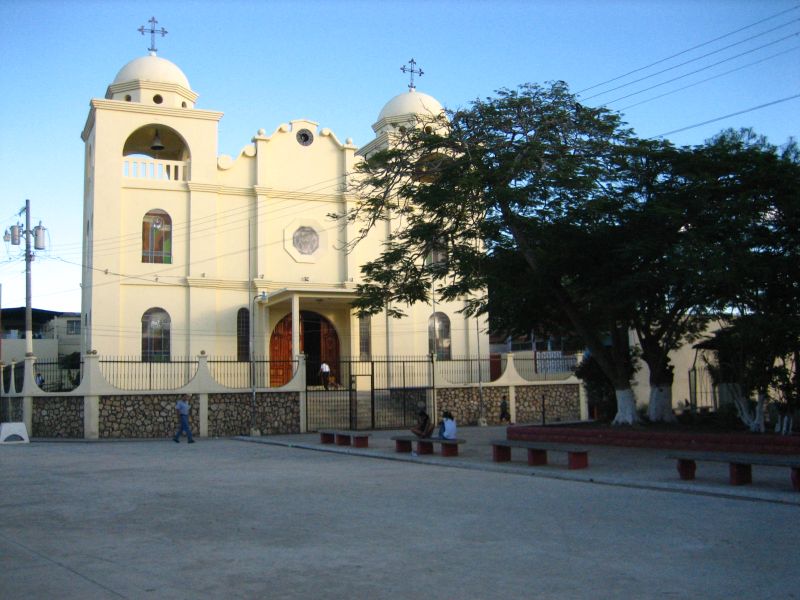 Ein bezaubernder Sonnenuntergang in Flores.
A fascinating sunset in Flores.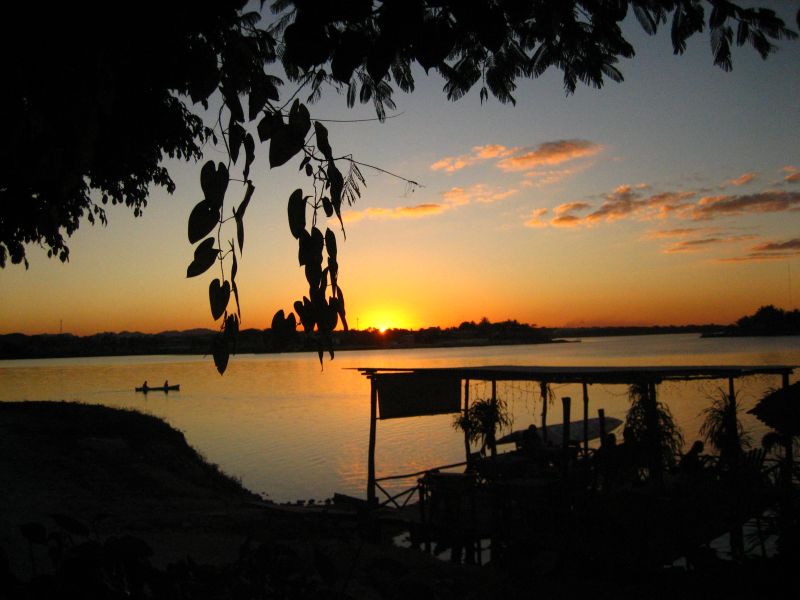 Tikal – Ein besonderer Tag!

Dieses Mal ging es schon um drei Uhr morgens aus den Federn, um den Sonnenaufgang und das Dschungelerwachen in Tikal mitzuerleben.
Tikal – A very special day!
This time we already had to get up at three o'clock to witness the sunrise and jungle's awakening in Tikal.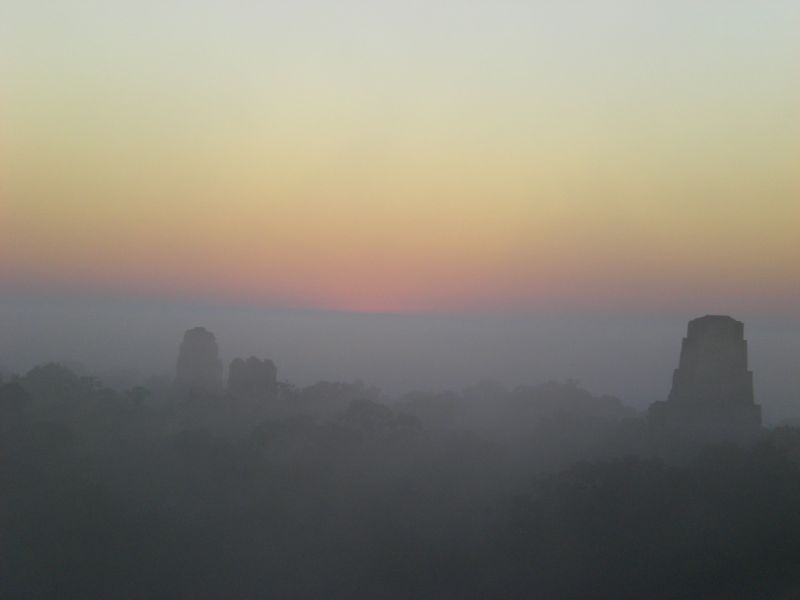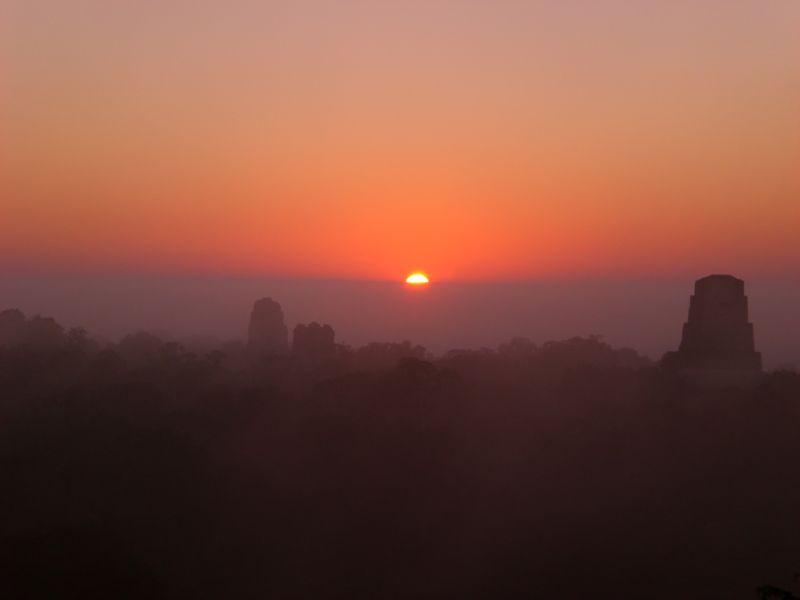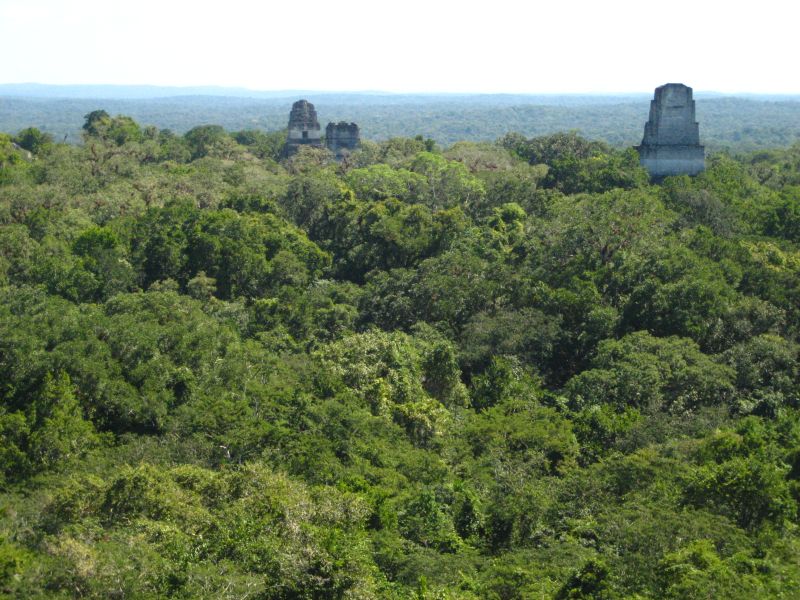 Mit Martin aus Wien (links) und Bernhard aus Muenchen (rechts) auf Tempel Nr. 4
With Martin from Vienna (left) and Bernhard from Munich (right) on top of temple No. 4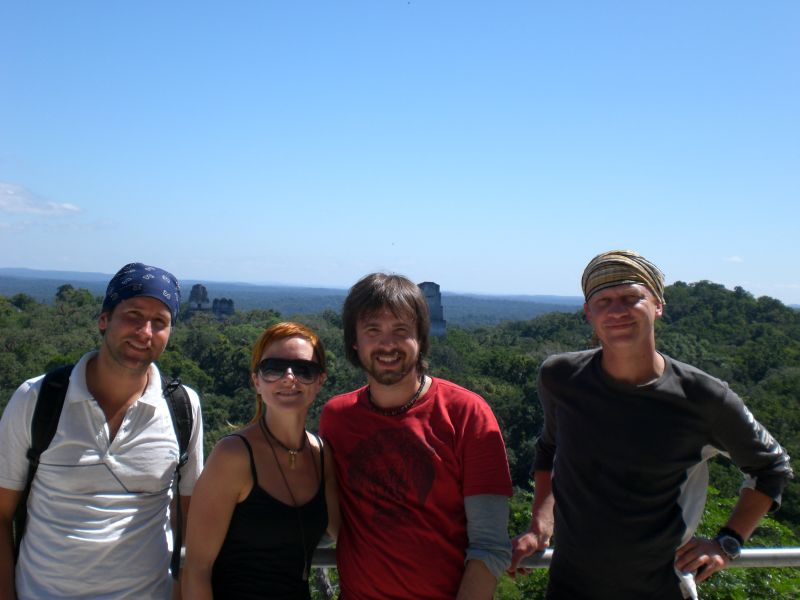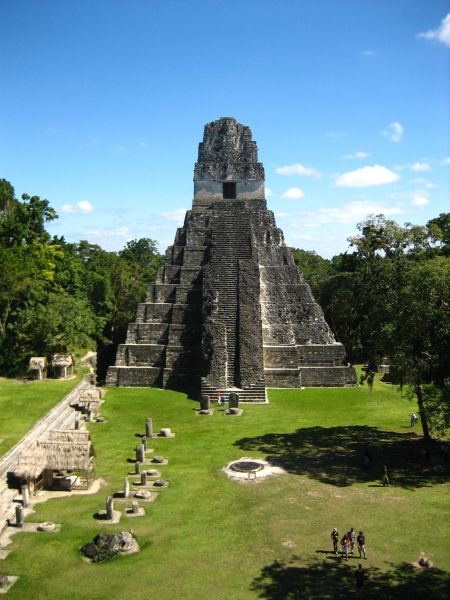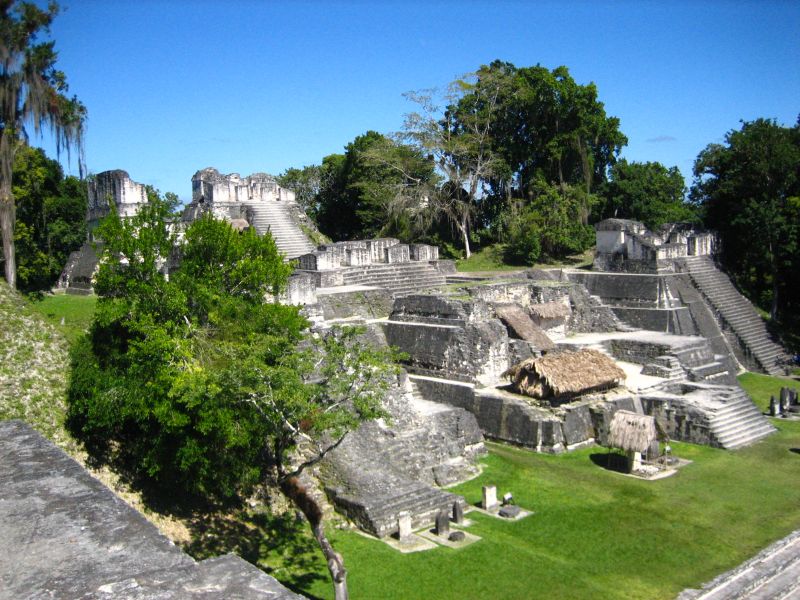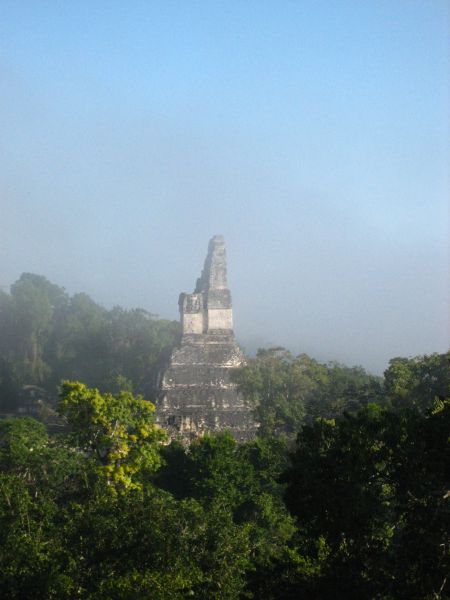 So viel Schoenheit erfordert auch entsprechende Wartung. Und so sieht diese in Guatemala aus.
Such beauty requires adequate maintenance. Interesting how the Guatemalans do it.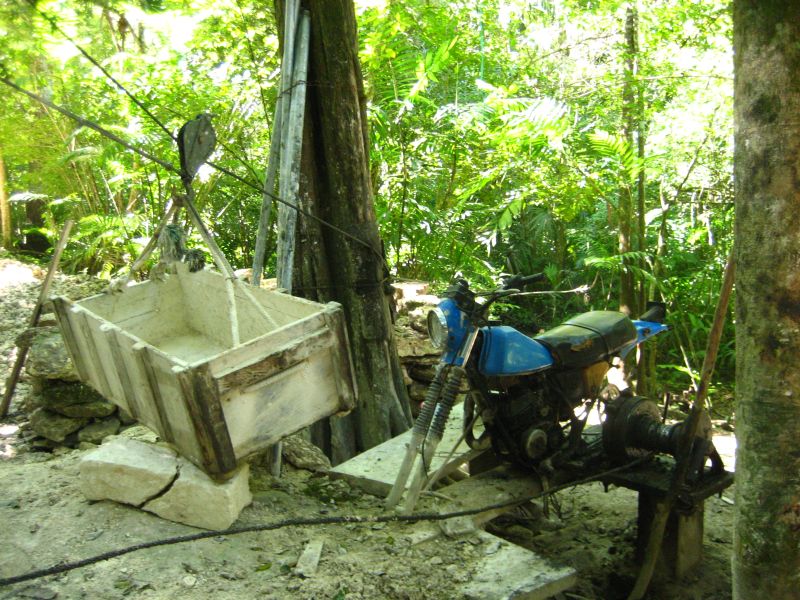 Todesmutig geht es auch auf den Tempel Nr. 5…
Undaunted by death we are also climbing temple No. 5…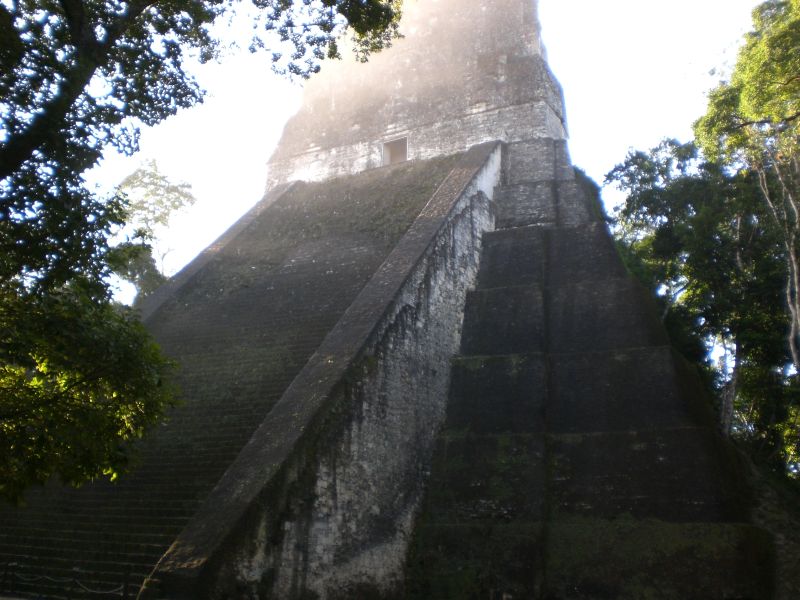 Selbst Alex hat seine Hoehenangst ueberwunden…
Even Alex has conquered his acrophobia…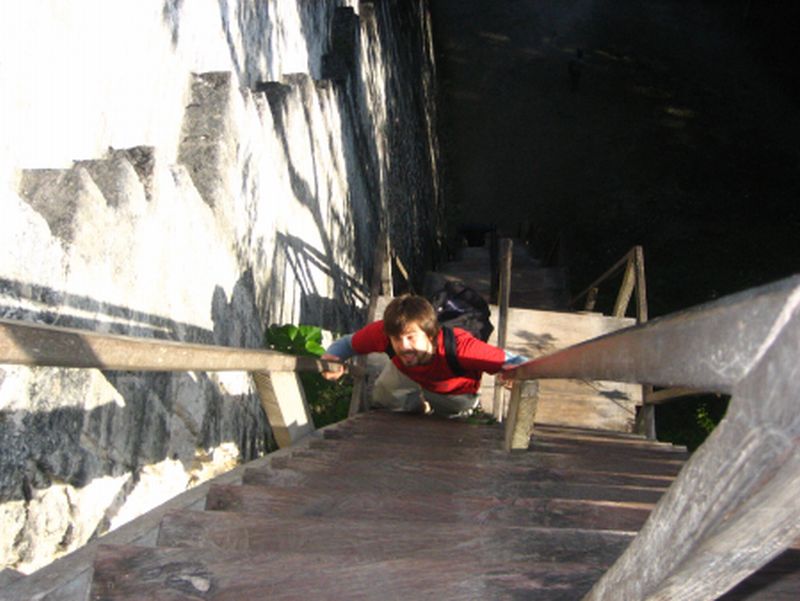 …und scheint wirklich drueber weg zu sein.
…and really seems to be over it.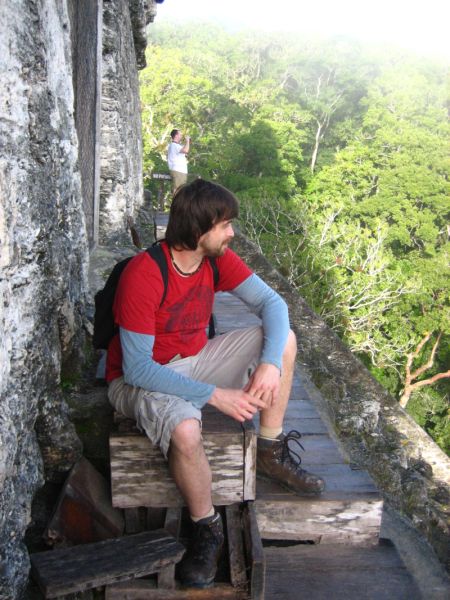 Oder vielleicht doch nicht so ganz?!
Or maybe not quiet?!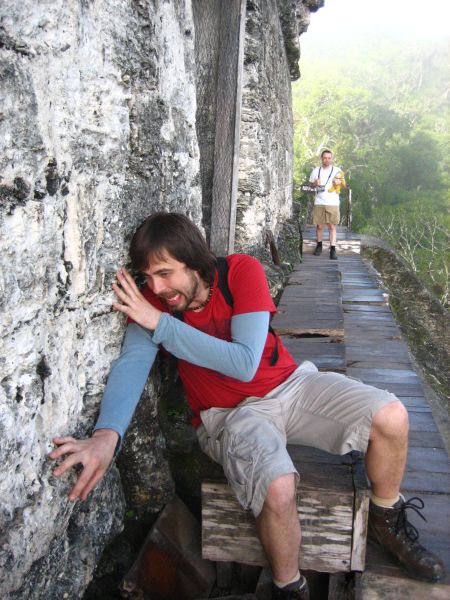 …und Alex wirds ganz schwummrig als er Karina am Rand sitzen sieht….
…and Alex gets even more dizzy when he sees Karina sitting right on the edge…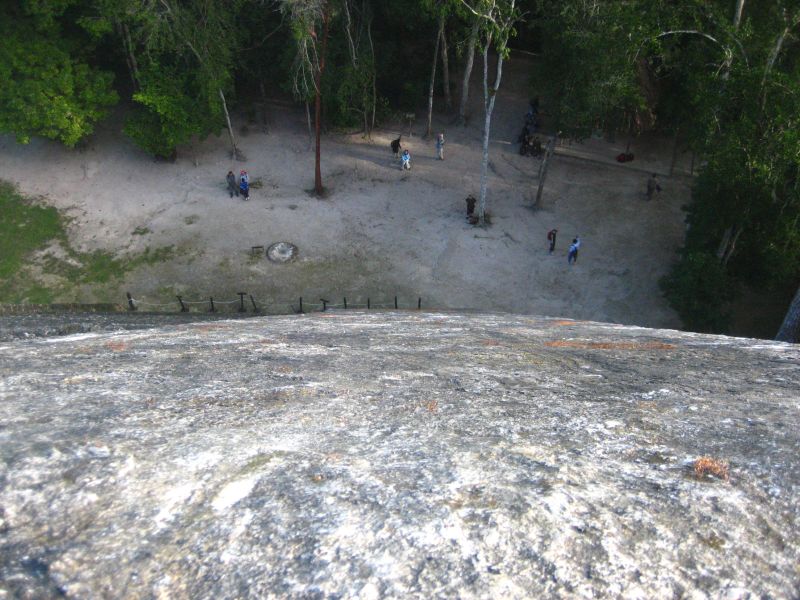 Soviele Tempel und Pyramiden machen hungrig. Zum Glueck hat Mutti Schnittchen gemacht.
So many temples and pyramids make you really hungry. Thank god, Mummy has made some sandwiches.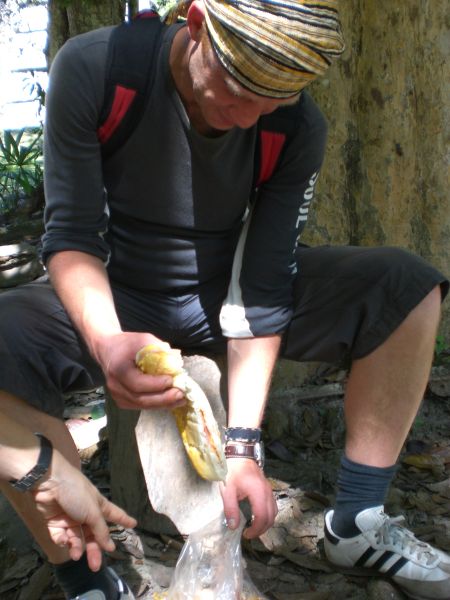 Hmmm, lecker! Bernhard schmeckt's…
Hmmm, yummy! Bernhard likes it…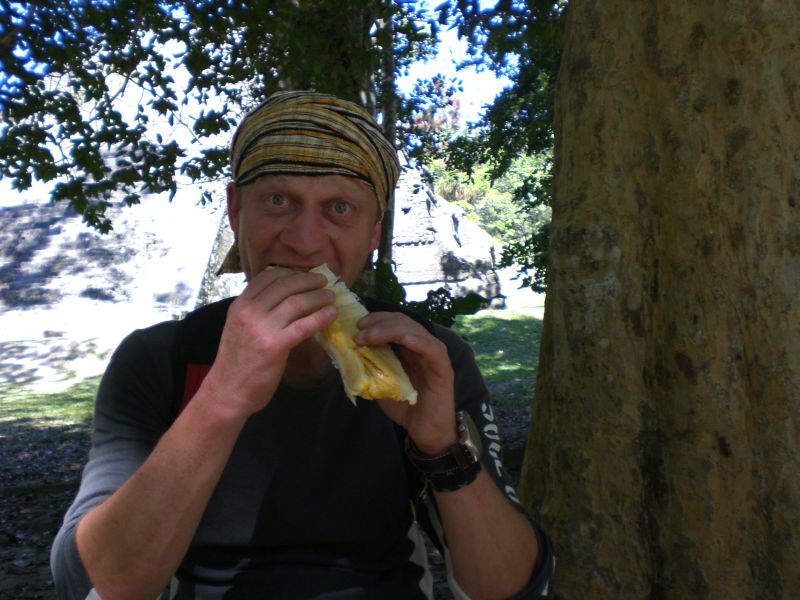 …oder vielleicht doch nicht?!
…or maybe not?!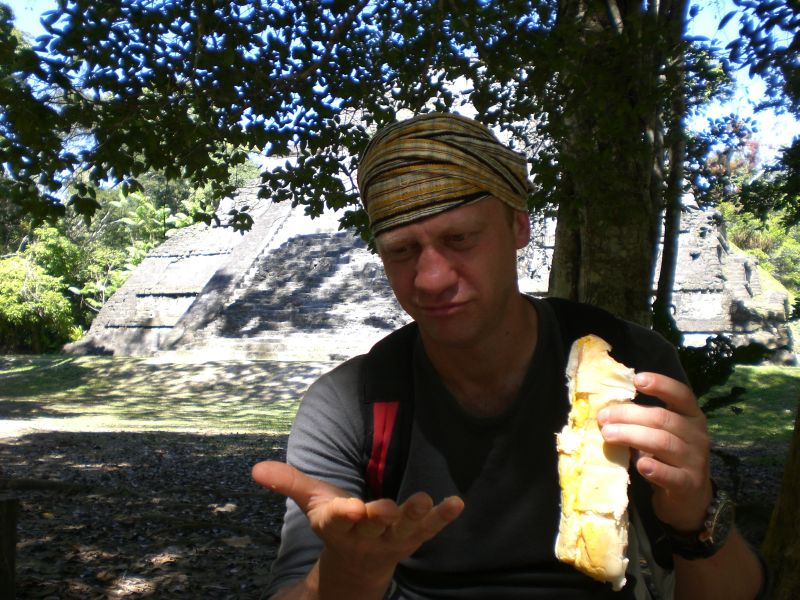 Der Duft des "leckeren" Essens hat auch ein paar Bruellaffen geweckt.
The smell of all that "good" food has woken up some howler monkeys, too.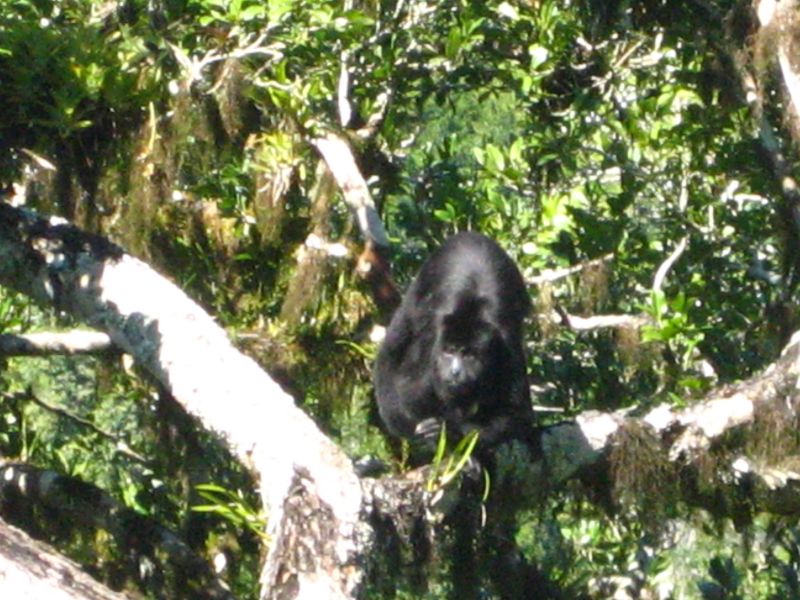 Diese waren ueberall gut zu hoeren. Und selbst enge Verwandte stimmten in das Gebruell mit ein…
You could hear their noises all over the place and even close relatives joined their howling…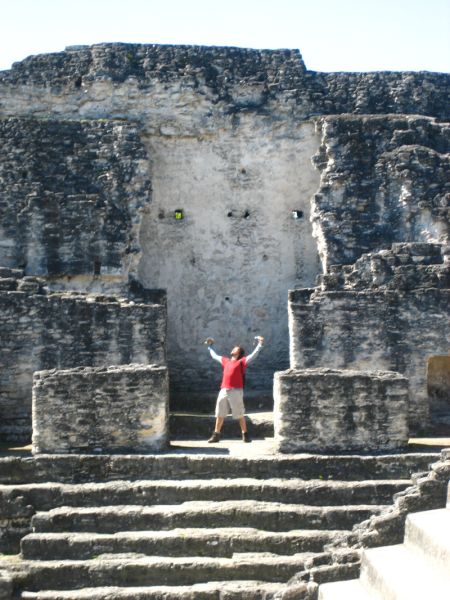 Von Tikal sind wir schwer beeindruckt und wuerden am liebsten noch stundenlang weiter gucken. Aber jeder Tag hat mal ein Ende und als Naechstes ist schon eine Tour nach El Mirador geplant. Eine weitere Mayastaette, versunken im Dschungel. Es gibt keine Strasse, die dorthin fuehrt, nur ein Trampelpfad auf dem man zu Fuss 2 Tage braucht. Deshalb dauert die ganze Tour fuenf Tage. Mit dabei: Bernhard und Martin. Die Beiden haben sich ueber das Lonely Planet Forum als Reisegemeinschaft kennengelernt und sassen mit uns im Bus nach Flores.
We are really impressed by Tikal and would love to keep on looking for hours. But every day comes to an end. And tomorrow we have planned a trip to El Mirador. Another Mayan ruin completely lost in the jungle. There are no roads or whatsoever leading to it. The only way to get there is: Two days of walking one way. Which means a five days trip all in all. On our side: Bernhard and Martin. They've met over the lonely planet forum as a small travel community and were on the same bus to Flores with us.
El Mirador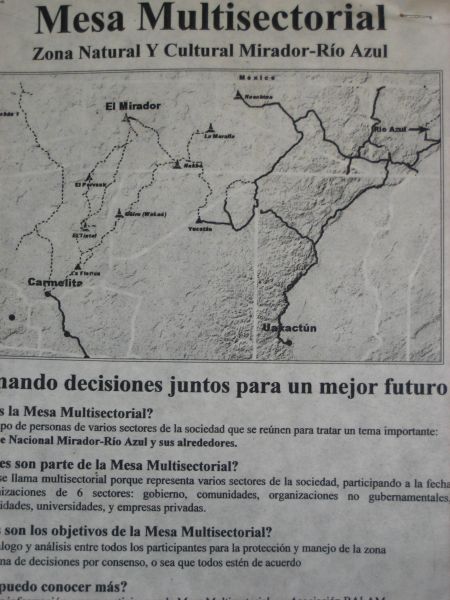 Schnelles Fruehstueck um fuenf Uhr morgens, kurz vor der Abfahrt.
Quick breakfast at five o'clock in the morning right before departing.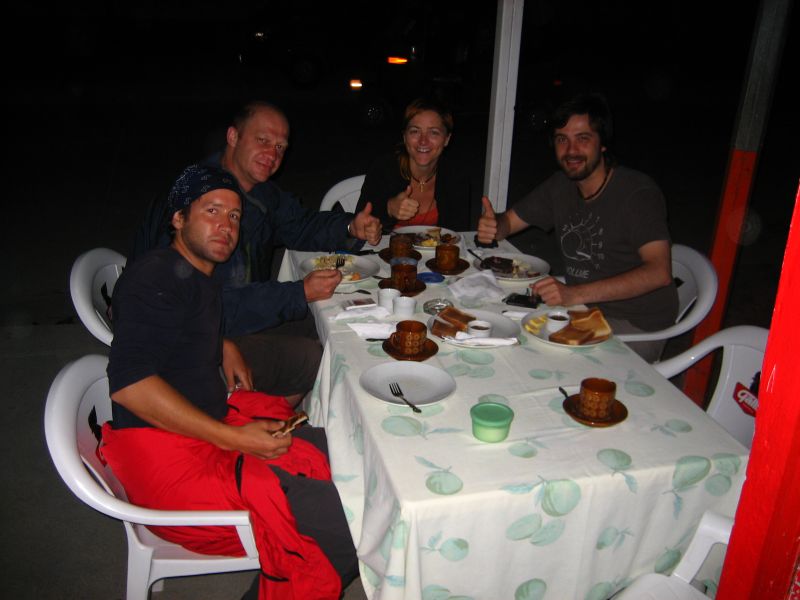 Nach dreistuendiger Fahrt ueber gewohnte guatemaltekische "Strassen" kommen wir in Carmelita an.
After a three hours ride on already described Guatemalan "streets" we arrive in Carmelita.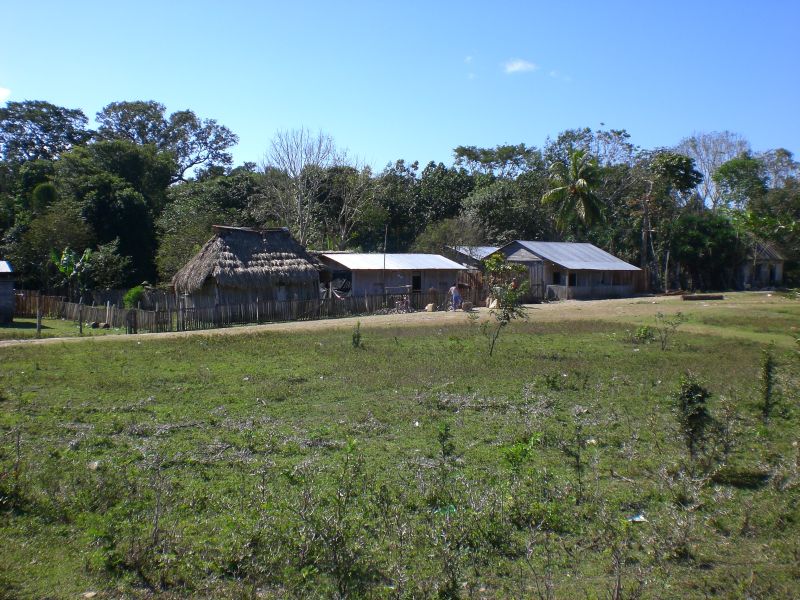 Hier gibt es ein zweites Fruehstueck, um auch wirklich gestaerkt fuer den langen Weg zu sein.
We have our second breakfast just to make sure we're braced for the long way.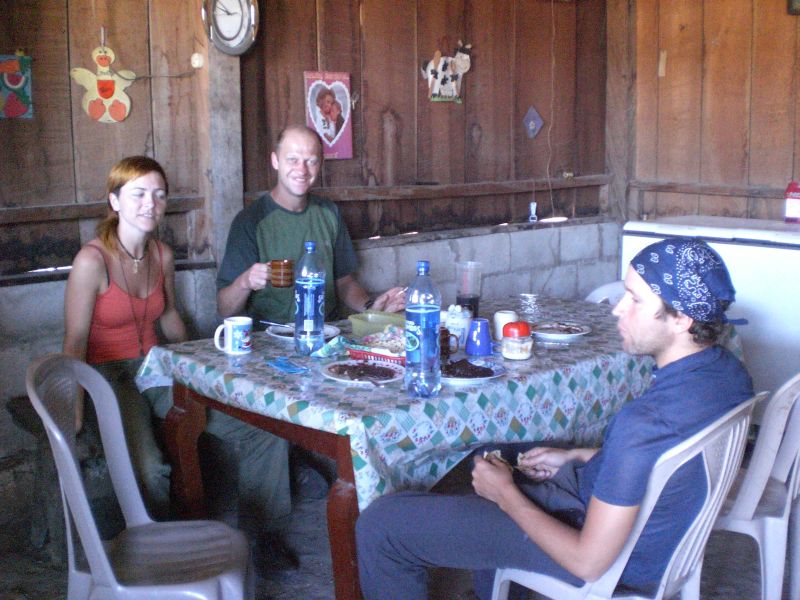 …mal was anderes, die Kueche befindet sich im Garten! Da spart man sich doch die Abzugshaube.
…alright, that´s new, the kitchen is located in the garden! So, no need for an extraction fan.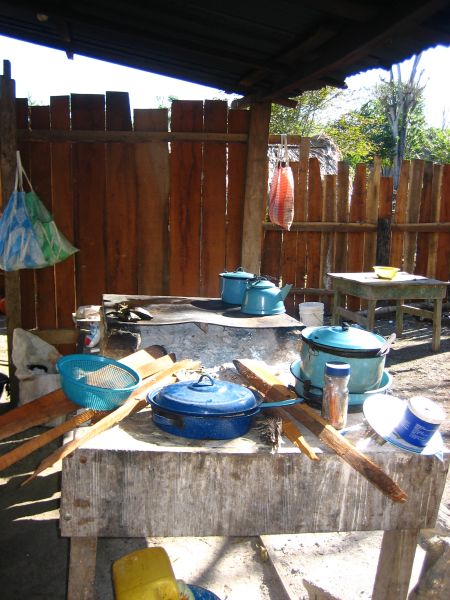 …und passend dazu das letzte Klo bevor es in den Dschungel geht…
…and according to it the last bathroom before leaving into the jungle…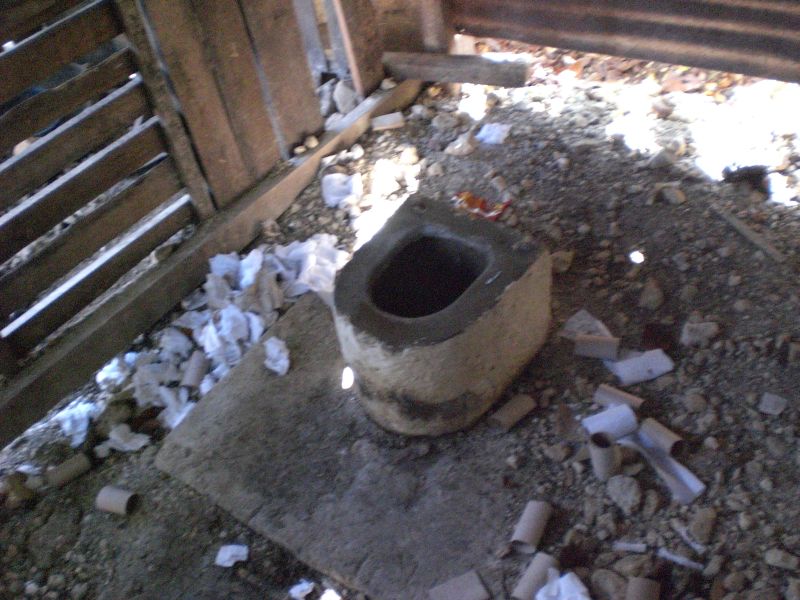 Zur Auffrischung nochmal schnell das Salsa-Tanzbein schwingen…der mit dem Wolf tanzt.
Just to refresh the salsa skills a little bit…dances with wolves.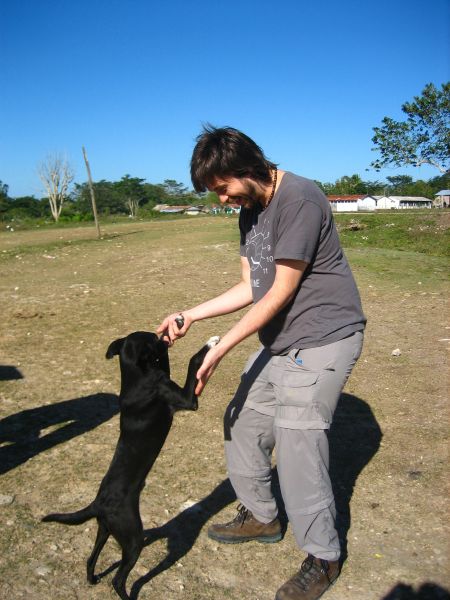 … und dann geht's los. Was anfangs noch ganz harmlos aussieht, wird mit jedem Schritt schlimmer
…and then we roll. What looks harmless in the beginning turns out to be more and more challenging with every step.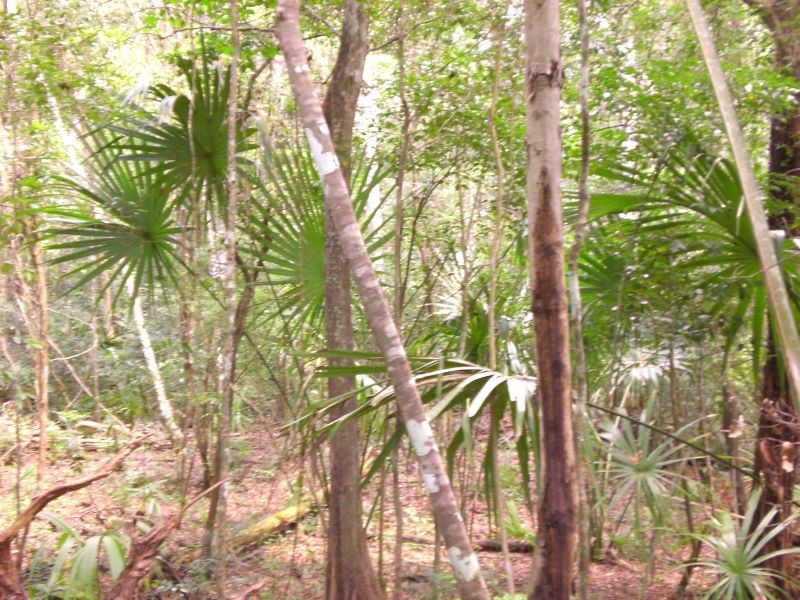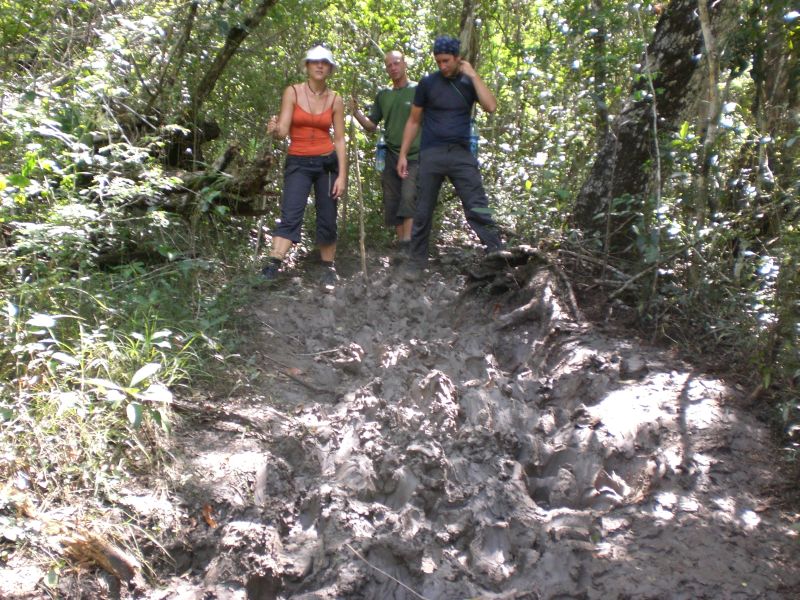 Ein Schlammloch folgt dem Anderen, es ist ein Albtraum. Wir muessen aufpassen, wo wir hintreten, um nicht hinzufallen. Und das bei der tropischen Hitze und der dazugehoerigen Luftfeuchtigkeit. Jose, unser Fuehrer hat ausserdem ein ganz ordentliches Tempo drauf, sodass wir Muehe haben hinterher zu kommen. Dabei ist der Gute schon 61, aber die Uebung macht's. Er laeuft die Strecke immerhin jede Woche.
One puddle of mud after the other, a nightmare. We have to watch every step we take not to stumble. It's ridiculously hot and humid. We do our very best to keep up with Jose's pace though he's already 61. But he walks this tour every week and knows where to set his feet.
Darf ich vorstellen, Jose…
May I introduce, Jose…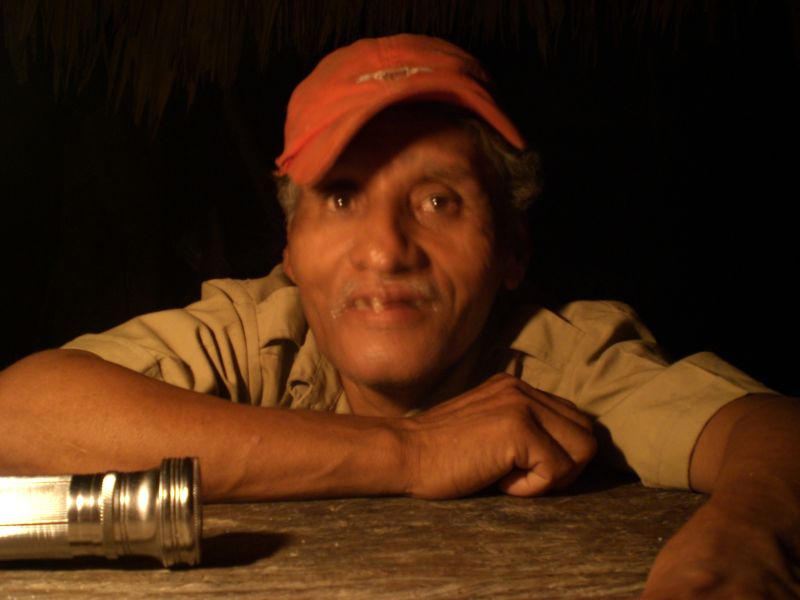 …und Alex, der sich um die Mulis kuemmert.
…and Alex who's taking care of the mules.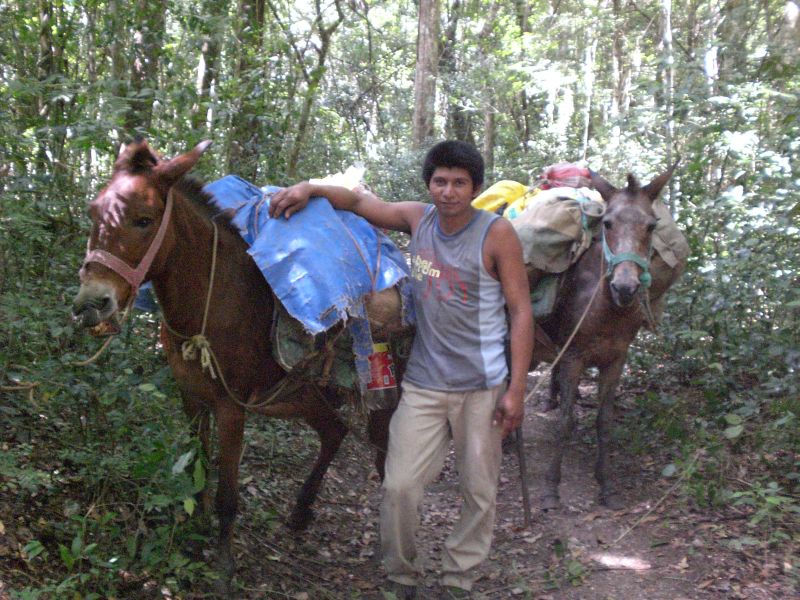 Nach 6 Stunden straffem Fussmarsch kommen wir voellig geraedert im Dschungelcamp bei Tintal an. Ebenfalls einer verlassenen Mayastaette mitten im Nirgendwo.
After 6 stressful hours of hiking through the jungle we arrive totally exhausted in the jungle camp of Tintal which is also an abandoned Maya site in the middle of nowhere.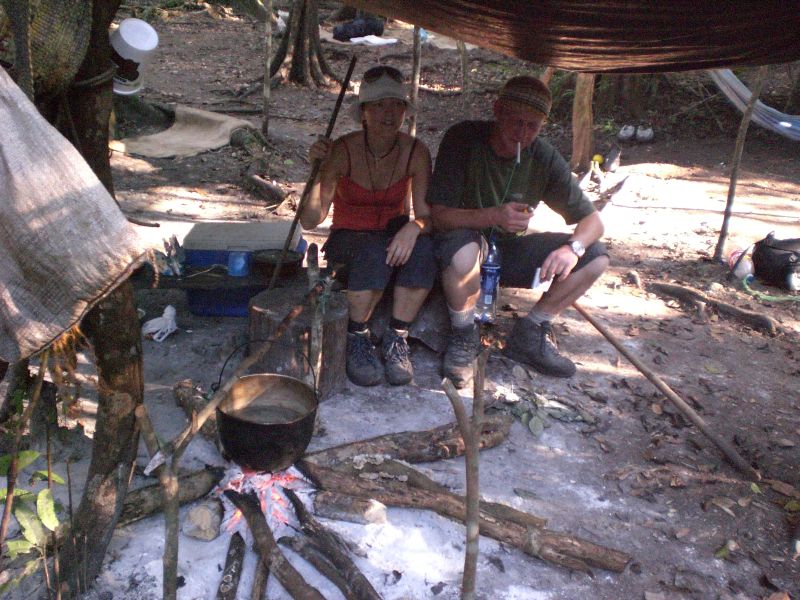 Unsere Fuesse bringen uns fast um und wollen es nicht wahrhaben, dass sie am naechsten Tag noch weiter gehen sollen. Aber um sechs Uhr morgens geht es los und 8 qualvolle Stunden ueber Stock und Stein folgen. Immerhin ist es nicht mehr ganz so schlammig wie am Vortag.
Our feet are killing us and don't want to believe that they have to walk even further the next day. But at six o'clock in the morning we move on and 8 painful hours over rough and smooth follow. At least it ain't that muddy than the day before.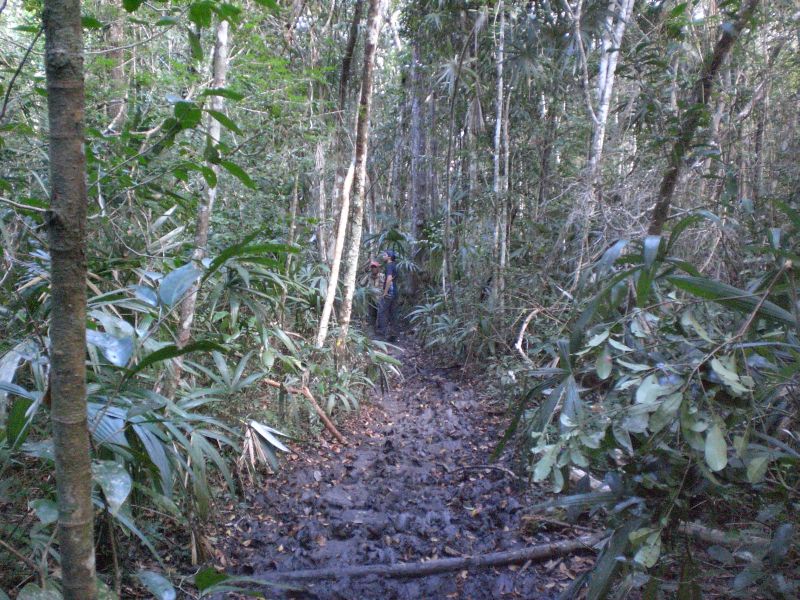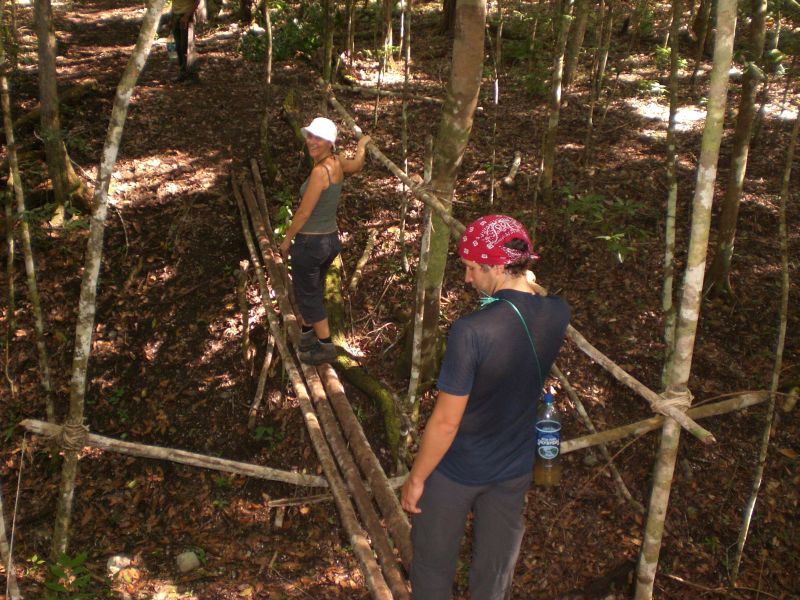 Staendige Begleiter, die uns neugierige Blicke von oben zuwerfen.
Permanent companions that are watching us curiously along our way.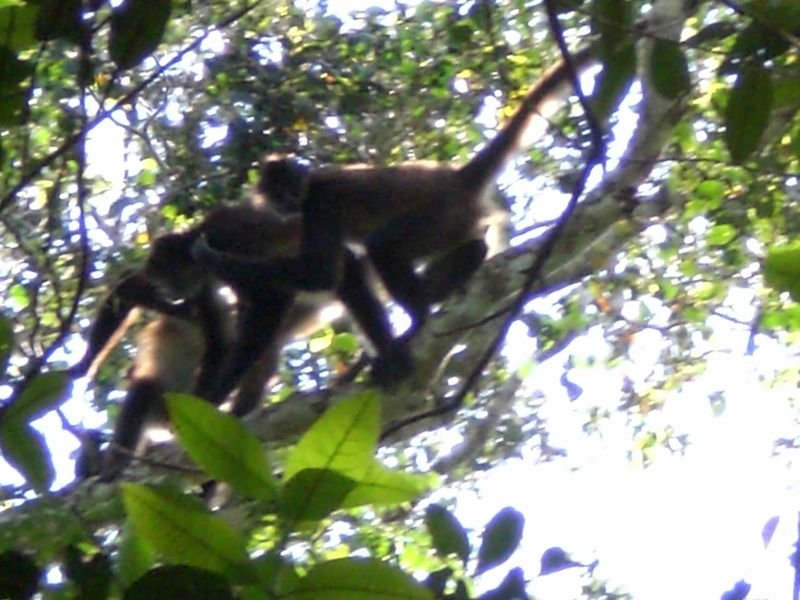 Brotzeit unterwegs…
Lunchbreak…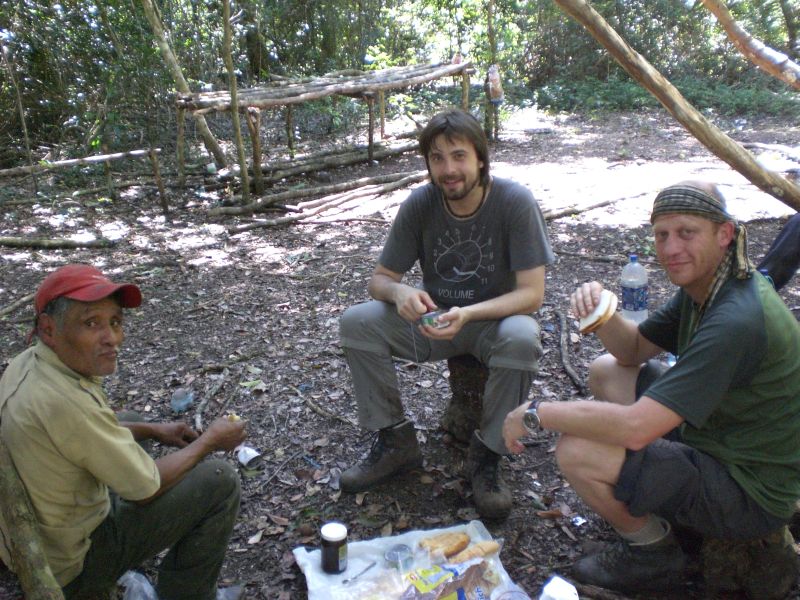 Nach 70 km zu Fuss kommen wir endlich in El Mirador an und nicht nur die Mulis sind muede.
After 45 miles we finally arrive in El Mirador. And not only the mules are tired.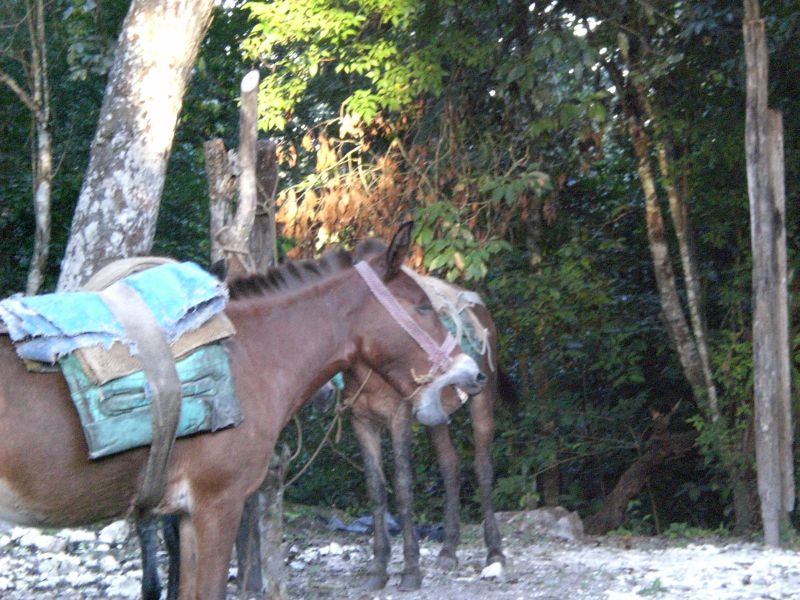 Das steckt an…
That's contagious…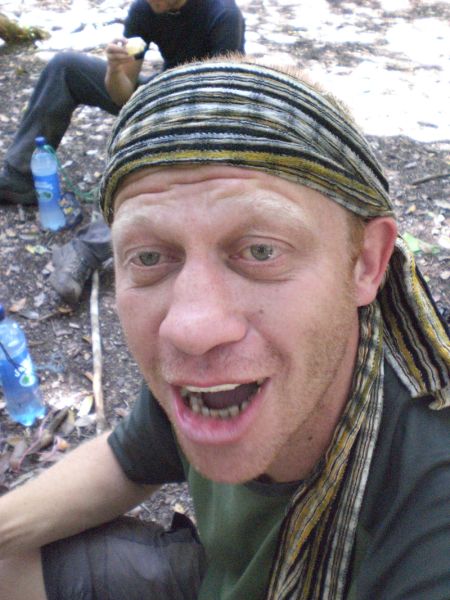 Nach dem eher rustikalen Camp in Tintal hoffen wir in El Miarador auf etwas mehr Komfort. Aber wir landen direkt auf einer Baustelle mitten im Dschungel. Es ist nicht zu fassen. Hm, in einem Jahr ist es hier vielleicht ganz schoen? Aber was soll's, die Haengematten sind schnell aufgehaengt.
After a rather rustic camp in Tintal we're hoping for more comfort in El Mirador. But instead we end up in the middle of a construction site right in the jungle. It's unbelievable, but maybe in a year or so it might look different. Nevertheless the hammocks are set up quickly.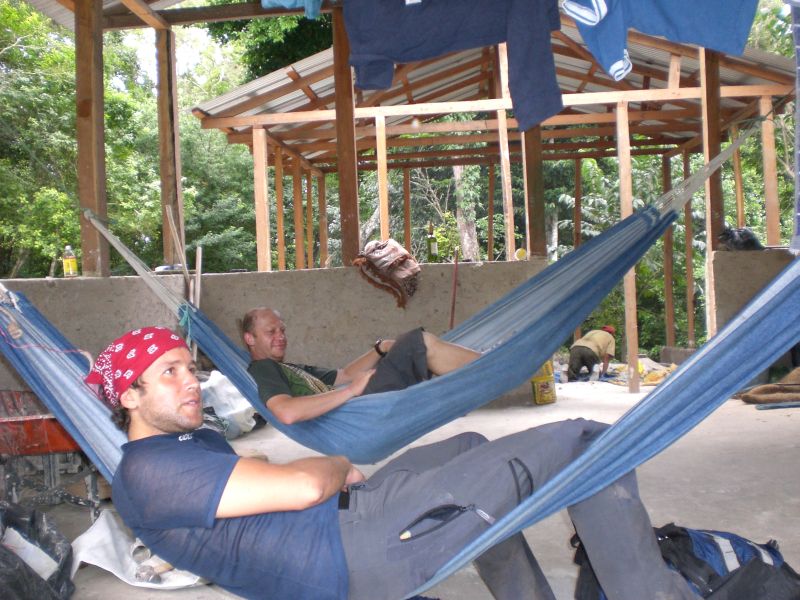 Wir freuen uns schon auf eine schoene Dusche und bekommen das: unseren Jungbrunnen!
We can't wait for taking a good shower – finally! And this is what we get: our fountain of youth!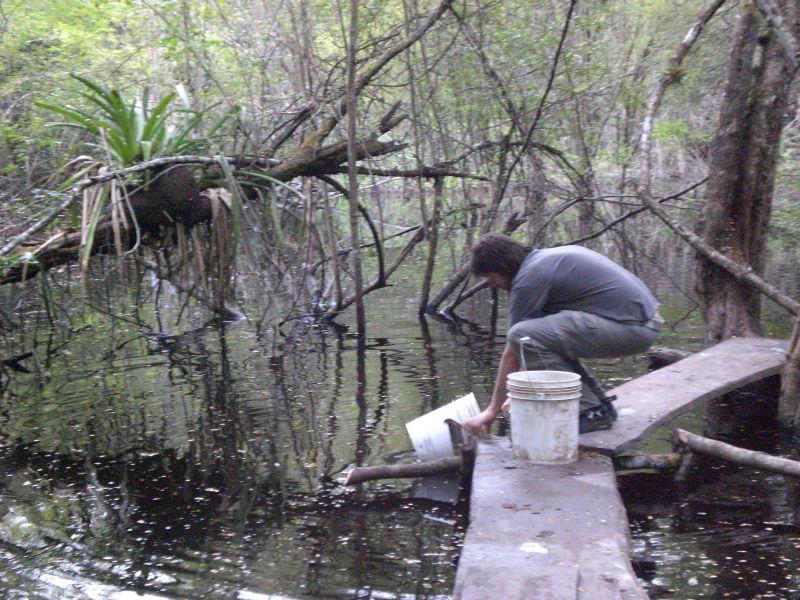 Begeistert sind wir nicht gerade …
We're not exactly delighted…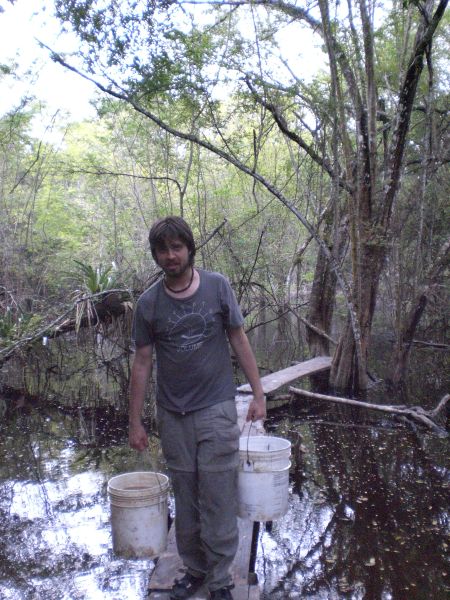 …aber wir machen das Beste draus und freuen uns ueber unsere Hepatitisschutzimpfungen.
…but we make the best out of it and are glad to have received our hepatitis immunisation shots.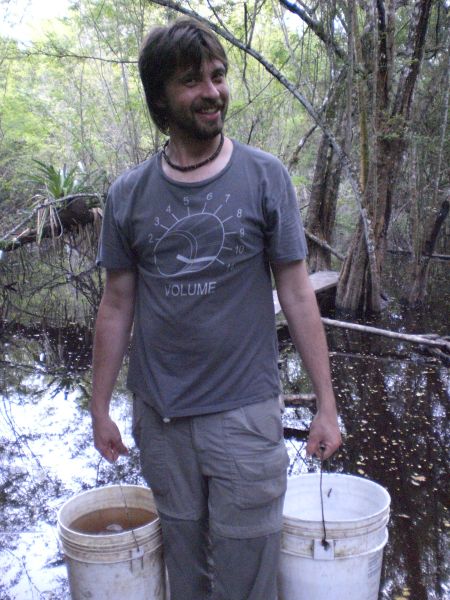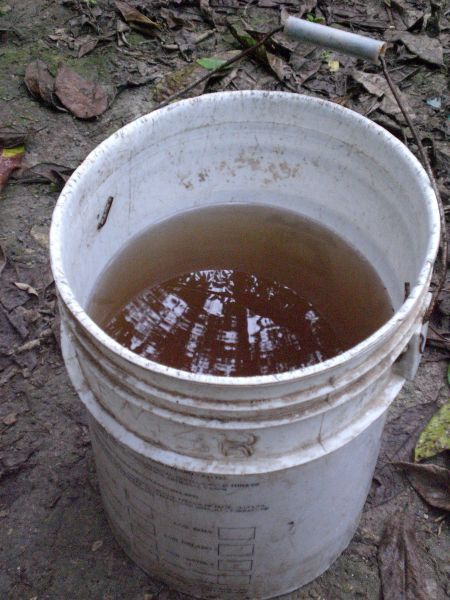 Martin macht's vor.
Martin comes first.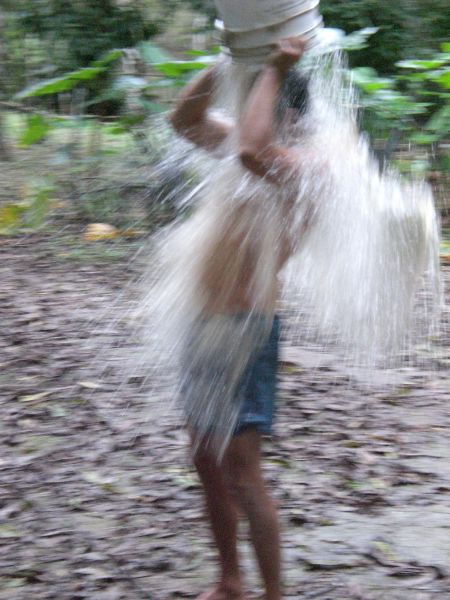 Nach der Erfrischung brechen wir (in tosenden Jubel aus), da es wieder Bohnenmus gibt. Nun schon das 3. Mal in Folge! Besonders Martin ist grosser Fan davon. Hier, im noch nicht ganz fertiggestellten Speisesaal.
After such a refreshening bath we are so exited about the mashed black beans. A running gag, since we've had it three times in a row now. Especially Martin is a big fan of it. Here we are in the dining room which is not quiet finished yet.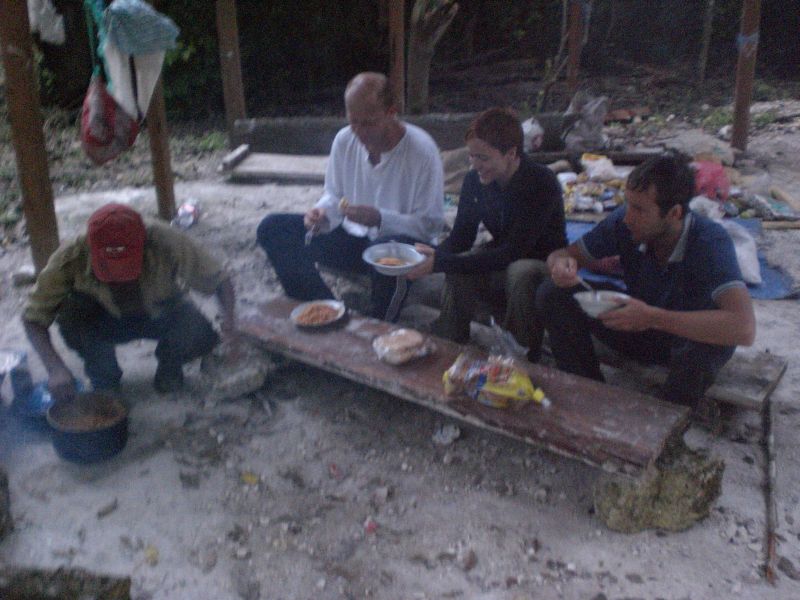 Huh, der Marsch steckt uns wirklich in unseren Knochen, Zeit fuer Kerzenschein.
Wow, that march got really in our bones. Time for candle light.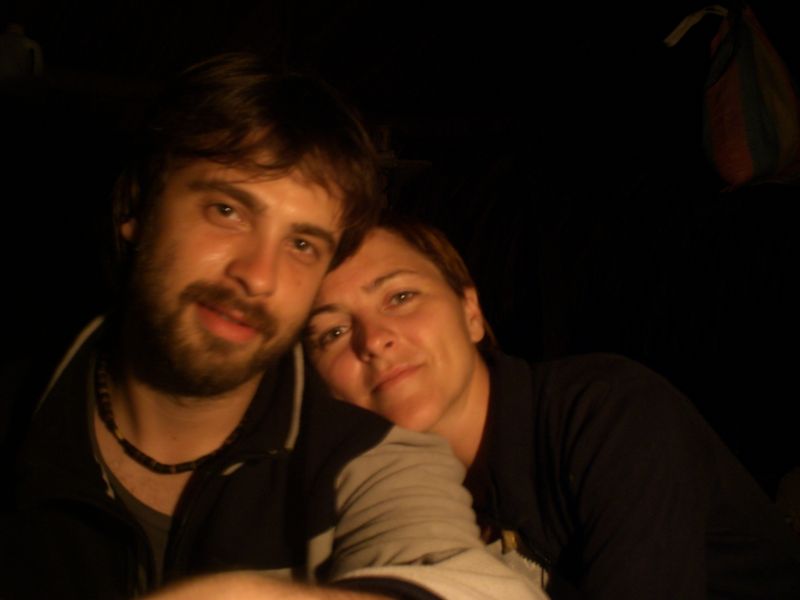 Allgegenwaertig…na dann gute Nacht.
Omnipresent…so sleep tight.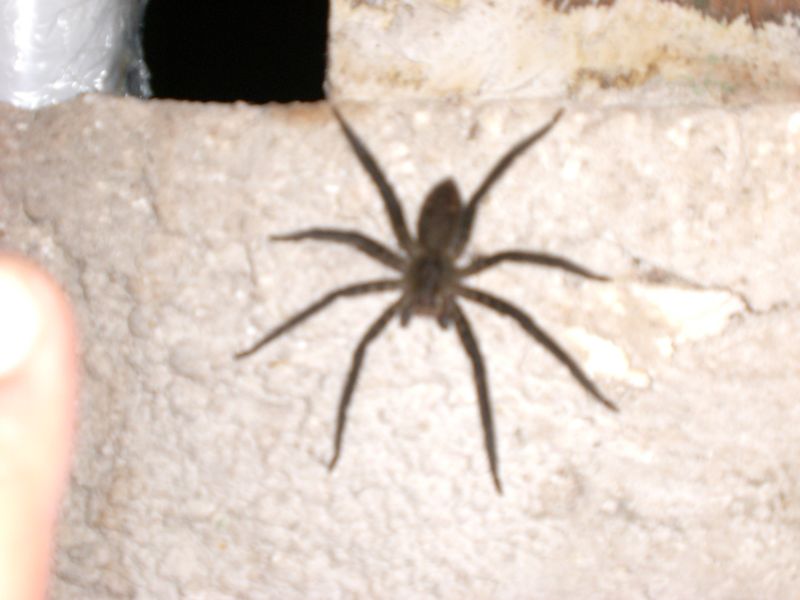 Am naechsten Tag duerfen wir bis acht schlafen, um dann nur eine Stunde zur Tempelanlage zu laufen. Hier sind wir am "Templo de los muertos" (der "Tempel der Toten"). Wie passend, denn genauso fuehlen wir uns auch.
The next morning we were allowed to sleep until eight and only have to walk for one hour to the ruins. Here we are at the "Templo de los muertos" (the "temple of the dead") , funny that's exactly how we feel.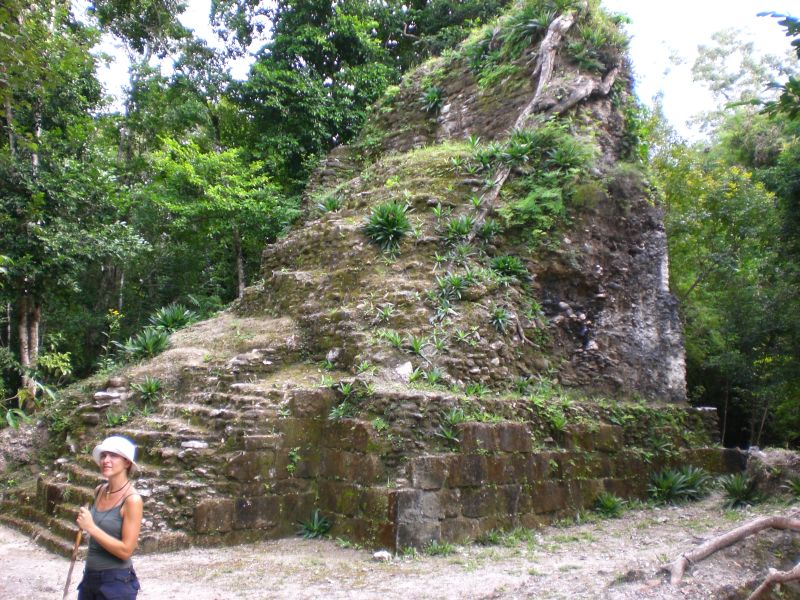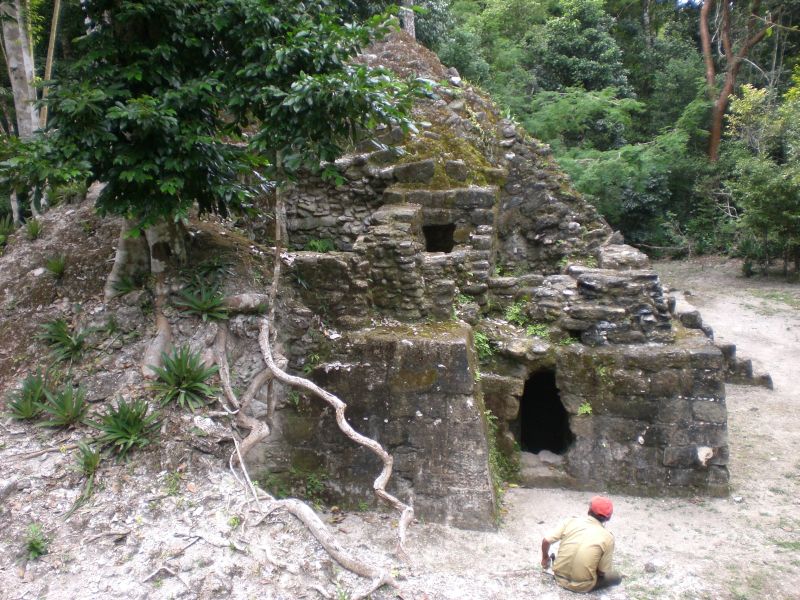 Bernhard das Schreckgespenst…
Bernhard the bugaboo…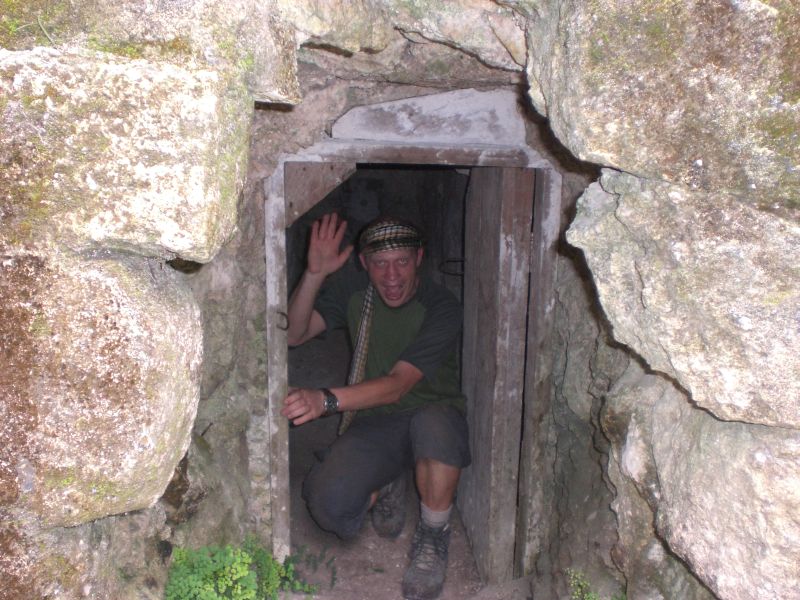 Und dann endlich "El Danta", die hoechste Pyramide der Mayakultur mit 72 m Hoehe. Hier muss noch viel gemacht werden.
And than finally "El Danta" the highest pyramid in the Mayan culture with its 220 feet hight. They're by far not finished reconstructing yet.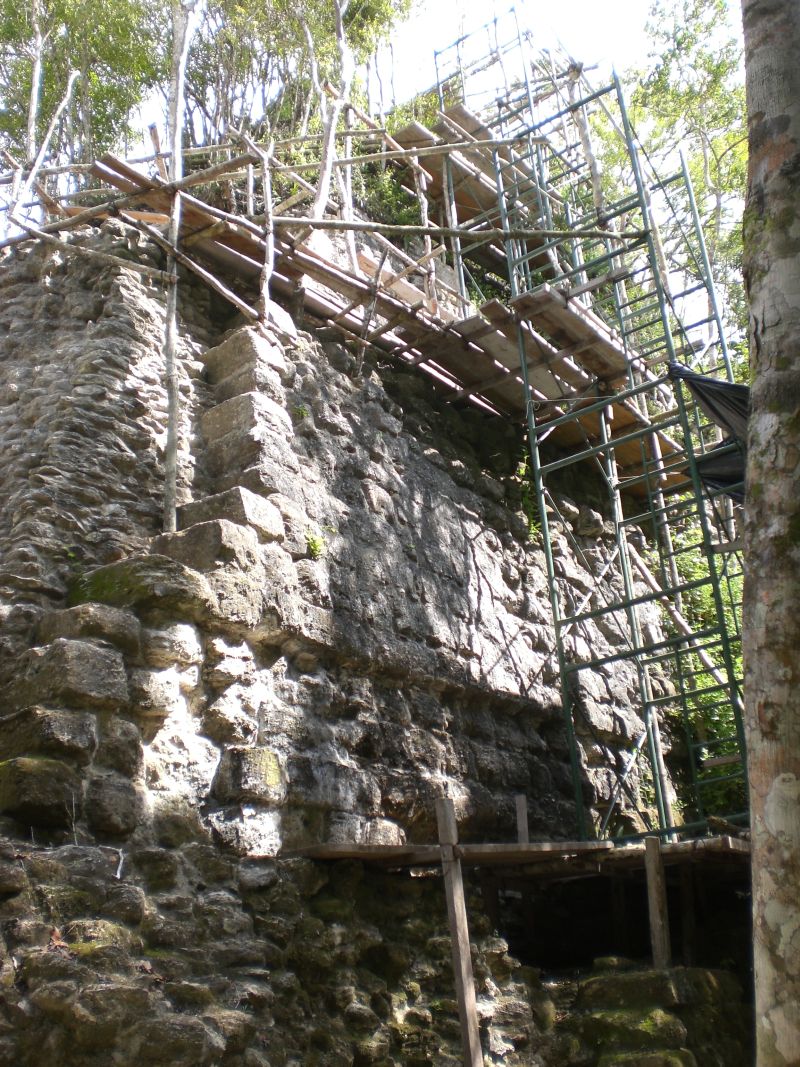 Geschafft, am Ziel unserer Reise!! Auf dem El Danta!
Done! Mission accomplished!! On top of El Danta!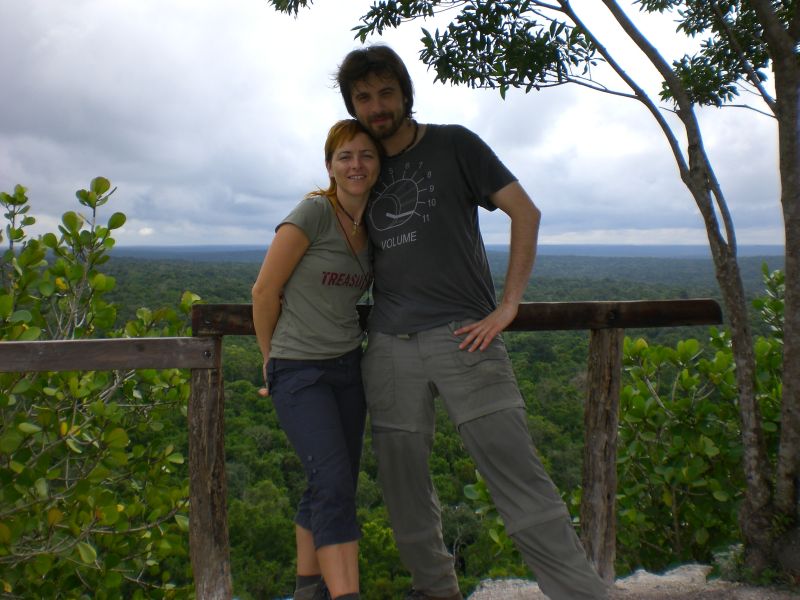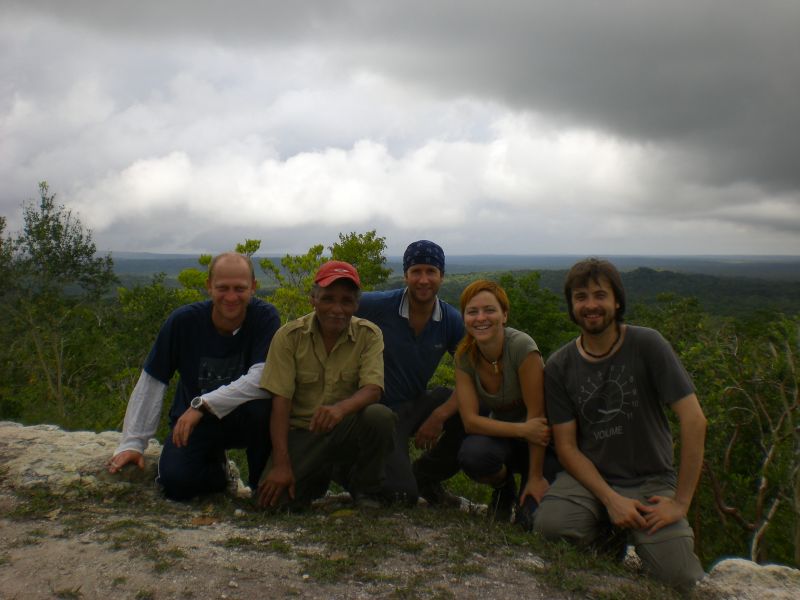 Und so soll El Mirador wohl mal ausgesehen haben.
And that's how El Mirador must have looked like.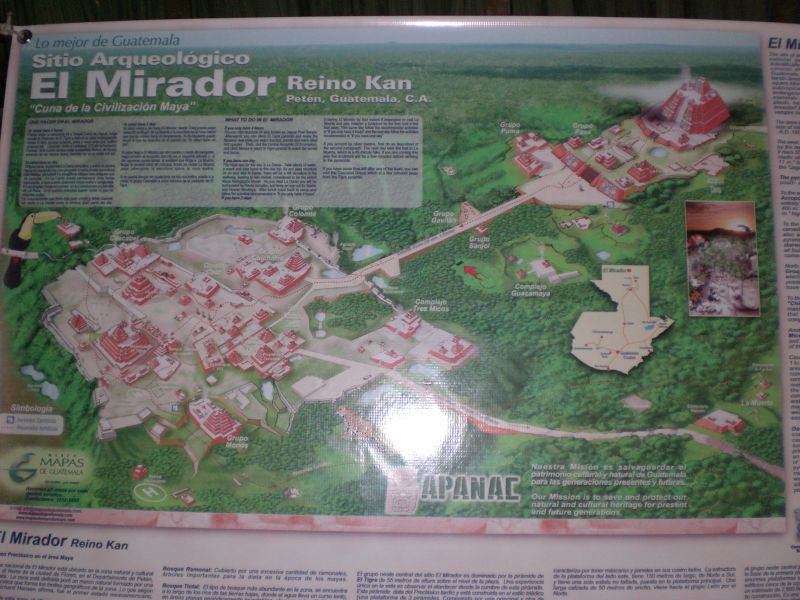 Nach einem mehr oder weniger entspannten Tag geht es nun wieder zurueck nach Carmelita mit einem Zwischenstopp in Tintal. Selbst Blasen an den Fuessen halten Karina nicht vom Laufen ab. Tapfer!
After a more or less easeful day we are heading homeward to Carmelita with a stopover in Tintal. Even blisters on her feet don't keep Karina from walking. Tough girl!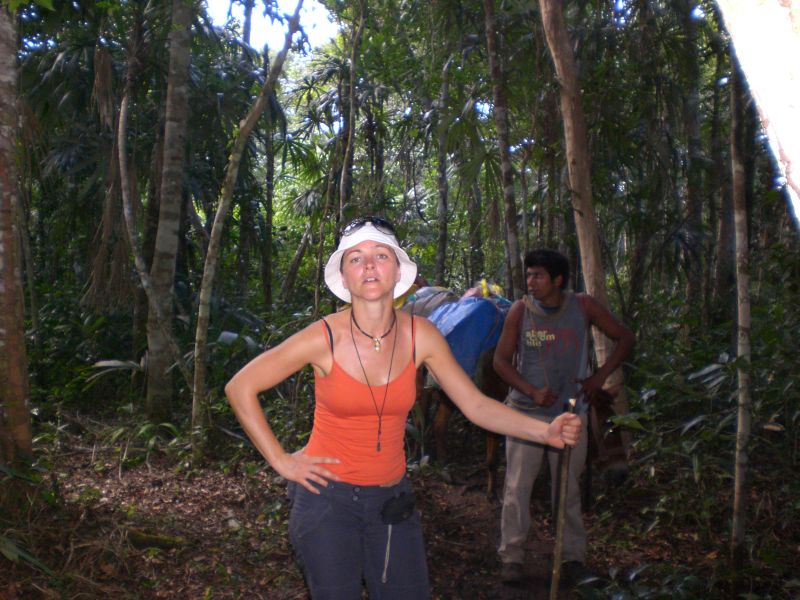 Unterwegs die gewohnte Rast mit reichhaltiger Kost.
On the way the usual lunch break with nutritious food.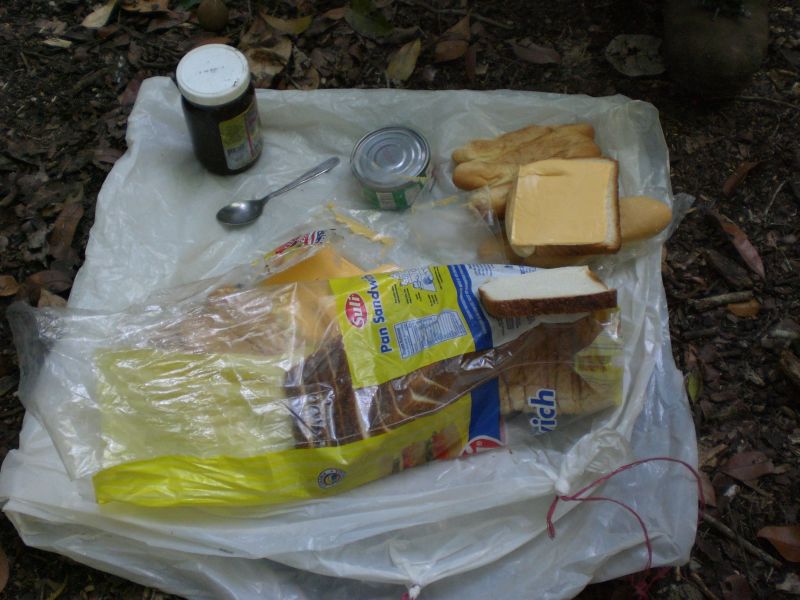 Es geht an die letzten Reserven.
This is our last reserve.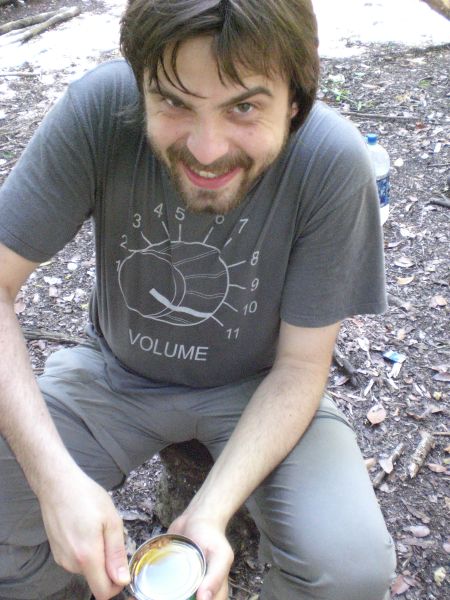 Ein Oesterreicher mit Mayatarnung.
An Austrian in Mayan carmouflage.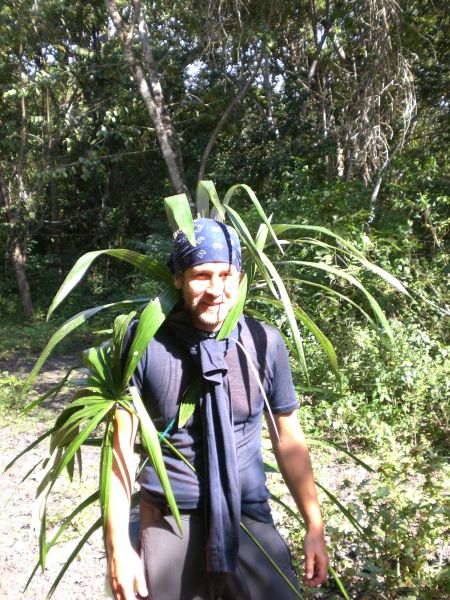 Zurueck in Tintal lernen wir die hiesige Kleintierwelt noch etwas genauer kennen. Guatemaltekische Haustiere?
Back in Tintal we get to know the local fauna a little better. Guatemalan pets?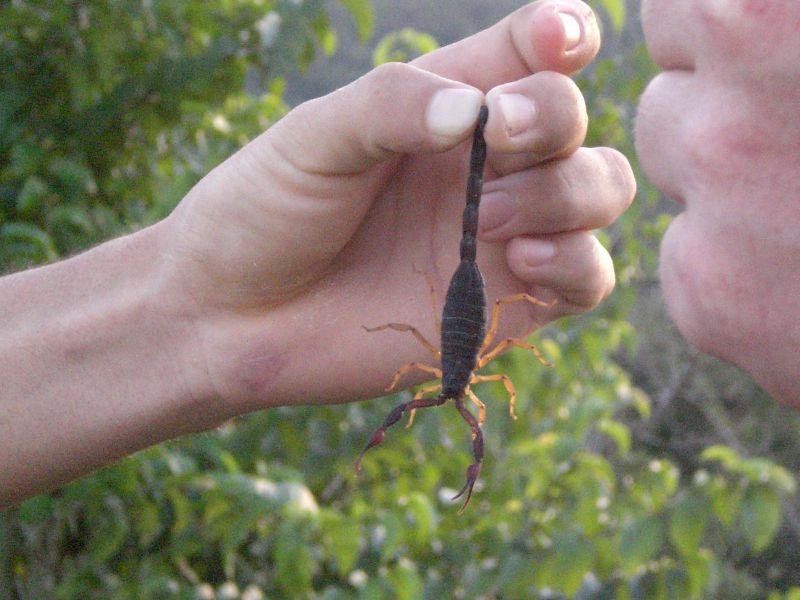 Unser Leitwolf auf dem "El Tigre"/Tintal
Our leader of the pack on top of "El Tigre"/Tintal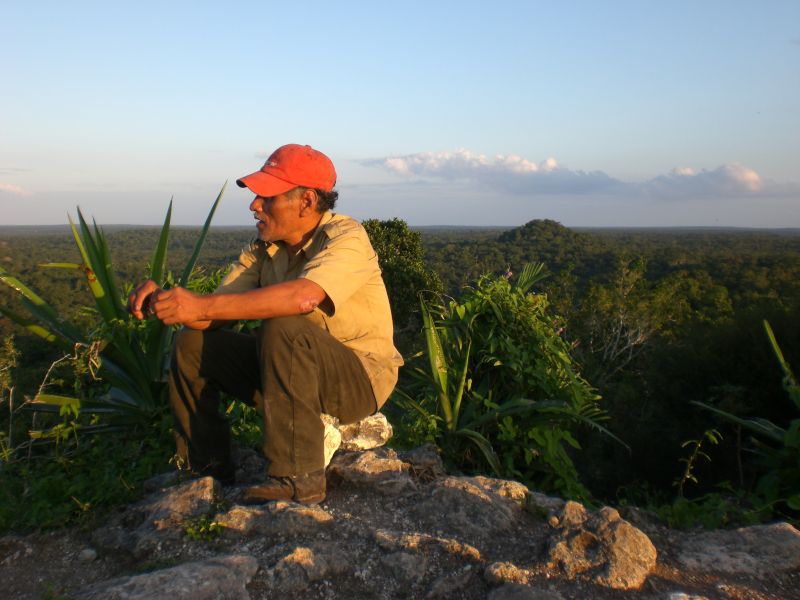 Weit in der Ferne koennen wir El Mirador sehen. Oh Mann, es ist echt unglaublich! Wir sind das ganze Stueck gelaufen.
In the distance we can see El Mirador. Damn, that´s far. We really have walked the whole way.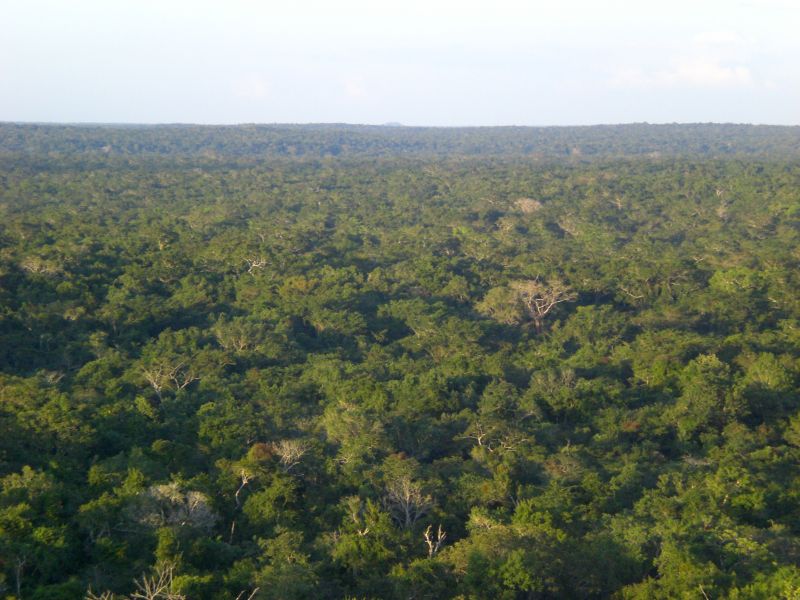 Jetzt bleibt nur noch den letzten Sonnenuntergang im Dschungel zu geniessen bevor es morgen zureuck nach Carmelita geht.
For now, we can only enjoy the last sunset in the jungle before we´ll return to Carmelita tomorrow morning.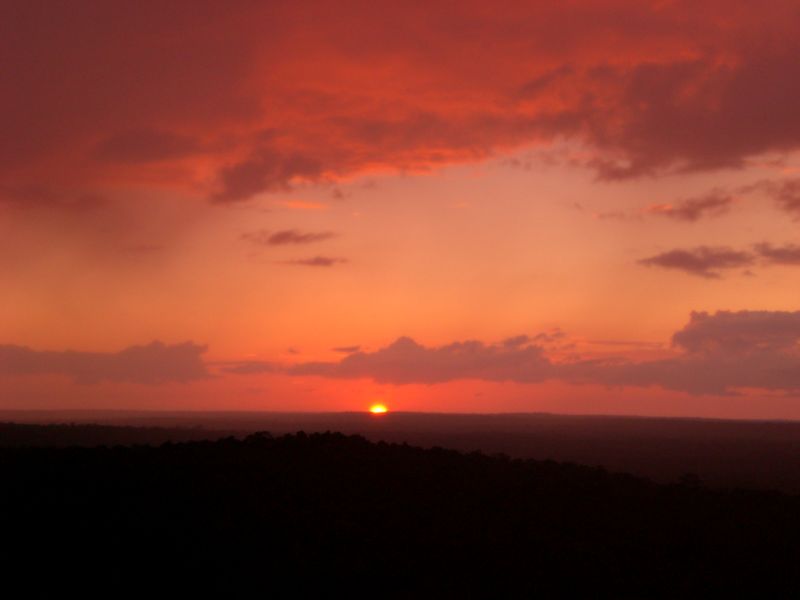 Die Blasen an den Fuessen machen jedes Weiterlaufen unmoeglich und so hat Jose ein anderes "Transportmittel" parat. Glueckliche Karina!
The blisters on her feet make it impossible to walk any further and so Jose gets an other means of transportation for Karina. Lucky her!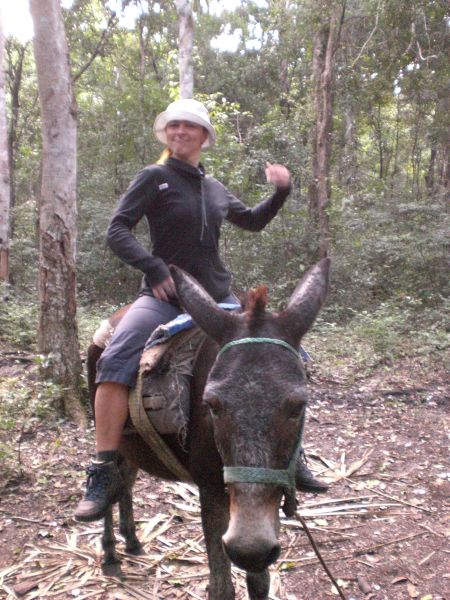 Diese Schuhe haben uns ganze 140 km durch den Dschungel getragen!!!
In these shoes we have walked 90 miles trough the jungle!!!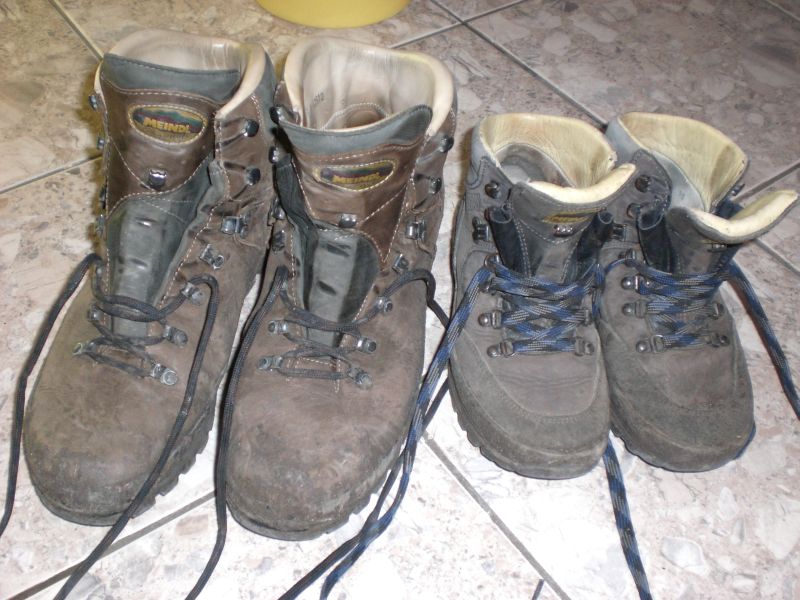 …und die gehoeren zu Jose!!!
…and these belong to Jose!!!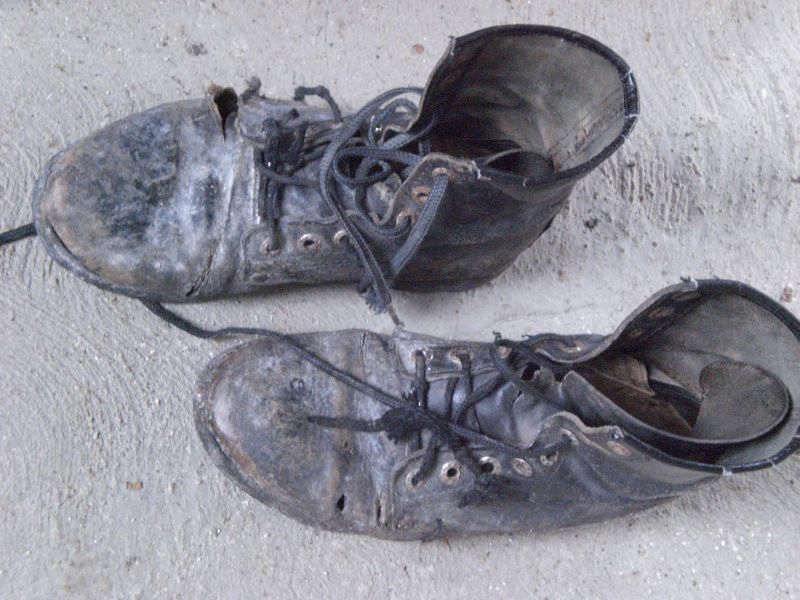 Nach fuenf sehr anstrengenden Tagen geniessen wir unser letztes gemeinsames Abendmahl, zur Abwechslung mal von gespuelten Tellern und trinken aus echten Glaesern. Das Beste: es gibt auch kein Bohnenmus!
After five really challenging days we´re enjoying our last supper. For a change with clean dishes and glasses. But the best: No mashed black beans!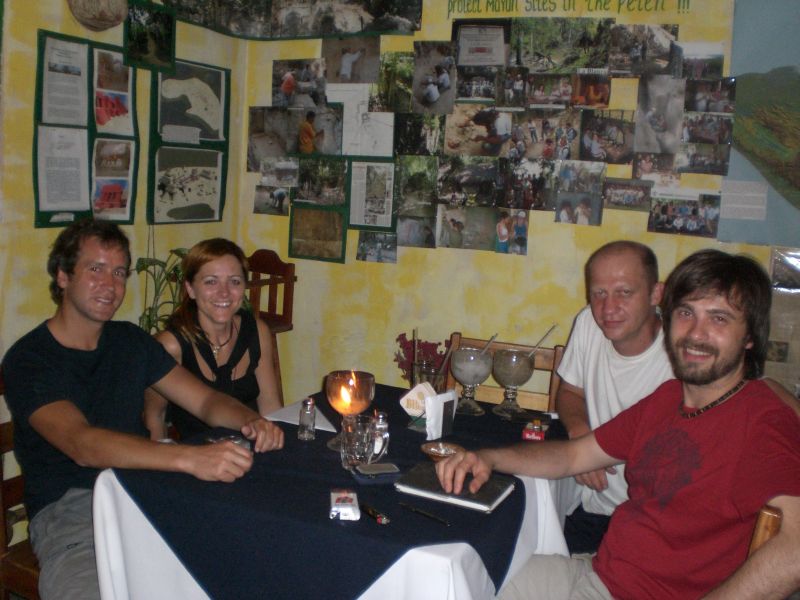 Bernhard und Martin reisen schon am naechsten Tag weiter nach Belize! Vielen Dank fuer die super schoene Zeit mit euch! Vielleicht sehen wir uns ja in Muenchen oder Wien wieder?
Wir goennen uns noch zwei Tage in Flores bevor es nach San Cristobal de las casas/Mexico weitergeht.
Bernhard and Martin are departing to Belize the very next day! Thanks so much for the wonderful time with you guys! Maybe see you next time in Munich or Vienna?
We grant ourselves two more days in Flores before we're heading to San Cristobal de las casas/Mexico.