Antigua – Semana Santa
Als wir nach 5 stuendiger Reise in Antigua ankommen, wird es uns noch nicht so ganz klar, aber es herrscht Ausnahmezustand in der Stadt. Die Strassen sind vollgestopft mit Leuten. Menschenmassen stroemen jedes Jahr nach Antigua, um die Osterwoche mitzuerleben. Dieses Mal sollen es 40.000 gewesen sein! Zwar gibt es anderswo auch Prozessionen, die schoensten Teppiche und prunkvollsten Prozessionen findet man allerdings zweifelsohne hier.
When we arrive in Antigua after a 5 hour trip we first don't realize that the city is totally crowded because of Semana Santa. Every year tons of people come to Antigua to witness the Easter processions. This year there must have been approximately 40,000 visitors. Though there's processions elsewhere too the beautiest and most magnificent ones you'll find here, there's no doubt about it.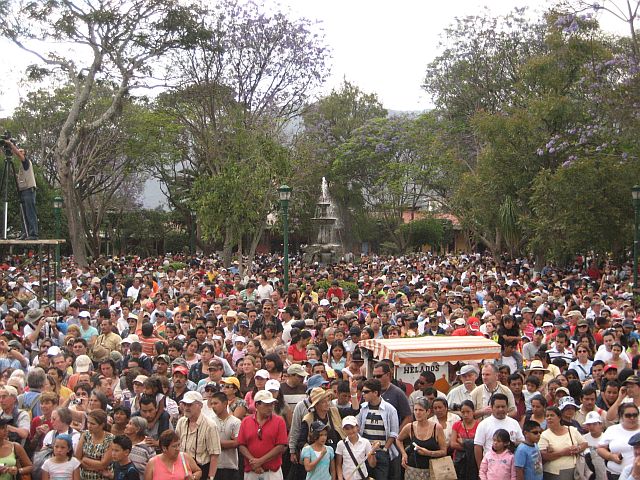 Da es nahezu unmoeglich ist, noch eine Bleibe zu finden, sind wir froh, dass die Familie von Ana und Jorge uns herzlich wilkommen heisst.
It is almost impossible to find a cheap hotel or hostel in town these days. So we're glad that the family of Ana and Jorge friendly took us in.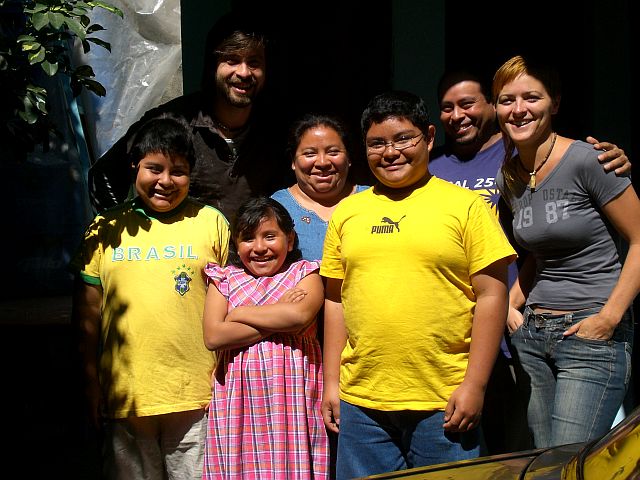 Bei einem Stadtbummel – soweit dieser moeglich ist, da sich alles schiebt und draengelt …
During a stroll through the town – as far as possible since the streets are really packed …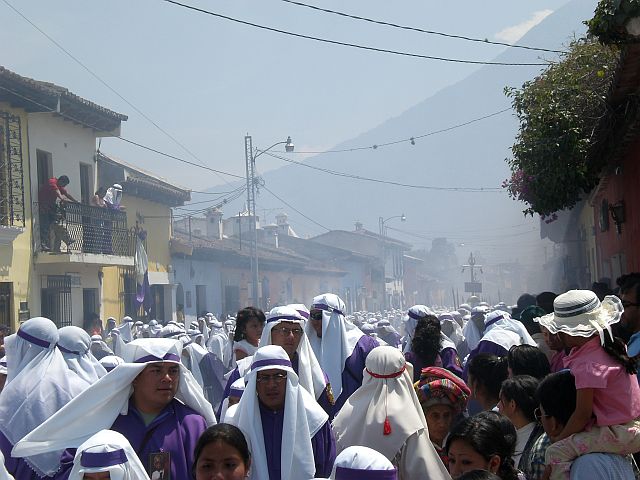 …muessen wir ein paar Impressionen auf Bild festhalten. Das Postkartenbild von Antigua: Blick entlang der "Calle del arco Santa Catalina" mit Vulkan Agua im Hintergrund.
…we just have to take some pictures of this gorgeouse spot. The postcard shot of Antigua: the "calle del arco Santa Catalina" with volcano Agua in the background.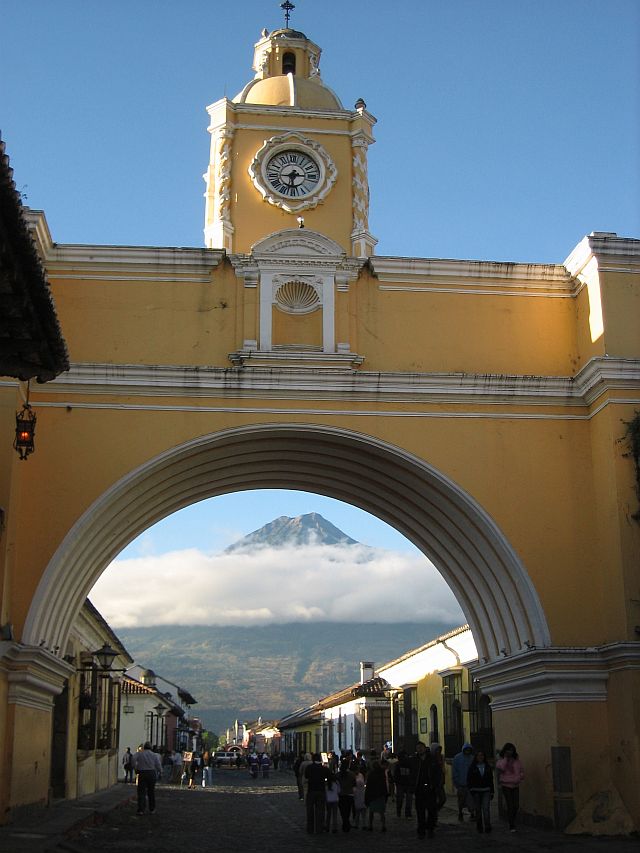 "Cathedrale San Francisco"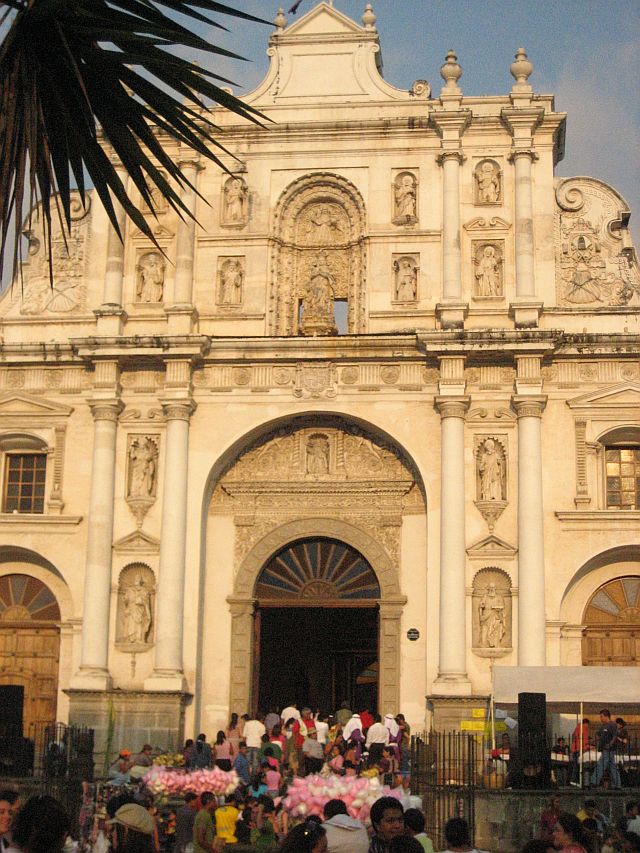 … ohne Worte
… no comment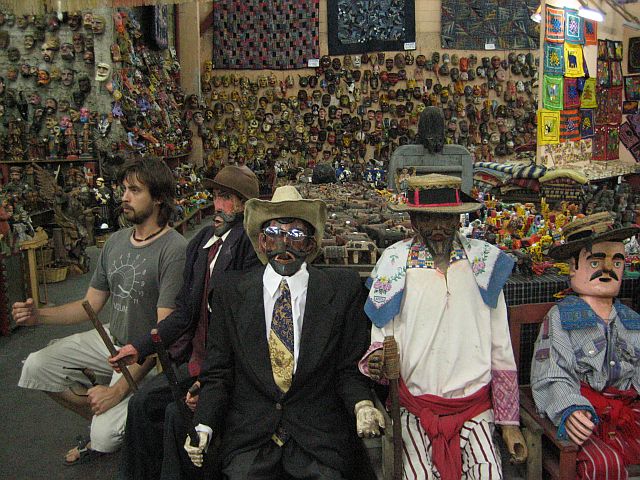 Da die ganze Woche ueber Prozessionen stattfinden, duerfen wir gleich am ersten Tag die Blumenteppiche (alfombras) bewundern.
Since there are processions throughout the whole week we can marvel at the flower carpets (alfombras) on our very first day in Antigua.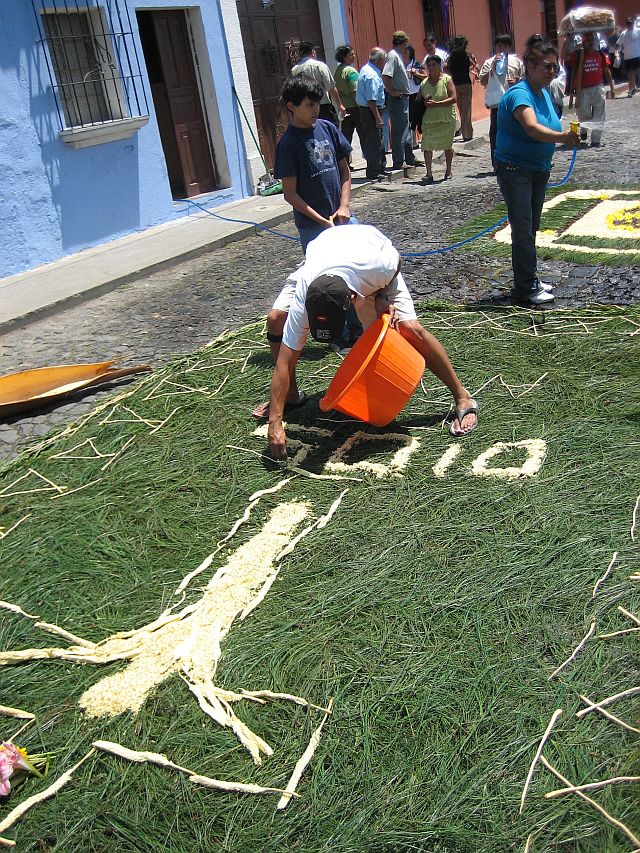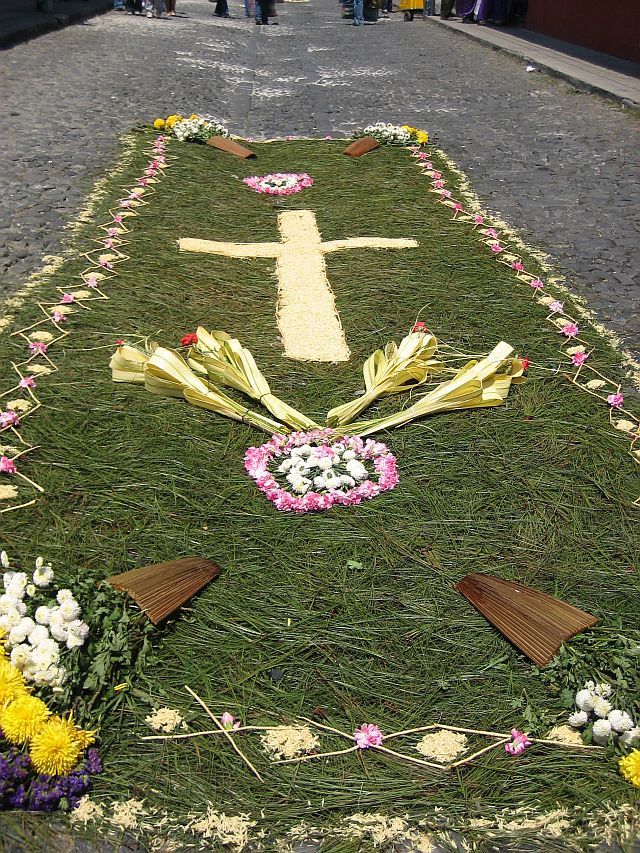 Hinter dem Umzug kommt gleich die Putzkolonne. Und was in muehevoller Handarbeit hergerichtet wurde, wird im Nullkommanix zusamengekehrt.
The cleaning crew follows the processions right away. And what has been created in detail work is sweeped away in a few seconds.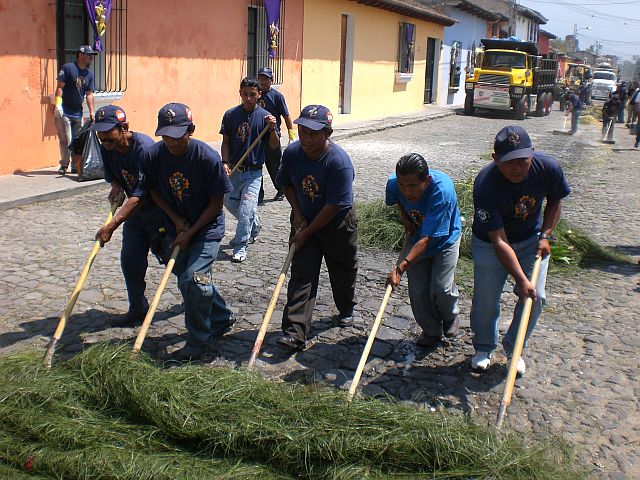 Antigua bei Nacht – etwas fuers Auge.
Antigua at night – pleasing to the eye.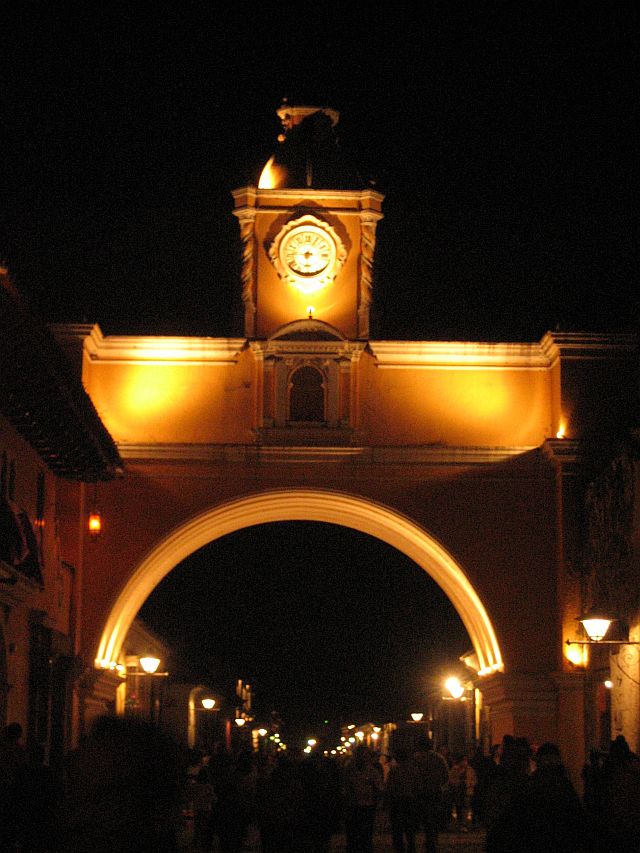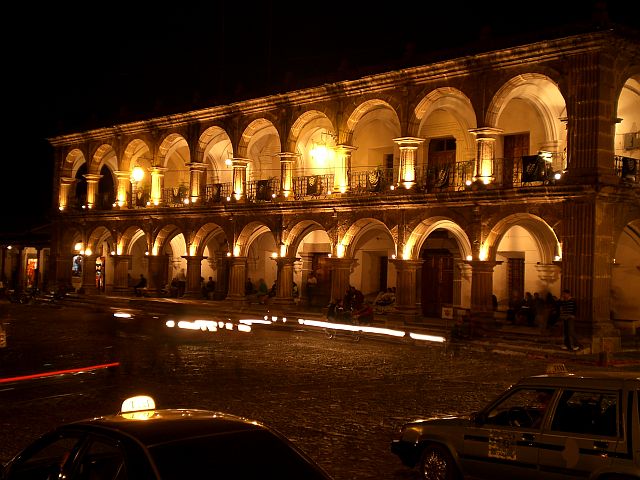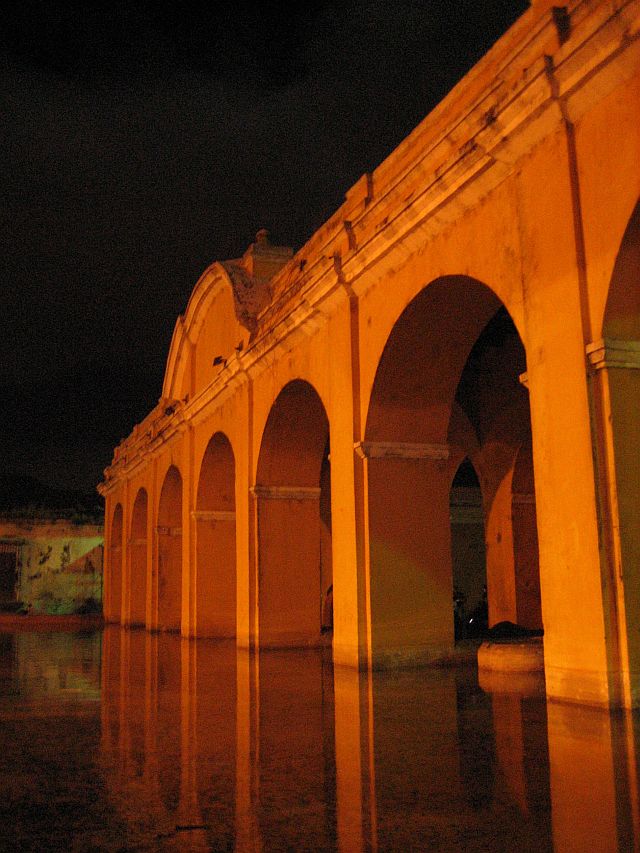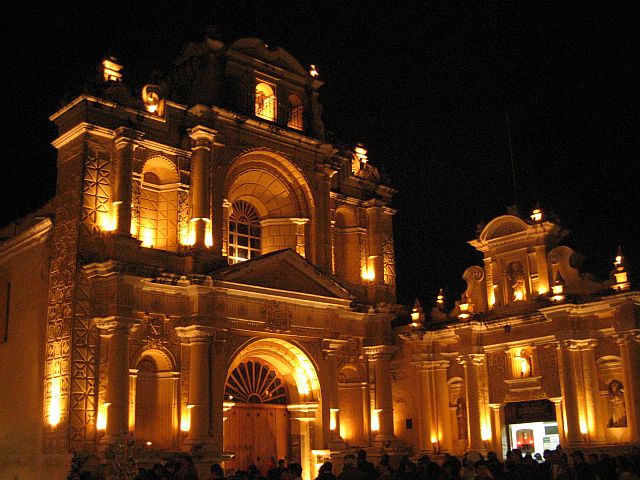 Unsere Spanischschule in Antigua – Probigua.
Our Spanisch school in Antigua – Probigua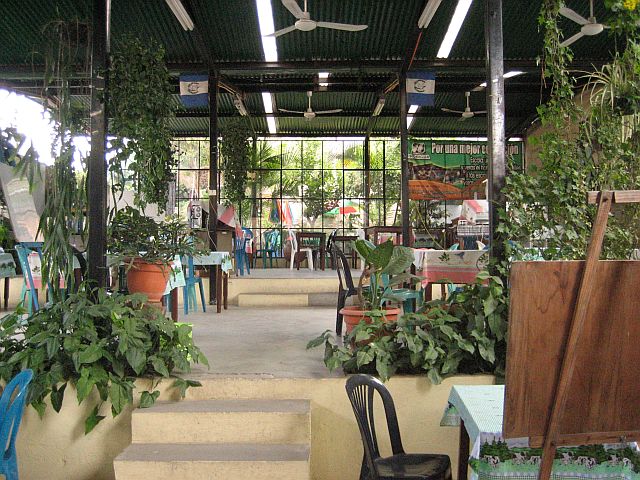 "Speak Shop" kann von Studenten weltweit genutzt werden, wenn sie, nachdem sie die Schule besucht haben, weiterhin an ihren Spanisch arbeiten wollen. Eine ziemlich gute Idee wie wir finden.
"Speak shop" can be utilized by students worldwide who have attended the school and want to follow up with their Spanish from home. What a nice idea.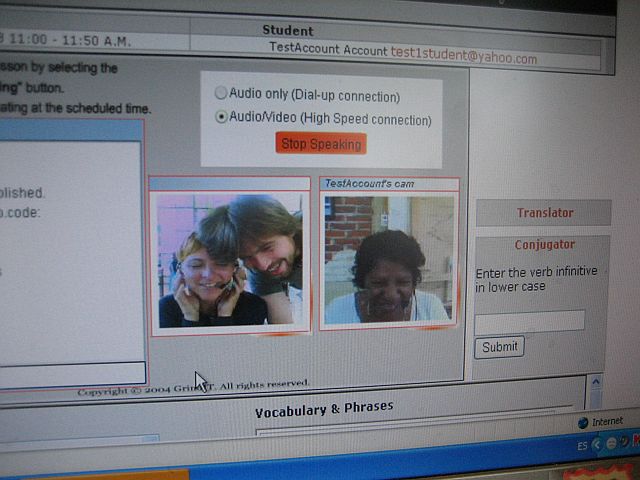 Mit unseren Lehrerinnen Rebecca und Olga geht's morgens zum Markt, um Blumen fuer die Vorbereitung des "alfombra" zu kaufen.
With our teachers Rebecca and Olga we go on a little shopping trip to buy flowers for the "alfombra".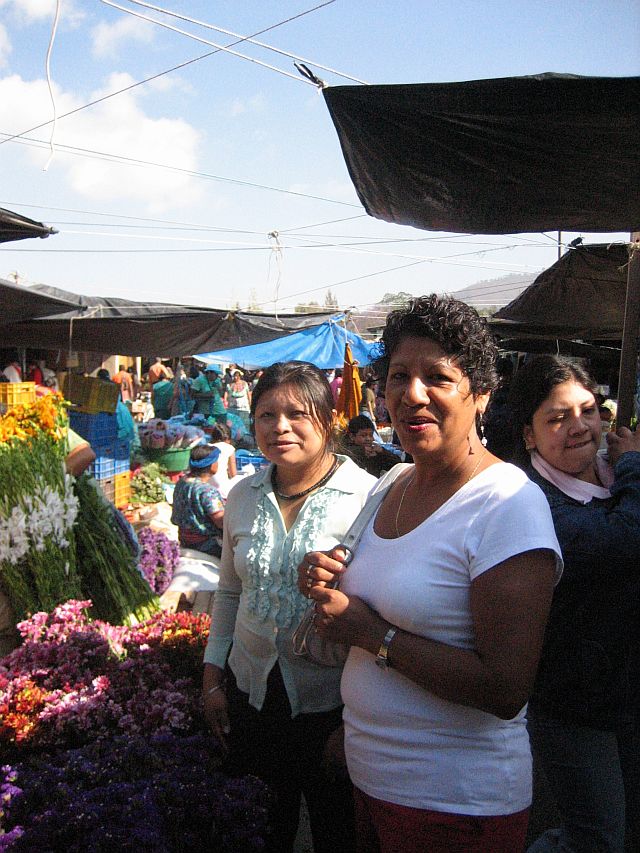 Erbse, Bohnen, Linsen, bringt de Arsch zum Grinsen … wir koennen ein Lied davon singen, oder besser trompeten. Frijoles (Bohnen) hatten wir zu Genuege. Aber schoen anzusehen sind sie dennnoch.
Peas, beans, lentils, … oooh, heavy stuff for your digestion as we experienced during the last weeks! We had quiet enough frijoles (beans), I can tell you! But they're nice to look at anyways.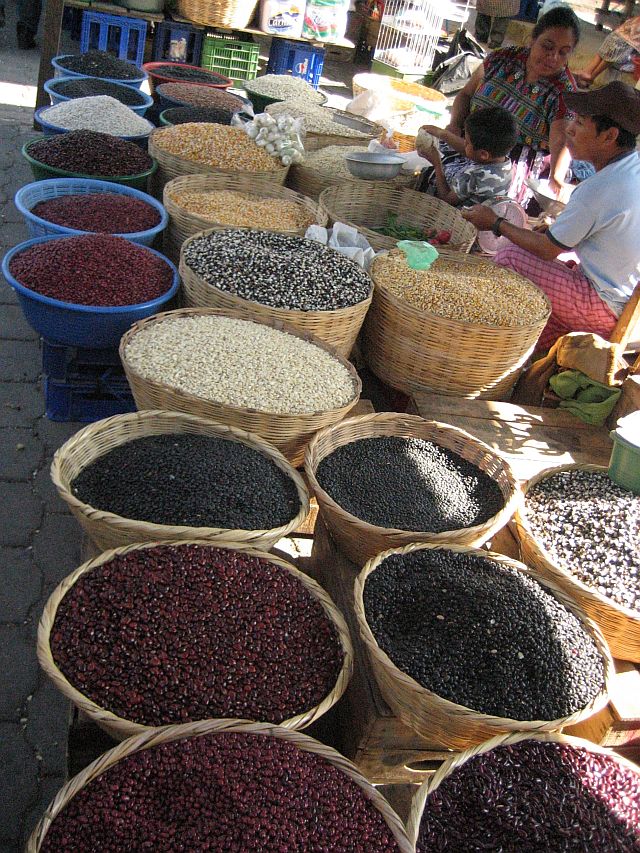 Sie mag wohl auch keine Bohnen?!
She doesn't seem to like beans either?!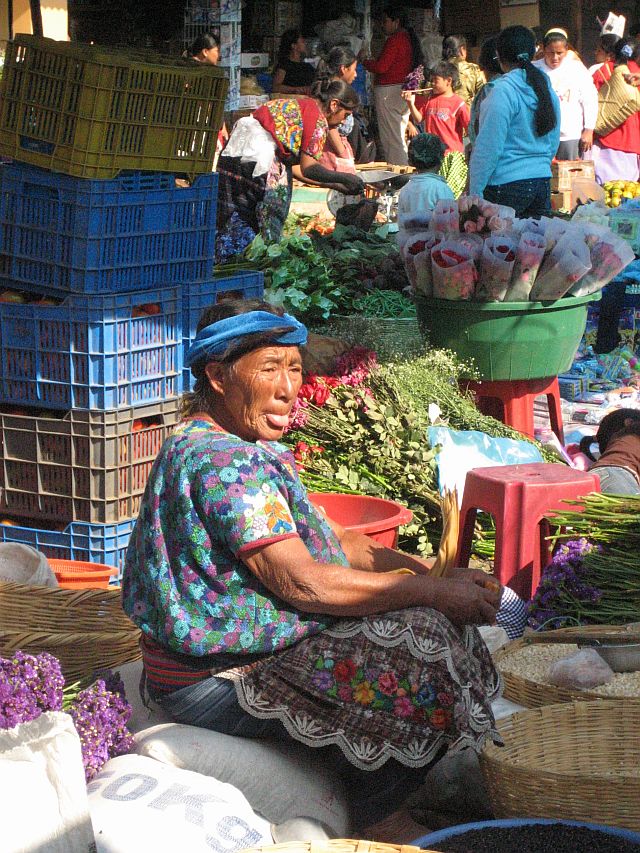 Zurueck in unserer Sprachschule – geht's den Blumen zu Leibe. Alles fuer den Teppich!
Back in our school – we sacrifice flowers for the carpet.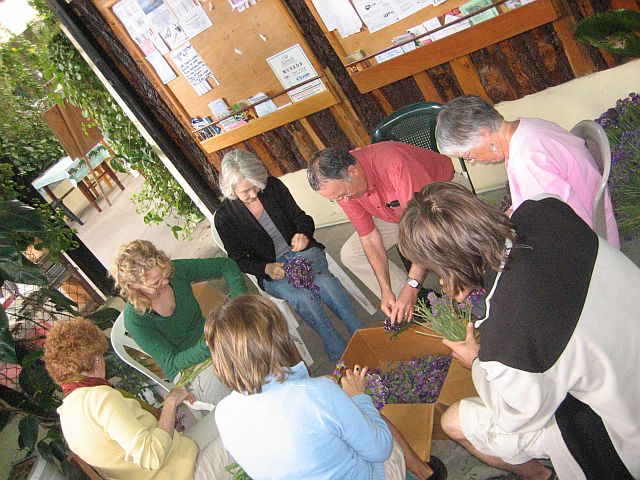 Saegespaene werden zur Vorbereitung der "alfombras" eingefaerbt.
Sawdust is being colored for the preparation of the "alfombras".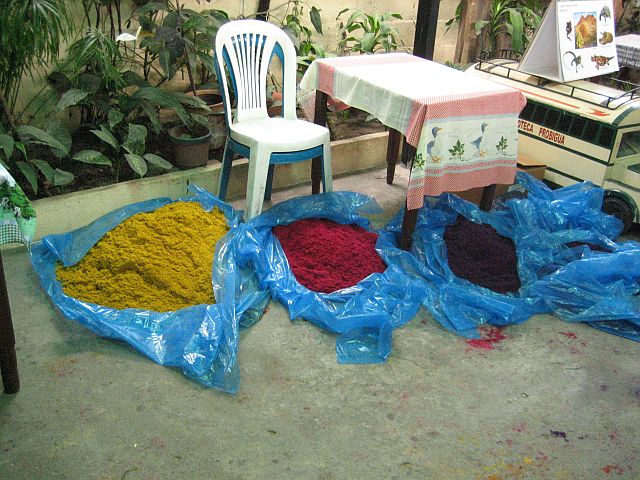 Dann bricht die Nacht herein und Antigua erscheint in einem anderen Licht…
Then the night comes creepin' in and Antigua appears in a different light…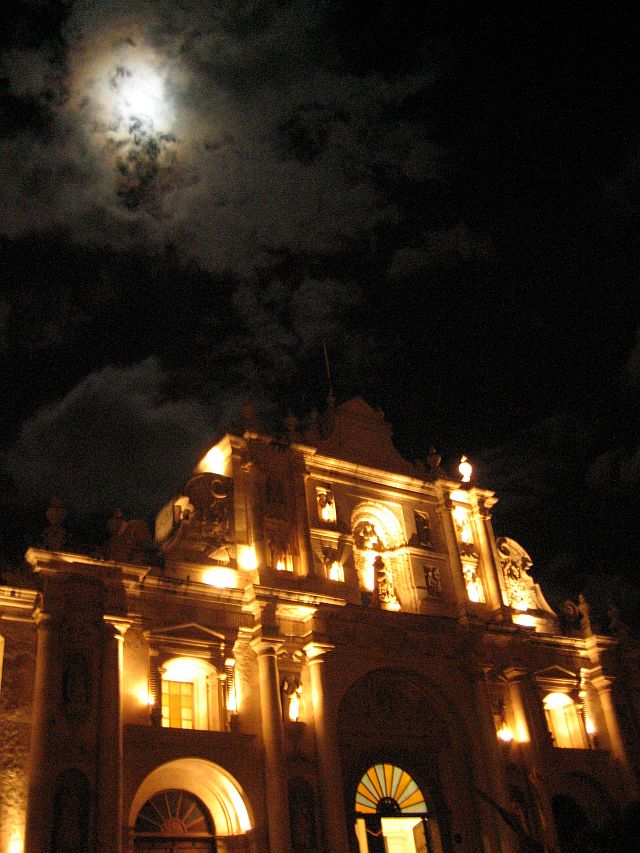 Die Altare in den Kirchen sind wie Theaterbuehnen hergerichtet.
The altars in the churches are set up like theater stages.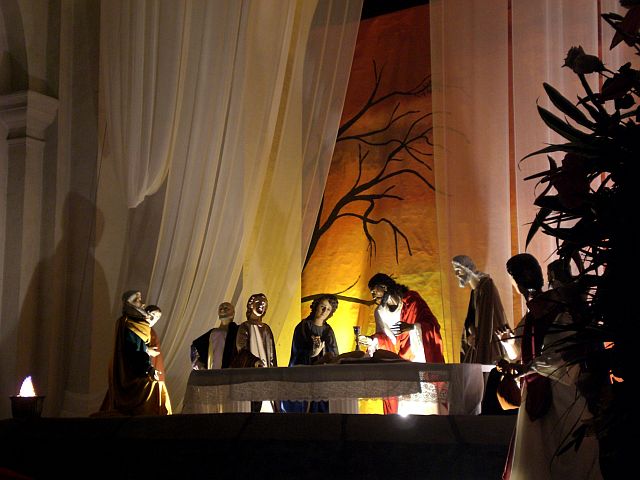 Wir haben zu Weihnachten den Christstollen, hier gibts die Christtorte zu Ostern und die ist riesig!
At church they do present this humongous Jesus-cake.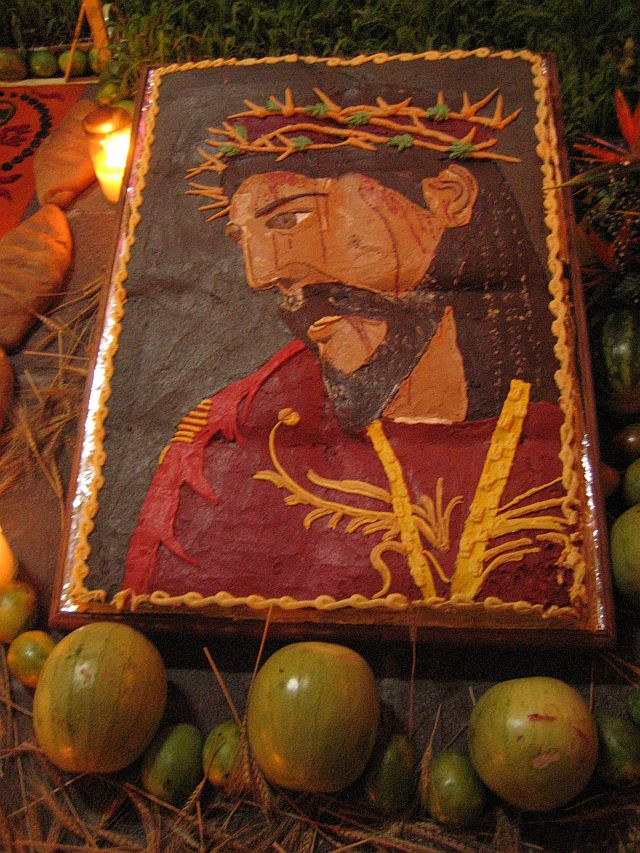 Und dann geht's los, denn morgen frueh muss alles fertig sein, wenn die Prozession hier durch kommt. Ersteinmal werden die Unebenheiten der Strasse mit Sand ausgeglichen. Heute Nacht schlaeft hier KEINER!
Then the preparations start. Everything has to be ready in the morning when the processions come marching through. With sand they create an even base since the streets are quite bumpy. Tonight NOONE gets to sleep!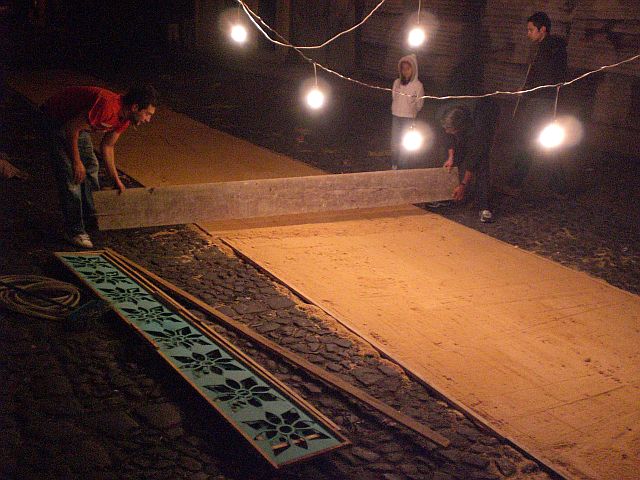 Auch unsere Sprachschule macht einen Teppich und alle packen mit an.
Our language school makes a carpet, too. And we all join hands together.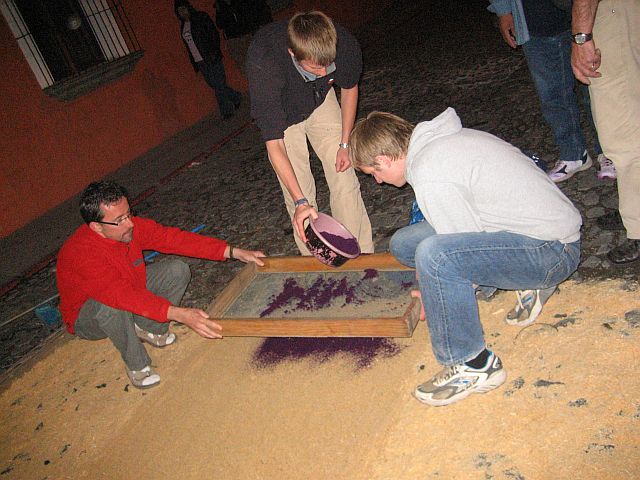 Es wird, es wird…
It's getting there…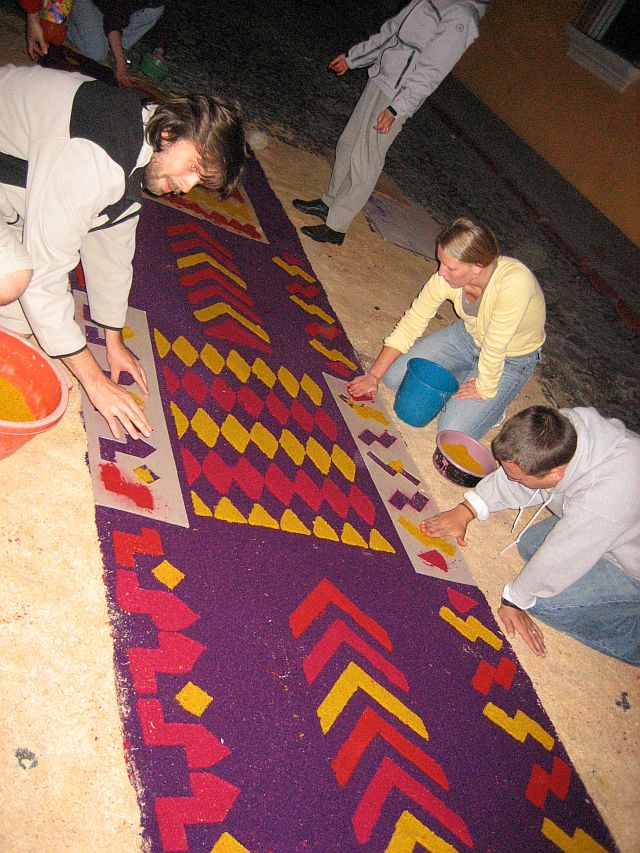 Fast fertig!
Almost done!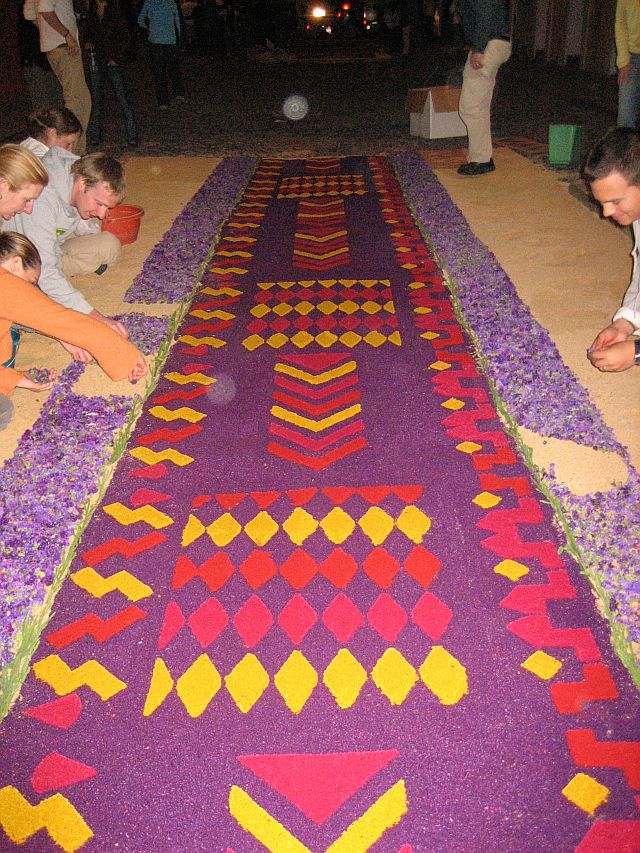 Woanders wird natuerlich auch kraeftig gebastelt.
Of course in other places people make carpets as well.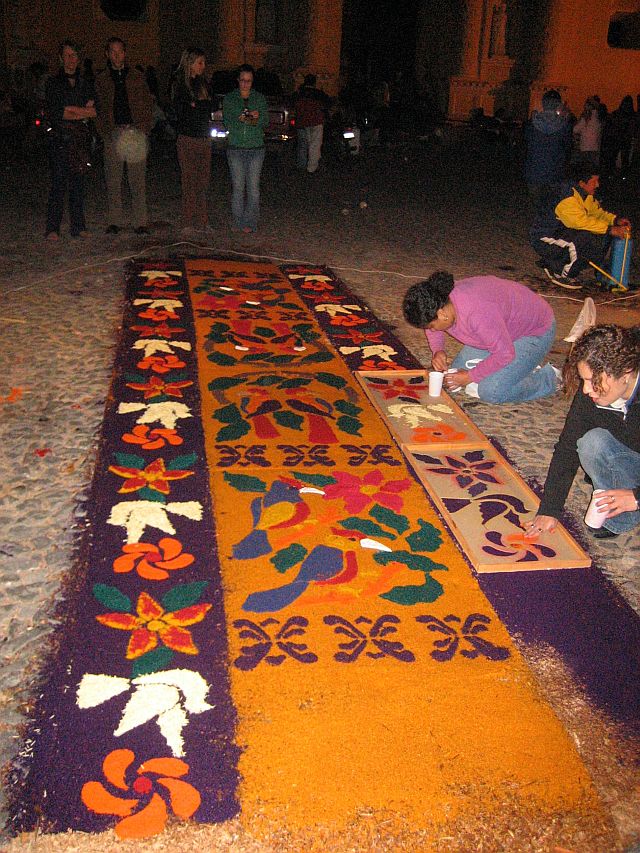 In allen moeglichen Farben…
In all sort of colors…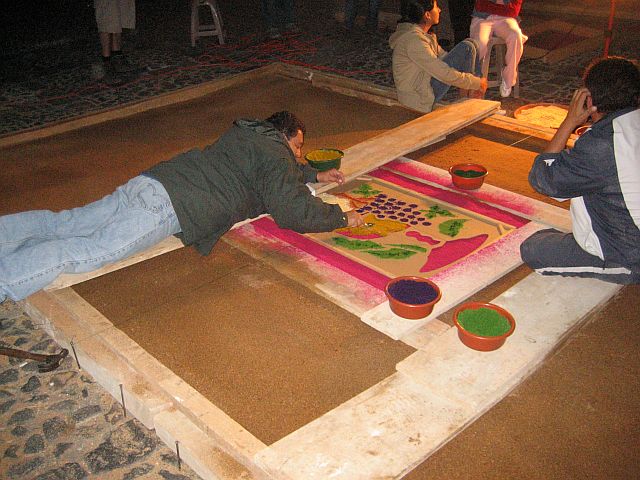 …und Mustern.
…and pattern.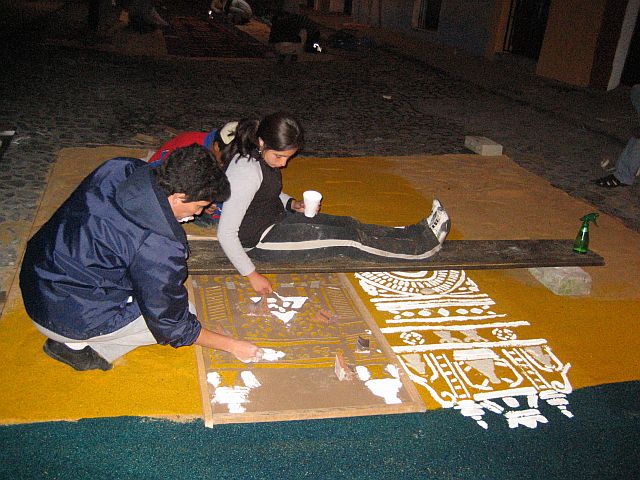 Und noch'n Teppich…
Another carpet…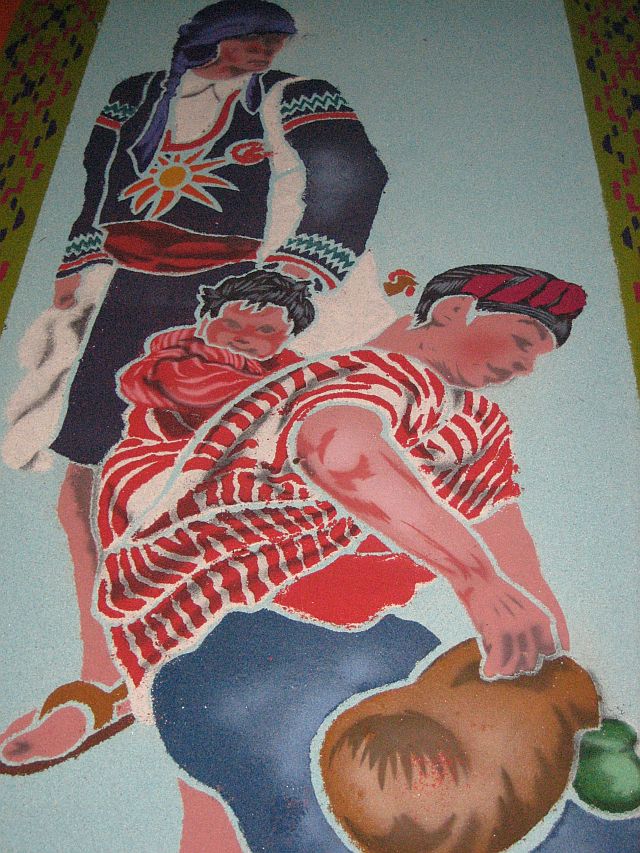 Dann gehen die Nachtprozessionen los – um 4 Uhr morgens. Mit reichlich Weihrauch, versteht sich.
Then the night processions start – at 4 o'clock in the morning. Smells, bells and costumes.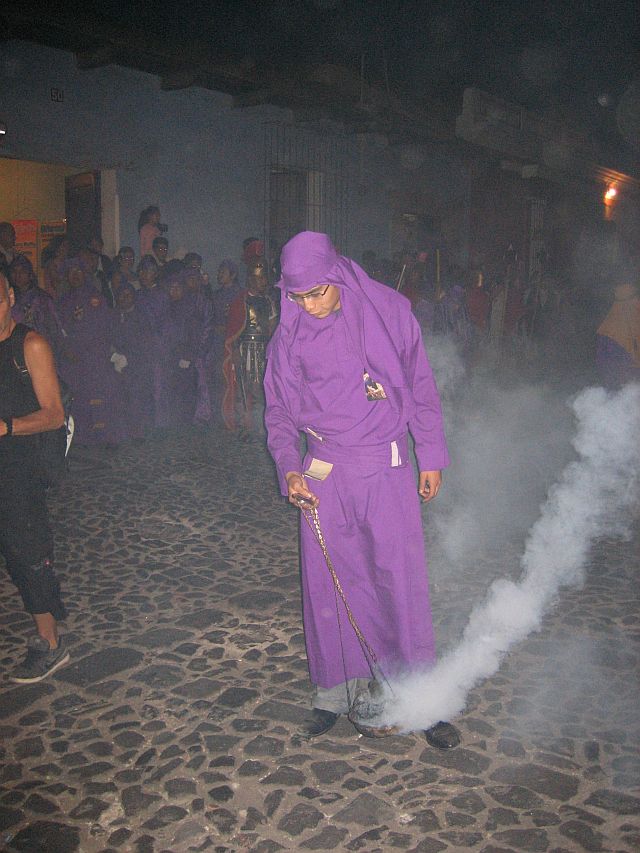 Die trauernde Mutter Maria…
Mother Mary in mourning…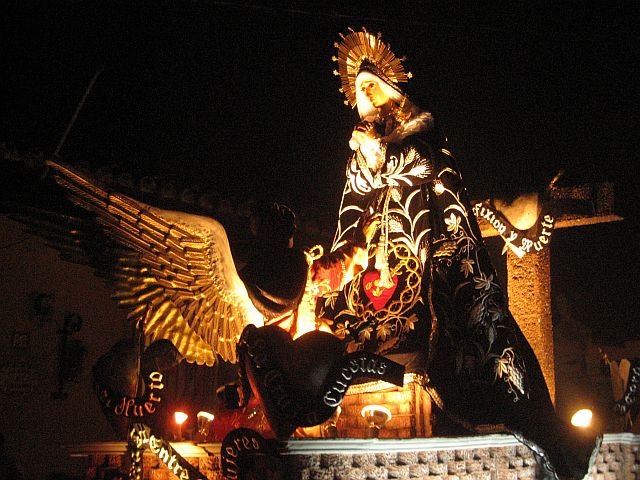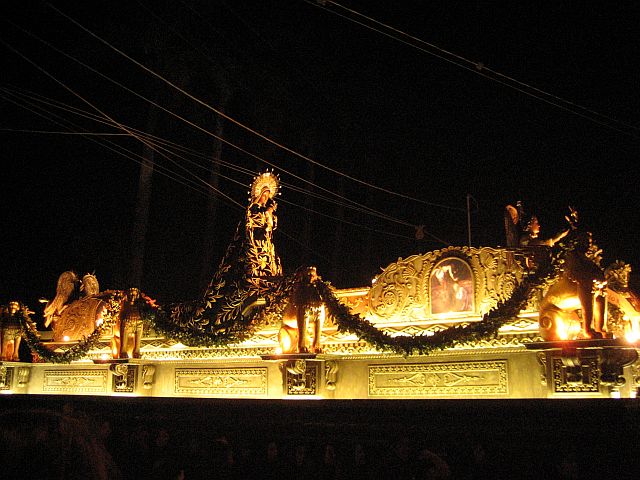 …nach 'ner durchzechten Nacht, zum Glueck gibt's hier guten Kaffee.
…after a sleepless night, thank god there's good coffee.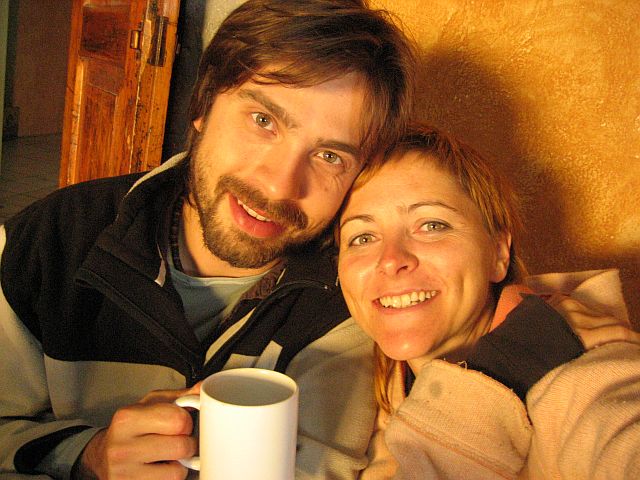 Es ist Freitagmorgen – die Prozessionen sind immernoch in vollem Gange – der Hoehepunkt der Osterwoche. Wir sind mit unserem Teppich noch rechtzeitig fertig geworden. Bald kommt der Festzug hier durch und wird alles kaputt machen.
It's Friday morning – the processions are still in full swing – the peak of the Easter week. We're right on time with our carpet since the procession will come marching through soon.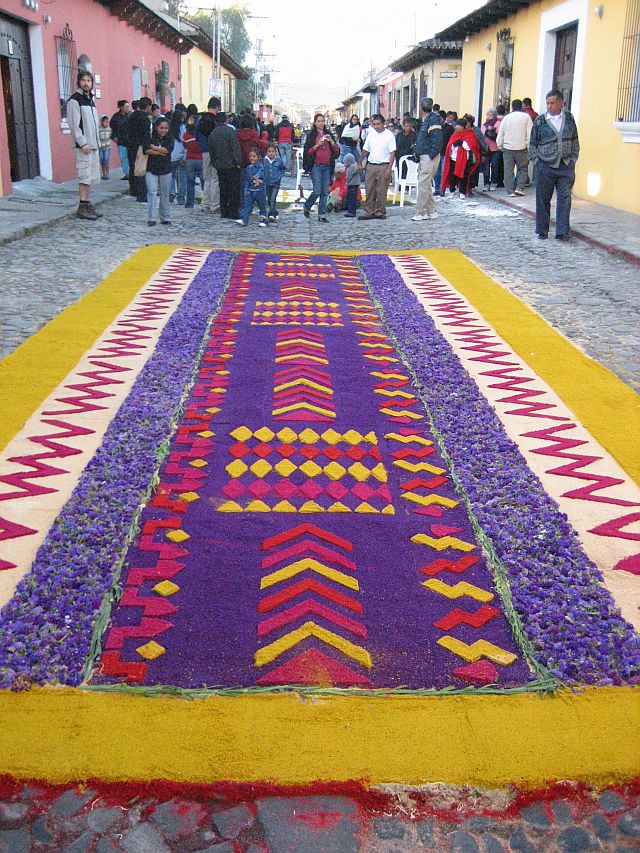 Unser Lieblingsteppich, saubere Arbeit.
Our favourite carpet, it's well done.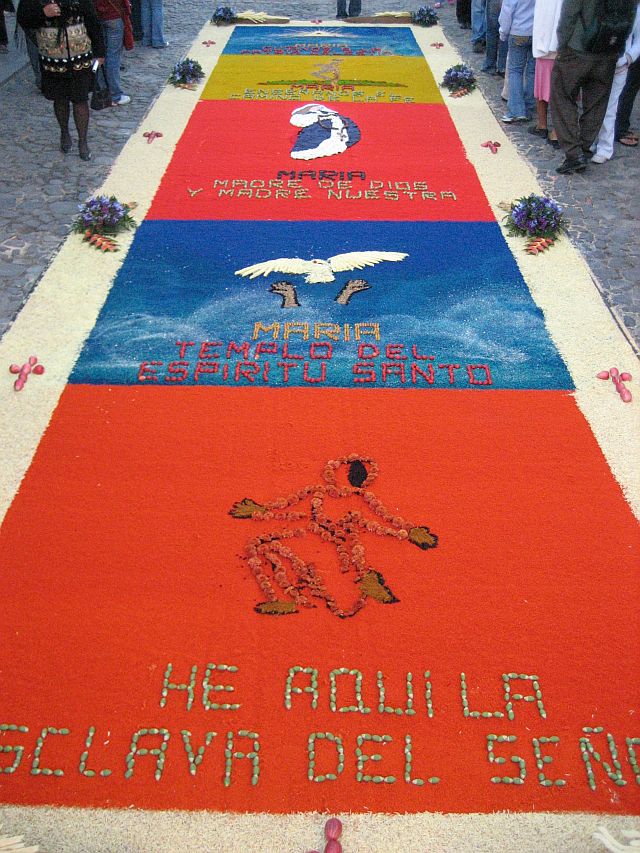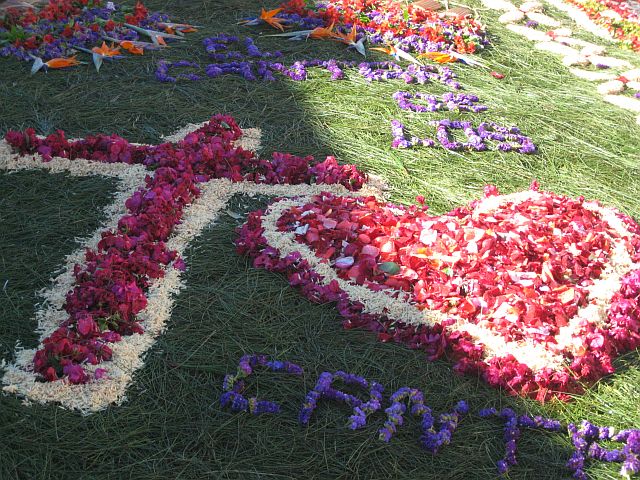 Und unermuedlich wird immernoch an den Teppichen gebastelt. Es ist bereits zwei Uhr Nachmittags.
Tireless people still work on the carpets. It's already two o'clock in the afternoon!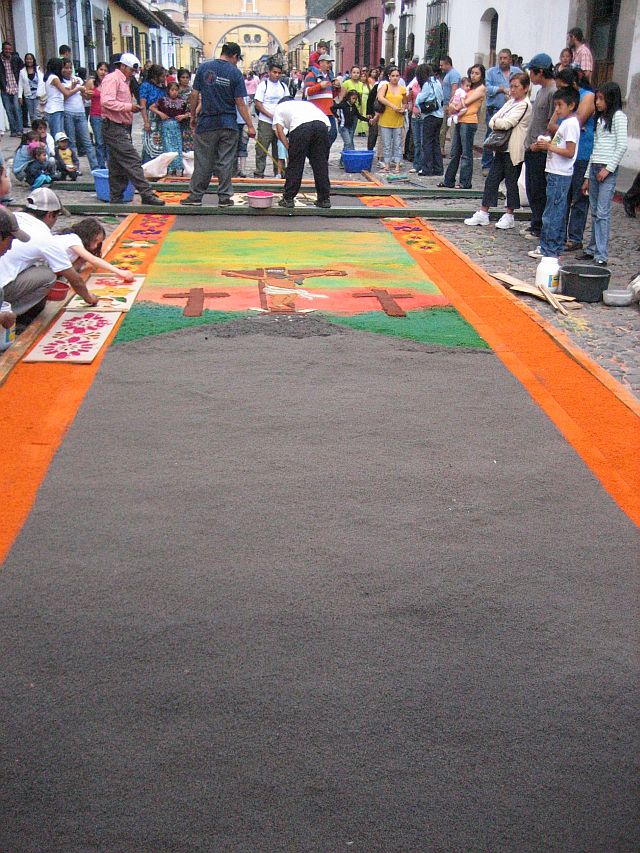 Selbst die Kleinsten helfen mit.
Even the youngest do help.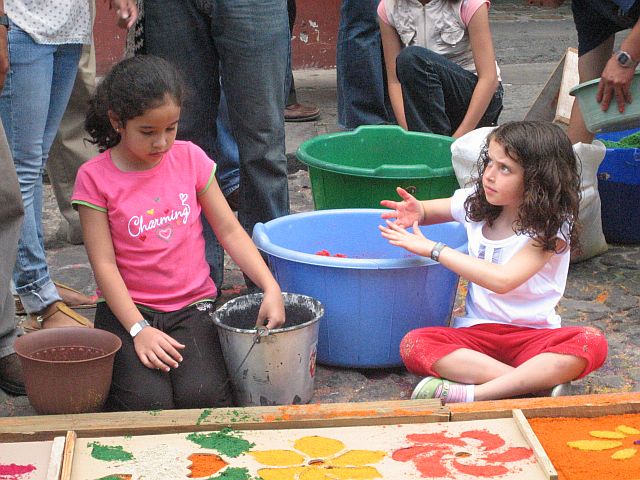 Ein entscheidender Moment…
A critical moment…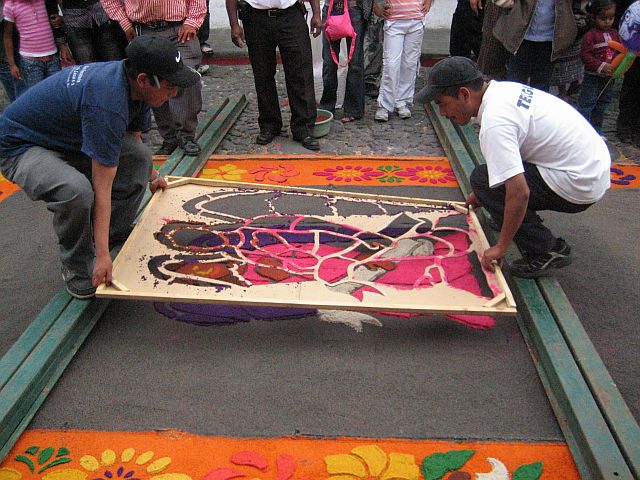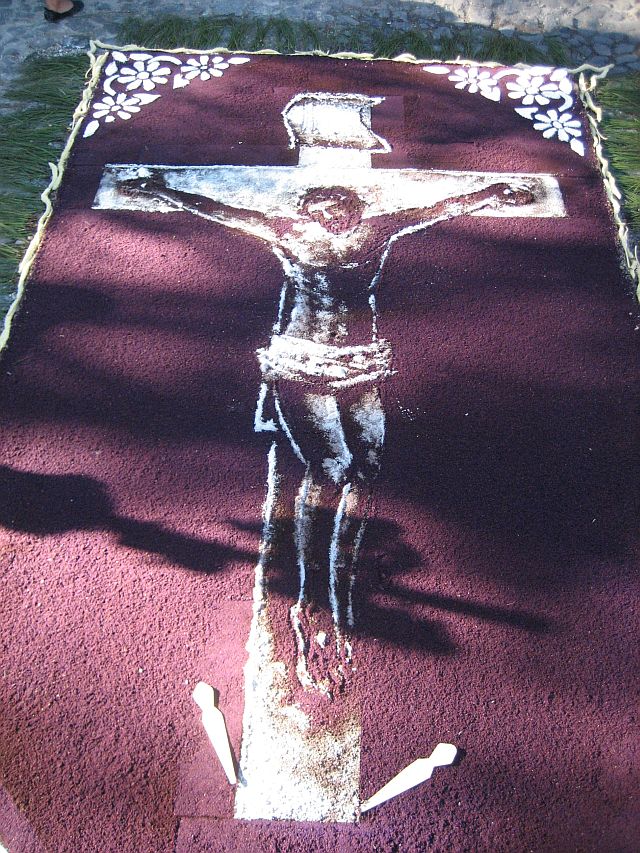 … das Gemuesebeet direkt auf der Strasse!
… the vegetable patch right on the street!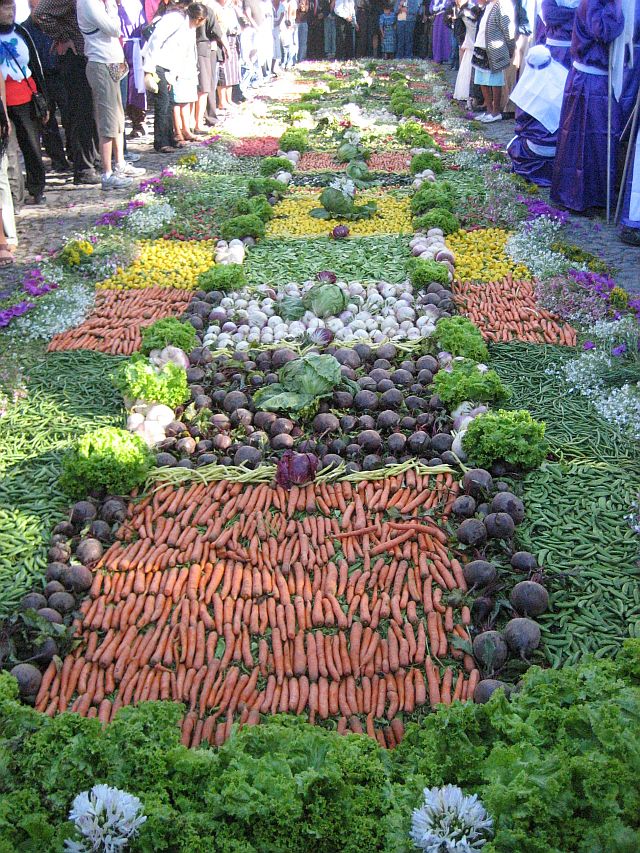 Die Prozessionen sollen den Leidensweg Christi darstellen. Und so gibt es jeden Tag verschiedene Themen bei den Festzuegen.
The processions are supposed to describe the sufferings of Christ. And therefore there are different subjects to each pageant.
Erst kommen die Roemer…
First the Romans come along…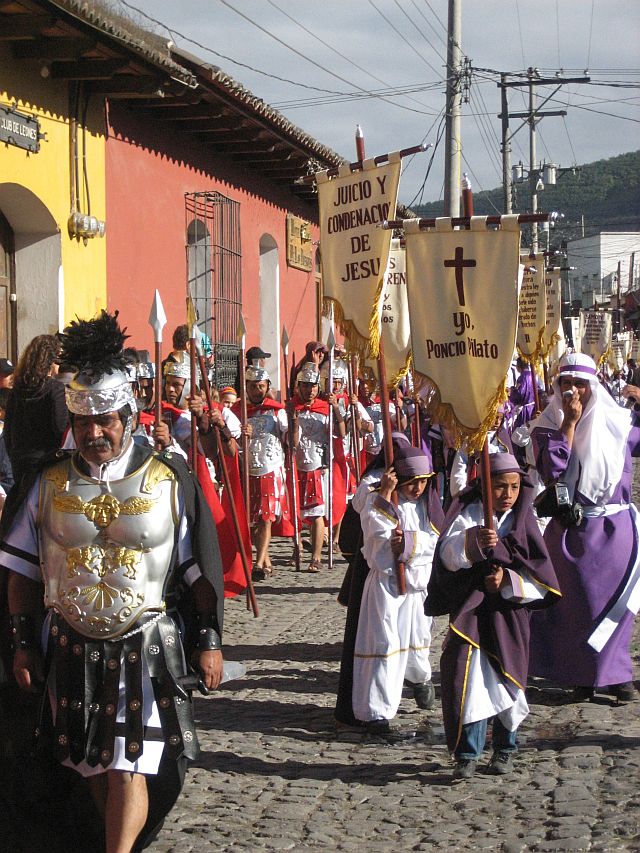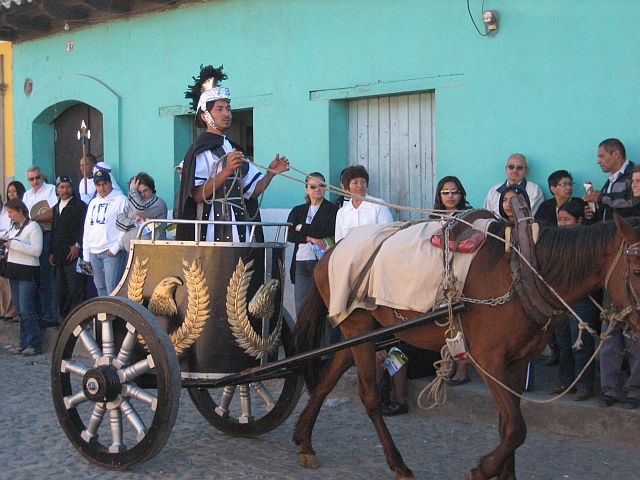 …und dann die Jungs hier. Und die latschen dann einfach drueber!
…and then these guys who trample down everything!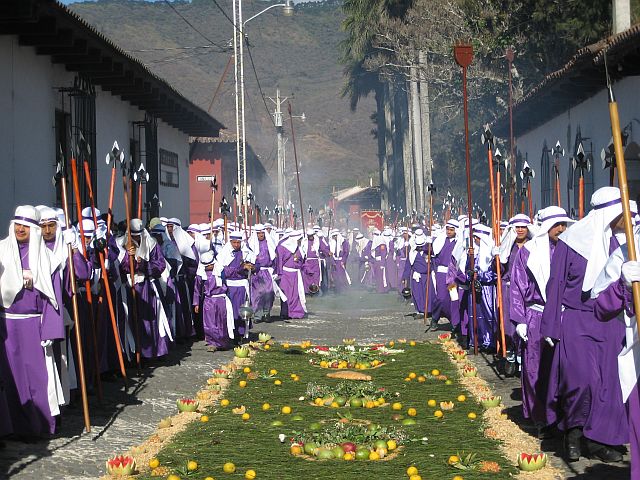 Sehr beindruckend mitanzusehen…
Very impressive to watch…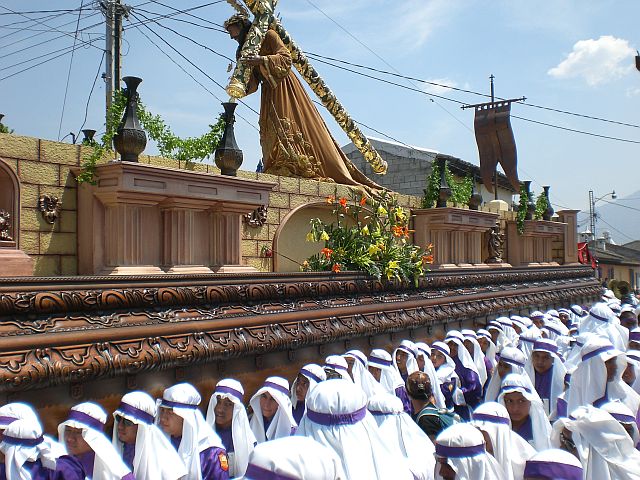 Auch die Kinder von Jorge sind mit dabei…
Jorge's kids are also helpers…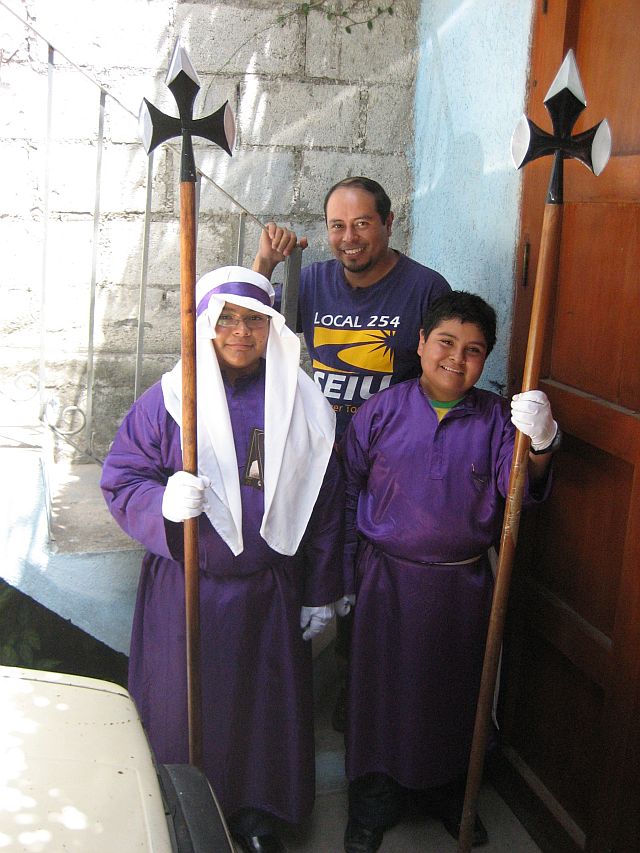 Die Maria wird von den Maedels getragen. Man beachte die Stoeckelschue auf dem Kopfsteinpflaster. Wenn das mal gut geht?!
Mary is being carried by the girls. Take a closer look at the high heels and the cobblestone. If this is gonna work out?!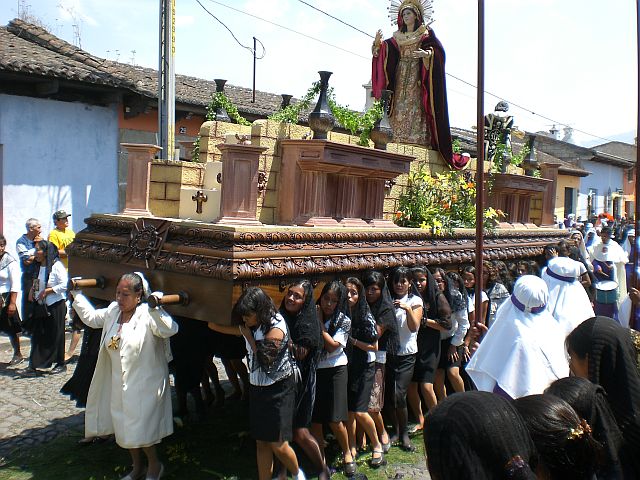 … nach dem Festzug.
… the aftermath.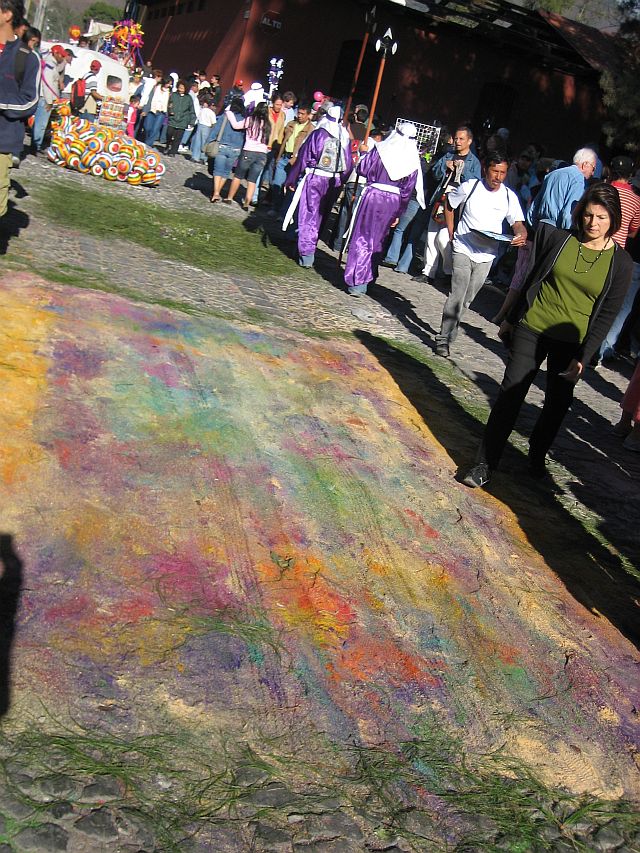 Nach all dem braucht auch der Henker mal ein Paeuschen, denn …
After all that the hangman needs a break too…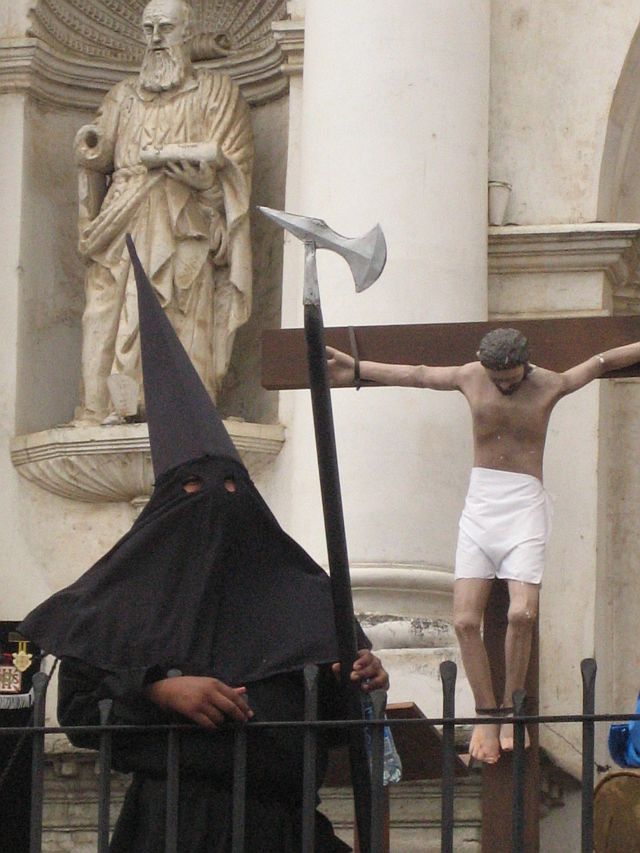 …und so viele Hinrichtungen moegen vielleicht seinen Blutdurst stillen…
…though executing all day long may satisfy his blood thirst…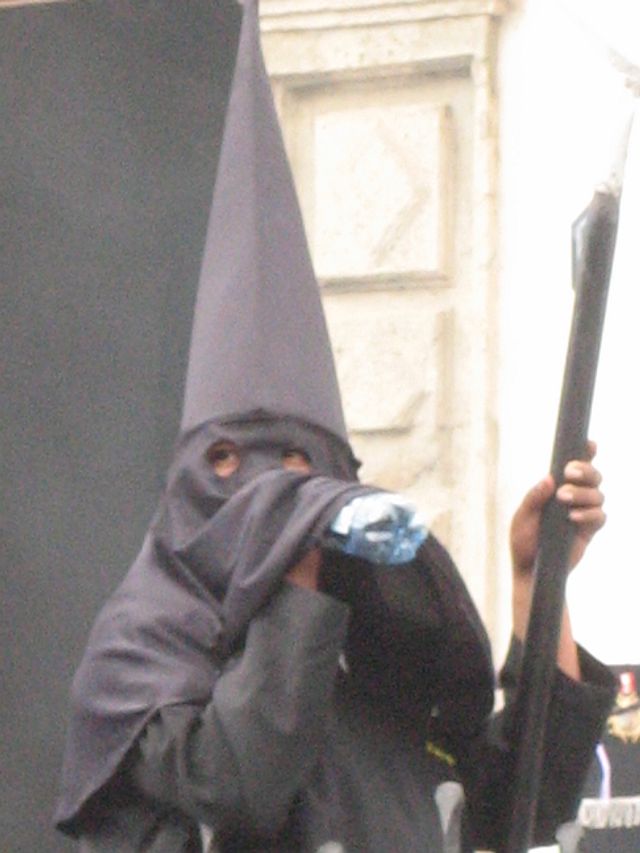 Nach den unzaehligen Umzuegen sind wir ganz schoen geschlaucht und muessen mal etwas anderes sehen als Teppiche und Gewaender. Und da man nicht weit von Antigua einen noch aktiven Vulkan besteigen kann, haben wir uns kurzerhand entschlossen, das mal anzusehen. Also rauf auf den "Pacaya". Wiedermal ein Berg!
After the countless processions we are pretty exhausted and finally have to see something else than carpets and costumes. Since they do offer tours to a vulcano which is still active and not too far from Antigua we decided to go on that trip. The "Pacaya" is beckoning. A Mountain again!
Die Tour zum "Pacaya"
The Tour to the "Pacaya"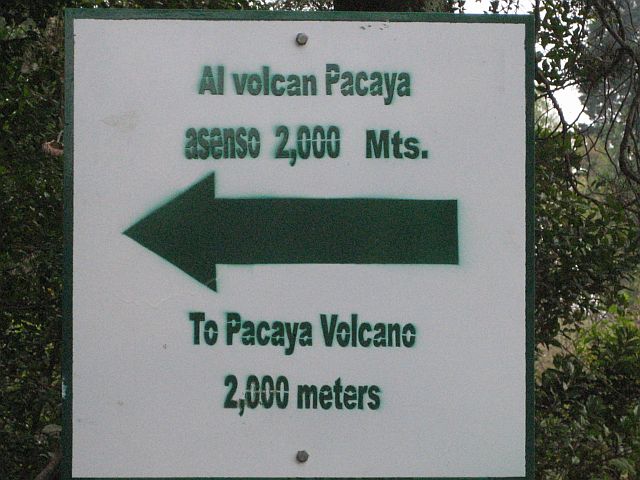 Ein Kinderspiel nach den Touren, die wir zwei uns schon angetan haben.
It's a walk in the park after what we got ourselves into already.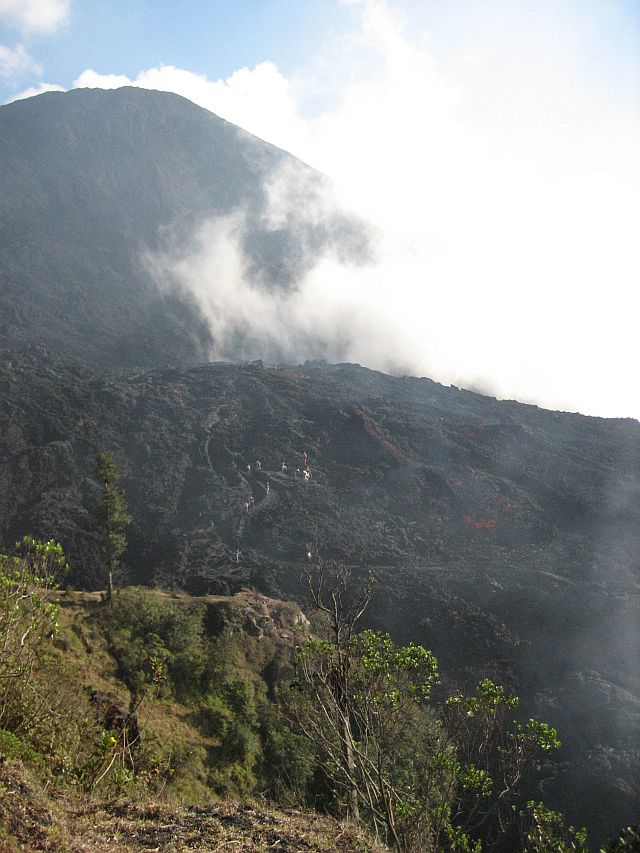 Unser Tourguide. Wir haben zwar seinen Namen vergessen, aber da er unsere Gruppe einfach "Pumas" genannt hat, nennen wir ihn jetzt mal "Paco".
Our tourguide. We forgot his name but since he called our group "pumas" let's just call him "Paco".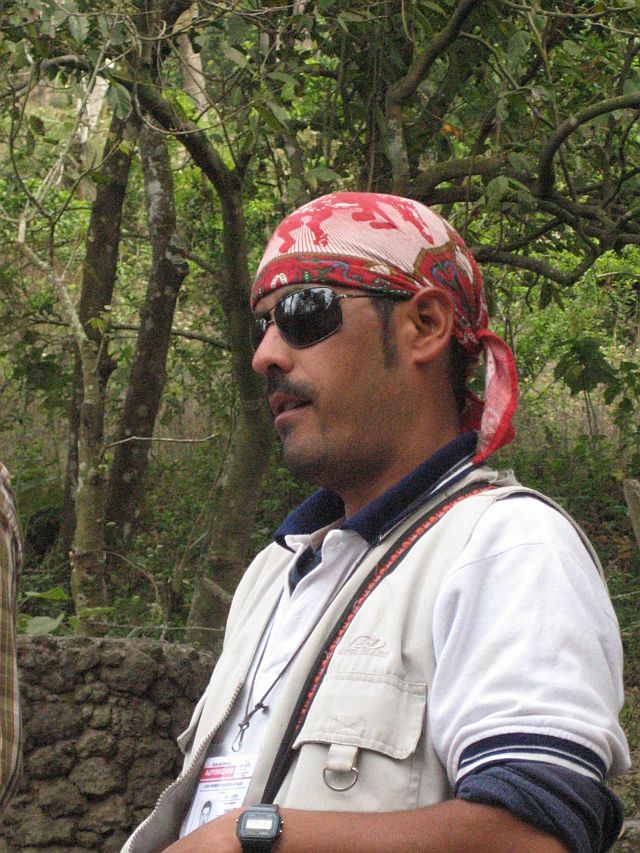 Oben angekommen, muss man aufpassen, wo man hintritt. Die Steine sind poroes und drunter stroemt gluehende Lava.
Getting to the top we have to watch our steps carefully. The stones are porous and underneath streams red-hot lava.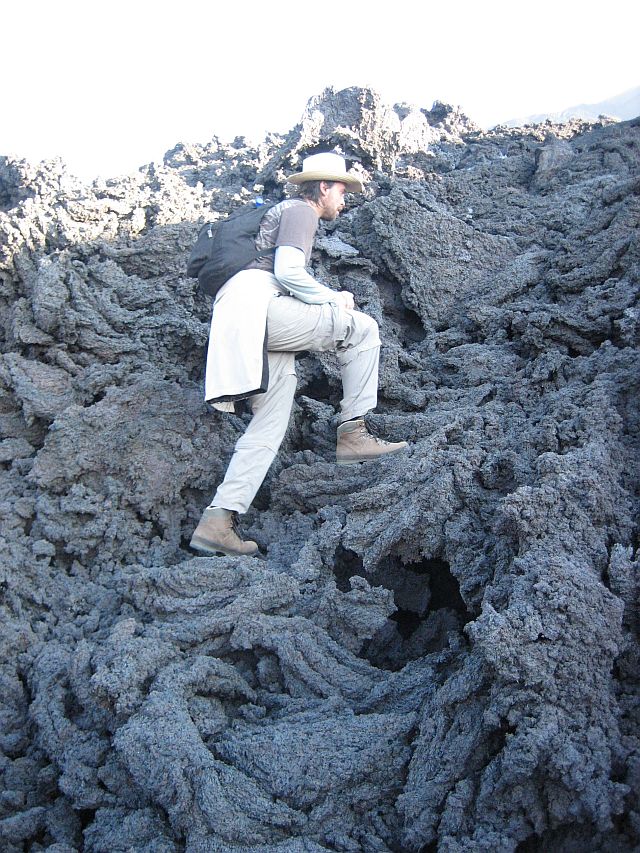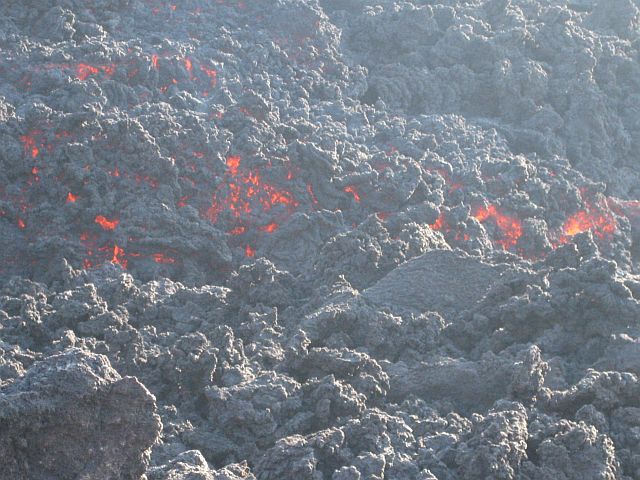 Die erste Lava, die wir beiden zu Gesicht bekommen!
The first time the two of us get to see lava!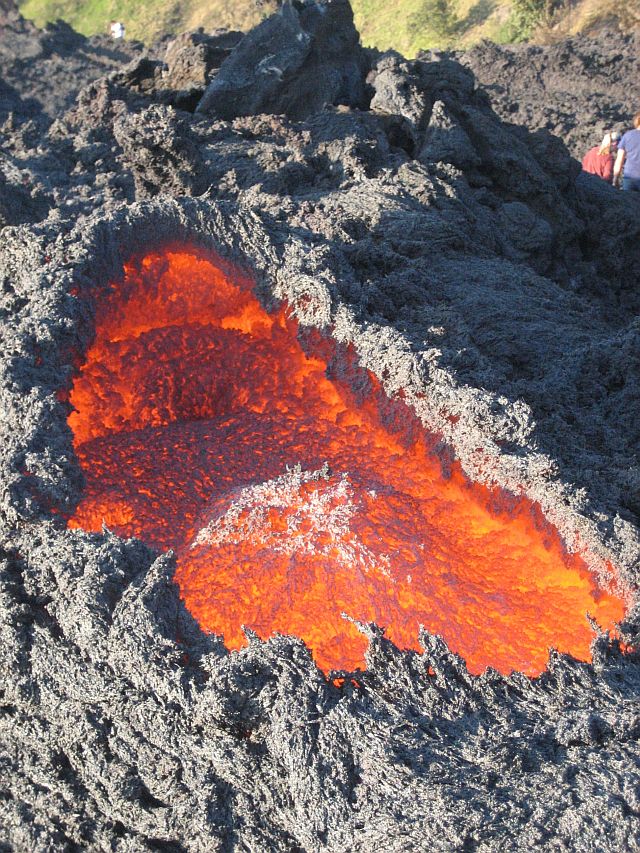 Sieht fast so aus als braeuchte Alex noch 'ne Decke? – es hat bestimmt 50 º C oder mehr!
It alomst looks like Alex still needs a blanket? – is has about 125 º F or more!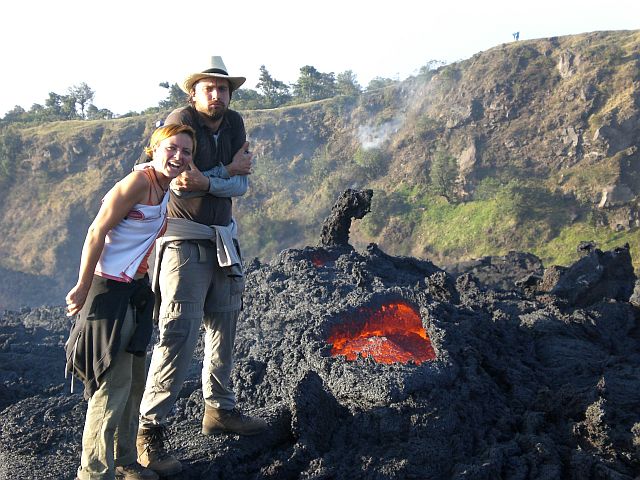 Die Erde tut sich auf und alles riecht nach versengten Schuhsohlen. Es ist schweineheiss!!!
Die earth cracks open and the smell of burned soles is all around. It's freakin' hot!!!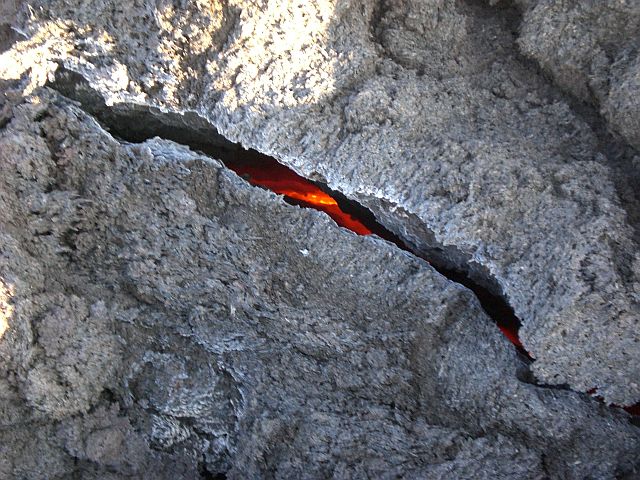 Uuups, jetzt haben wir das Grillwuerstchen verloren.
Ooops, we lost our marshmallow.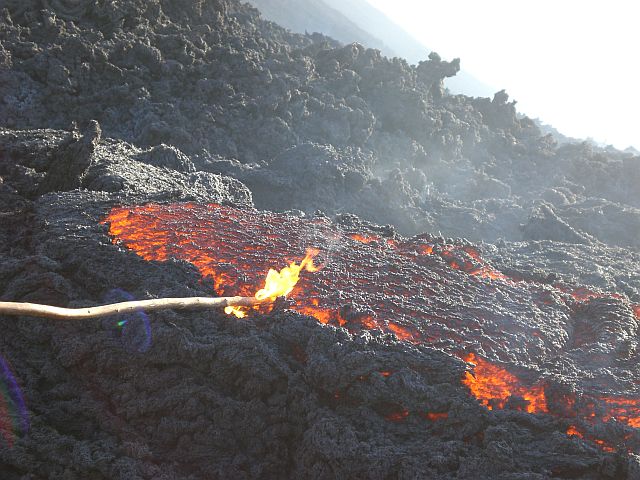 Der Anblick verschlaegt uns die Sprache.
Seeing this just leaves us speachless.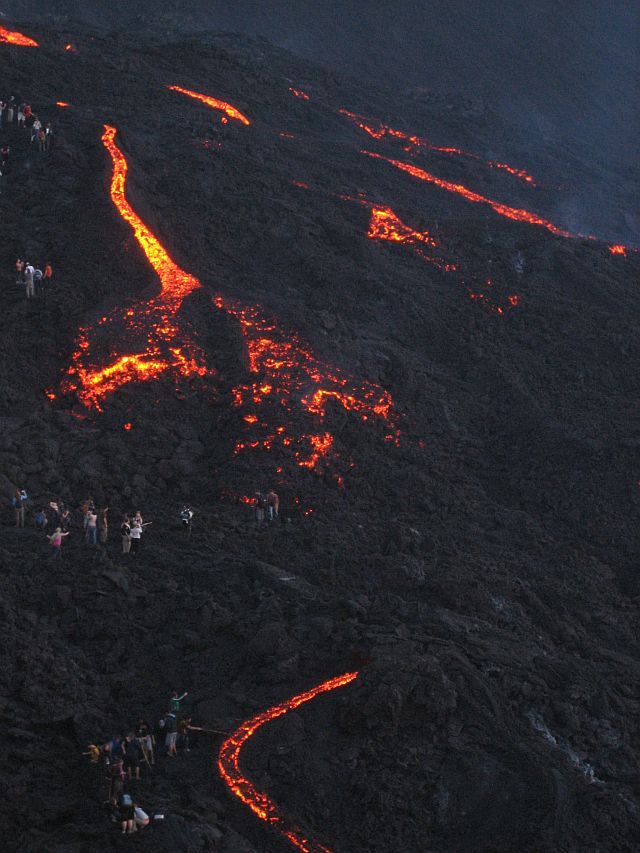 Mit Einbruch der Daemmerung sieht alles noch faszinierender aus.
After the fall of dusk it all looks even more fascinating.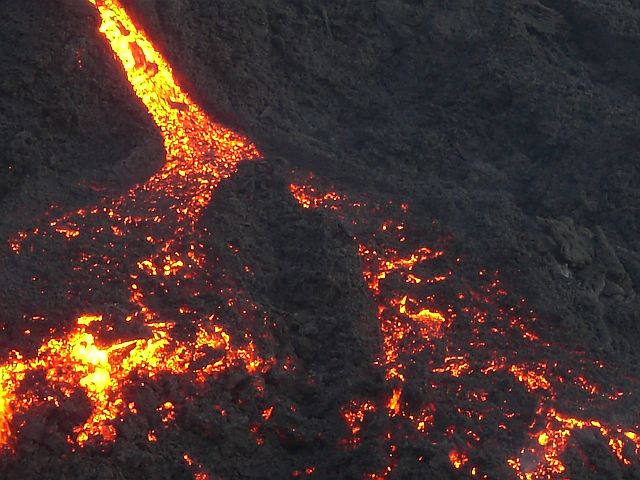 Aber dann draengt uns Paco leider, den Heimweg anzutreten. Wir nehmen wahnsinns Erinnerungen mit nach Hause. Was fuer ein Tag! Nach dieser ereignisreichen Woche haben wir uns etwas Ruhe verdient, wie wir finden und schliesslich ist es auch mal wieder an der Zeit, "zu Hause" nach dem Rechten zu sehen. Deshalb soll es wieder zurueck nach San Pedro gehen, wo wir schon 4 wundervolle Wochen verbracht haben.
But then Paco pushes us to leave. We take incredible memories home with us. What a day! After this eventfull week we think we've deserved a little tranquillity. Besides it's about time to look after our "home". And therefore we head for San Pedro again where we already spent 4 wonderful weeks.