Guatemala -im Land des Kaffee's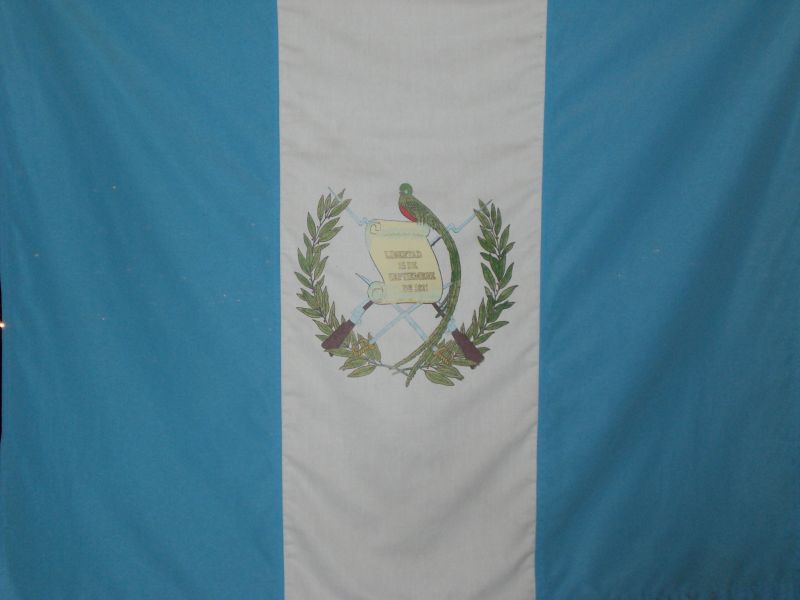 Von der Grenzstadt Ciudad Hidalgo geht's nach Quetzaltenango/Xela und zwar mit dem typischen guatemaltekischen Hauptverkehrsmittel: dem Chicken Bus (ausrangierte Schulbusse aus den USA)! Warum die so heissen, kann man nur erahnen. Vielleicht, weil bei den hiesigen Strassen kombiniert mit dem wildem Fahrstil alle wie die Huehner mit den Koepfen wackeln.
From the border town Ciudad Hidalgo we proceed to travel on to Quetzaltenango/Xela with the typical chicken bus (discarded school buses from the USA)! We can only guess why they're called like this. Maybe because of the bad roads combined with a even worse driving style that makes everyone in the bus nodding like chickens.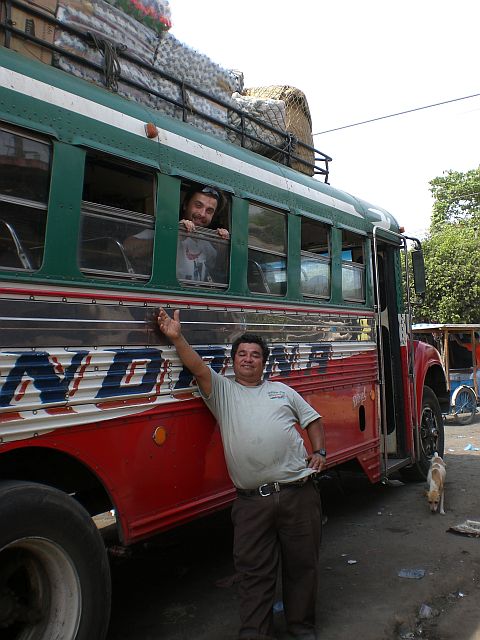 Alles wird gut verschnuert.
Everything gets tied up properly.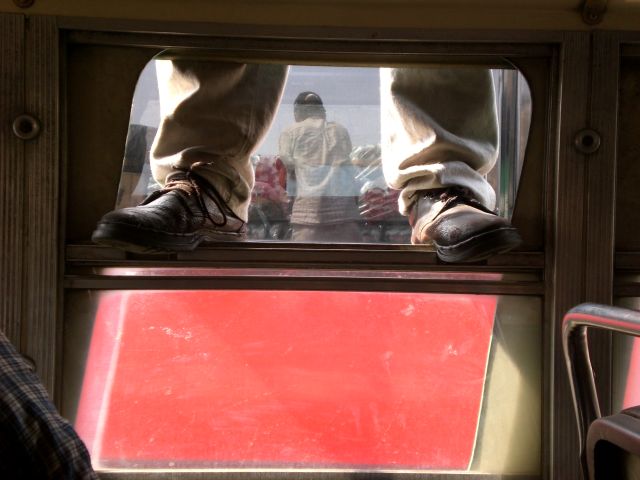 …das ist so ziemlich das Erste, was wir von Xela zu sehen bekommen.
…that's quite the first we get to see from Xela.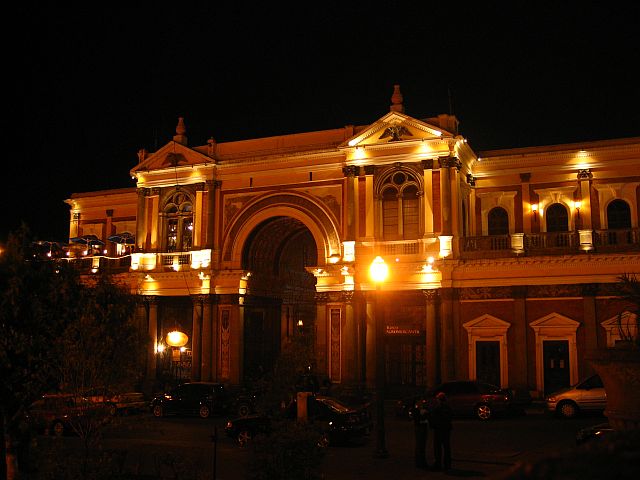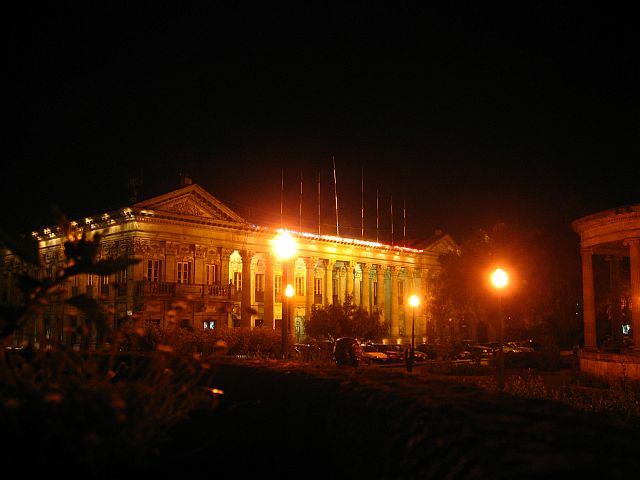 Eingelegte Fruechte am Markt in Xela. Wer kann da widerstehen?
Candied fruits at the market in Xela. Who can here resist?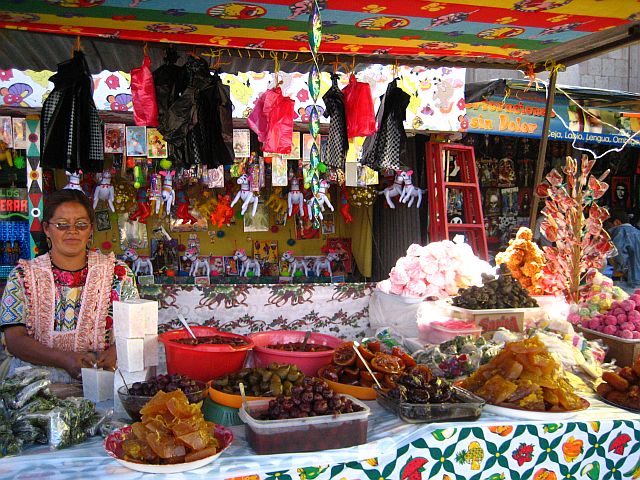 Der Garten der Stadtverwaltung von Xela. Nett!
The garden of the city hall of Xela. Nice!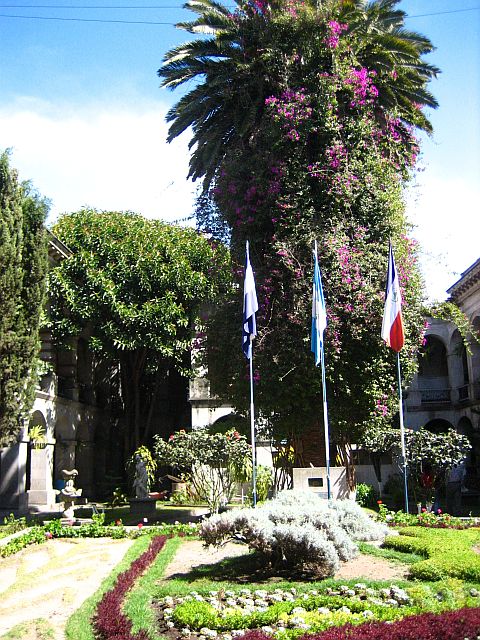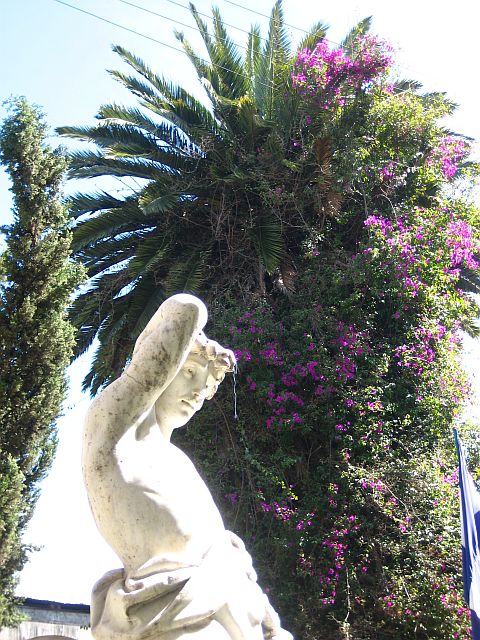 Falschparker haben es hier mit diesen Jungs zu tun.
Choose your parking space carefully or you're messin' with these guys.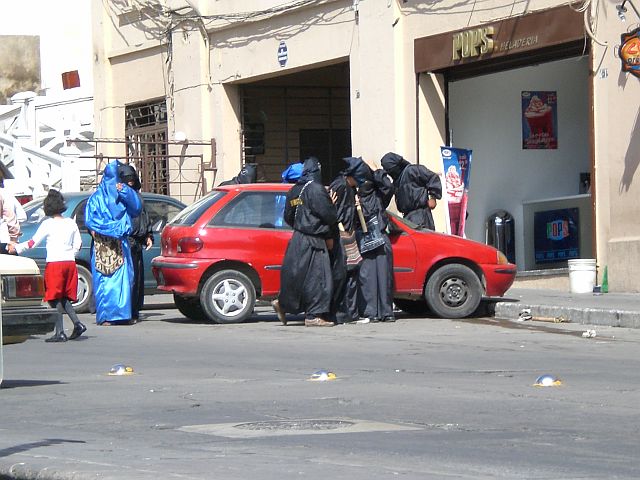 Piñatas – Spass fuer ein jedes Kind. Wer Geburtstag hat, bekommt die Augen verbunden und einen Knueppel in die Hand. Dann wird drauf losgeschlagen bis Suessigkeiten rausfallen. Wenn's schreit, war's nicht die Piñata.
Piñatas – fun for every child. The birthday child gets to beat the shit ..ooops..sweets! out of them. Blindfold with a bat in its hand! If it screams it wasn't the Piñata!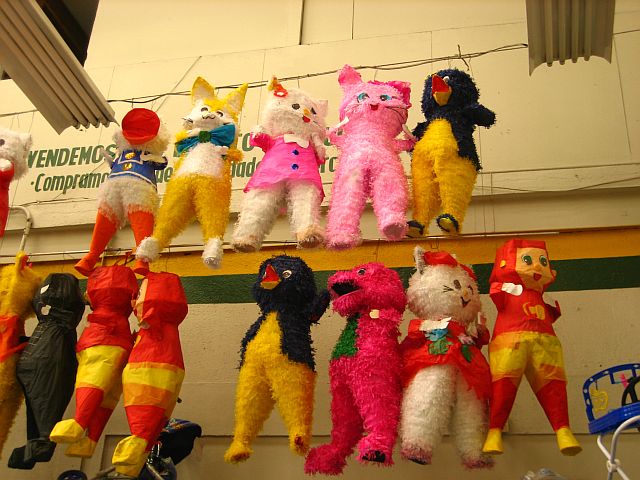 Guatemaltekische Trachten gefallen auch diesen Beiden, die sichtlich Spass daran haben.
Tipical traditional clothing did also grow on these two girls who seem to have a lot of fun with it.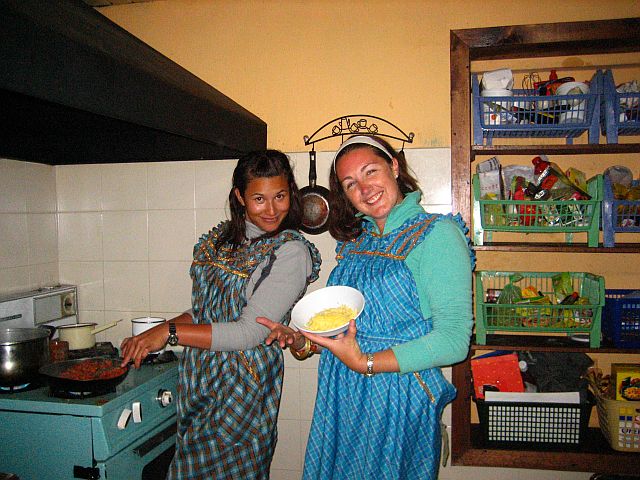 Im Hostel "Casa Argentina" gibt es den Vorbereitungskurs in Sachen Spanisch von Lulu.
At the hostel "Casa Argentina" we receive our preparation course for the Spanish school by Lulu.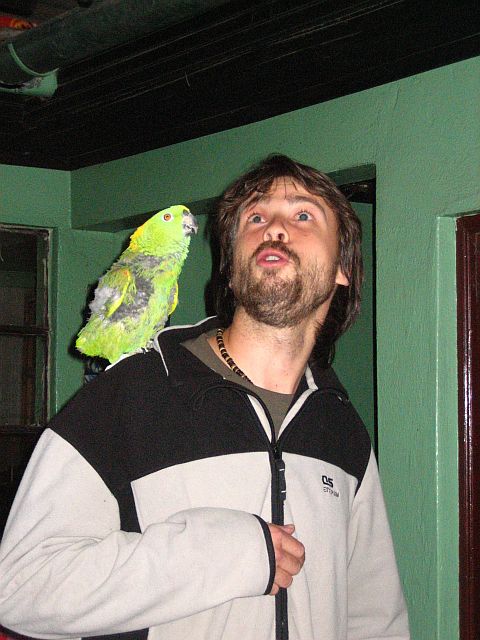 Hola, Lulu….. Hahaha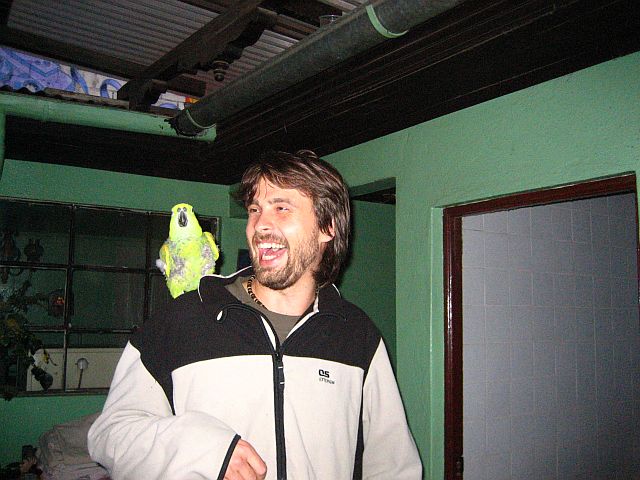 Hier ein paar Impressionen von Xela.
Here some shots of Xela.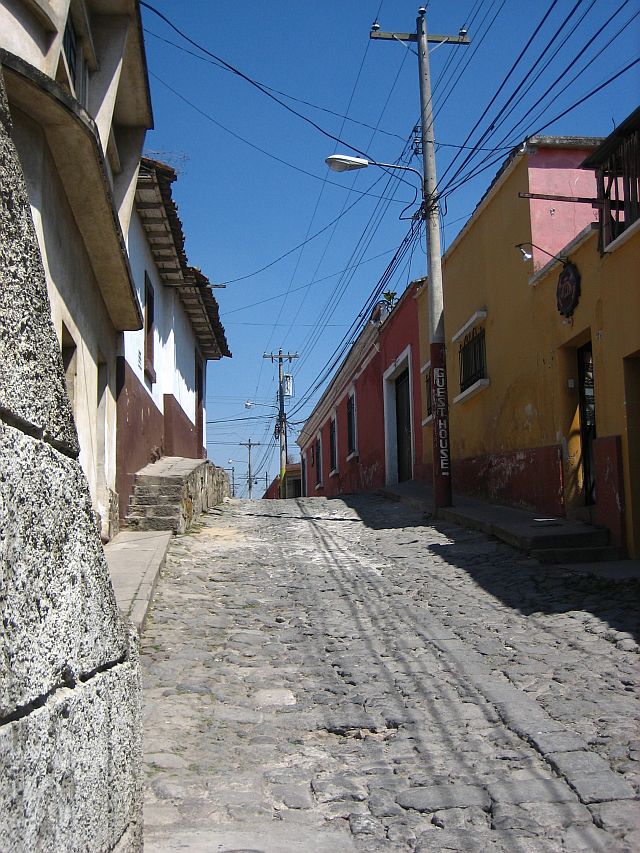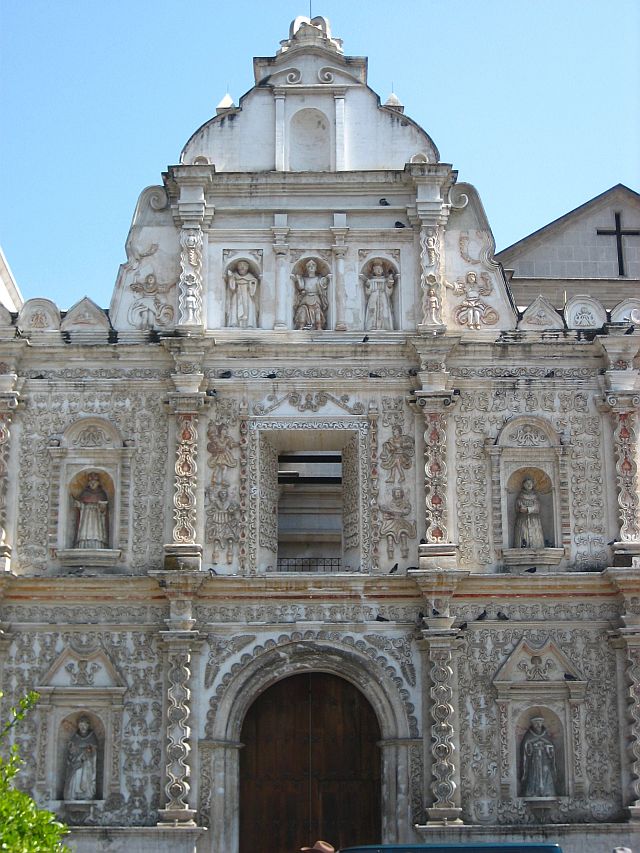 Um fuer ein wenig mehr Wuerze in unserer Berichterstattung zu sorgen, haben wir uns mutig fuer das naechste Abenteuer angemeldet. Schon wieder nix mit Strand, stattdessen soll es auf den hoechsten Berg/Vulkan Mittelamerikas gehen- dem Tajumulco mit seinen 4260m! Uns steht eine dreistuendige Fahrt mit dem Chicken Bus bevor. Und weil wir wenig Lust haben, unser Gepaeck auf das Dach verfrachten zu lassen, muss sich Alex damit rumplagen.
To spice up our blog we decided to sign up for the next adventure. And again instead of hanging out at the beach we chose an exhausting and painful trip. The Tajumulco is with its 12,720 feet Central America's highest mountain/volcano. There's a three hours ride ahead of us and of course in a chicken bus – again! And since we're more comfortable with taking our luggage inside, Alex has to deal with it.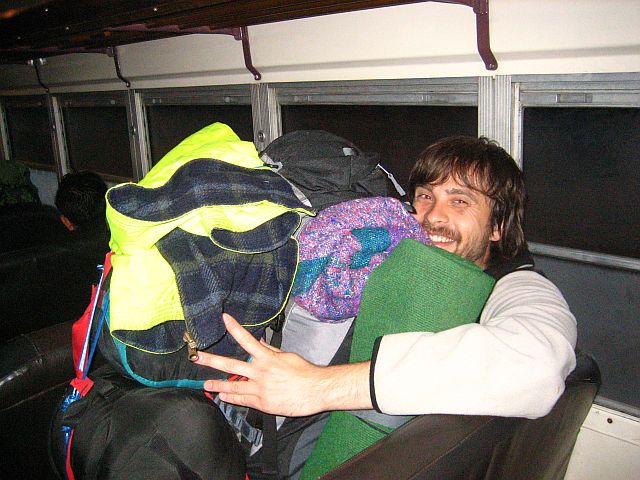 …und da es dieses Mal keine Mulis gibt, muessen alle selber ran. Hier wird Karina gerade verschnuert.
…and since there are no mules with us this time, we have to do it ourselves. Here is Karina being tied up.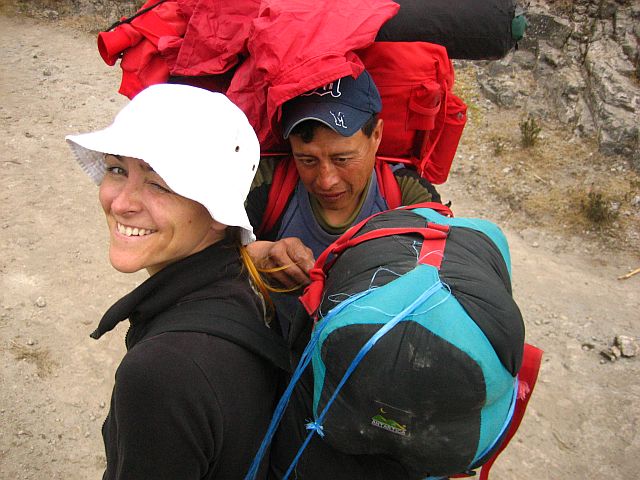 Unser Fuehrer fuer die naechsten zwei Tage – Raul.
Our tour guide for the next two days – Raul.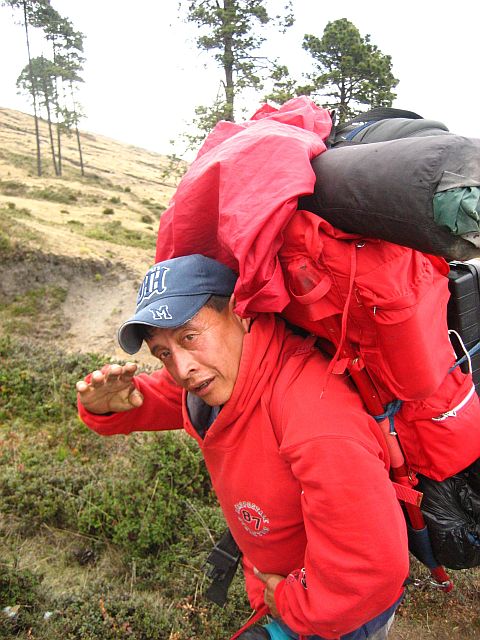 Oh. oh, Alex hat sichtlich zu kaempfen – uns Flachlandtirolern macht die Hoehe von knapp 4000m sehr zu schaffen und der Rucksack ist auch nicht der Leichteste mit 12 l Wasser dabei.
Oh, oh, Alex struggles with the altitude. At almost 11,000 feet breathing ain't easy and the bag is quite heavy due to the 3 gallons of water.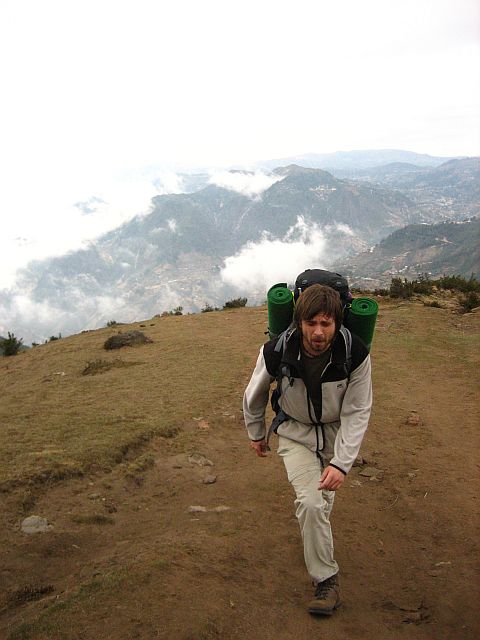 Alex – am Ende seiner Kraefte, aber leider noch nicht ganz am Ziel.
Alex – at the end of his tether but unfortunately not there yet.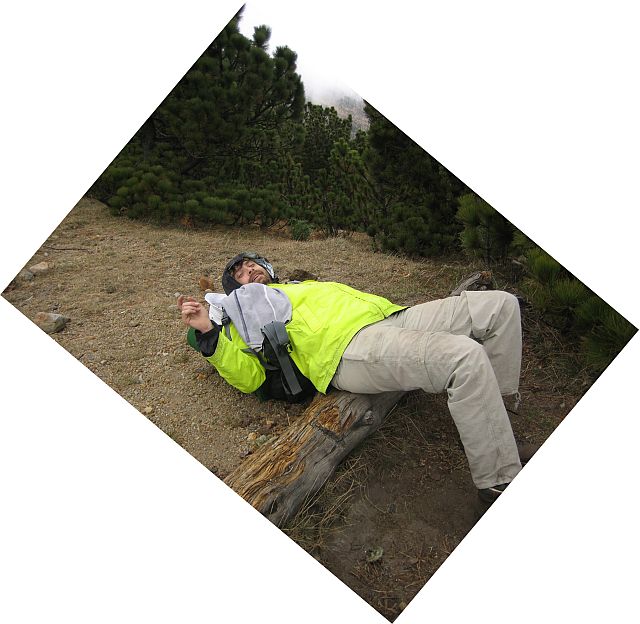 Gespenstische Landschaft…faszinierend, dass hier ueberhaupt noch was waechst.
Spooky landscape…fascinating that there's still vegetation that high.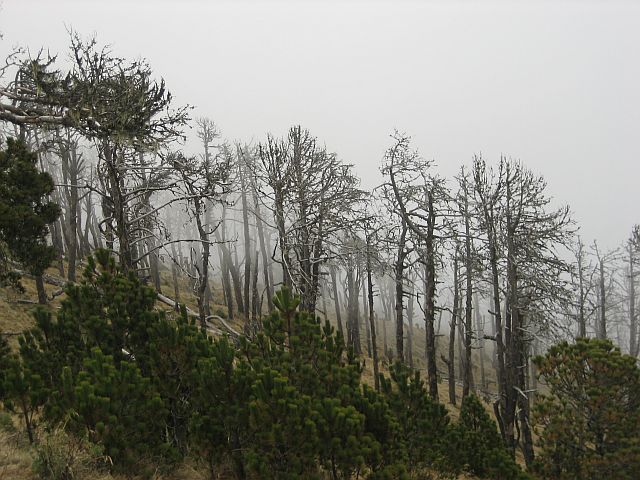 Angekommen am Basislager auf 4000 m. Abgekaempft, schlapp mit wackeligen Knien und Kopfschmerzen freuen wir uns auf die Tomatensuppe aus Plastikbechern.
Finally we arrive at the base camp at 12,000 feet. Whacked, with shaking knees and headaches we're looking foward to some tomato soup out of plastic cups.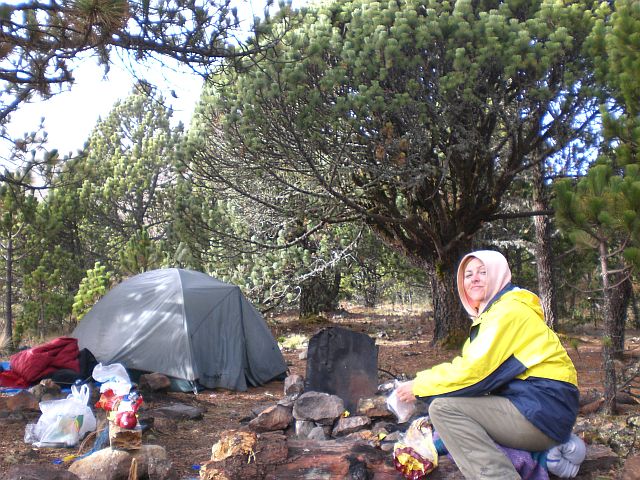 Es ist bitter kalt – Gott sei Dank haben wir die Lufthansadecke mitgehen lassen, die uns uebrigens schon viele Dienste geleistet hat….
It's freezing – thank god we took the Lufthansa blanket from the airplane. It came in a handy plenty of times already.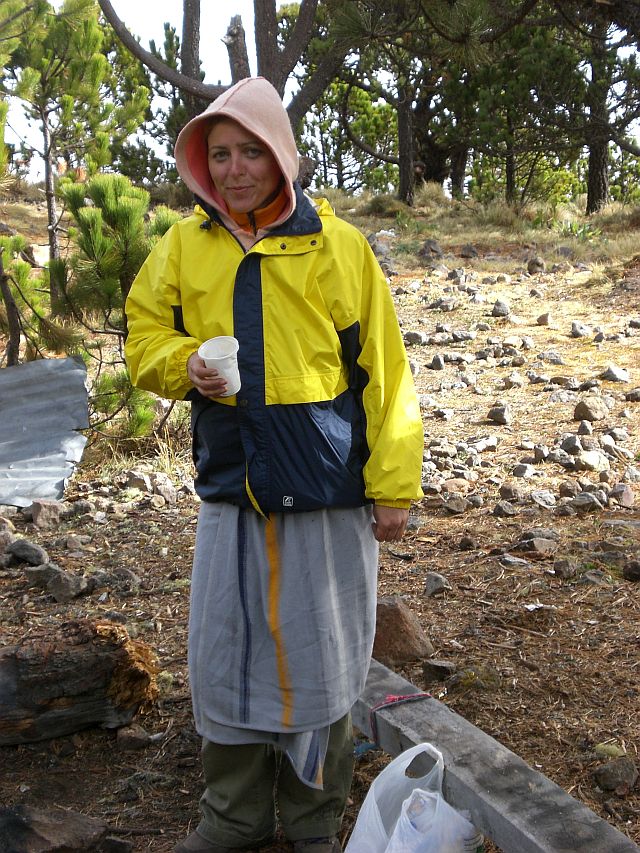 Das haetten wir geschafft. Die Aussicht ist "atemberaubend" nicht nur wegen der niedrigen Sauerstoffkonzentration.
Well done. The view is "breathtaking" not only because of the low oxygen concentration.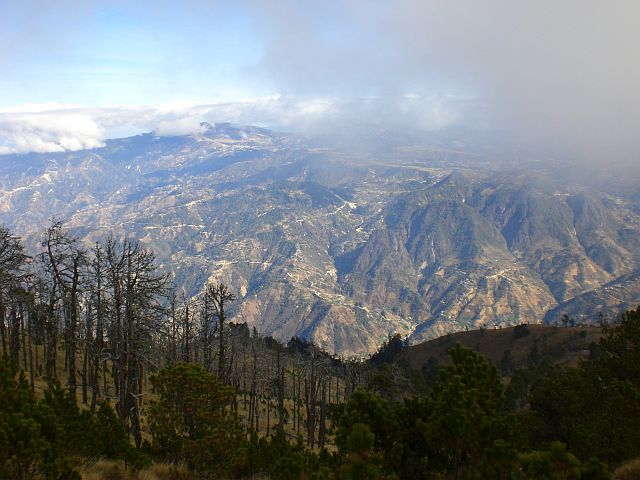 Und das steht uns fuer den naechsten Morgen bevor!
This is the last part we´ll have to climb the next morning.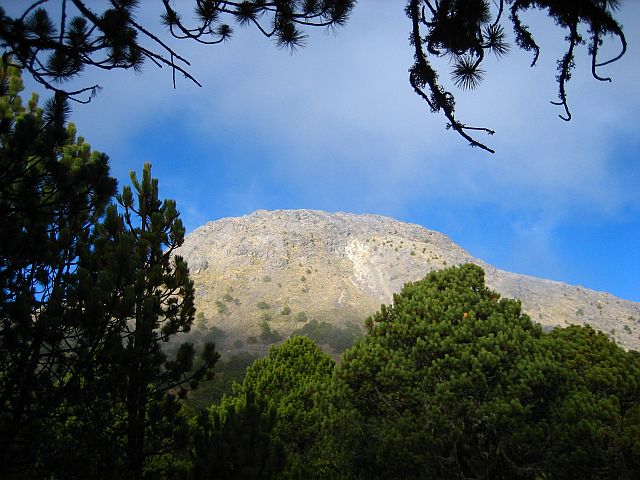 Lagerfeuer – immer romantisch, in unserem Fall allerdings dringend notwendig, um nicht zu erfrieren. Immerhin hat es nachts Minusgrade!
Bonfire – always romantic. And with temperatures below the freezing point absolutely essential for surviving.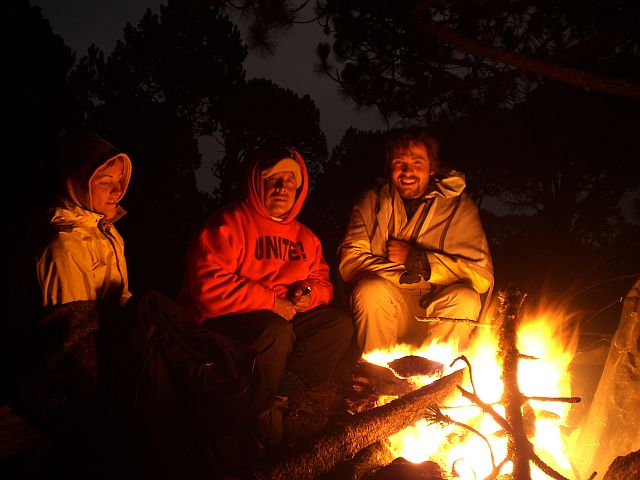 …und neben einem leckeren Abendessen gibt's auch noch gegrillte Kaesesocken von Alex.
…and the tasty dinner is accompanied by roasted socks with melted cheese flavor from Alex.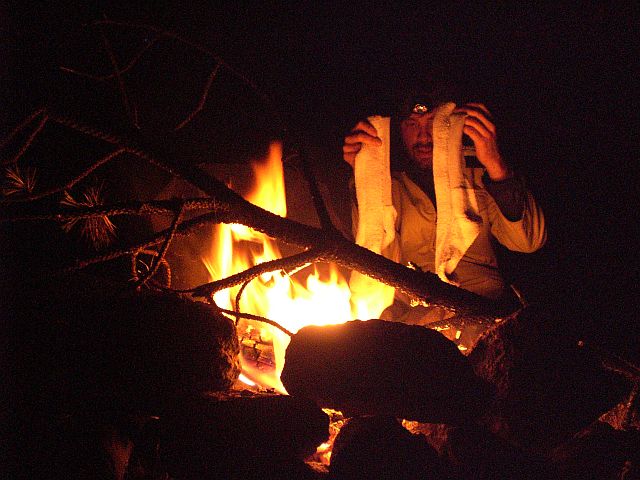 Doch was gestern so harmlos aussah, hat's echt in sich. Die letzten 300 Hoehenmeter fordern ihre Opfer. Alex muss wegen starker Hyperventilation und Kopfschmerzen aufgeben. Schade! Aber man soll's ja auch nicht uebertreiben!
But what looked so easy yesterday turned out to be incredibly hard. The mountain takes its toll. Alex has to give up due to hyperventilation and headaches. What a pity. But you shouldn't go over the top (literally).
Der Vollmond verabschiedet sich….
The full moon says good bye…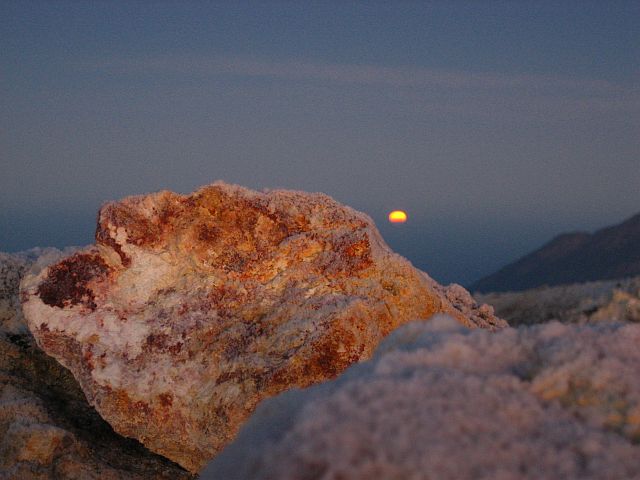 …fuer den Sonnenaufgang vom vereisten Dach Mittelamerikas. Sagenhaft!
…for the sunrise from the frosted top of Central America´s highest mountain. Terrific!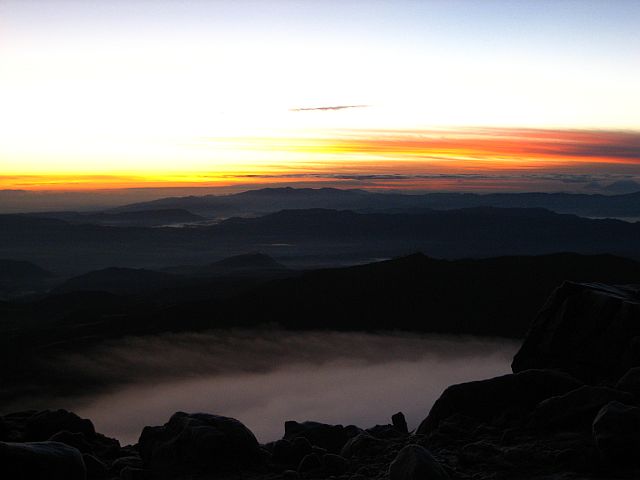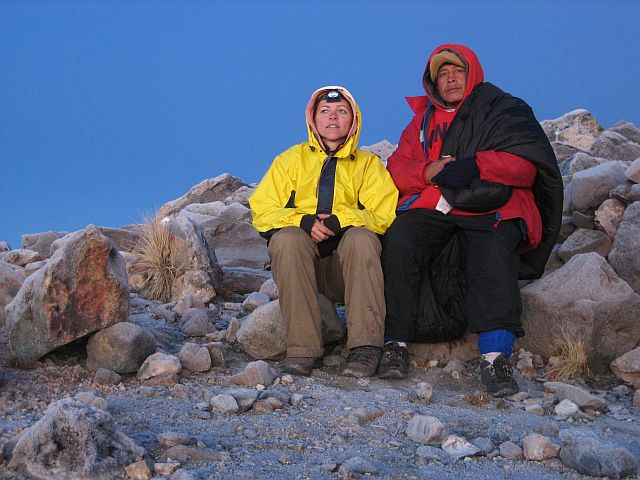 Der Schatten des Tajumulco steht wie ein weiterer Berg in der Landschaft.
The shadow of the Tajumulco sits there like another mountain in the scenery.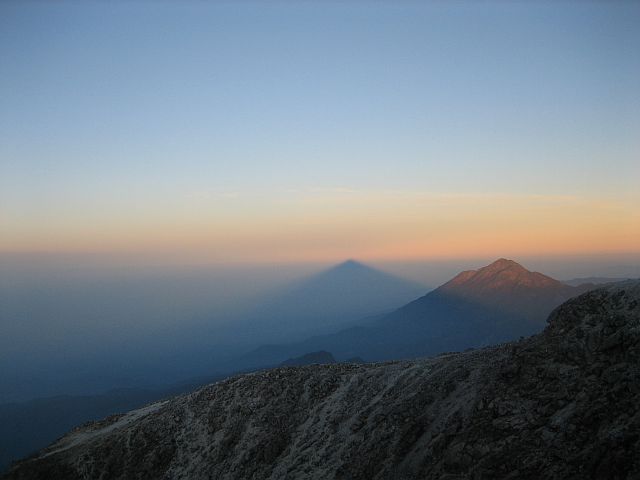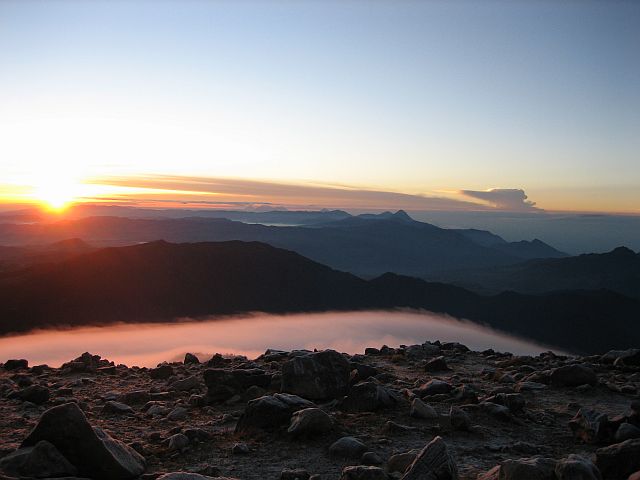 Zurueck im Basislager geht es Alex nach einer Ruhepause schon wieder etwas besser.
Back at the basecamp Alex got some rest and feels already better.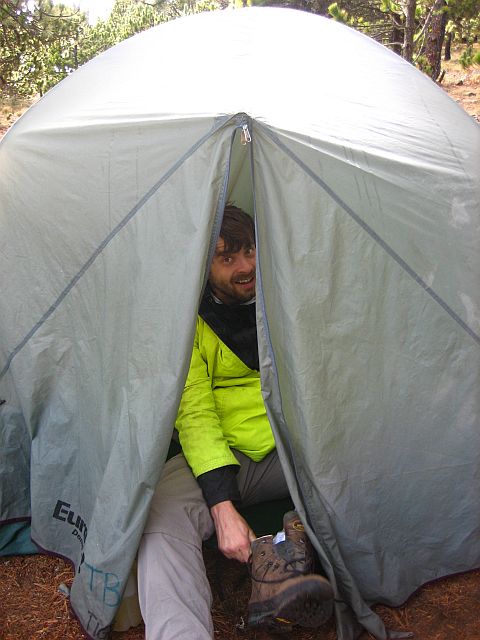 Beim Abstieg wackeln uns ganz schoen die Knie.
During the descent our knees are shaking.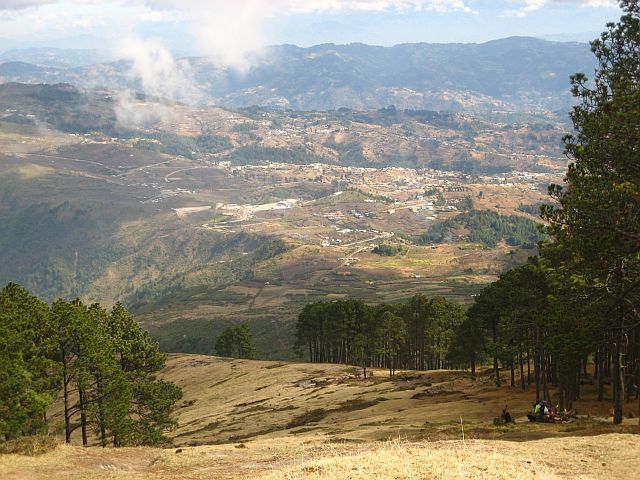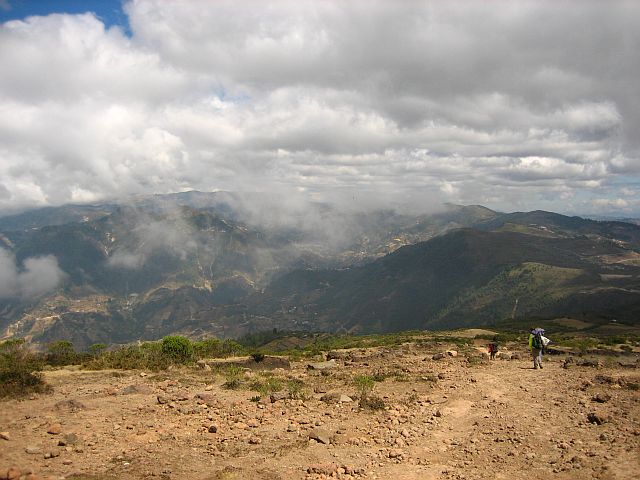 Auf halbem Weg treffen wir diesen Kameraden. Sergio aus Xela, der als erster Mensch mit dem Fahrrad auf den Vulkan moechte. Wir wuenschen ihm viel Erfolg, denn er wirkt noch sehr motiviert.
Half way we meet this young fellow from Xela. His name is Sergio and he wants to be the first person ever getting to the top on a bicycle. We wish him well since he still seems to be motivated.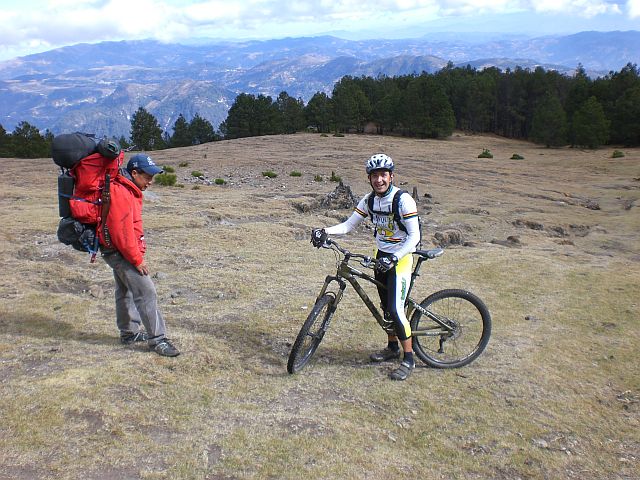 Wieder in Xela angekommen, planen wir die Weiterreise. Lago Atitlan oder Meeresstrand? Hmmm, …schwierig, schwierig! Nach langem hadern obsiegt der Lago und bei dem Anblick sind wir uns sicher, die richtige Entscheidung getroffen zu haben. Von Panajachel hat man eine wundervolle Aussicht auf die drei Vulkane, was das touristische Treiben ein bisschen wettmacht.
Back in Xela we are planning where to travel to next. Lago Atitlan or the beach at the sea? Hmmm, …a hard decision! After dithering a lot we pick the lake and while enjoying this fabulous view we are sure to have made the right decision. From Panajachel we can see the three volcanos which is almost a compensation for the touristic twirl here.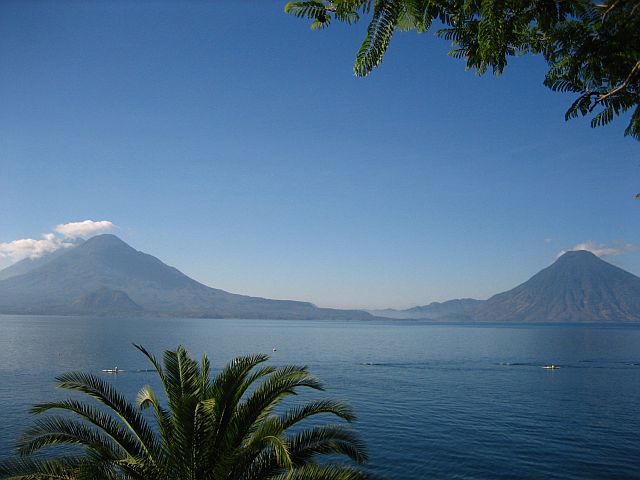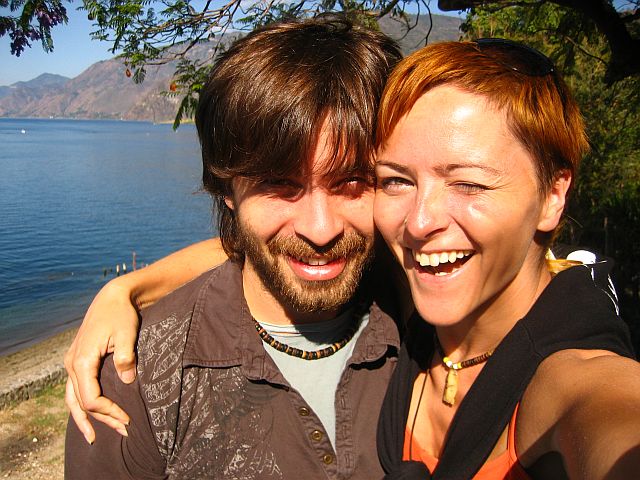 Das deutsche Generalkonsulat gleich neben einem netten "Hundertwasserabklatsch" und hinter einer Kneipe namens "Casablanca". Das nenne ich Voelkerverstaendigung!
The German consulate general next to an Austrian "Hundertwasser rip-off" and behind a bar called "Casablanca". That's what I call international understanding!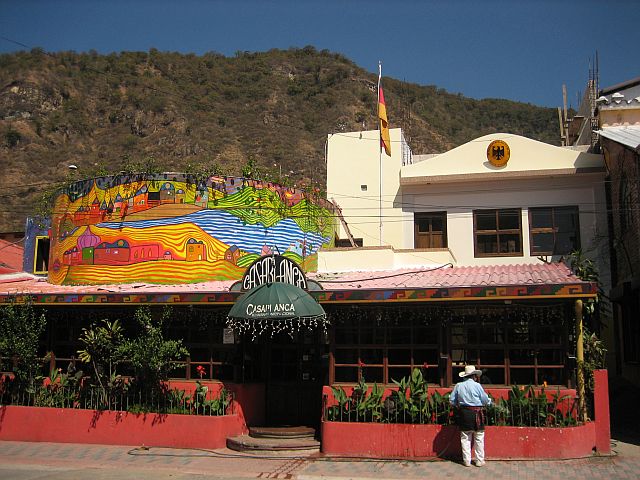 Da flattert unser Adler…
There our eagle flies….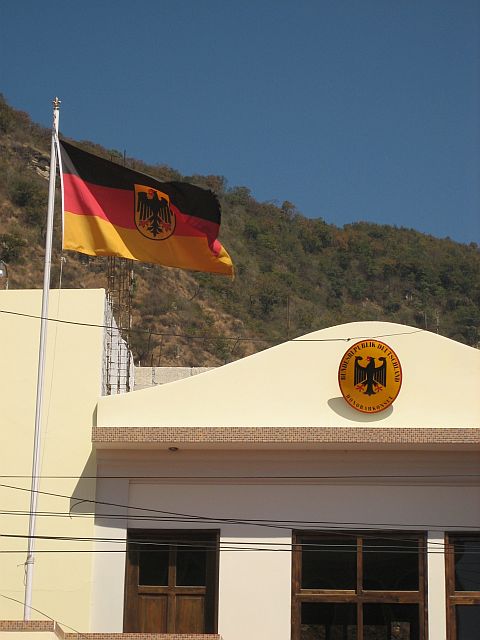 Beim Abendessen in Pana treffen wir Hans aus der oesterreichischen Metropole Tamsweg (ich hoffe, ich habe es dieses Mal richtig, Hans?). Er reist genau in entgegengesetzter Richtung wie wir, und so haben wir viele gute Ratschlaege fuereinander parat.
While having dinner in Pana we meet Hans from the Austrian "metropolis" Tamsweg (I hope I spelled it the right way this time, Hans?). He travels in the opposite direction than us and therefore we can exchange helpful information.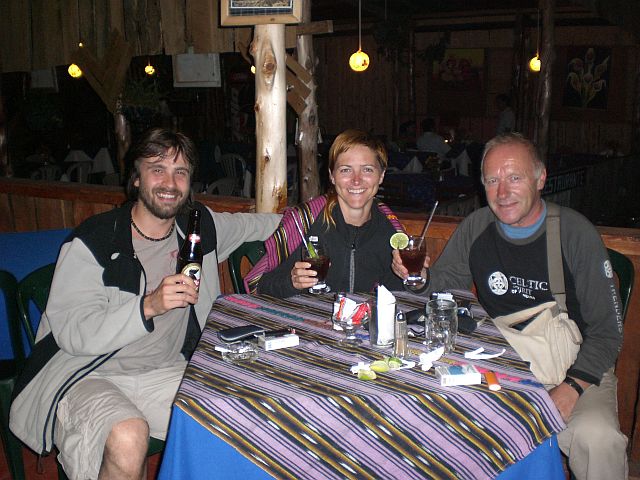 Wir sind schwer beeindruckt, was diese Damen so alles auf ihren Koepfen tragen koennen. Hut ab – Korb drauf!
We really excited what these woman can carry on their heads. Respect!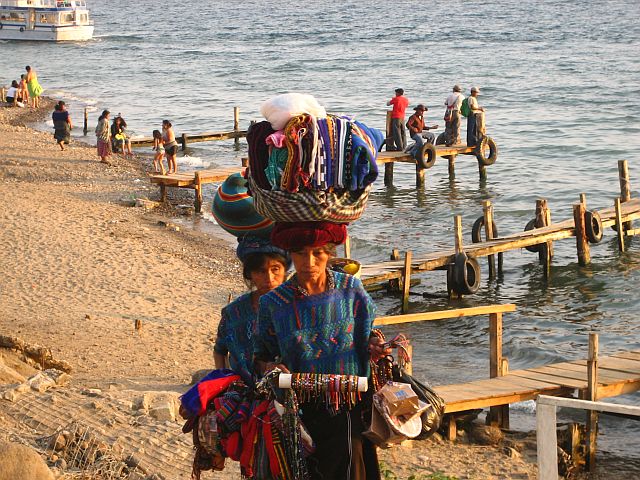 Auf dem Weg nach Chichicastenango (kurz: "Chichi")
On our way to Chichicastenango (short: "Chichi")
Fuer nur einen Quetzal geht es hiermit von Ort zu Ort. Wir sitzen aber doch lieber im Chickenbus.
For just one Quetzal one can get a lift from town to town. But we rather hop on a chicken bus.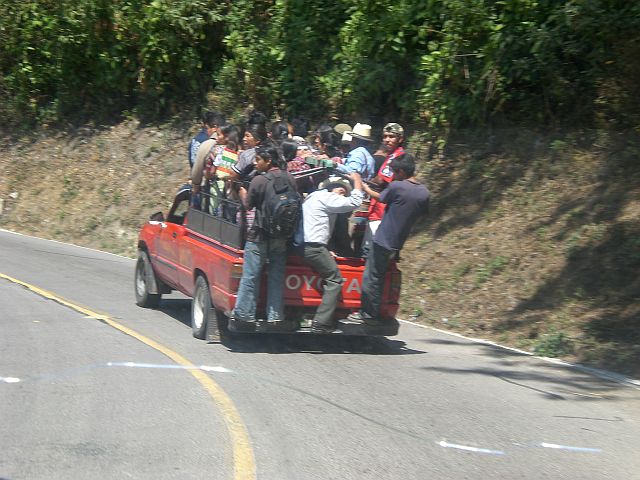 …und wenn man doch mal laufen muss, ist es immer sicherer, im Verkehr auch gesehen zu werden…
…but if you do have to walk it's always safer to be seen in heavy traffic…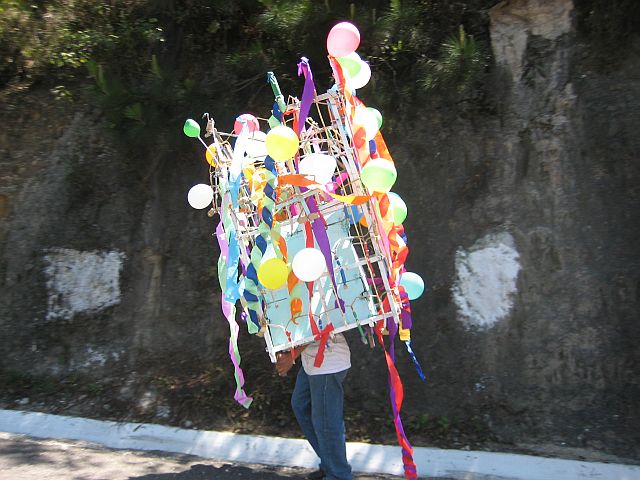 Ein typischer Friedhof in Guatemala.
A typical cemetery in Guatemala.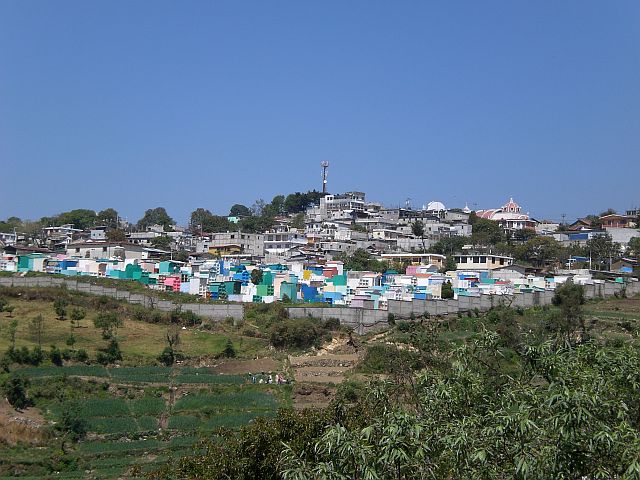 Dann kommen wir am Markt in Chichi an. Die ganze Stadt ist voll mit Staenden, und wir koennen uns kaum sattsehen.
Then we finally arrive at the market in Chichi. The whole town is packed with little market stands which we just can't take our eyes off.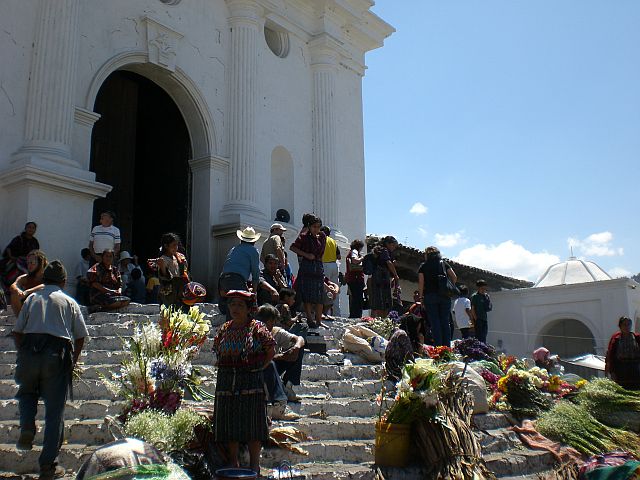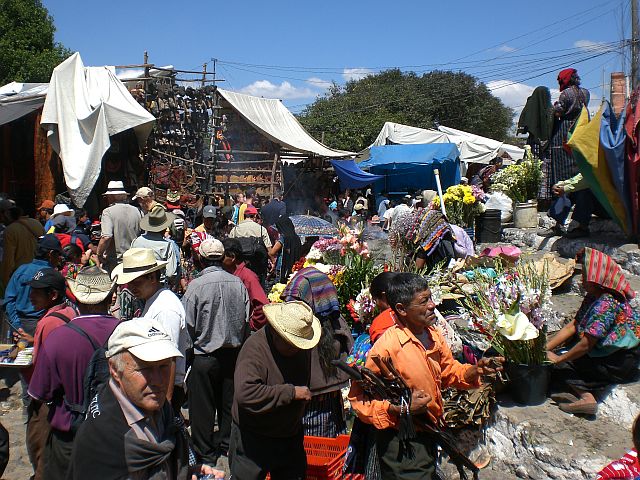 Wanted!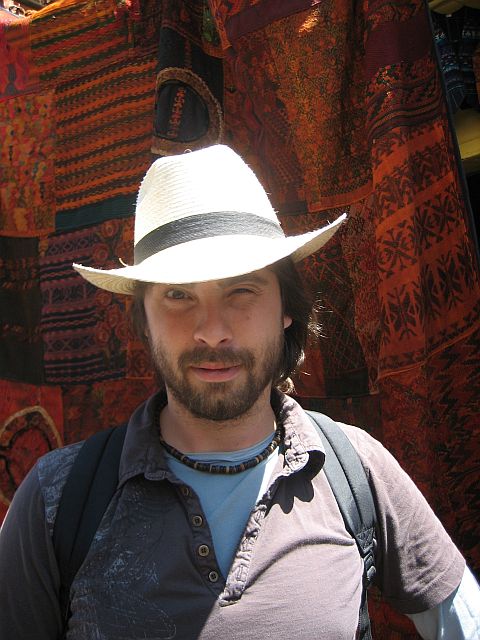 Nicht ganz rostfrei aber dennoch schoen…
Not stainless but still charming…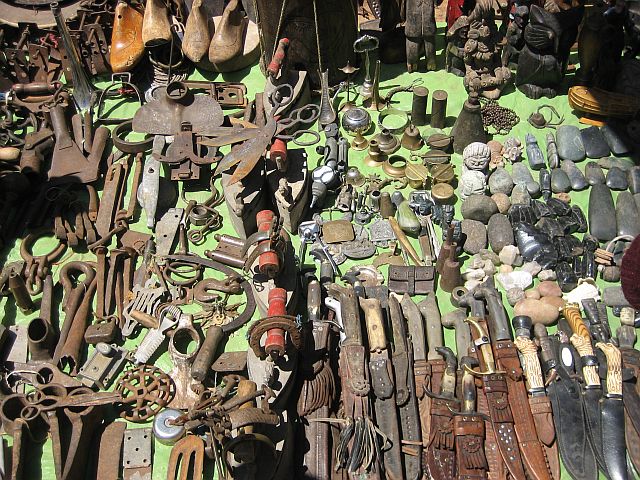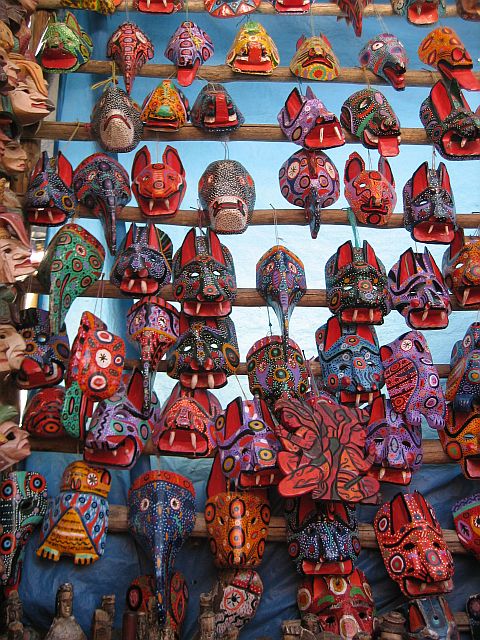 Einheimische Frauen in ihren bunten Trachten…
Indigenous women in their colorful clothing…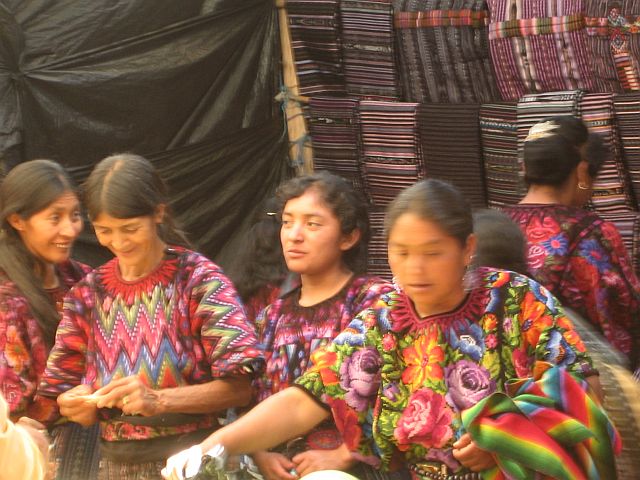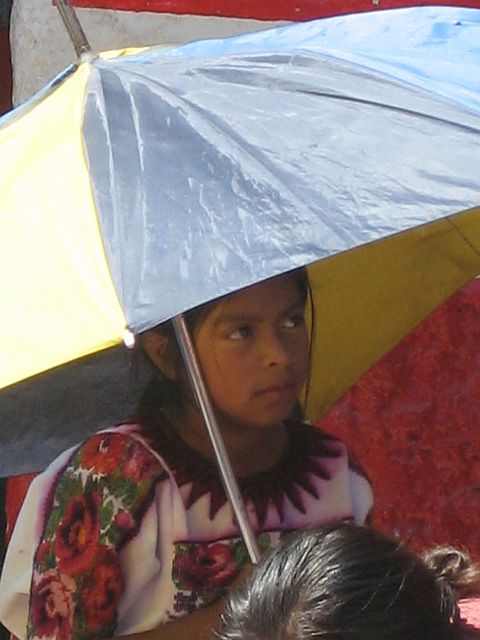 Eine alte Turnhalle wird hier jeden Sonntag und Donnerstag zur Markthalle umfunktioniert.
Every Sunday and Thursday the gym is being used by the local farmers.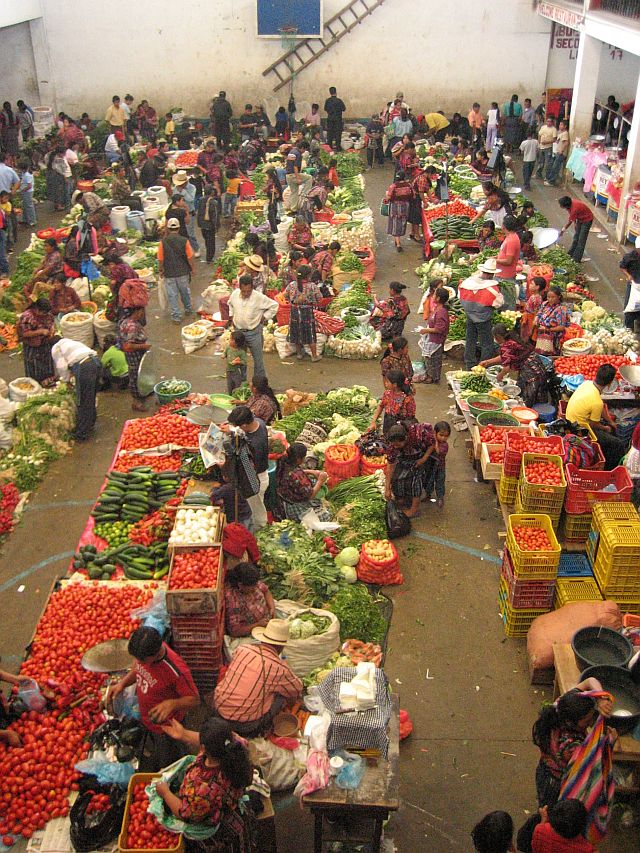 Und wenn der kleine Hunger wieder kommt: Chicken Wings war mal, hier gibts was Richtiges. Bon Appetit!
Got the munchies?… If this doesn't make you put away your french fries? Bon Appetit!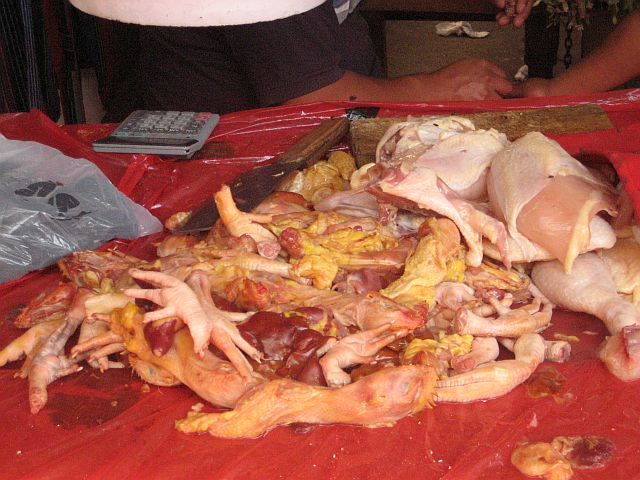 Nein, da sind frische Tortillas dann doch besser… Wird aus Karina doch noch eine echte Hausfrau?
No thanks, we rather have some fresh tortillas… Is Karina gonna be a real housewife soon?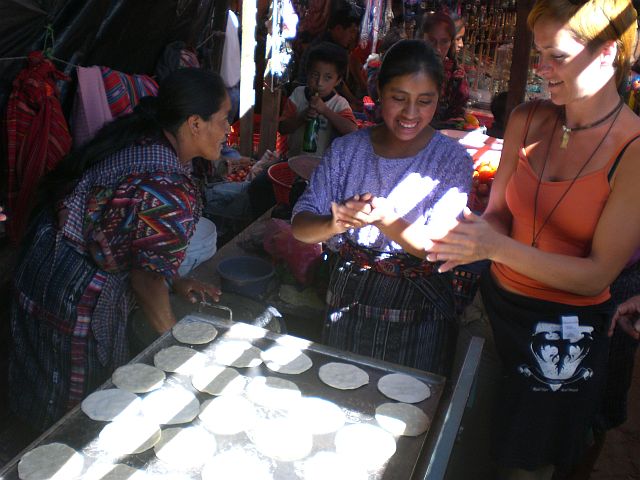 Alte Bruecke mit Stadttor und Tuk Tuk
Old Bridge with town gate and Tuk Tuk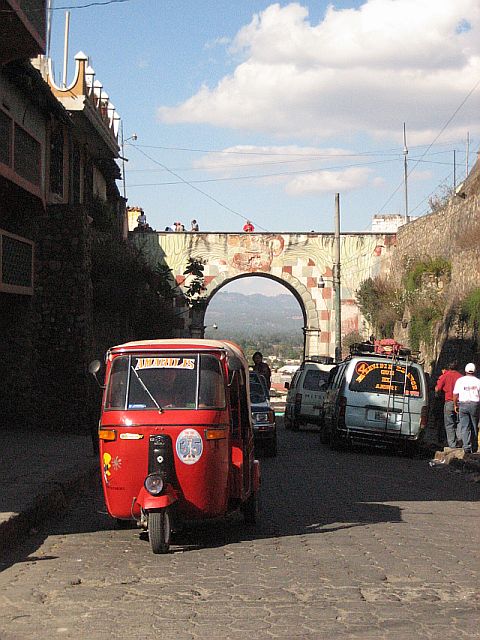 …nichts gekauft, aber viel gesehen – ab nach Hause!
…nothing purchased, but seen a lot – time to go home!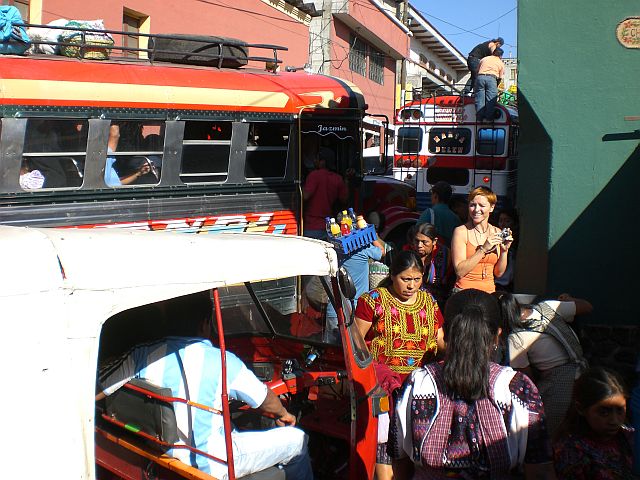 Jetzt hat das Lotterleben erst mal ein Ende, denn bald geht unsere Spanischschule los.
For now the slovenly life comes to an end, since our Spanish school is starting soon.