Viva Mexico/ Yucatan
Fuer alle, die es noch nicht wissen, Alex und Karina halten sich jetzt nicht mehr in New York City auf. Letzten Oktober ging es fuer einen kurzen Zwischenstop zurueck nach Deutschland und jetzt machen wir die Gegend in Mittelamerika unsicher.
So, wer gerne wissen moechte, was sich so bei uns tut, der ist hier genau richtig.
For all of you who don´t know it yet: Alex and Karina have left New York City last October. After a short stay in Germany they decided to explore Central America.
So, who ever likes to know what´s going on here is the place.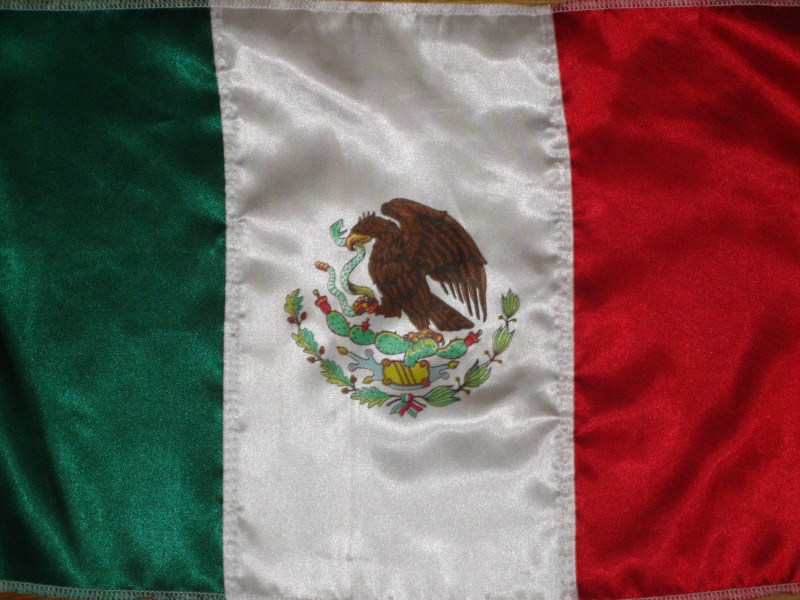 Danke fuer den Prosecco, Steffi!!
Thanks a lot for the prosecco Steffi!!!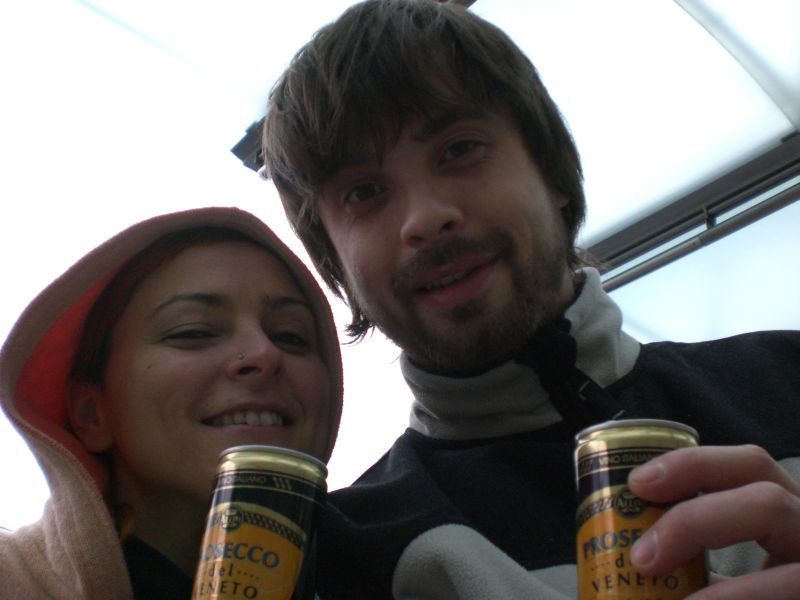 So, jetzt sind wir aufbruchbereit (Frankfurt)!
Now, we´re all set!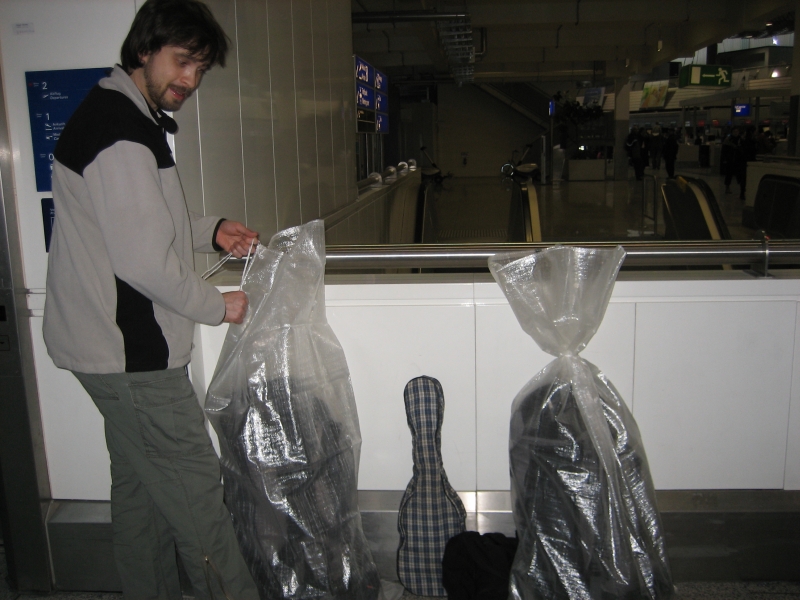 Teutsche Reachtschreipungh??
… is that the right Germman Spellink??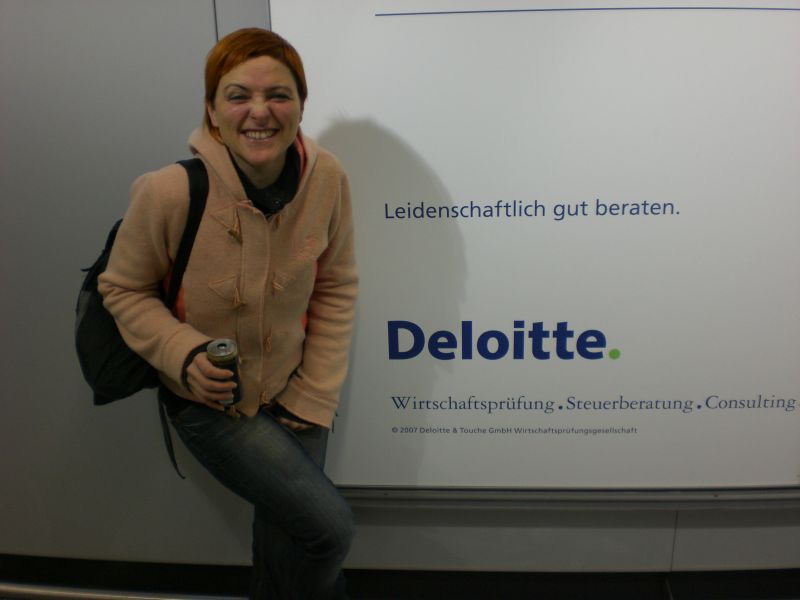 …nach XX Stunden endlich in Cancun bzw. Playa del Carmen angekommen!
after XX hours we finally arrived in Cancun/Playa del Carmen!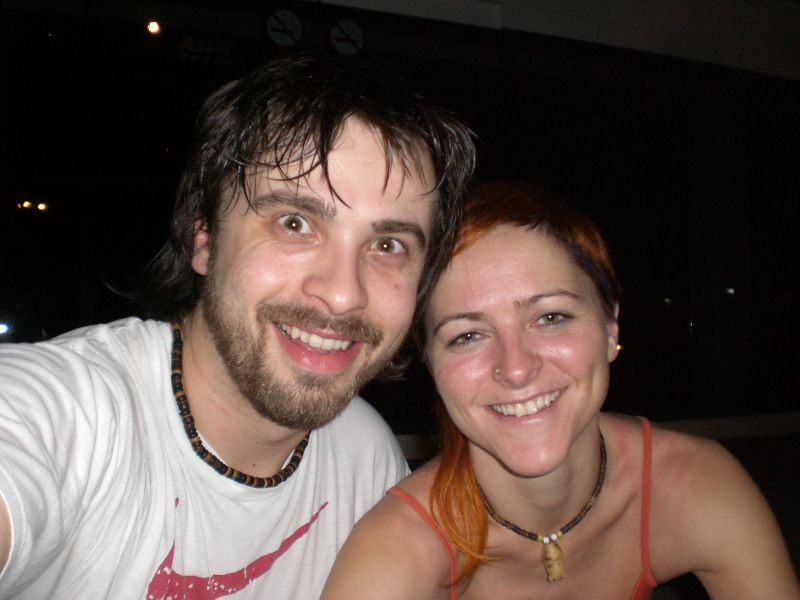 Okay, was zu viel ist, ist zu viel! Wir haben natuerlich mehr mitgenommen als wir wirklich brauchen und so schaffen wir uns erstmal mehr Platz im Rucksack.
Okay, too much is too much! Of course we´re totally overpacked and so we get rid of a couple of things to get more space in our bags.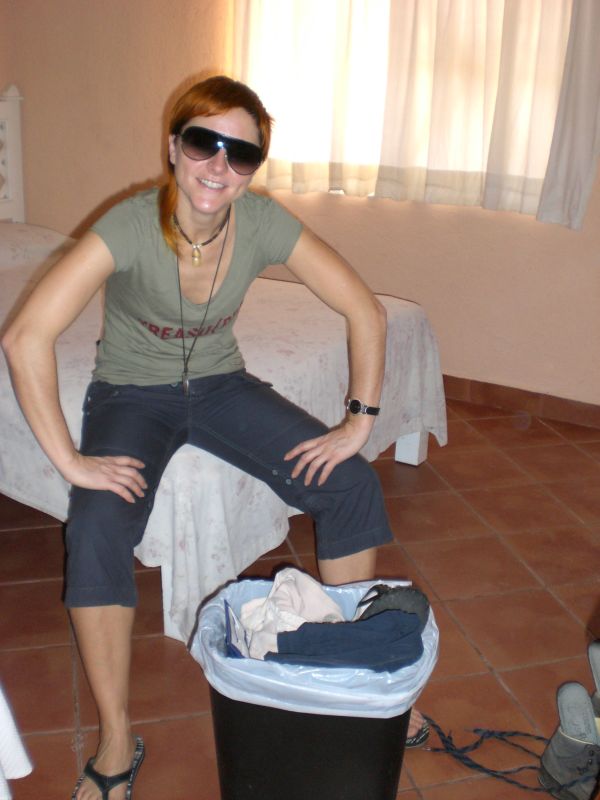 Wir koennen es fast nicht glauben, in Mexico scheint immer noch Weihnachten zu sein.
It´s unbelieveable in Mexico it still seems to be Christmas.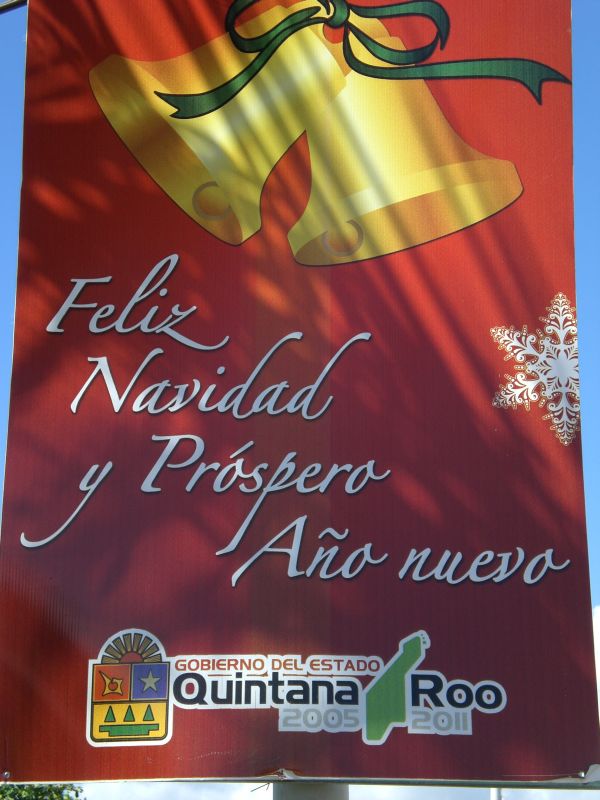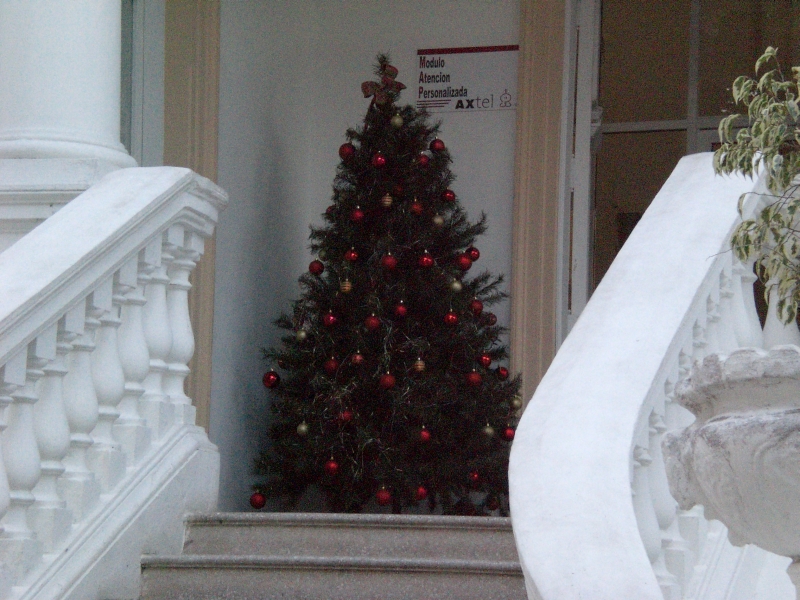 Ansonsten hat uns Playa del Carmen eher abgeschreckt, weil es viel zu touristisch und teuer ist.
Since we intended to go on a backpacking trip, Playa del Carmen wasn´t that attractive to us. Too many tourists and way too expensive for us.
Das ist das erste, was wir sehen, als wir im Hostel in Tulum ankommen – eine Africa Twin. Hi Andreas (www.ernasreisen.com) diese Fotos sind speziell fuer Dich! Das Motorrad gehoert zu einem oesterreichischen Paerchen, dass im Herbst 2006 mit seiner Tour ihn Argentinien angefangen hat und weiter nach Alaska unterwegs ist. Hut ab!
That is the first what we get to see when we arrive at the hostel in Tulum - An African Twin!! Hi Andi (www.ernasreisen.com) , these pictures are especially for you! The bike belongs to an Austrian couple who has started with their tour in Argentina Autumn 2006 and want to finish their trip in Alaska! Respect!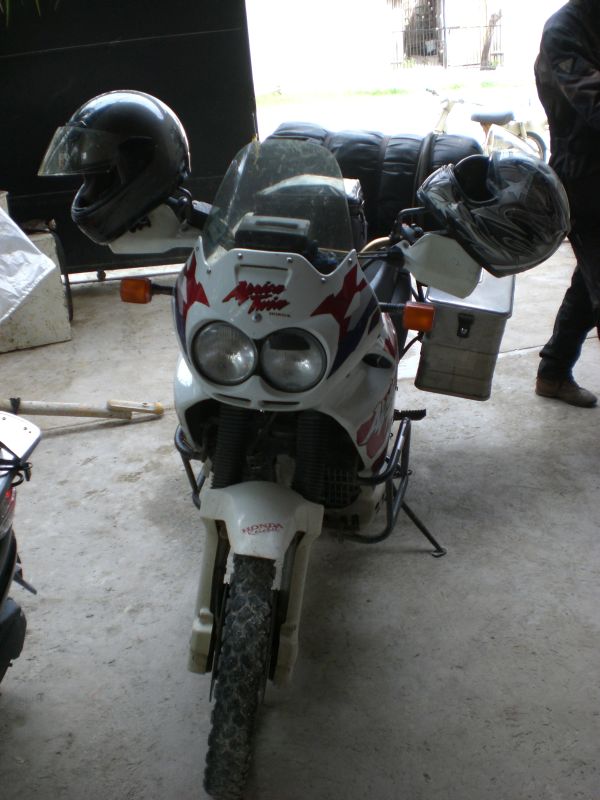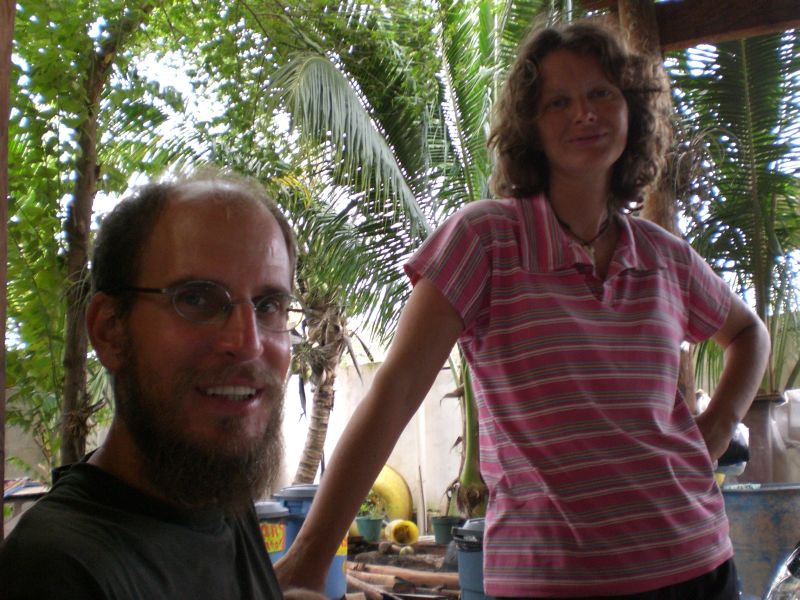 Seine Eltern besuchen die beiden in Yucatan. Alle zusammen werden gute 800km bis nach Palenque fahren. Wir sind nur noch sprachlos. Die beiden Oldies fahren doch tatsaechlich die ganze Strecke mit dem Scooter. Verrueckte Oetzis!
His parents are visiting them in Yucatan. They will accompany them for 500 miles on a scooter!! Crazy Austrians!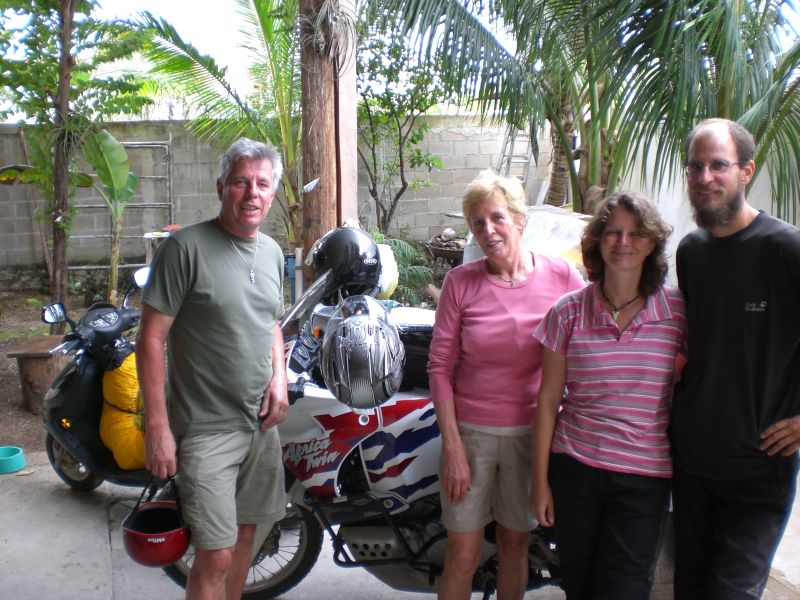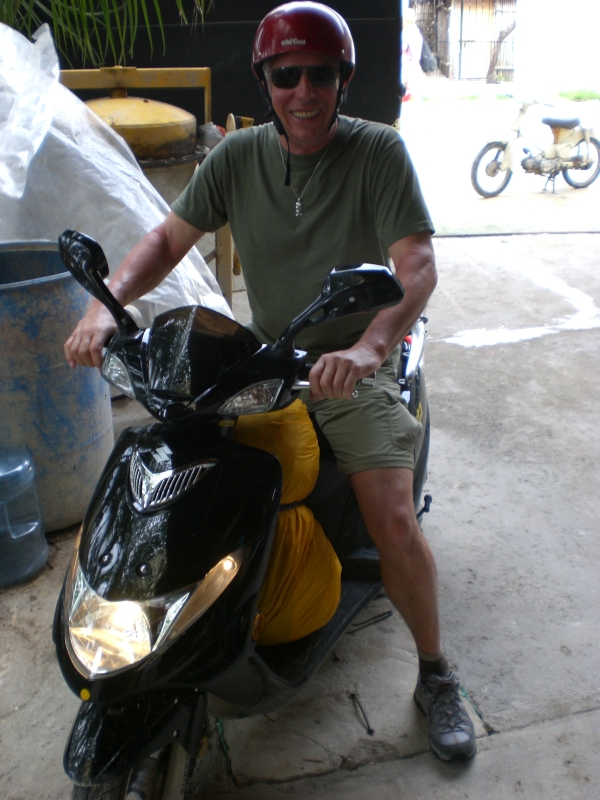 Im Hostel Casa del Sol in Tulum.
Our nice little hut.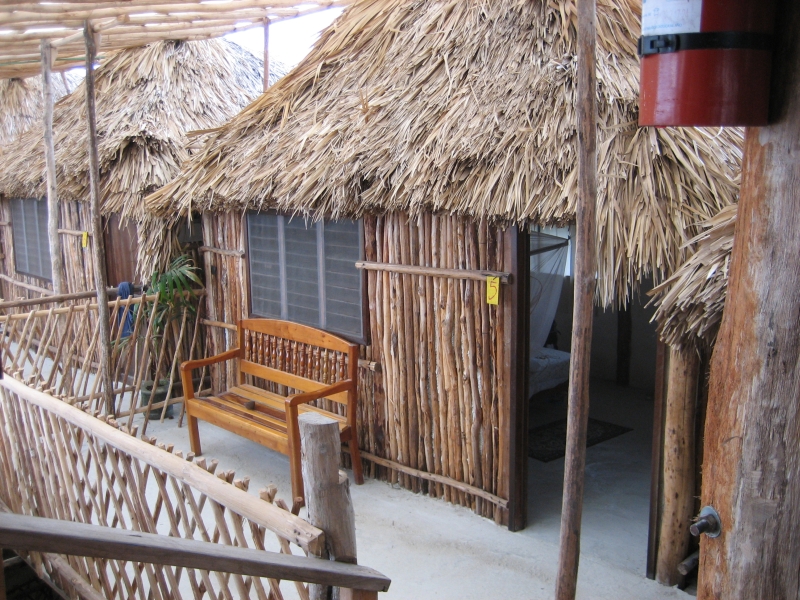 Another easy rider!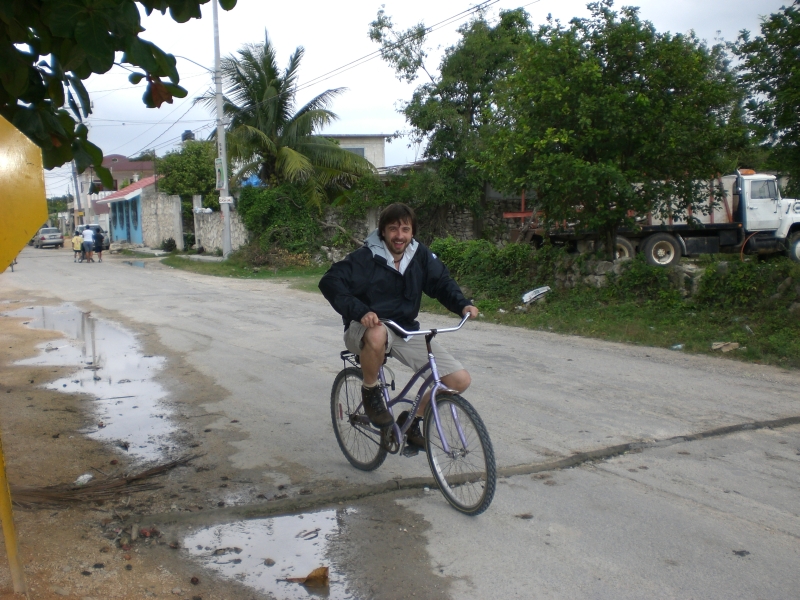 Alex in seinem Element! Es gibt Pollo con Mole y Arroz! Alex stand unter totaler Aufsicht der Mexikaner, die ihre unglaeubigen Augen nicht von ihm lassen konnten.
Alex Cooking lessons a la Mexicana! The Mexicans couldn´t take their eyes of Alex. We know it´s quite unusal that a German is preparing Mexican dishes. It was so much fun to see just surprised faces.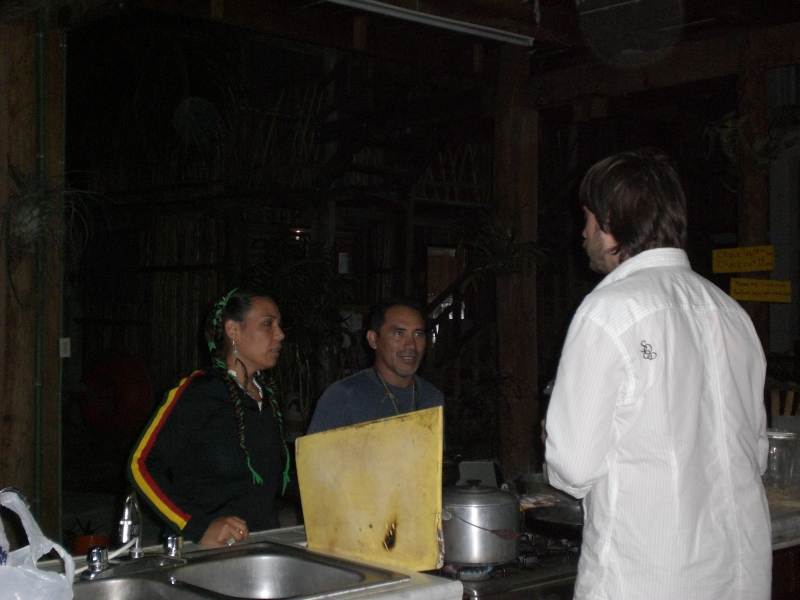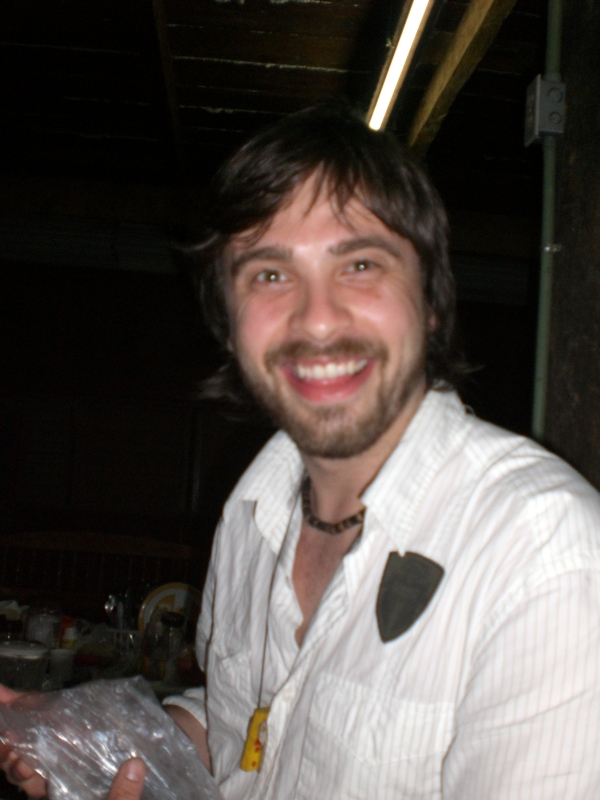 Yucatan ist nicht nur beruehmt fuer seine beeindruckenden Tempel sondern auch fuer seine Haengematten. Dass die Deutschen mit ihrer eigenen Haengematte anruecken, amuesiert die Mexikaner koestlich. Alex zieht aber sichtlich den kuerzeren.
Yucatan isn´t only famous for its amazing Mayan ruins but also for its most comfortable hammocks. That the Germans arrive with their own hammocks is amusing to the Mexicans. Alex doesn´t really fit into the mini-hammock.
Elda ist so kurz, dass sie fast vollkommen in der Haengematte verschwindet.
Elda is so short that she almost disappears in the hammock.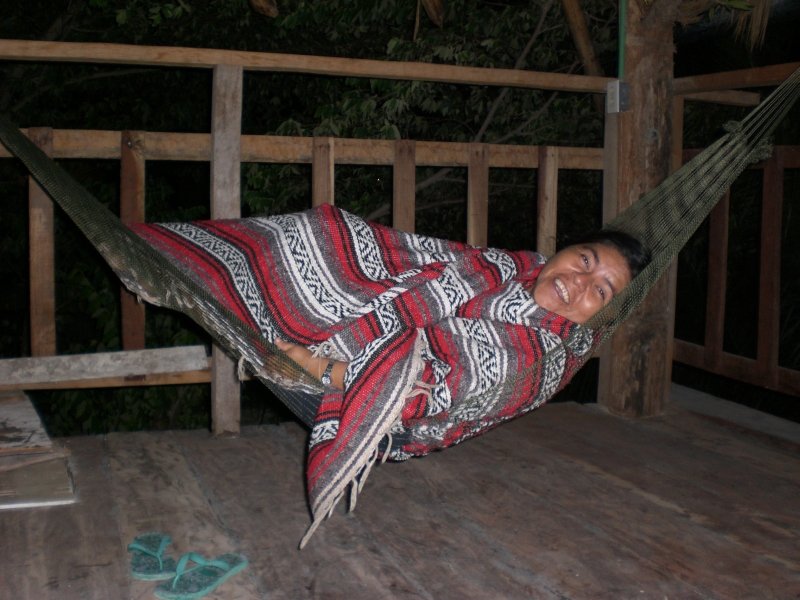 Von Tulum geht es weiter nach Chichen Itza/Piste.
From Tulum we´re going to Chichen Itza/Piste.
Der perfekte Hausmann, der Traum einer jeden Frau, ein Mann der kocht und dann auch noch die Waesche waescht! Guadelupe ist fassungslos, komische Sitten haben die Europaer da! Und so gibt es den ersten Schnell-Wasch-Kurs fuer Alex!
The perfect house-man, a dream of every woman, a man who is cooking and doing the laundry! Guadelupe is speechless, strange customs do the Europeans have! Crash course in doing the laundry.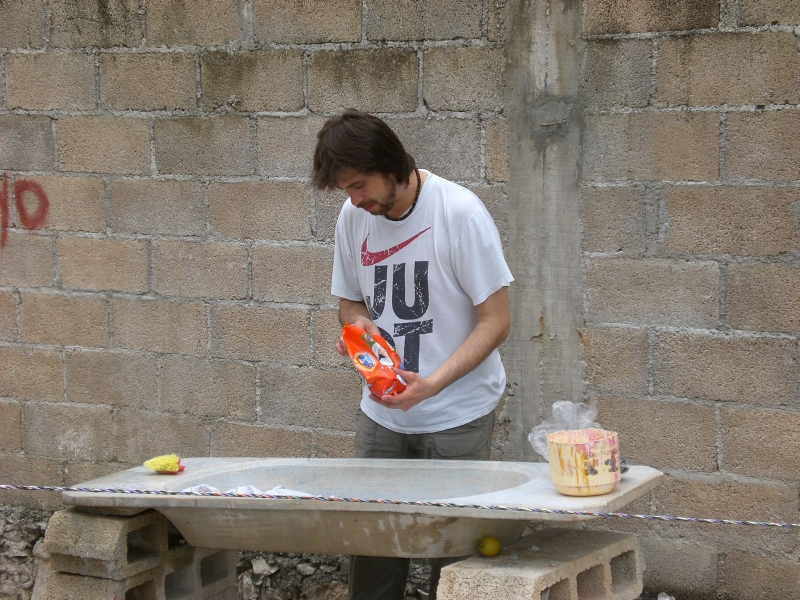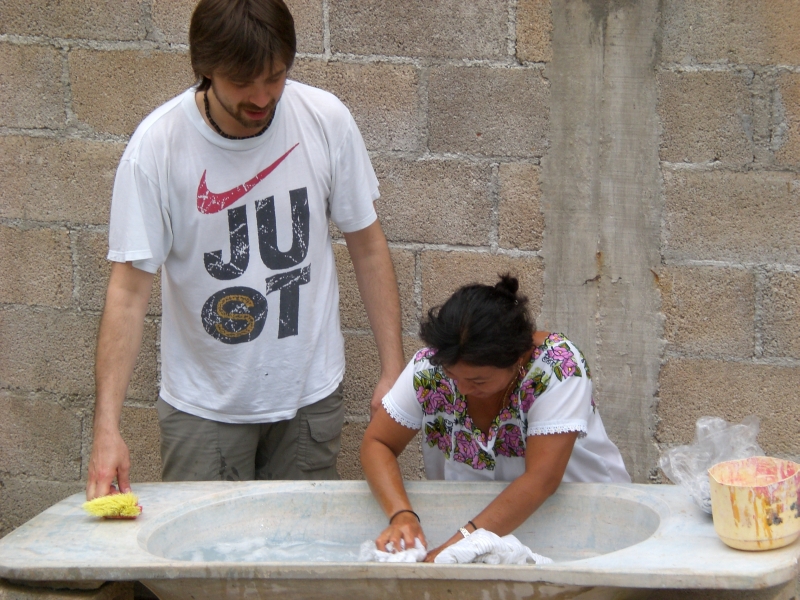 Rosalito, unsere Herberge in Piste. So haben wir es getauft, weil es einfach nur klein und pink ist.
We´ve named it Rosalito, our hostel in Piste because it´s just very small and pink.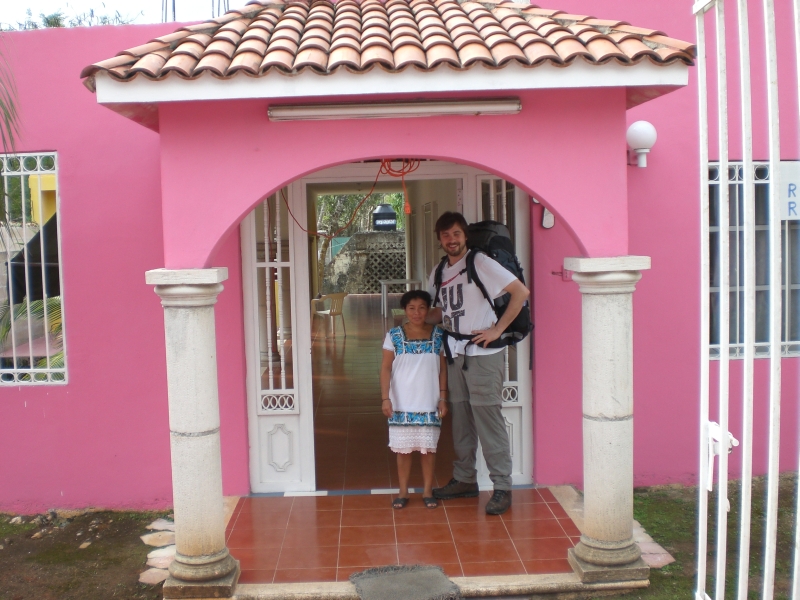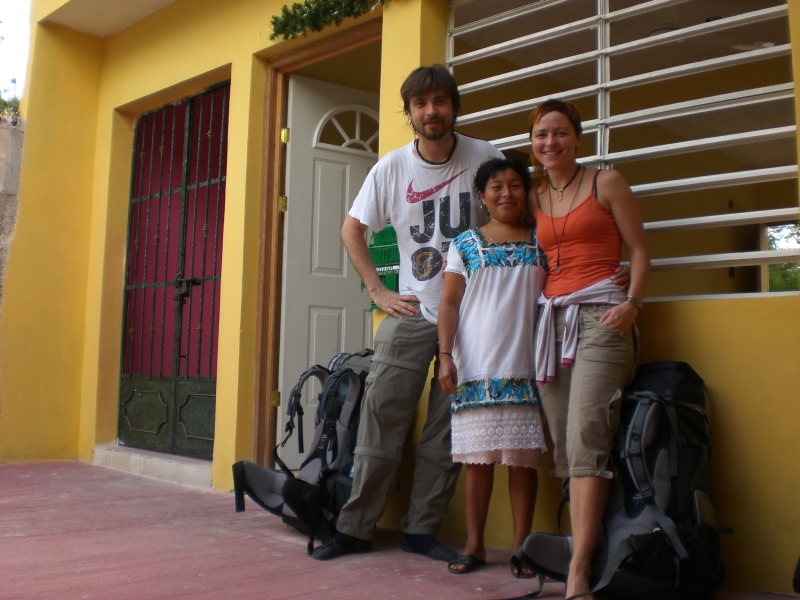 Chichen Itza – one of the most famous Mayan pyramids in Yucatan!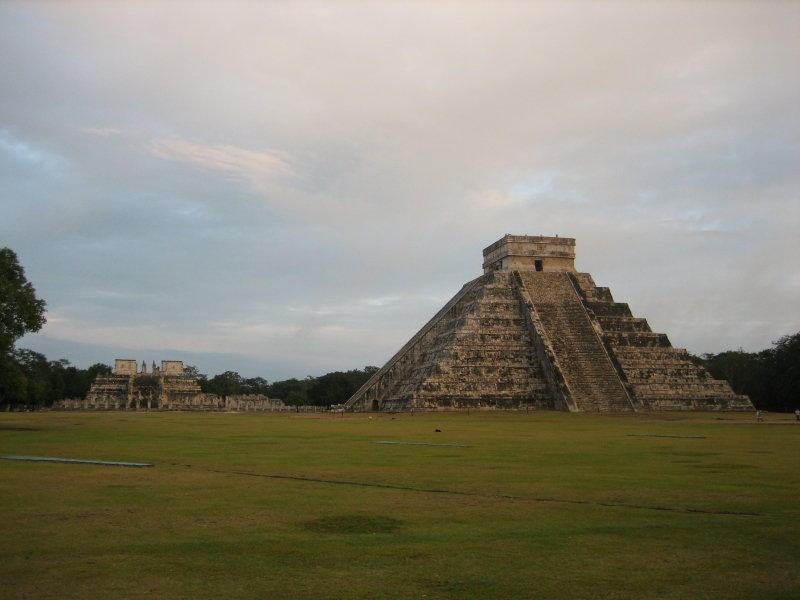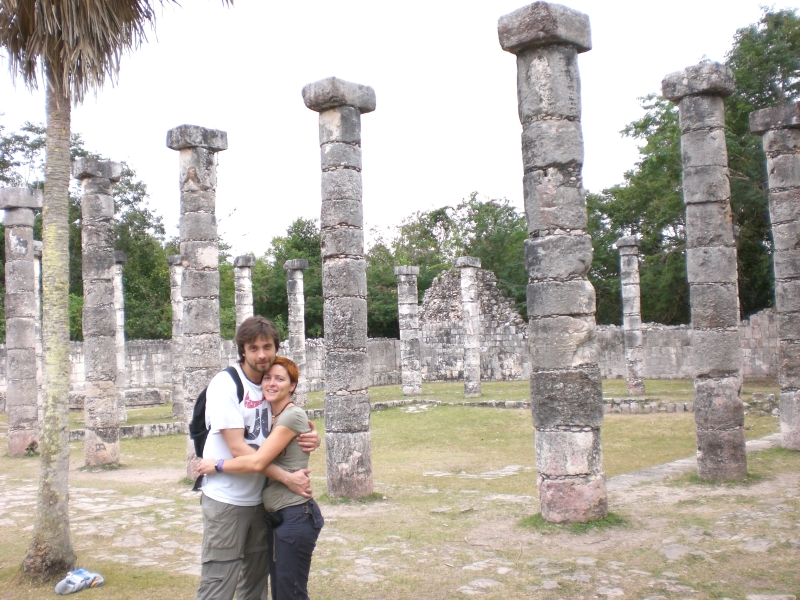 Hat´s da etwa geklopft?
Knock knock who´s there?
Passt wie angegossen…
She fits right in…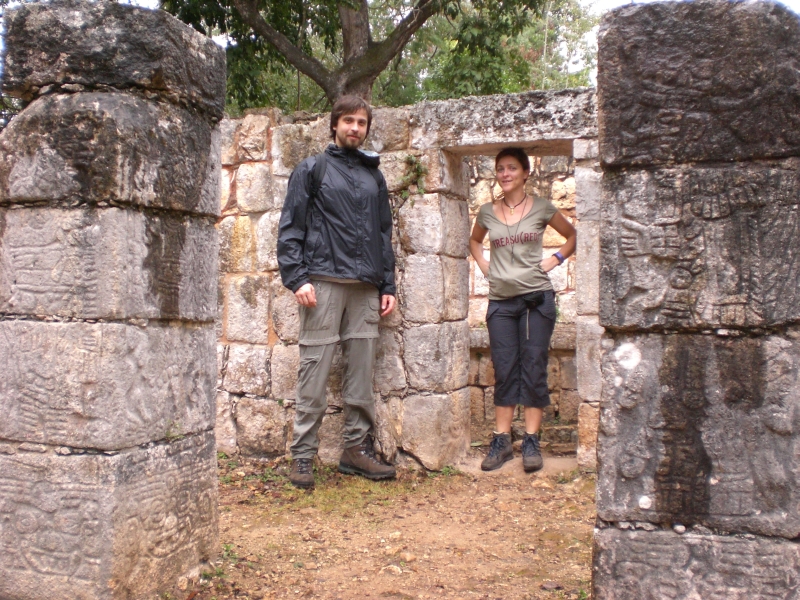 …unsere Maya-Honeymoon suite.
…our Mayan honeymoon suite.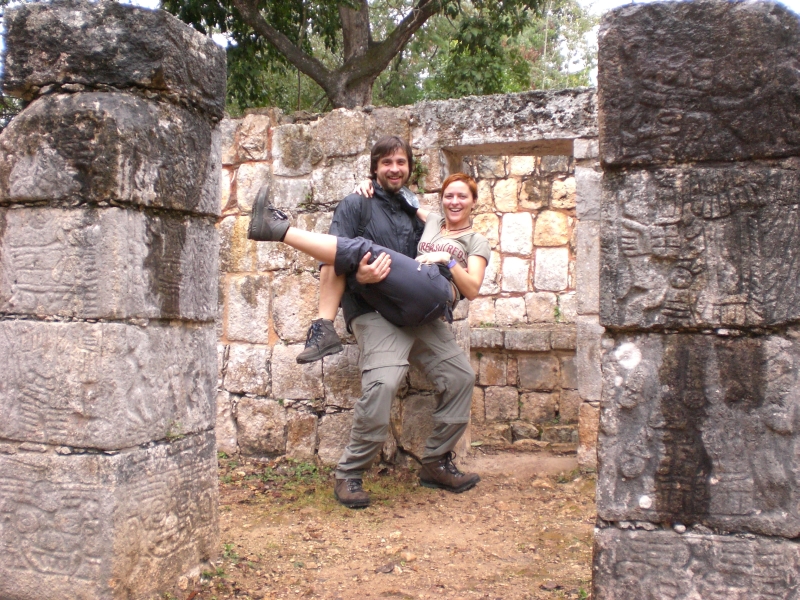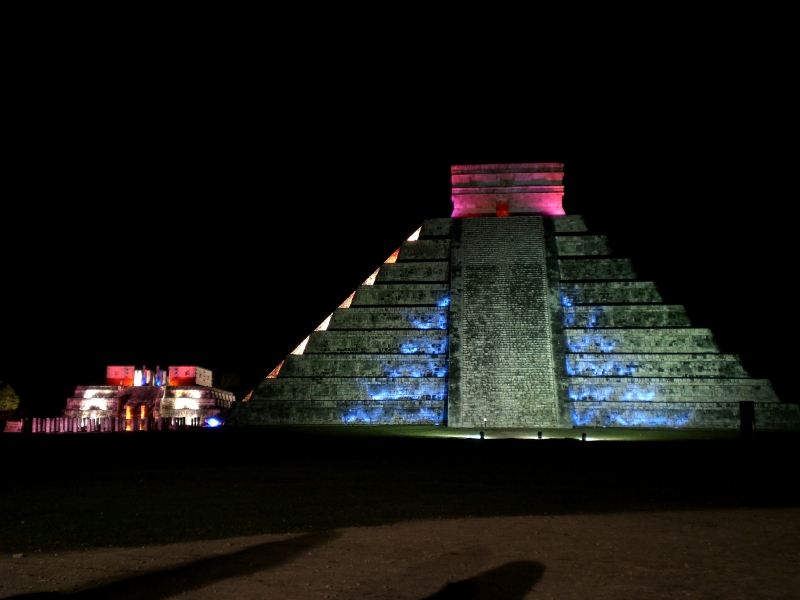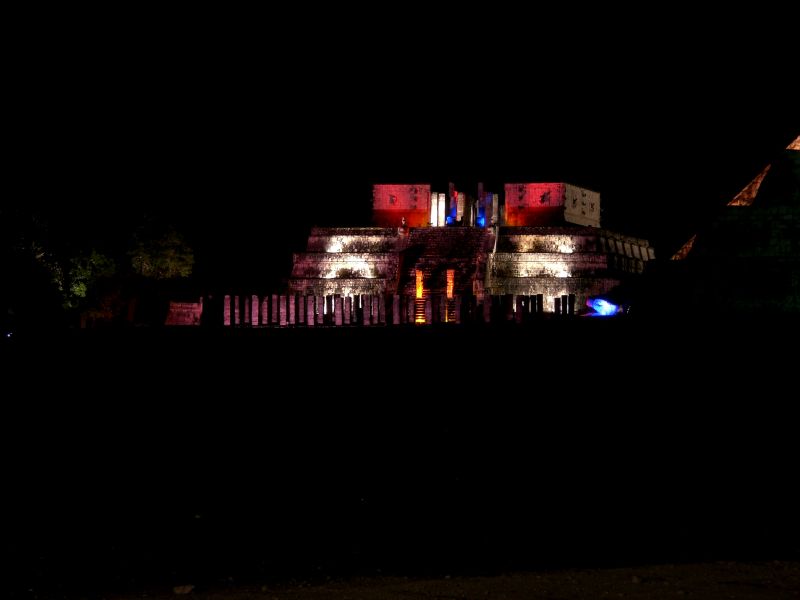 Merida – eine wunderschoene Kolonialstadt.
Merida – a wonderful colonial city.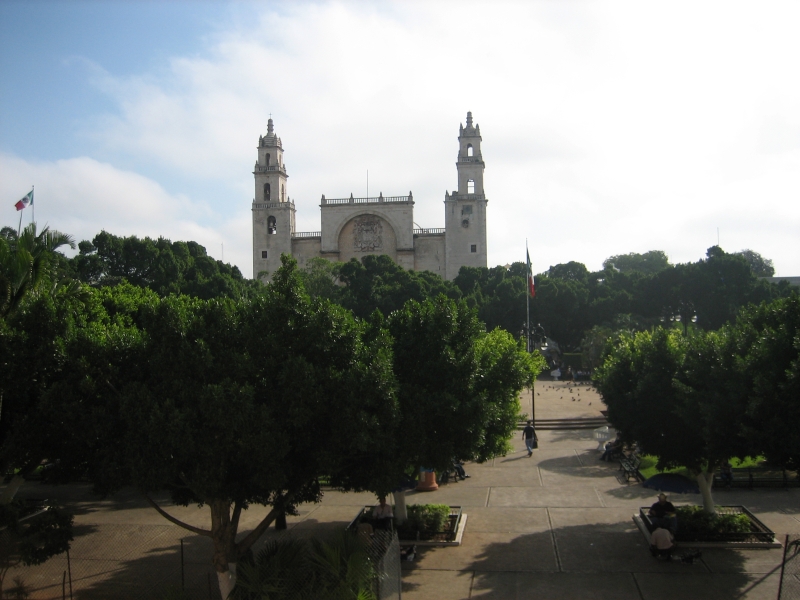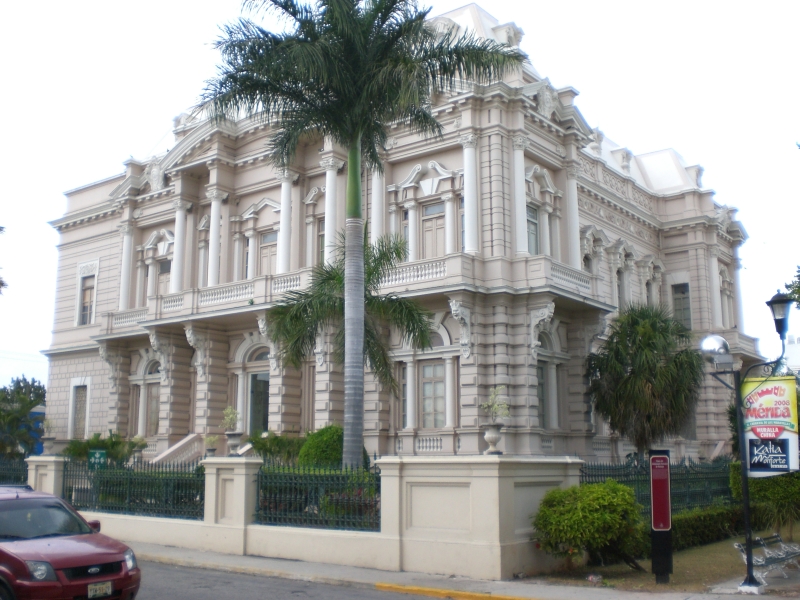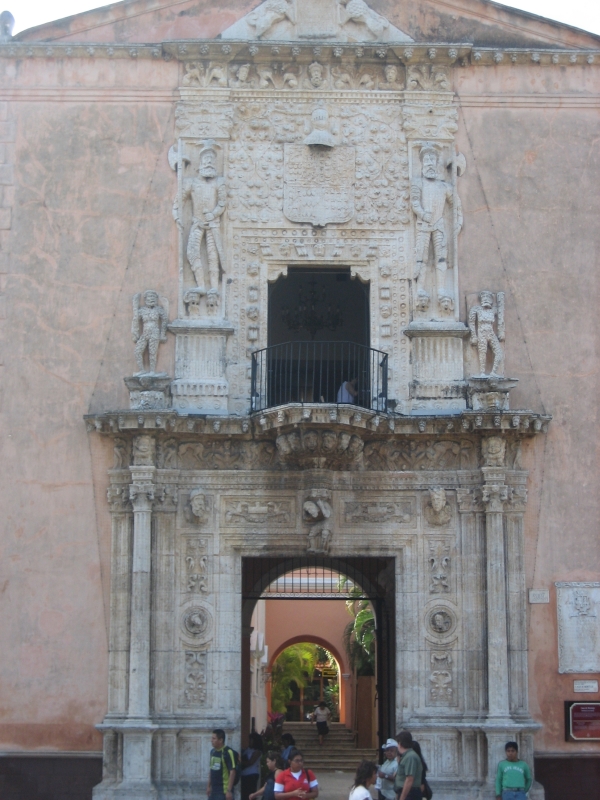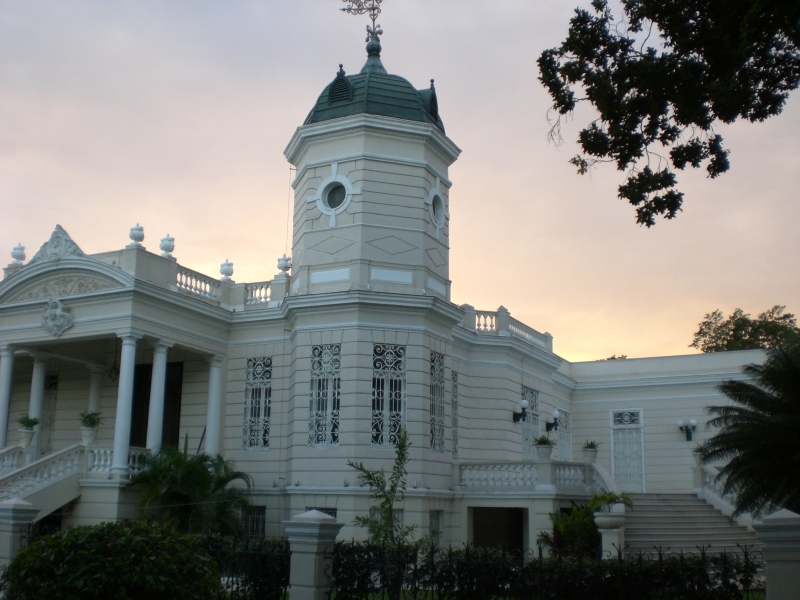 Im Hostel "Nomada" geniessen wir eine unglaublich tolle Atmosphaere.
In the "Nomada" hostel we´re enjoying a really leisure atmosphere.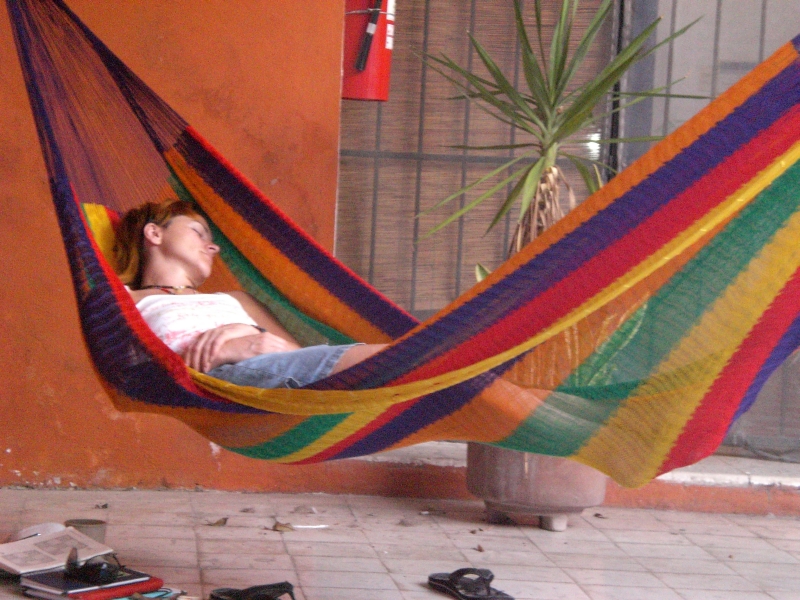 Dazu gehoeren auch kostenlos angebotene Salsa Kurse. Und wie man erkennen kann, hat sogar der Herr Gruenert ne Menge Spass.
In addition they offer free Salsa lessons, and as one can see even Alex has a lot of fun.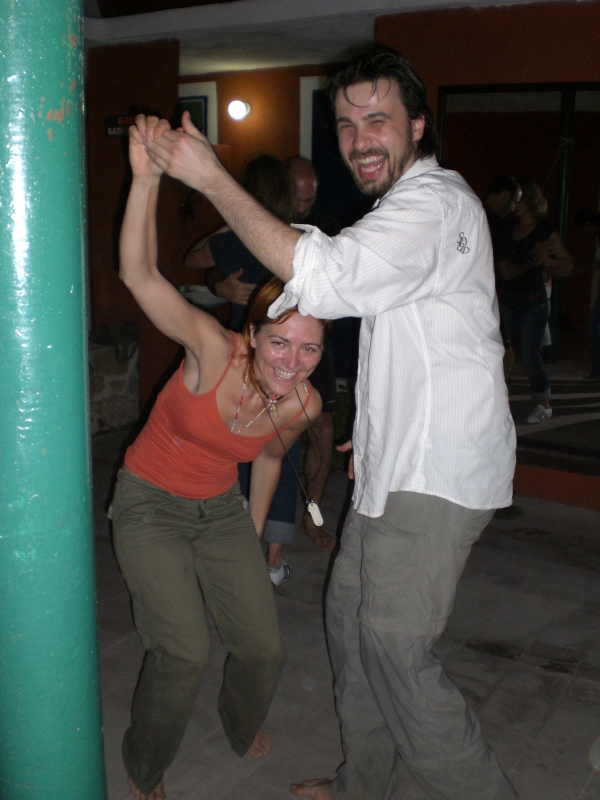 Casanova Alex & little Anna from Australia!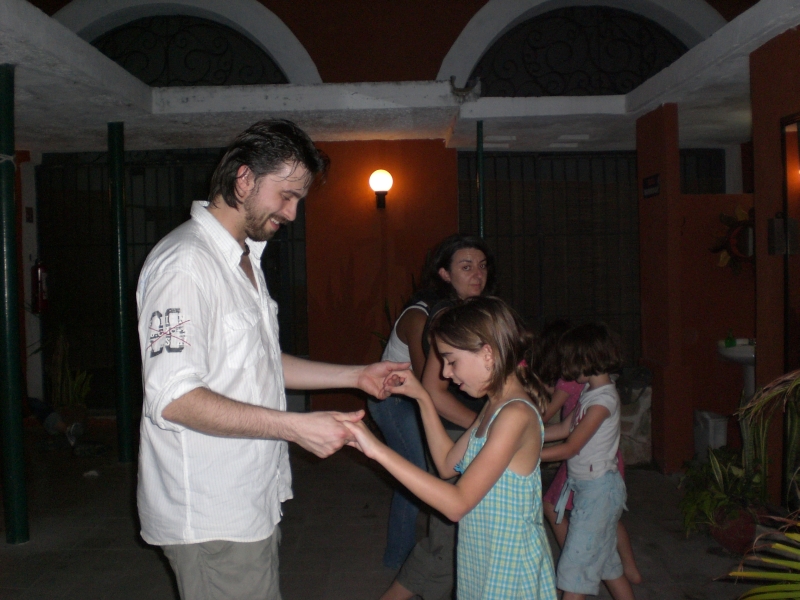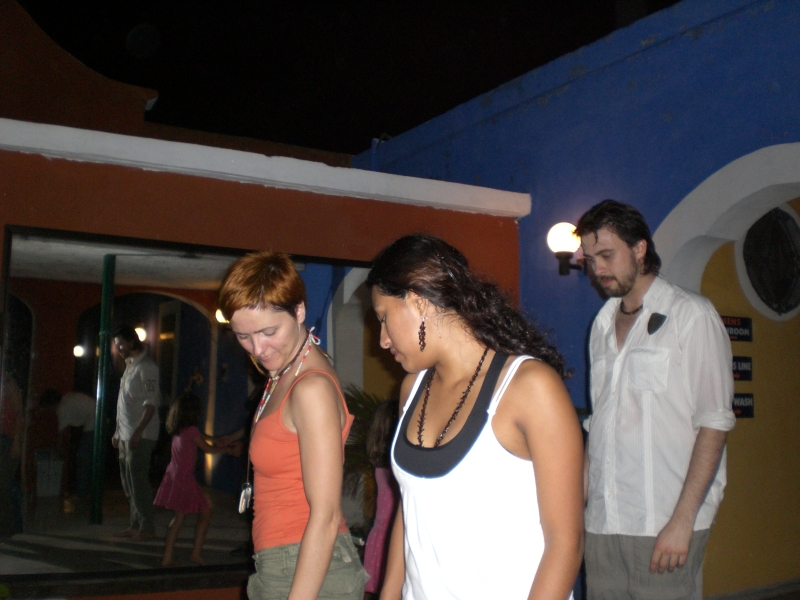 Im "Nomada" treffen wir auch Marie aus Houston/Texas, mit der wir uns praechtig amuesieren.
In the "Nomada" we also meet Marie from Houston/Texas who we have a lot of fun with.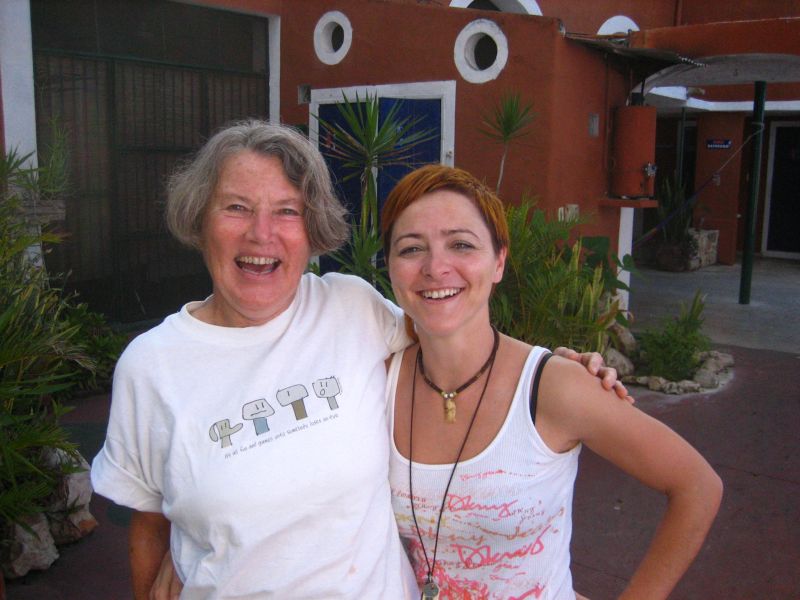 Mir gefaellt ihr T-shirt.
I like her T-shirt.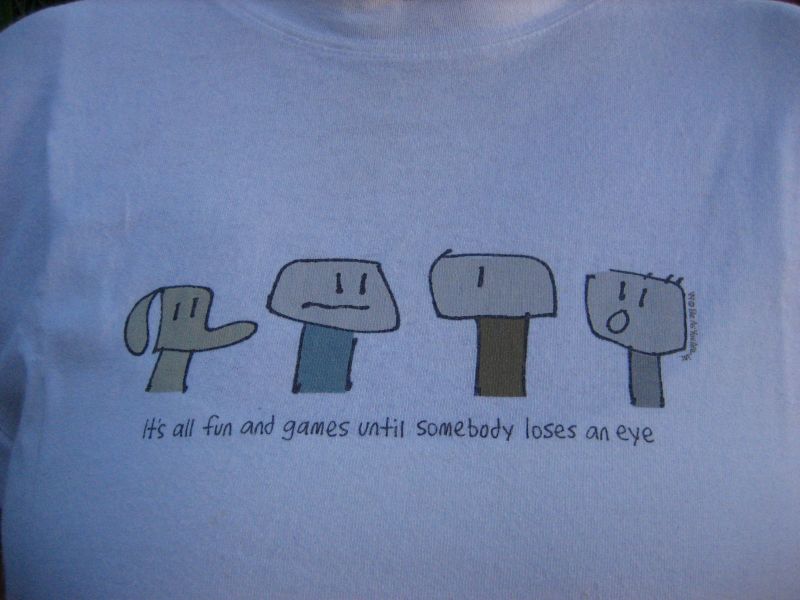 Wir muessen uns unbedingt eine von diesen handgemachten Haengematten besorgen, die von hier kommen und in denen man so suess traeumen kann. Aber vorher wird hart verhandelt.
We just have to get ourselves one of those cosy hammocks. They´re handmade and there´s no sweeter waste of time as lying in one, day-dreaming. But first there´s tough negotiations.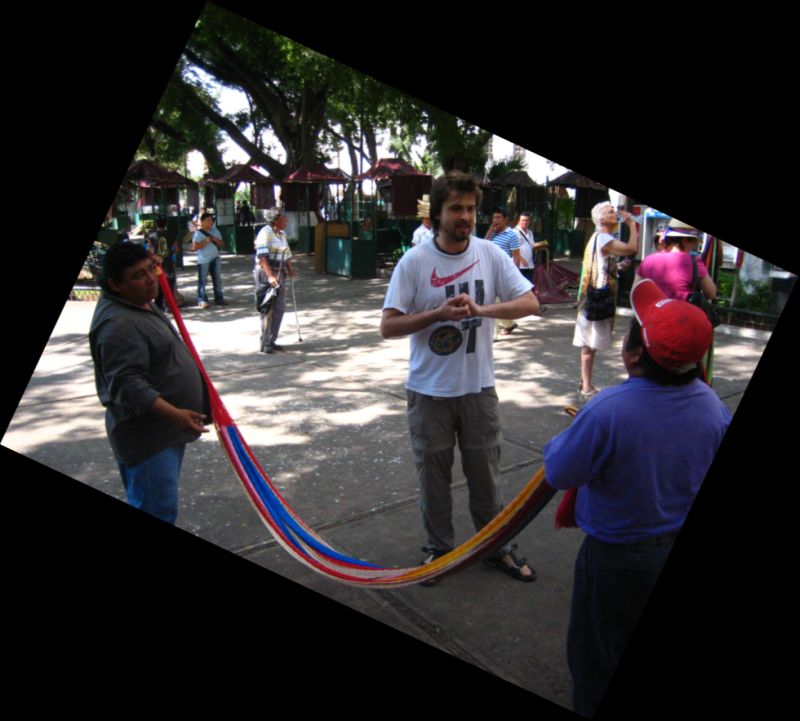 Es war recht schoen in Yucatan, aber wir muessen weiterziehen. Der Nachtbus bringt uns nach Palenque, einer alten Maya Anlage mitten in Dschungel.
Yucatan was fun but we have to move on. The night-bus will bring us to Palenque an old Mayan ruin in the middle of the jungle.