Nicaragua – zwischen Seen und Vulkanen / Nicaragua – between lakes and volcanos
…nachdem wir ganze 8 mal!!! die Busse (wie immer – Chickenbusse!) gewechselt haben – die zwei zusaetzlichen Rikscha-Fahrten nicht mit eingerechnet – kommen wir nach ueber 11 Stunden voellig geraedert in Leon/Nicaragua an. Das Besondere ist, dass wir an diesem Tag gleich zwei Grenzen passiert haben. Ein Erlebnis, dass wir so auch noch nicht hatten – was ein Ritt!
…after changing buses 8-times!!! (as always – chicken buses!) and two additional rickshaw-rides we finally arrive totally knocked out in Leon/Nicaragua after more than 11 hours on the road . The special thing about this day is that we have passed two border crossings, something we haven't experienced before – what a ride!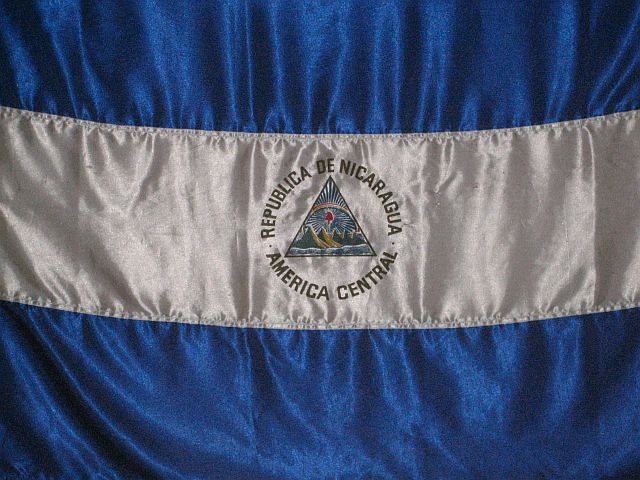 Leon - Im Hostel "Lazybones" (frei: "muede Knochen") kann man sich einfach nur wohlfuehlen. Das liegt an den tollen Leuten, die man dort trifft, wie zum Beispiel uns (grins)! Bei der lockeren Atmosphaere fuehlen wir uns sofort wie zu Hause.
Leon - There's just no way of not liking the "Lazybones"-hostel. First of all it's the nice and friendly people you meet like us (grin)! But it's also the leisure atmosphere that make us feel at home straight away.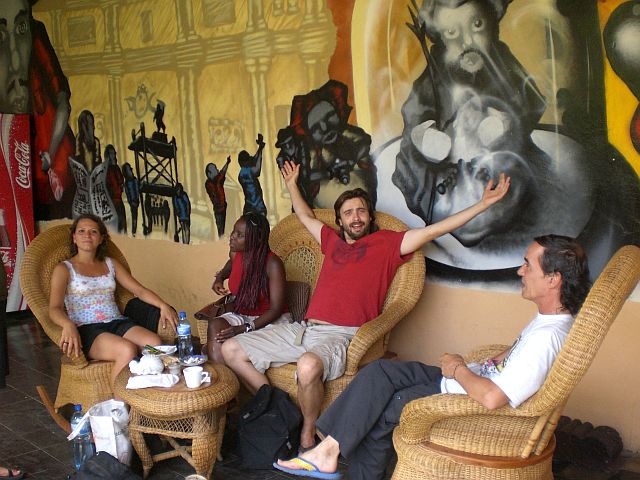 Als ganz besonderes Schmankerl gibt's hier – zum ersten Mal auf unserer Reise – ein Schwimmbecken…..
For the first time on our trip there are special amenities such as a swimming pool…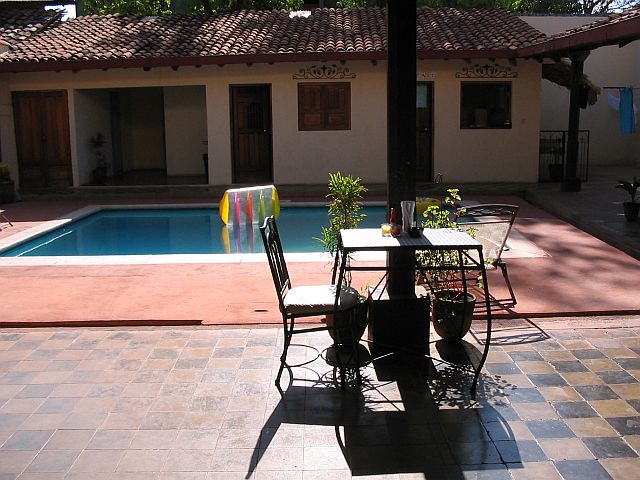 …uuund…Haengematten im Innenhof…
…aaand…hammocks in the patio…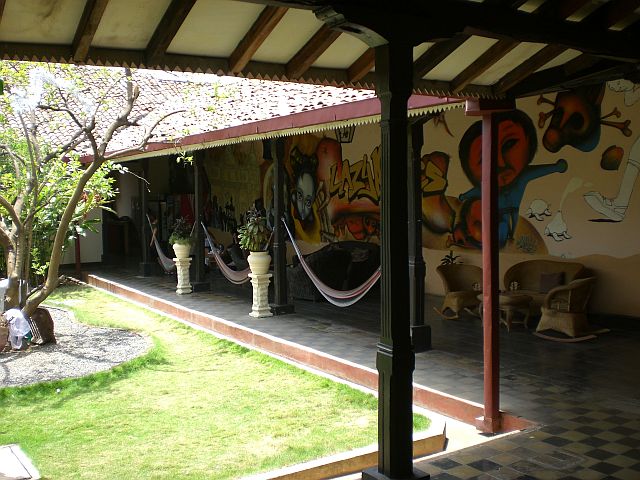 …uuund…einen Billardtisch…
…aaand…a pool table…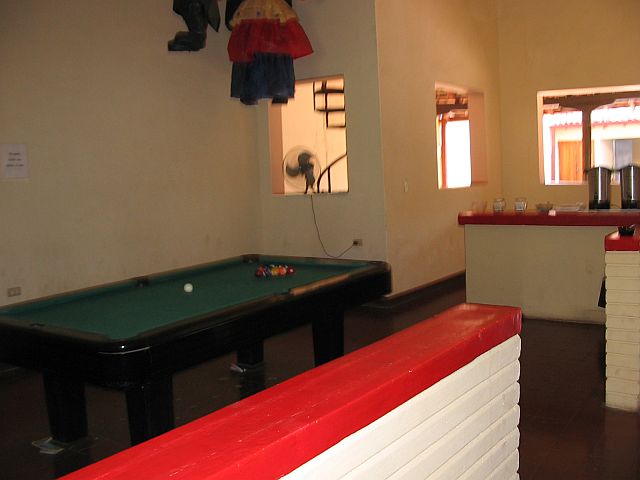 …uuund freien Internetzugang…(das ist ganz besonderer Luxus!)…und zur absoluten Kroenung gibt's auch noch freien Kaffee den ganzen Tag lang! Willkommen in unserem Schlaraffenland!
…aaand free internet…(that's the real luxury!)…and on top of all that they even offer free coffee the whole day long! Welcome to paradise!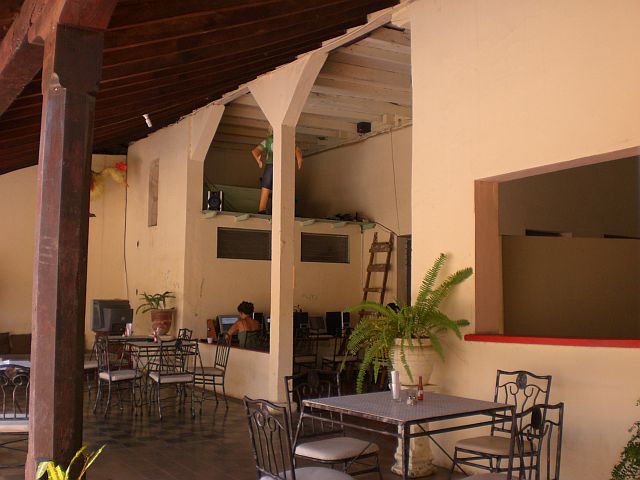 Wir haben echt ne tolle Zeit, mit vielen guten Gespraeche, wie hier z.B. mit Nnenna, und jeder Menge Spass, denn an der Sofaecke gleich am Eingang kommt keiner so schnell vorbei.
We have such a great time, meeting all these amazing people, chatting, chatting and chatting, like here with Nnenna, and having lots of fun because it's almost impossible to pass the sofas and rocking chairs right at the entrance.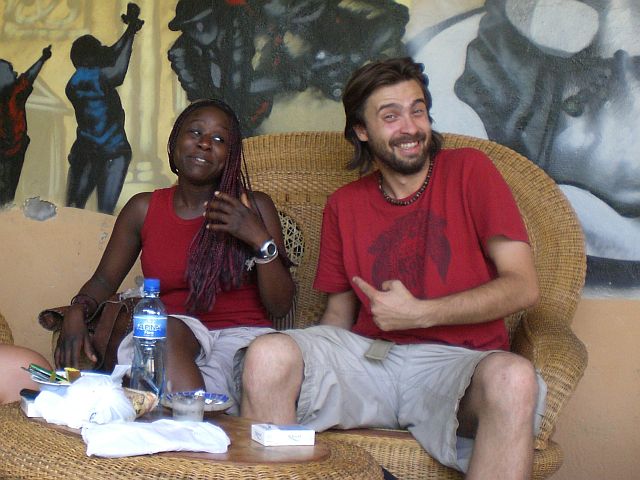 Trotz dieses Verwoehnprogramms haben wir es doch noch hinbekommen, etwas von León zu sehen. Hier der Namensgeber der Stadt.
In spite of this pampering program we still got to see a bit of the city. Here it's eponym.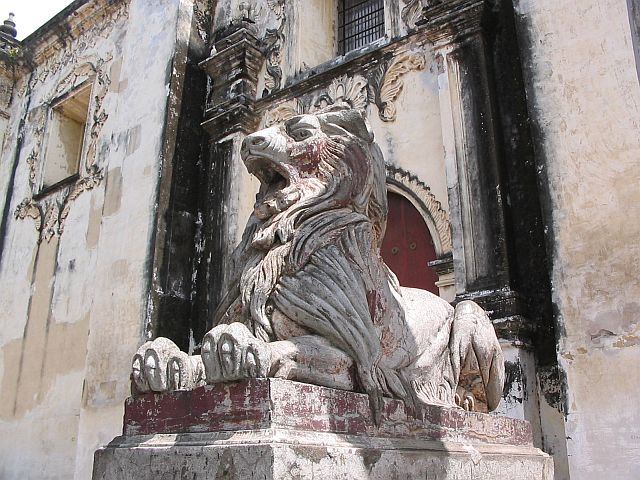 Leon war die Hauptstadt waehrend der Kolonialzeit und daher brauchten sie natuerlich auch eine grosse Kathedrale – uebrigens die groesste, die je in Mittelamerika gebaut wurde.
Leon was the nation's capital during the colonial period and therefore they needed a quite huge cathedral – the largest ever built in Central America.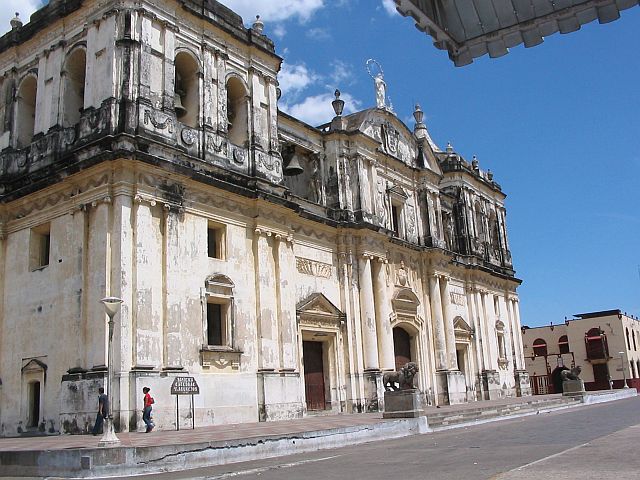 Wandmalereien berichten von der religioesen und revolutionaeren Geschichte…
Wall paintings tell stories of the religious and revolutionary history…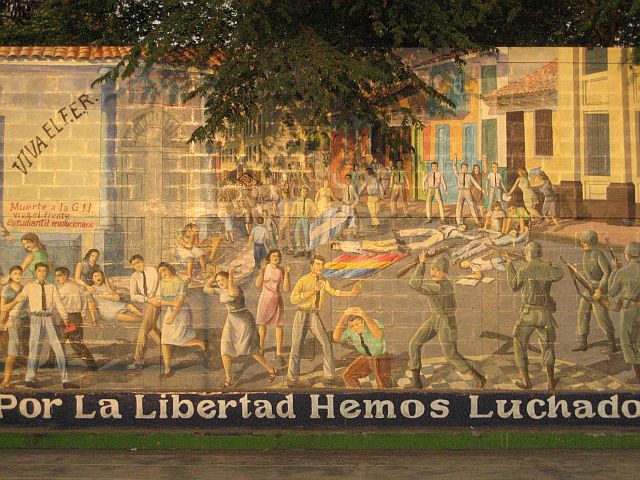 …und von Land und Leuten und deren Kultur.
…and from its people, customs and culture.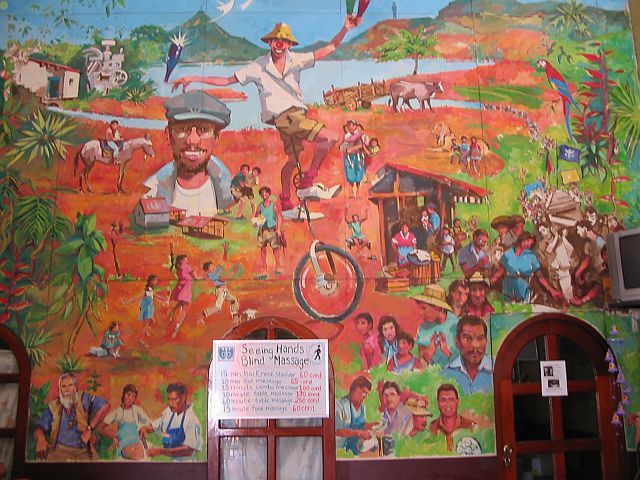 Bei einer spontanen Runde im "Lazybones" lernen wir auch Mateo kennen, dessen Eltern in Poneloya (ca. 20 min von León entfernt) ein Strandhaus haben. Wir sind alle herzlich eingeladen und geniessen einen wunderschoenen Tag am Meer.
Chatting spontaneously with a bunch of people we also meet Mateo. His parents own a house in Poneloya (ca. 20 min. off León) right at the beach. We all are friendly invited to come and enjoy an awesome day at the beach.
Nnenna & Mateo im Bus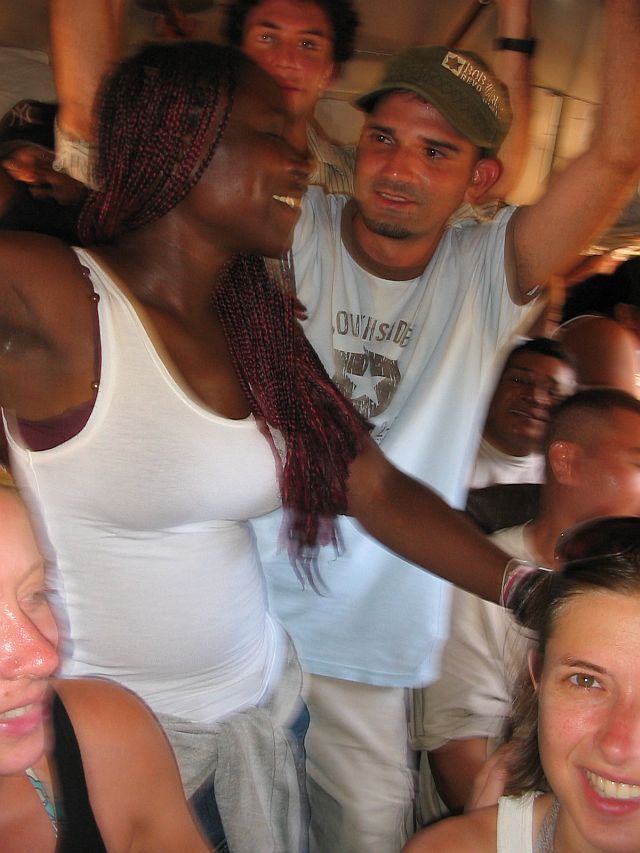 Als wir ankommen, verschlaegt es uns erst einmal die Sprache…so etwas haben wir nicht erwartet.
When we got there it first took our breath…we haven't expected such a great place.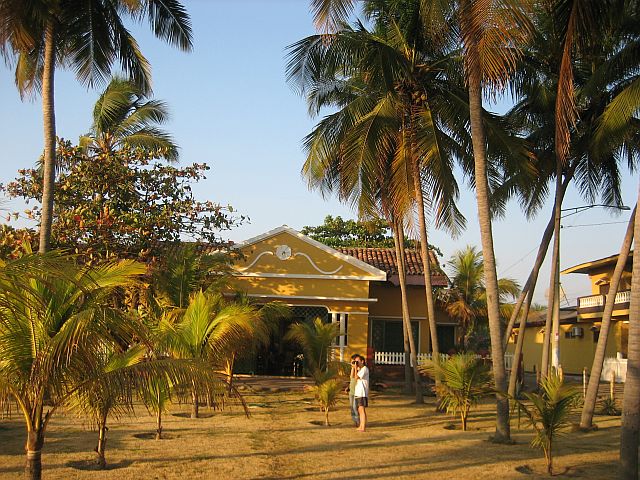 …wir sind schwer beeindruckt, das Haus ist riesig, hat einen wunderschoenen Innenhof und unter anderem noch etliche Raeume. Wir fragen uns, warum Mateo hier noch kein Hostel draus gemacht hat. Er verraet uns, dass er so etwas schon im Hinterkopf hat. Wir sind gespannt. Wenn' s denn mal soweit sein sollte, wollen wir nateurlich die Ersten sein!
…we're truly impressed. The House is amazing! With this big patio and lots of space we are wondering why Mateo hasen't turned it into a hostel. He tells us that he's already thinking about it. We look forward to it and in case he gets it done we definitely want to be the first ones here.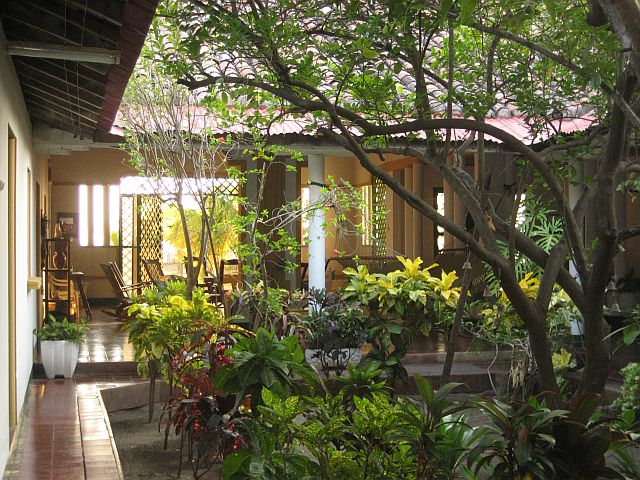 Was ein Leben…!!!
That's life…!!!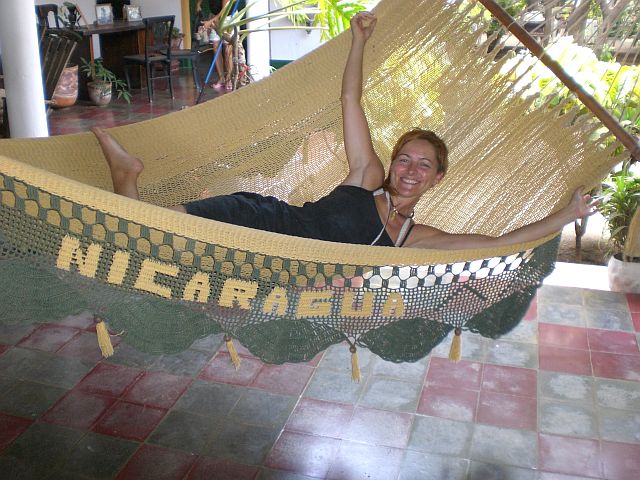 Hier einige Gesichter von unserer Runde (von links nach rechts) Karina – kennen wir ja schon – Eduardo aus Mexiko City, Samara aus New York City, Nnenna aus Nottingham und Jessie aus Toronto.
Here some faces from our hop group (from the left to the right) Karina – OK, we already know her – Eduardo from Mexico City, Samara from New York City, Nnenna from Nottingham and Jessie from Toronto.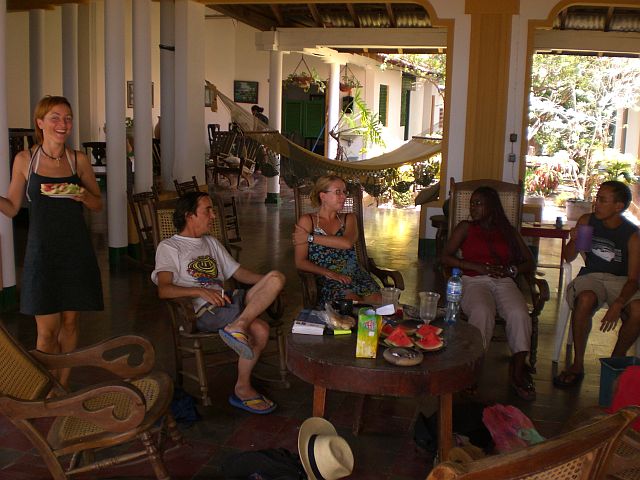 Eduardo ganz bei der Sache…
Eduardo in action…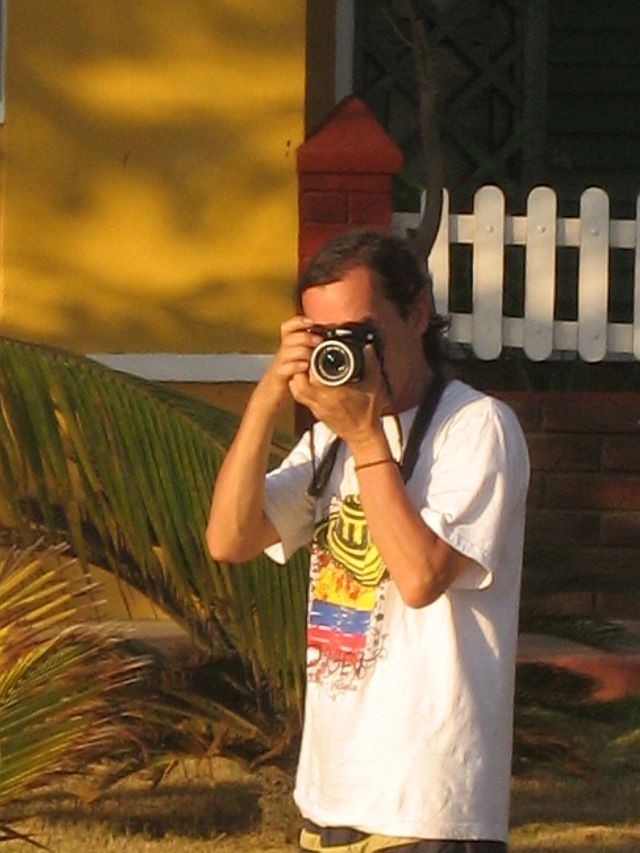 …das ist ja schliesslich auch ein Foto wert: die Seekuh!
…well, that's worth a picture: the Sea cow!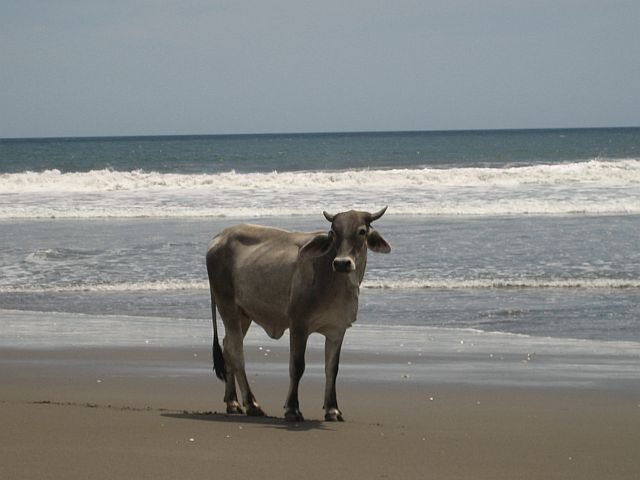 Der Pazifik – immer wieder beeindruckend – manchmal rauh, aufgewuehlt, stuermisch und dann wieder ruhig und traeumerisch.
The Pacific – as always fascinating – sometimes rough, stormy but also quite calm and dreamy.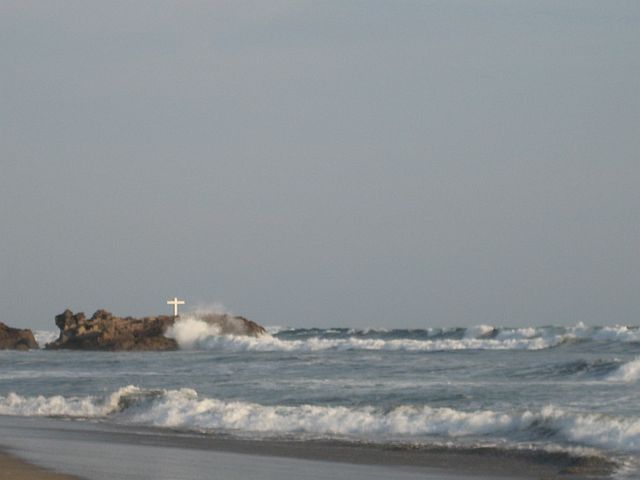 Das Kreuz steht da wegen einer Gruppe Jugendlicher, die nachts auf dem Fels campierten und dabei ums Leben kamen. Mit naechtlicher Flut wird der Fels des oefteren von den Wellen ueberspuelt und so kam es zu dem Unglueck.
The cross stands for a group of young people who died resting on top of the rock. At night they had been washed away when the high tide brought bigger waves rolling in.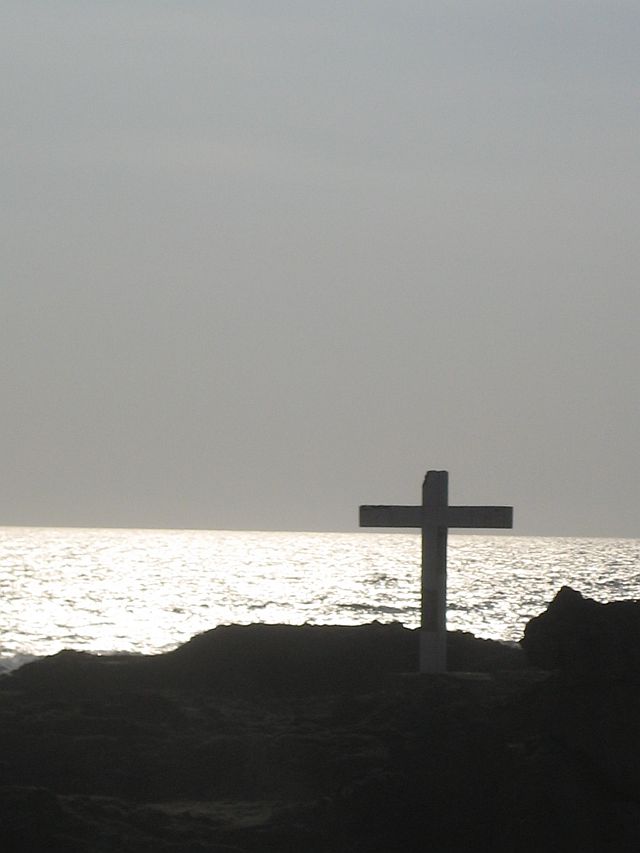 Fuer den Sonnenuntergang geht es auf die nahe gelegenen Felsen. Es passiert nicht all zu oft, dass sich eine so grosse Gruppe voellig ungezwungen und spontan zusammen findet und Zeit miteinander verbringt. Eine Begegnung wie diese ist etwas sehr seltenes und wird uns deshalb in ganz besonderer Erinnerung bleiben. Danke euch allen fuer die unglaublich tolle Zeit!
We all gather on a nearby cliff for the sunset. It does not happen very often that such a big group encounters as easily and spontaneously to just hang out and spend time together . We know very well that you can't take such a thing for granted and therefore we'll remember this unique round in a very special way. Thank you all so much for the great time.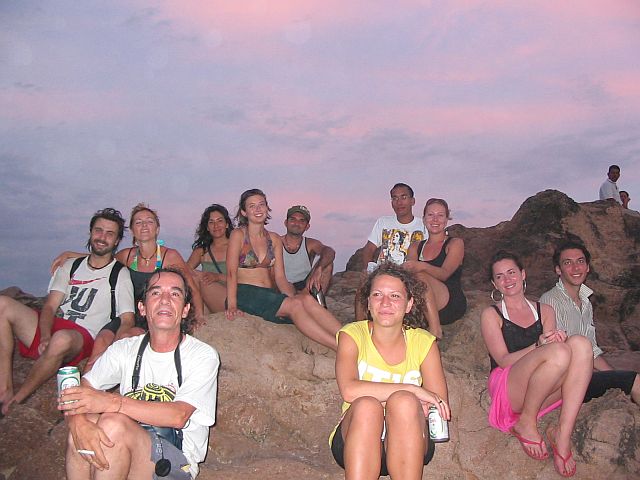 Ganz spontan wird Holz fuer ein Lagerfeuer zusammengesucht, um spaeter bei Rum und Gitarrenmusik einen wunderschoenen Tag ausklingen zu lassen.
On the spur of the moment wood for a bonfire is being gathered and with rum and guitar music a wonderful day goes bye.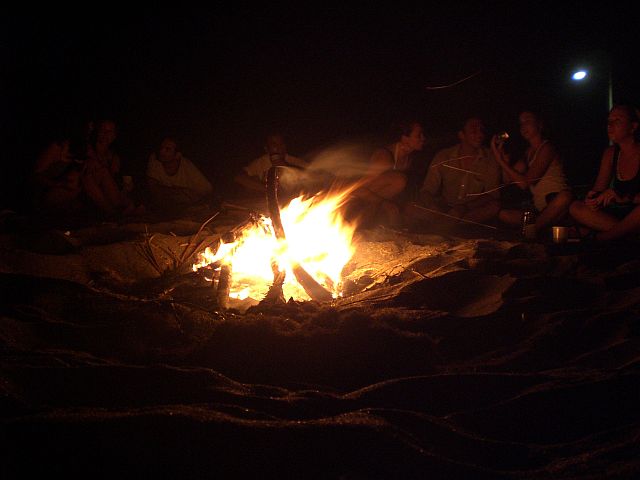 El Mariachi…sorry Eduardo!!! Aber du bist nunmal der Mexikaner…
El Mariachi…sorry Eduardo!!! But after all you're Mexican…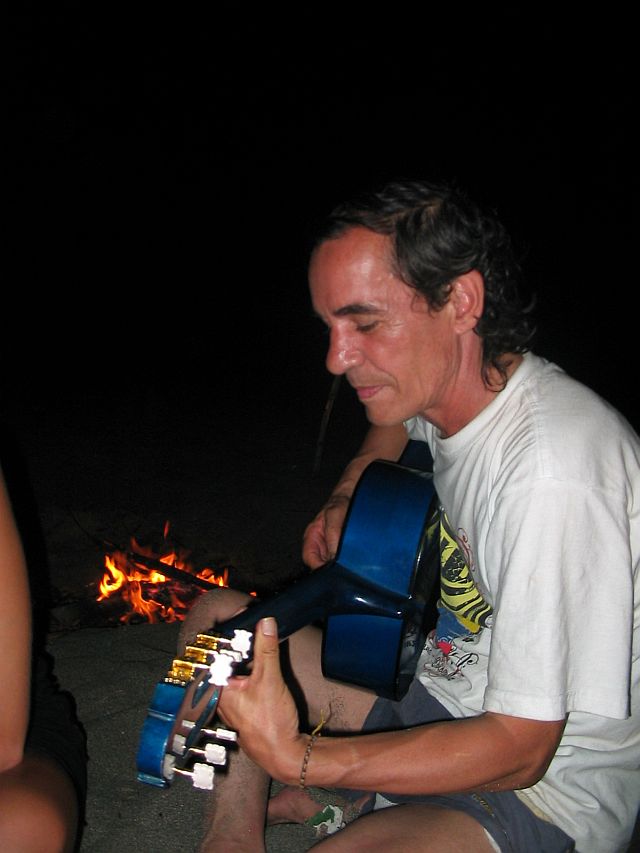 …und hier die Nachmacher, na ob das wohl mit der mexikanischen Folklore so klappt?
….and here the imitators, well does that really work out with the Mexican folklore?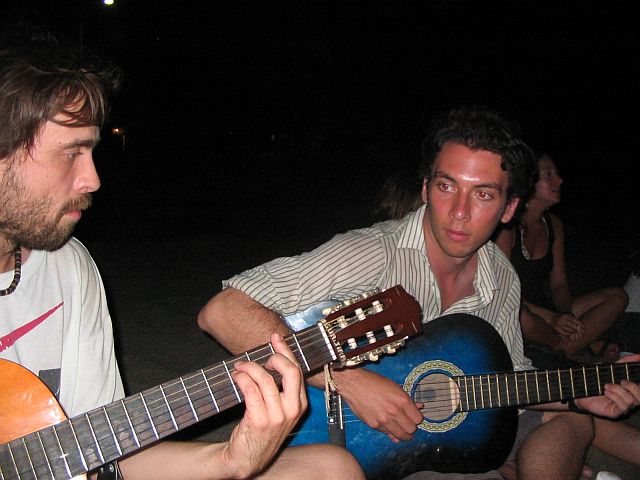 Karina – der Feuerteufel
Karina – the firebug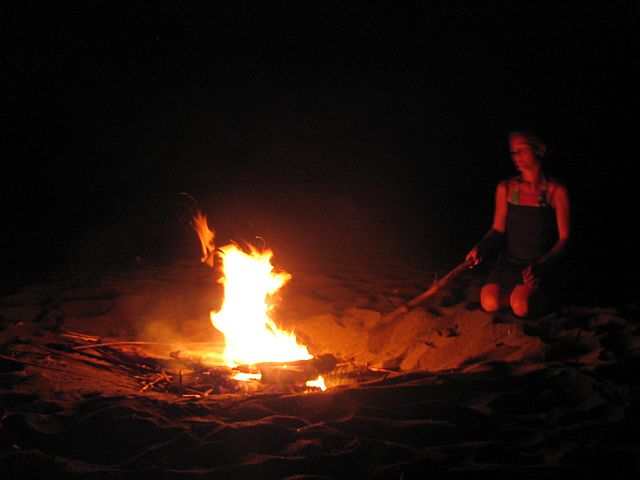 Nach ueber einer Woche in León – eigentlich wollten wir ja nur ein, zwei Tage bleiben!! – ist es dann so langsam an der Zeit, weiterzureisen. Schliesslich wollen wir uns ja mit Alisa treffen, die wir letztes Jahr in Connecticut/USA kennengelernt haben und die nun ihren Urlaub in Nicaragua verbringt. Wir freuen uns, mal wieder ein bekanntes Gesicht zu sehen. Nach zwei Stunden im Bus landen wir in Masaya. Die Stadt ist unter anderem dafuer beruehmt, Mittelpunkt des Kunsthandwerks (artesania) in ganz Nicaragua zu sein. Hier der Eingang zum "Mercado Viejo" (Alter Markt).
After more than a week in Leòn – actually we had intended to stay only for a night or two – we finally got to get going. We want to meet Alisa, a friend of us. We met her last year in Connecticut/USA and now she's going to spend her vacation in Nicaragua, too. We're excited to see a familiar face again and after two hours on the bus we arrive in Masaya. The town is famous across the country as being Nicaragua's epicenter of "artesanias". Here the entrance to the "Mercado Viejo" (Old Market).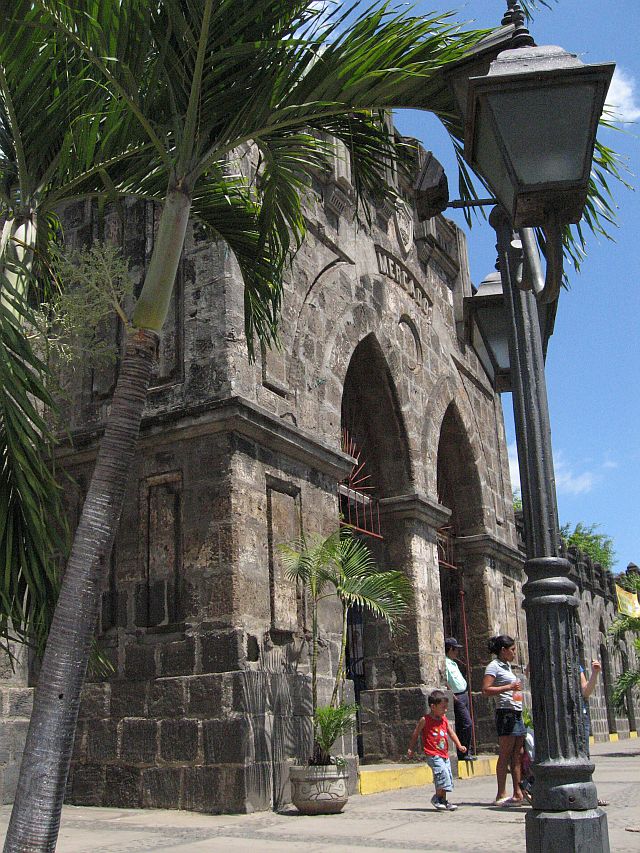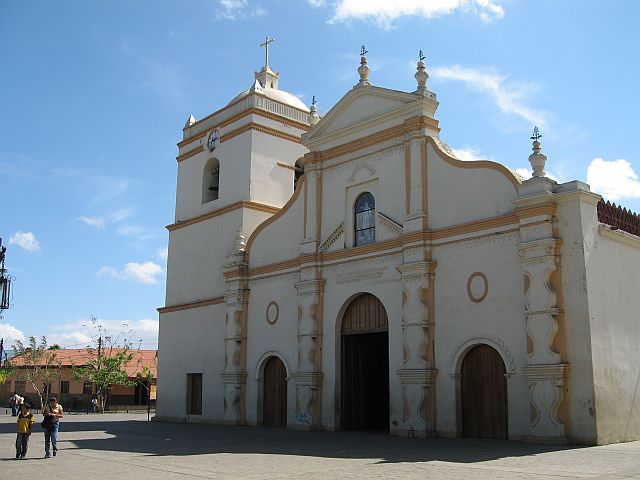 Masaya hat nicht nur wunderschoene Gaerten …
Masaya hasn't only beautiful gardens to offer…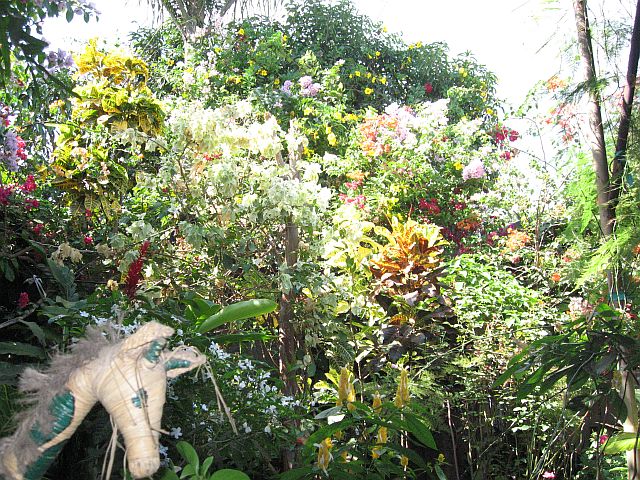 …sondern es werden auch schnuckelige Haeuser zum Verkauf angeboten. (ups!)
…but they also do offer lovely houses for sale. (oops!)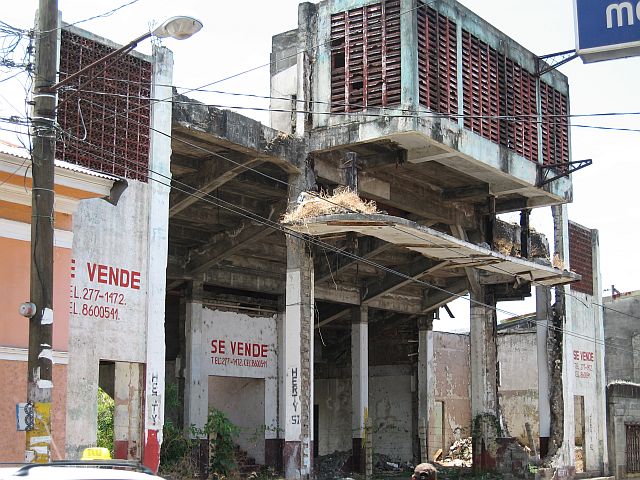 Und da ist sie! Wir laufen uns direkt auf der Strasse in die Arme, gerade so als haetten wir uns gestern das letzte Mal gesehen. Freu, freu!
And there she is! We bump into each other right on the street, just so as if we had seen each other the day before.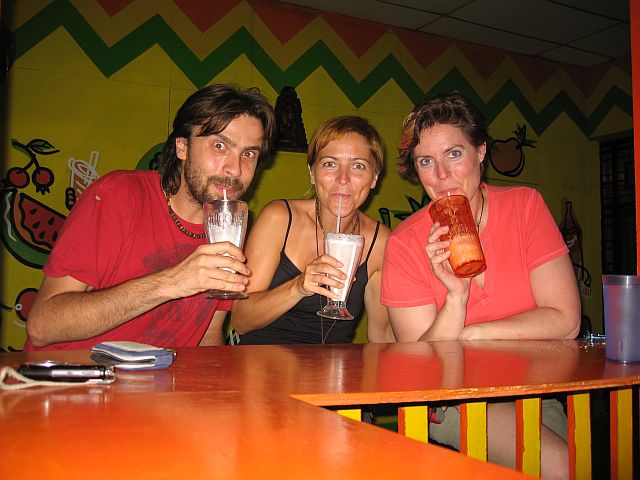 Was zur Hoelle hat sie nur getrunken?! Der Milchshake wird's wohl nicht gewesen sein?
What the hell did she have?! Obviously it wasn't the milk shake?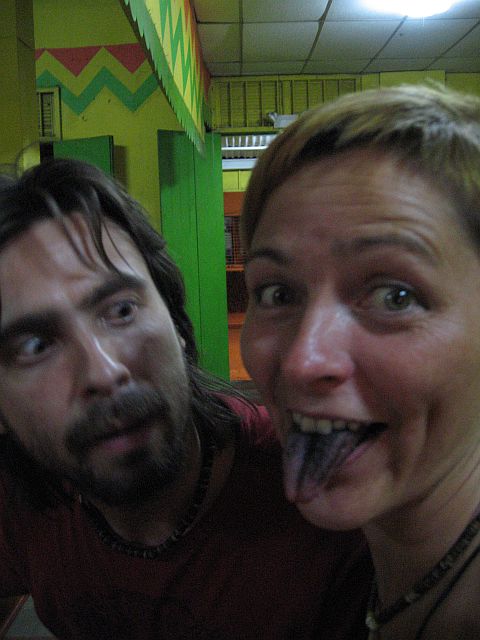 Am naechsten Tag geht's zur idyllisch gelegenen "Laguna de Apoyo", die auf halben Weg nach Granada liegt, wo wir anschliessend auch noch hin wollen. Wir folgen der Empfehlung von James aus Suedafrika, den wir in El Salvador getroffen haben. Deshalb steigen wir im "Monkey Hut" ab, mit herrlichem Blick ueber die Laguna; ebenfalls ein Kratersee. Es erinnert ein bisschen an unseren geliebten Lago Atitlan…
The very next day we move on to the idyllic scene of the "Laguna de Apoyo" which lies half on the way to Granada where we want to go afterwards. We check out the recommendation of James (the South African dude we met in El Salvador). Therefore we get a room at the "Monkey Hut" with a beautiful lake view. The Laguna is also a crater lake and reminds us of our beloved Lago Atitlan…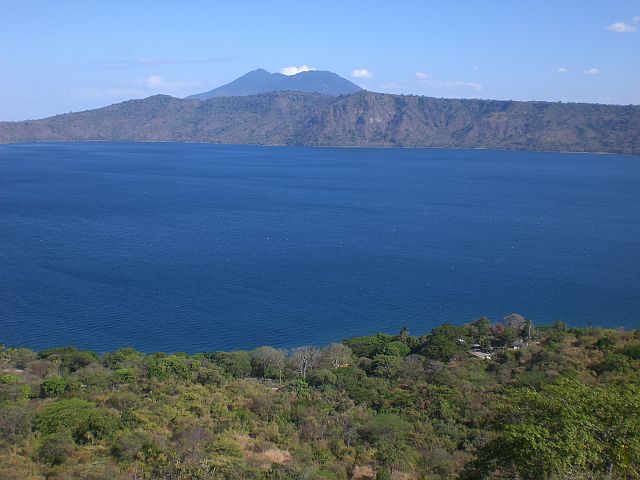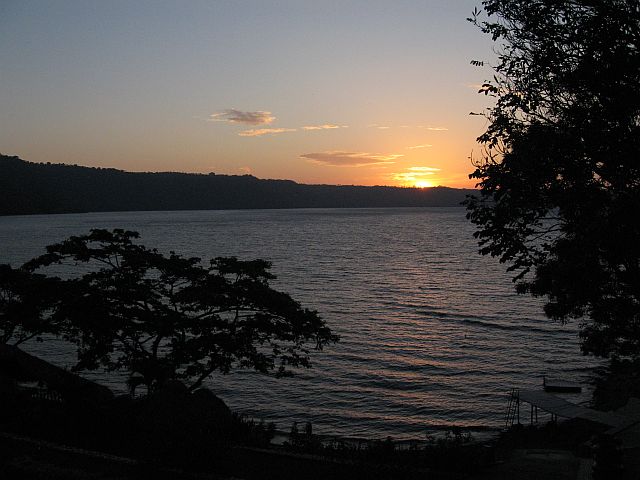 Wir haben eine tolle Zeit und geniessen mal wieder die grossartige Gesellschaft. Dieses Mal mit Leuten aus Australien, den USA und zwei Maedels aus Belgien. Was'n Spass.
We have an awesome time and enjoy a great community. This time with guys from Australia, USA and two girls from Belgium. What a fun.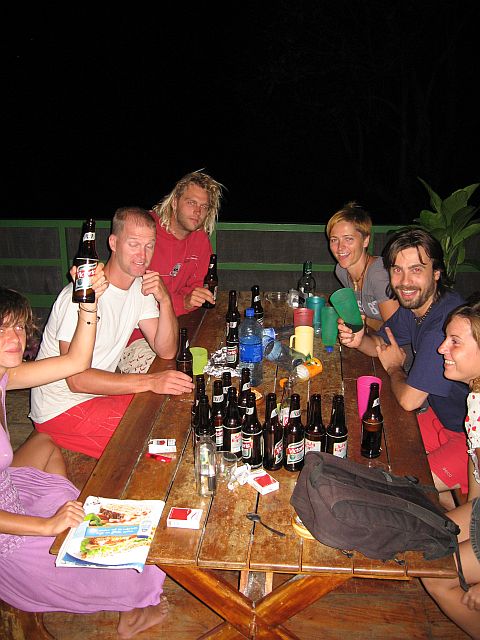 Was wuerden wir nur ohne unsere geliebten Marshmallows machen, eine echte Delikatesse, wenn man sie ueber einen Grill oder ins Lagerfeuer haelt (Danke Alisa fuer die unglaubliche kulinarische Bereicherung!!)
What would we be doing without our loved Marshmallows, a real delicacy, if you holding it over a grill or a bonfire (Thanks a million, Alisa, for the unbelievable culinary enrichment!!)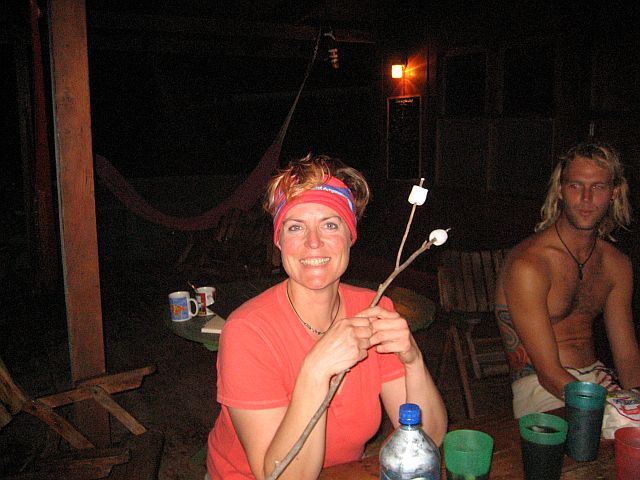 Kein Kommentar!
No comment!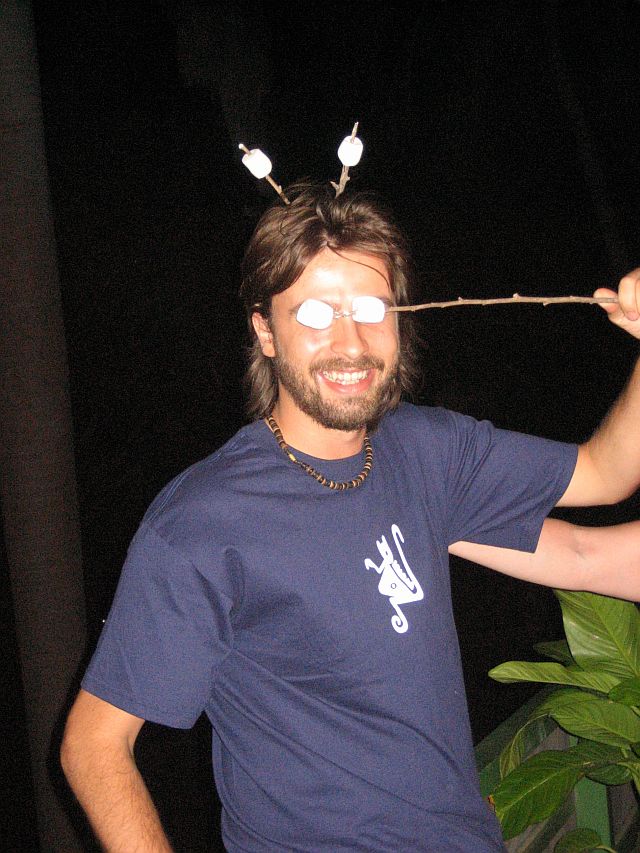 …und wiedermal muss die "Fellgusche" gestutzt werden (ein ganz besonderer Gruss an Line + Familie in Thueringen, die dieses tolle Wort kreiert haben).
…sorry folks but unfortunately there is no translation for "Fellgusche"!!…in fact it's about cutting "fur" in his face. Anyway it's hilarious in German.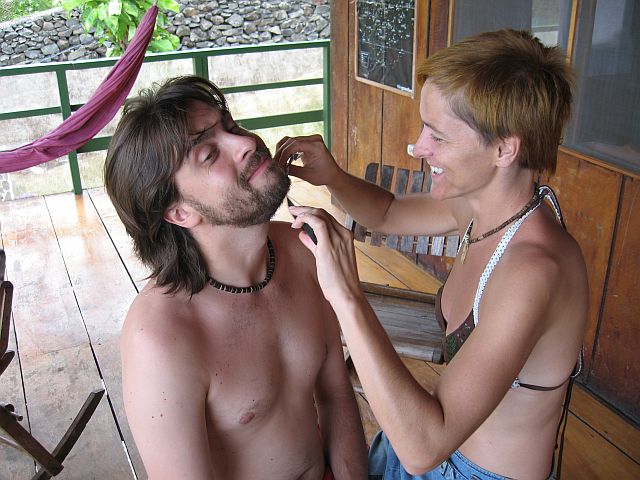 Karina ist mal wieder voll in ihrem Element, nachdem Alex und Alisa schon versorgt sind, haben sich gleich noch ein paar mehr Leute in die Reihe gestellt, unter anderem Meat (Fleisch – ja, das war tatsaechlich ihr Name) aus Belgien.
Karina immediately takes to it like a duck to water, after Alex and Alisa already got their treat, there are some more people who have been waiting in line for a haircut, like Meat (yeah, that's her real name) from Belgium.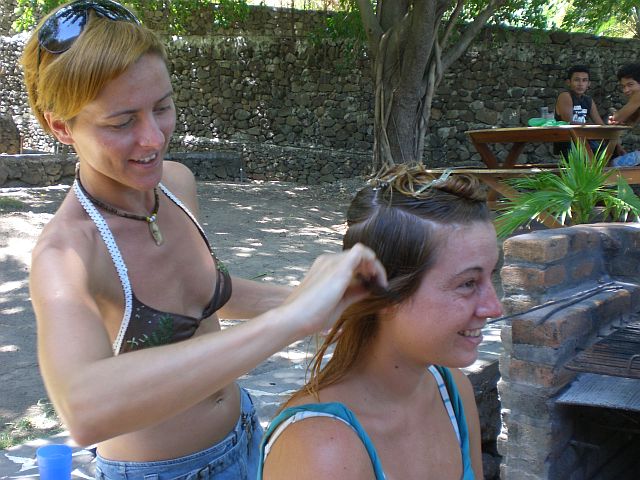 …und weils so viel Spass macht, ist der kleine Bruder von Carlos (Maedchen fuer alles im Monkey Hut) auch noch dran. Er ist uebrigens der erste einheimische Kunde auf unserer gesamten Reise, was das Ganze um einiges interessanter macht. Im Gegenzug gibt es diesesmal ein freie Massage!!! Da kann man sich doch wirklich nicht beklagen.
…and because it's so much fun the little brother of Carlos (the Monkey Hut's handyman) is next. He actually is the first local client on our entire trip which makes it even more interesting. This time I receive a free massage in return!!! So there is really no reason for complaints.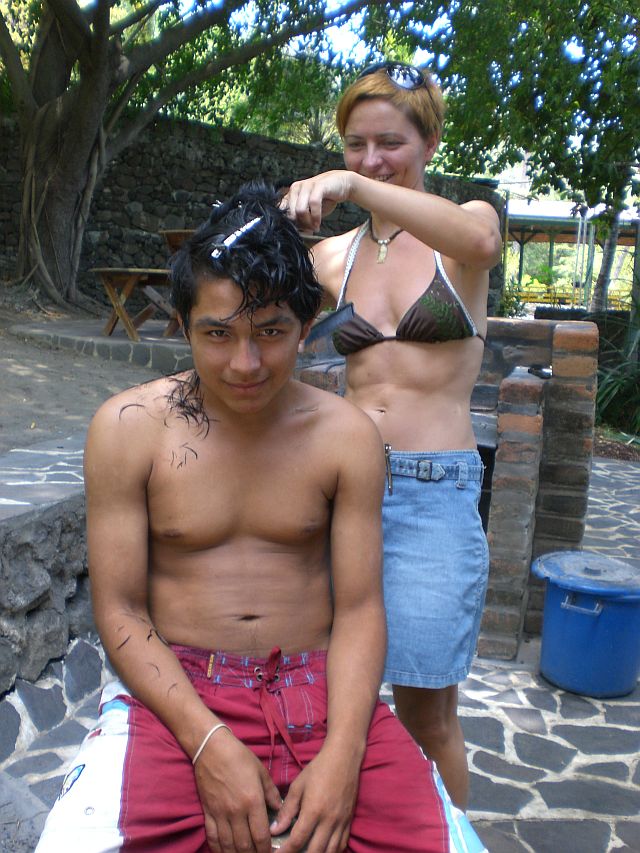 Und so laesst sich's aushalten…faulenzen, ein bisschen in der Haengematte schaukeln, lesen und ab und zu mal die Katze streicheln!
And thats Alisa enjoying herself…lounging, swinging in the hammock, reading and every once in a while petting the cat!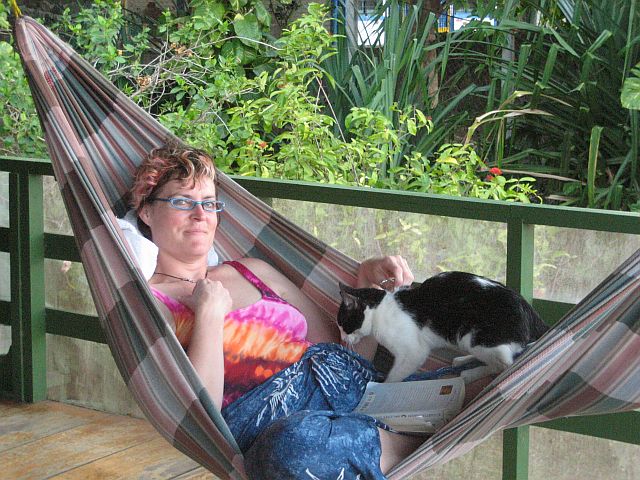 Nach so viel Entspannung steht mal wieder etwas "Action" auf dem Plan: diesesmal der Vulkan Masaya.
After so much relaxing we make some "action" plans: this time the Volcano Masaya.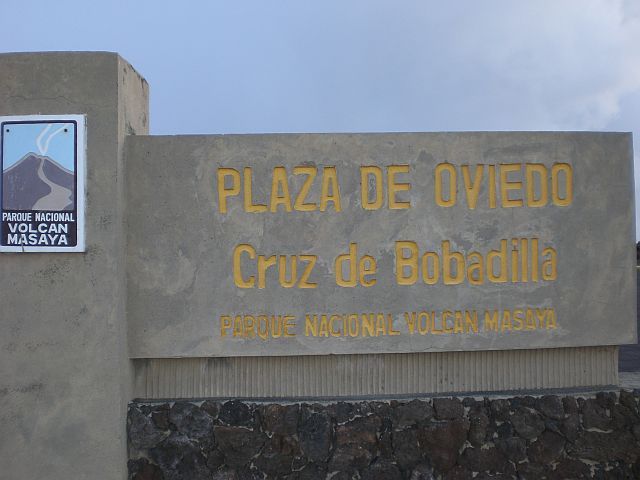 Als wir am Krater des "Volcan Masaya" ankommen, freuen wir uns schon auf die Papageien, die in den Kraterwaenden nisten. Doch wie es der Zufall so will, sind diese alle ausgeflogen. Vielleicht haengt das ja damit zusammen, dass der Vulkan ca. eine halbe Stunde, bevor wir angekommen sind, "gehuestelt" hat. Das letzte Mal hat er das vor 7 Jahren getan, kurz bevor es eine mittelschwere Eruption gab. Zugegebenermassen ist uns schon etwas mulmig zumute, doch unserem Tourguide steht das Entzuecken ins Gesicht geschrieben (endlich ist hier mal was los). Ach uebrigens: hier wurden frueher den Goettern Jungfrauen geopfert! Kein Scherz!
Arriving at the crater of "Volcan Masaya" we're all excited about seeing the parakeets that nest in the crater walls. But somehow they all left this morning. Maybe it's due to the roaring sound the volcano had made half an hour before we got here. The last time he did that was 7 years ago and was followed by a major eruption which honestly scares the shit out of us. But the tour guide seemes to be the happiest man on earth though (finally something is happening here). Oh, by the way: in ancient times virgins were sacrificed here! No kidding!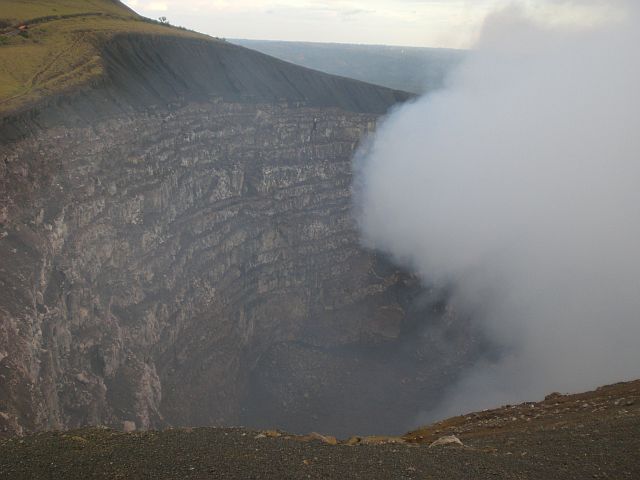 Beim Blick in die "Hoellenpforte" erkennt man nichts als Rauch, was ein bisschen schade ist, aber offenbar voellig normal, denn schliesslich "hat er gerade gesprochen"!
Staring at "hell's gate" we can't see anything but smoke, it's a pity but absolutely normal after "He just had spoken"!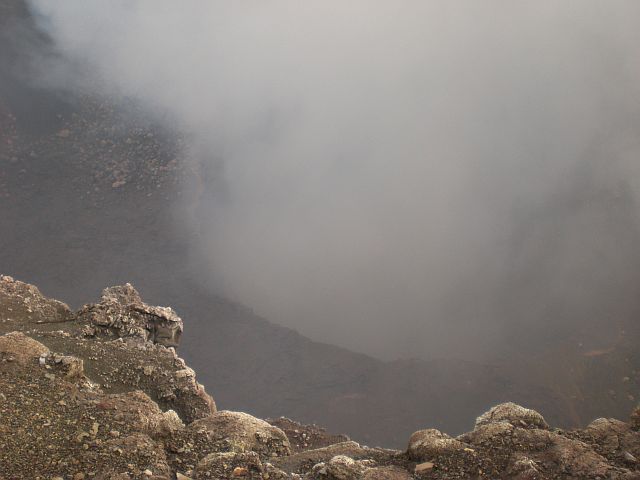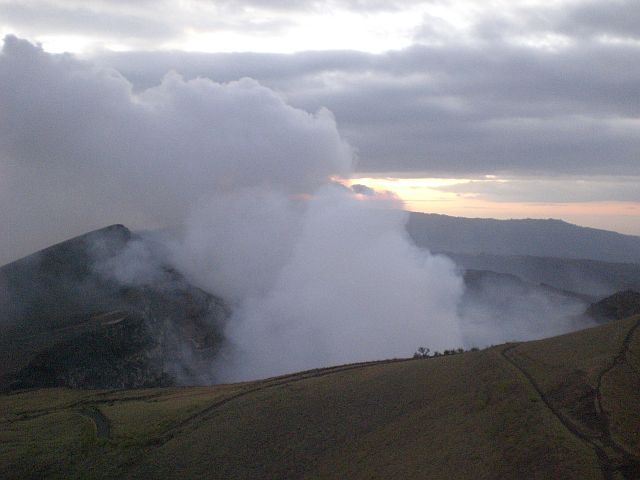 Nein! Es gab keine Frijoles (Bohnen) zum Mittag, dieses Mal ist der Vulkan der Uebeltaeter. Spass beiseite, die Gasmasken sind wegen der giftigen Gase in der Naehe des Kraters wirklich notwendig. Leider ist die Rauchentwicklung zu stark, sodass uns nur die Augen brennen und wir leider gar nichts von der Lava zu sehen bekommen.
No! We haven't had Frijoles (beans) for lunch! This time the volcano is the one to blame. But seriously, the masks were absolutely necessary because of the toxic gases close to the crater. Unfortunately the smoke emission gets too strong so that it only hurts our eyes and lava is nowhere to be seen.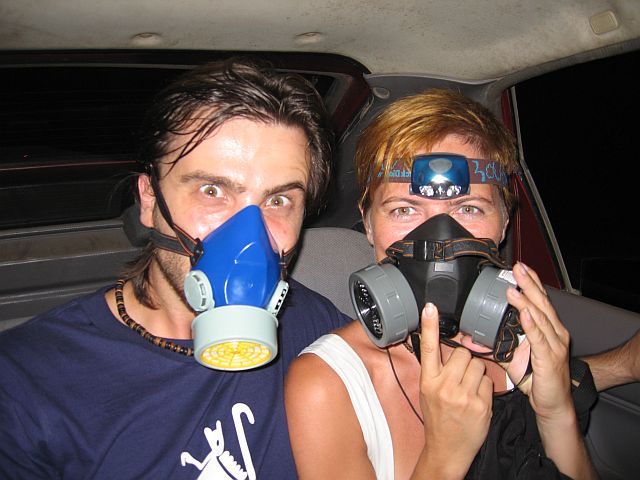 Mit Lampen ausgeruestet, geht es anschliessend in ein unterirdisches Hoehlensystem, dass irgendwann mal bei einem Vulkanausbruch geformt wurde. Einen knappen Kilometer geht es tiefer und tiefer in den Vulkan hinein.
Equiped with headlamps we explore the subterranean cave system that was formed during a major eruption a long time ago. For almost a mile we keep walking deeper and deeper into the volcano.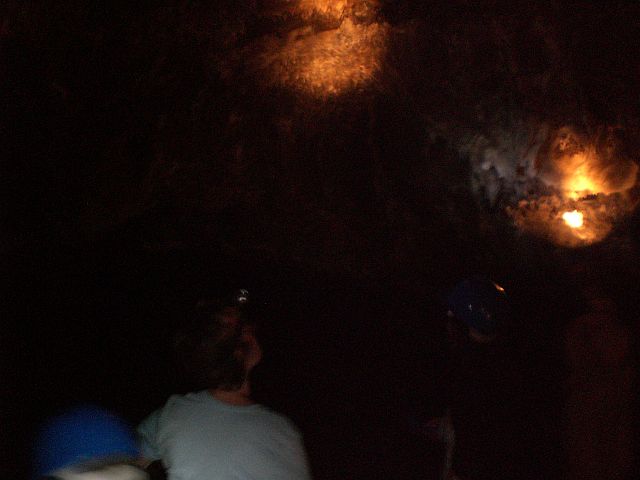 Unser junger Fuehrer erklaert uns geduldig, was in einer der Hoehlen geschah, als die fluessige Lava beim letzten Ausbruch hier durchgeschossen kam. Er feilt ganz sicher noch an seinem Englisch, denn einige seiner Formulierungen sind schon recht lustig, wie z.B.: "…die Tiere konnten den Ausgang nicht finden, also beschlossen sie, zu explodieren." Wir muessen uns erstmal auf die Zungen beissen, weil es wirklich witzig klingt, aber wir wissen ja, was er gemeint hat.
Our young tour guide patiently explains us what happened in one of the caves when lava and hot gases came rushing through during the last eruption. Since he is still practicing his English some of his expressions are really funny like for instance: "…the animals couldn't find the exit so they decided to explode." We have to bite our tongues not to burst out laughing, but it is just comical and we know what he meant to say.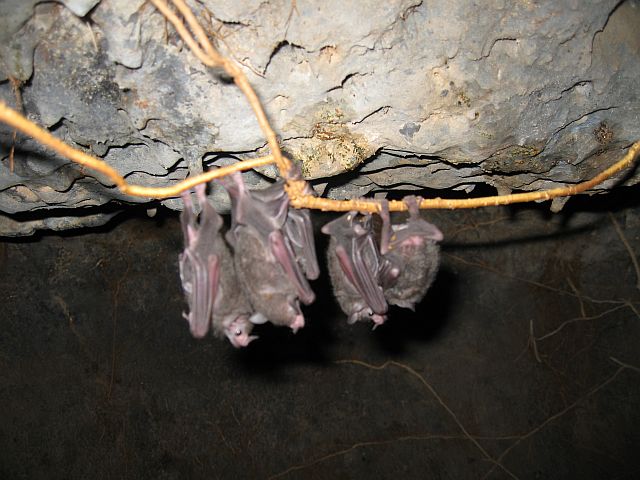 Gespenstisch, wie der Rauch die Sonne verdunkelt.
Spooky how the smoke darkens the sun.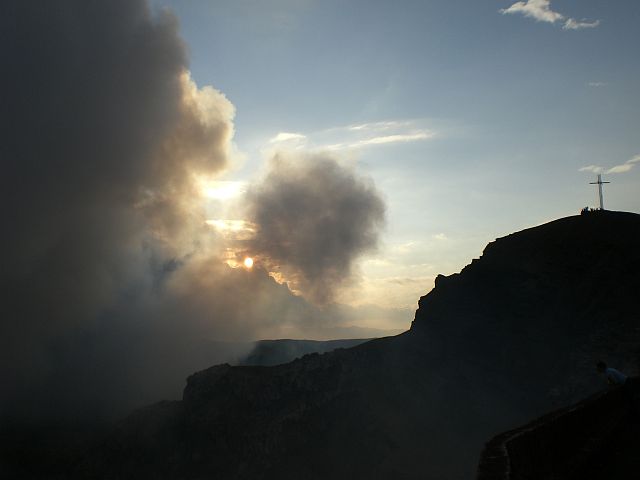 Um nicht im "Monkey Hut" haengen zu bleiben – wiedermal so ein Fleck, von dem man nicht weg moechte – reisen wir gemeinsam nach Granada weiter. Es gibt bequemerweise auch gleich einen Fahrservice dorthin – ach, geht's uns gut! Im Hostel "Bearded Monkey" stolpern wir fast ueber die wohl fetteste Katze in Mittelamerika. Ein klares Zeichen dafuer, dass Granada schon immer eine reiche Stadt war.
To prevent getting stuck at the "Monkey Hut" – again one of these places that make you want to stay – we travel to Granada. It's pretty convenient that there's a direct shuttle service – oh god we're blessed. At the "Bearded Monkey"- hostel we almost trip over probably the fattest cat in Central America. Also a sign for Granada being a wealthy city ever since.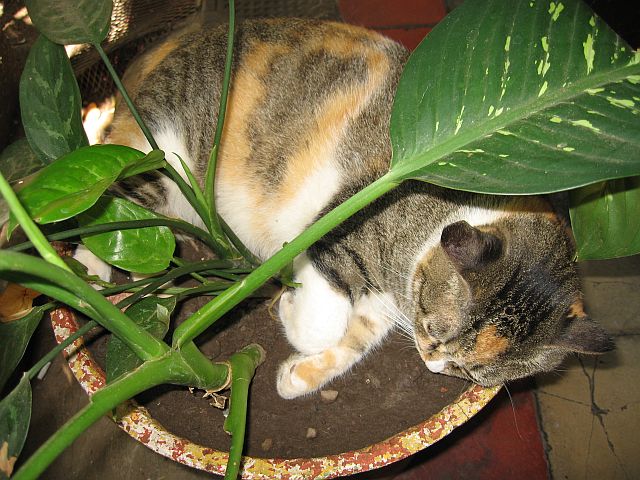 Mode war hier auch schon immer gross und so duerfen grosse Frauen natuerlich auch nicht fehlen.
Fashion was big here, too and so tall women can't be missed eihter.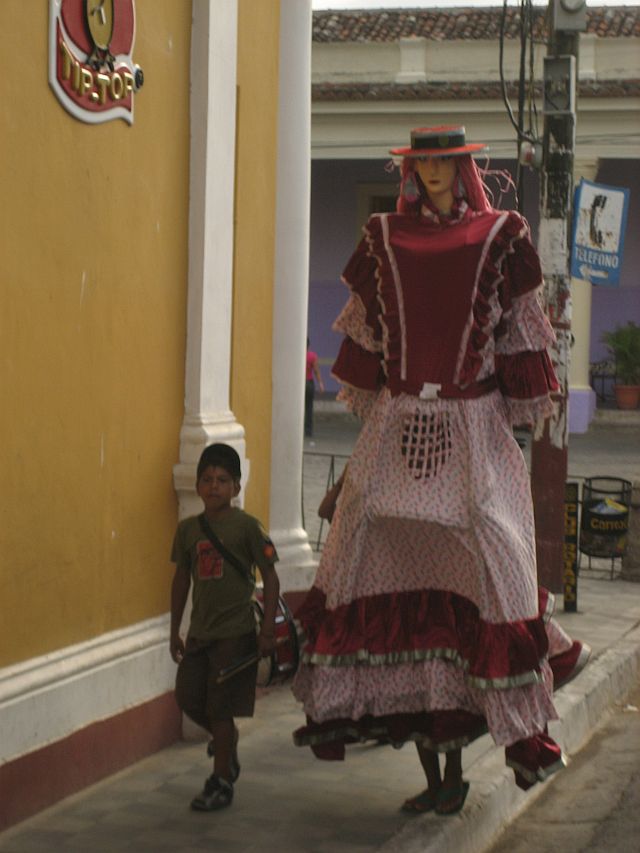 Auch 'ne interessante Methode, die Ladenmiete einzusparen.
Well, also an interesting method to save the money on the rent.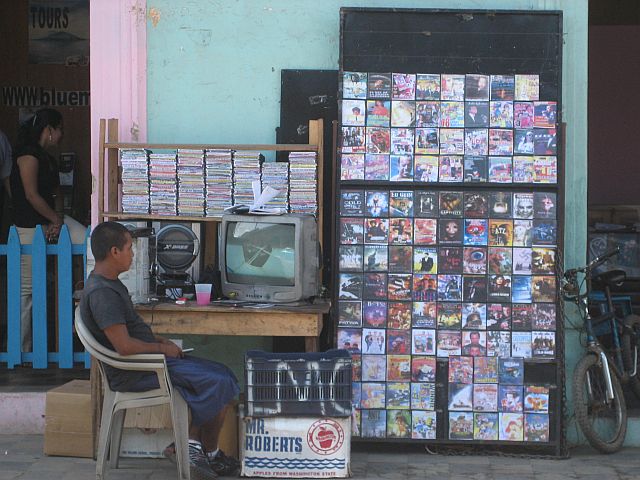 …was soll man dazu noch sagen?! Es ist einfach ganz speziell hier.
…what else could you say?! It's just a special place.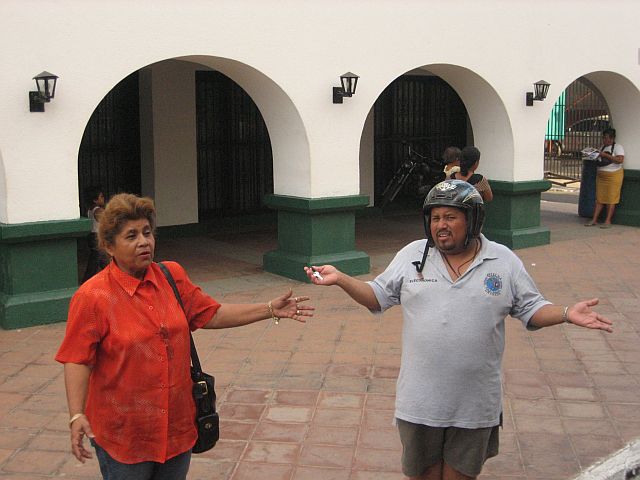 Bei unserer Kutschfahrt bekommen wir einen Eindruck von der malerischen Stadt, die direkt am Lago de Nicaragua liegt.
A nice way to get to see the city – our carriage ride through the picturesque Granada wich is located at the shore of the Lago de Nicaragua.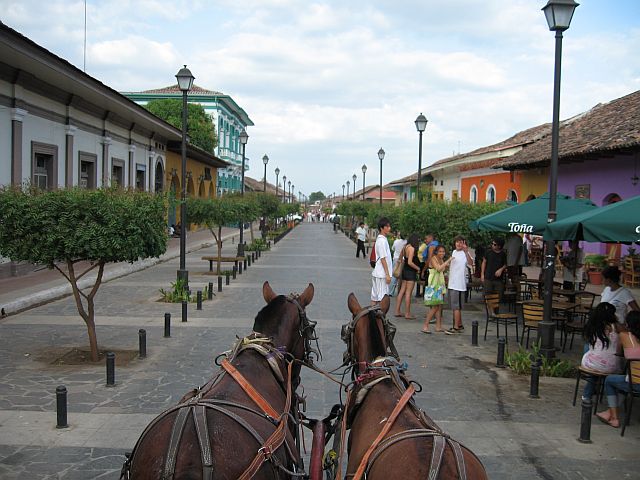 Auch der Blick ueber die Daecher Granada's ist grandios.
Also the view over the city is grandiose.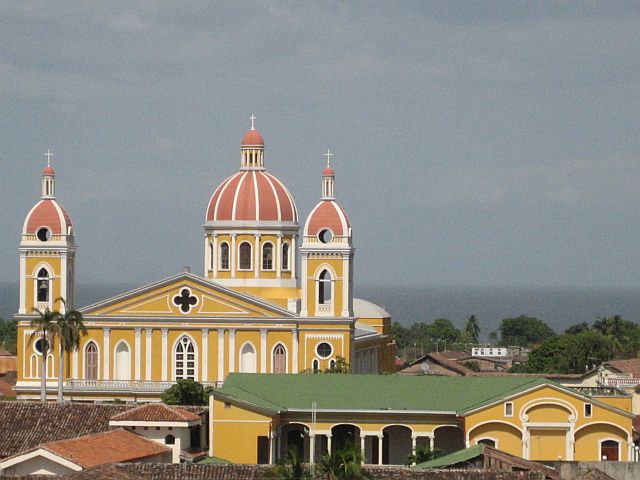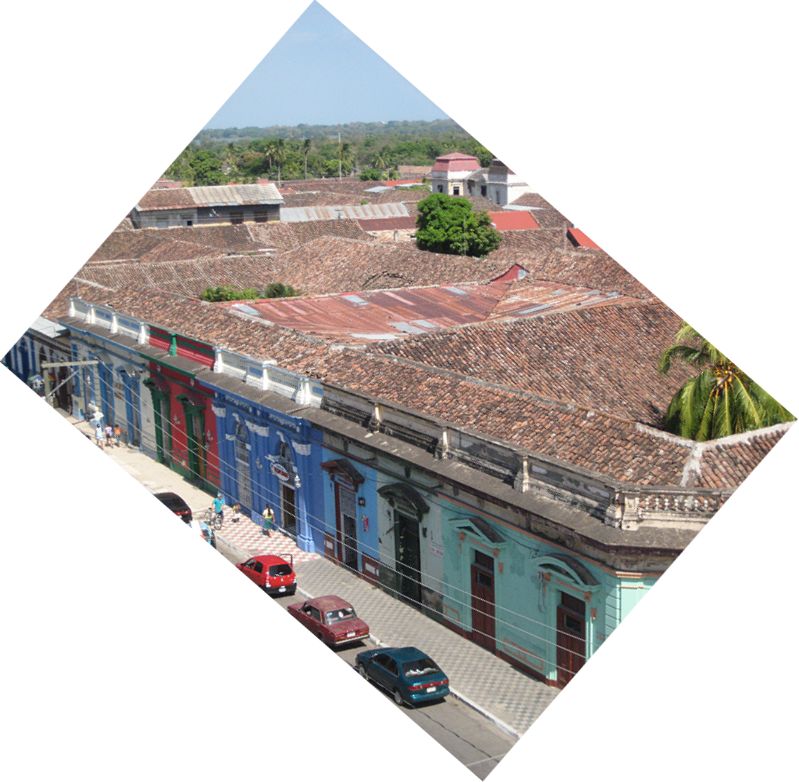 Postkarte gefaellig? Bei all den tollen Motiven, die man hier vor die Linse bekommt, ist es ein echtes Vergnuegen, Fotos zu machen.
Anything else? Some picture post cards? With having all those nice motives in front of your lens it's a real pleasure to take lots of pictures.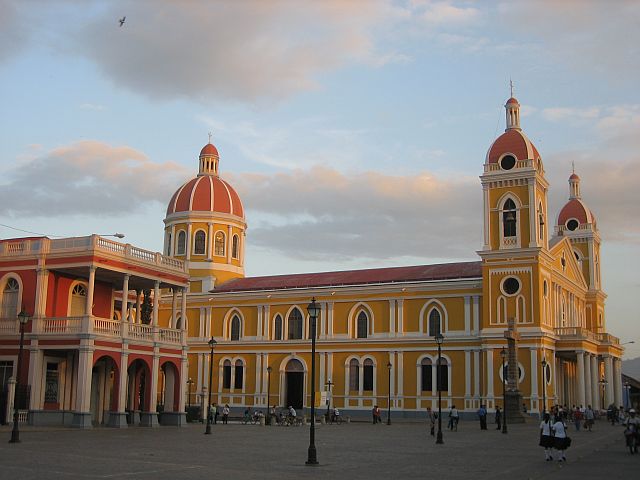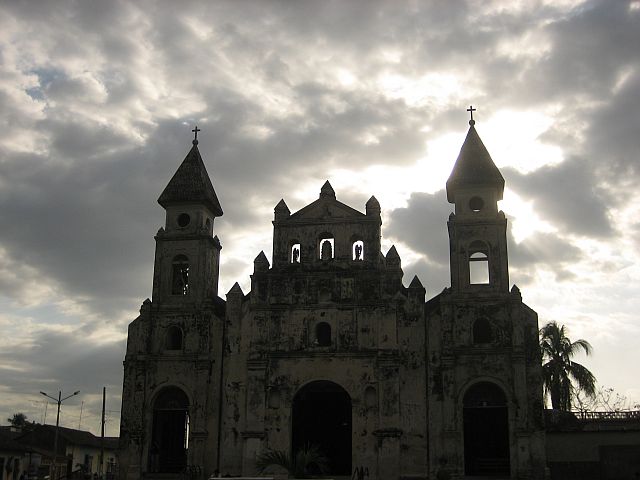 Am Busbahnhof von Granada steht sie: "The Love Machine" – tatsaechlich nur ein oeffentlicher Bus? So so! Aber in der Tat, drinnen kommt man sich zwar naeher, aber das liegt nur an den engen Sitzen und daran, dass der Bus wie so oft vollgestopft ist. Hauptsache ist, dass er uns gut ans Ziel bringt und das tut er auch.
At Granada's bus station "The Love Machine" is waiting – it's really just a public bus? That's interesting! But yes, indeed that's all it is. Well, you do get closer to other people but it's only because of the narrow seats and the usual squeeze. Anyway, most important is that it gets us to our destination and so it does.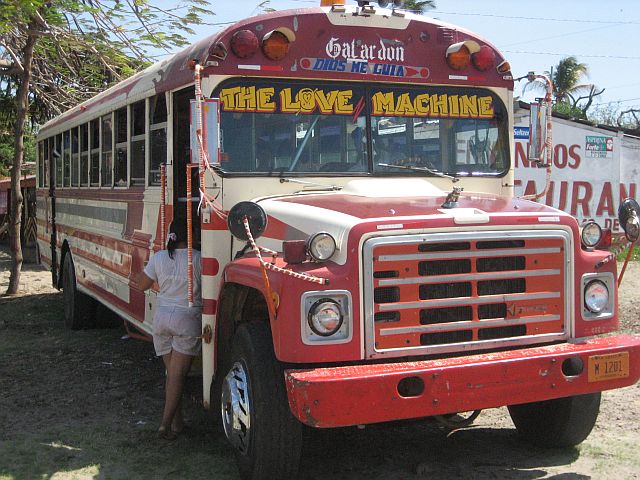 Von San Jorge hat man einen schoenen Blick ueber den Lago de Nicaragua auf die Isla de Ometepe, wo es als naechstes hingehen soll. Man kann die beiden Vulkane – Concepción & Maderas - aus denen die Insel besteht, gut erkennen.
From San Jorge you got a beautiful view of the Lago de Nicaragua over to the Isla de Ometepe, where we want to go next. Thanks to the weather god we can see the two volcanos -Concepción & Maderas – that formed the island.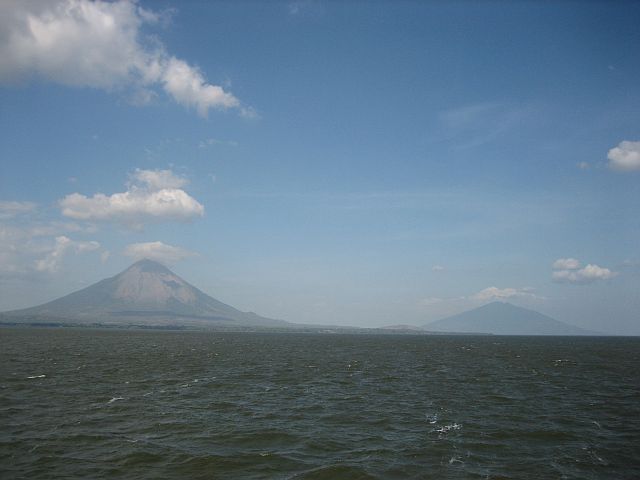 Unser Kapitaen hat alle Haende voll zu tu, denn neben Fernsehen, Fingernaegelschneiden und Telefonieren, muss schliesslich auch noch das Schiff gesteuert werden.
Our capitan's got his hands full, besides watching TV, doing his manicure, answering his cell phone he eventually got to navigate the ship, too.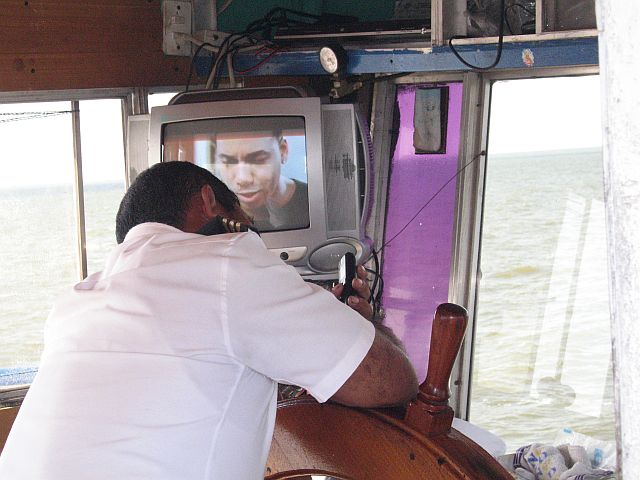 Lago de Nicaragua – der groesste See in Mittelamerika mit der Isla de Ometepe.
Lago de Nicaragua – the largest lake in Central America with the Isla de Ometepe.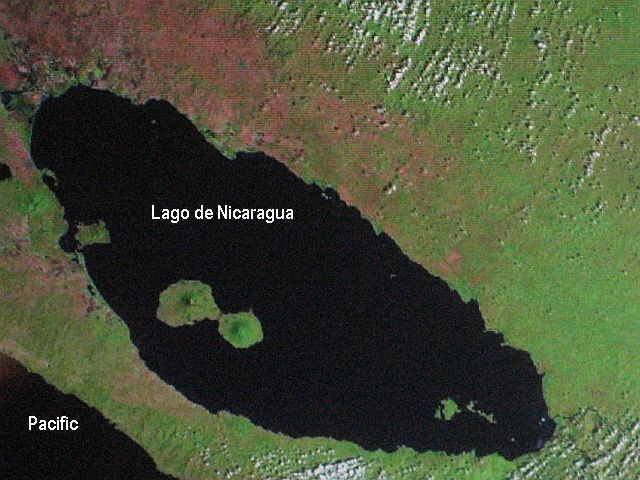 …und uebrigens der einzige, in dem es Suesswasserhaie gibt!
…and by the way the only one which has fresh water sharks!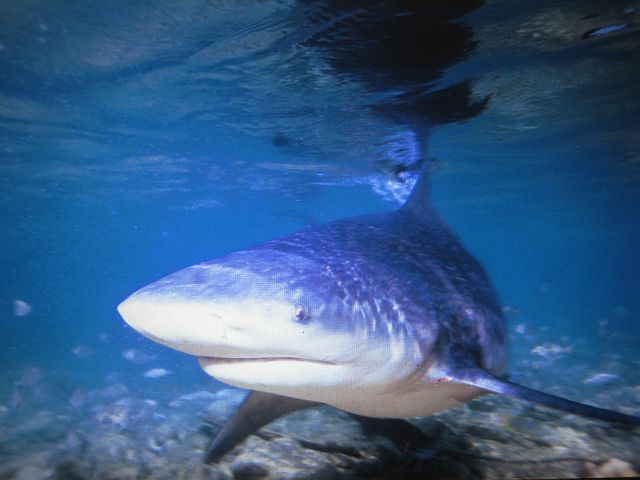 …viel scheint's ihm nicht auszumachen, und irgend jemand muss das Schiff ja schliesslich in den Hafen ziehen.
…well, that doesn't seem to bother him at all and in the end some one has to pull the ship into the haven.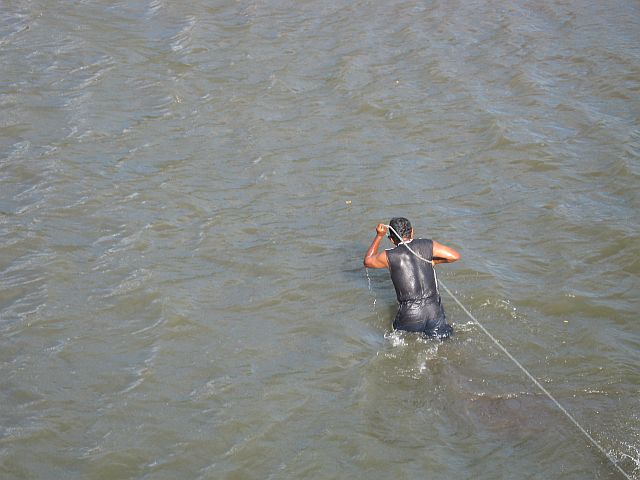 Alex und Karina auf Achse.
Alex and Karina on the road again.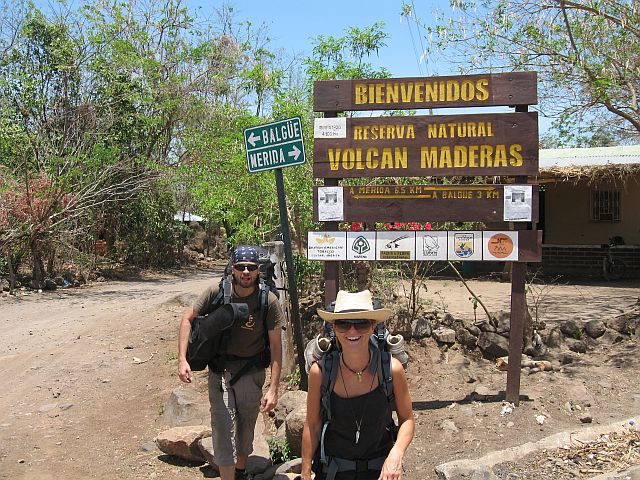 Die Motoradtour / The motor-bike tour
Am naechsten Tag geht's von Altagracia aus auf eine Motorradtour. Wir wollen die Insel umrunden, dazu muessen wir sowas wie ne Acht fahren.
The next day we're on a bike trip starting off in Altagracia. We want to circle around the island in the shape of an eight.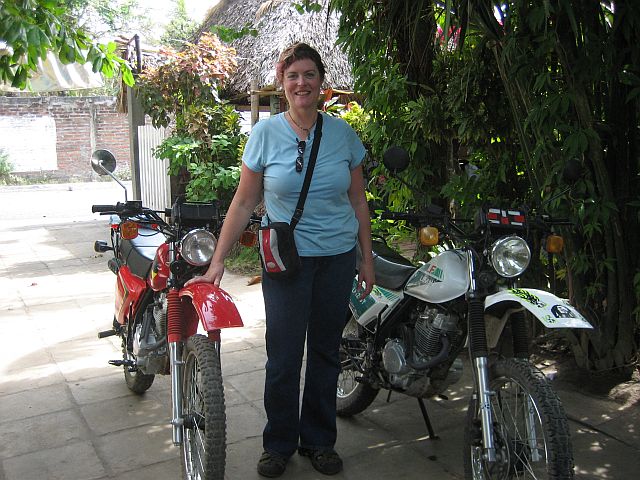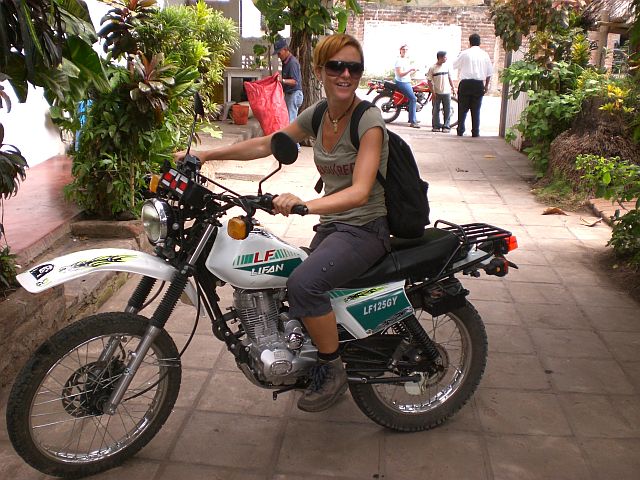 … und Bob Marley faehrt immer mit…
…Bob Marley is with us …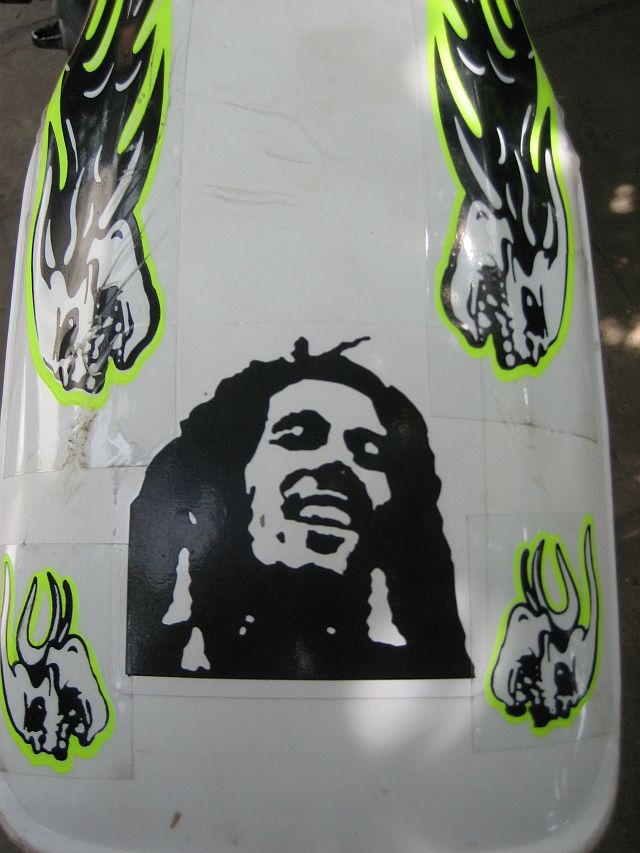 Alex hat seine Sonnenbrille verloren und versucht's mit einer Notloesung. Was unter Wasser taugt, kann auf dem Motorrad ja auch nicht schaden.
Alex lost his sunglasses and tries to improvise with swimming goggles. What works under water can't be too wrong on a bike.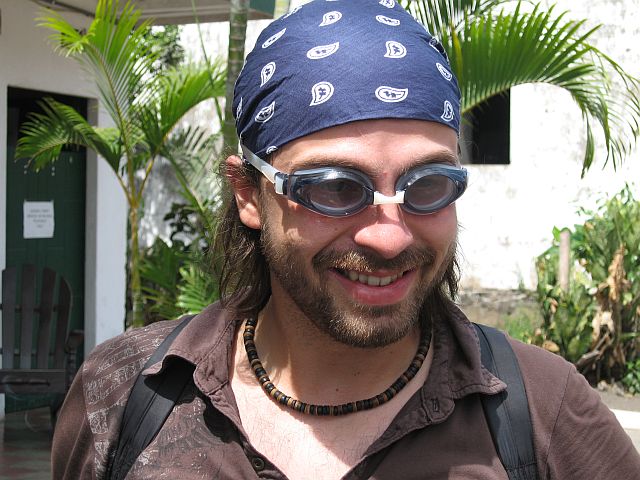 Zehn Minuten und zwei gruen-blaue Abdruecke um die Augen spaeter, ist eine neue Sonnenbrille gekauft. Und nach einer kurzen Einweisung, wo sich Gas, Bremse und Schaltung befinden, und er und Bob waren auf und davon…
Ten minutes and two black and blue circled eyes later he got himself new shades. And after a brief instruction on where to find the gas, breaks and the gear shift he and Bob were gone with the wind…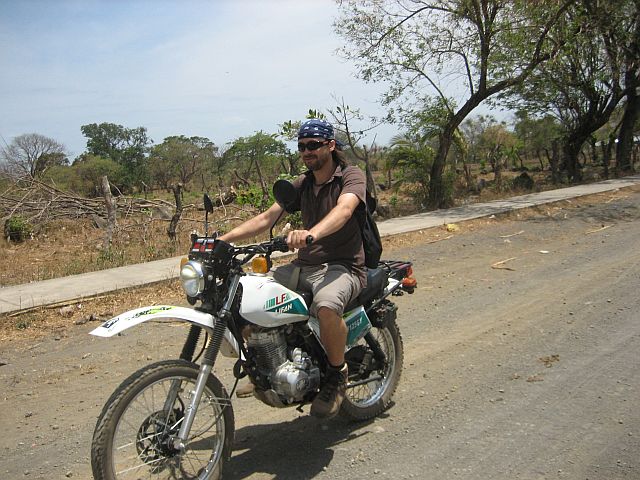 …nach ein paar Stunden auf dem Bike meint Alex nur: "Was hab ich nur all die Jahre gemacht, in denen ich nicht Motorrad gefahren bin?" Alisa und ich muessen nur schmunzeln: "Also wieder jemand, der sich mit dem "Motorradfieber" infiziert hat." Vielleicht macht er ja auch noch irgendwann seinen Fuehrerschein?
…after a couple of hours on the bike Alex just comments: "What have I been doing all those years not riding a bike?" Alisa and myself just chuckled to ourselves and thought: "Alright another infected soul!" So maybe he gets himself a drivers license one fine day?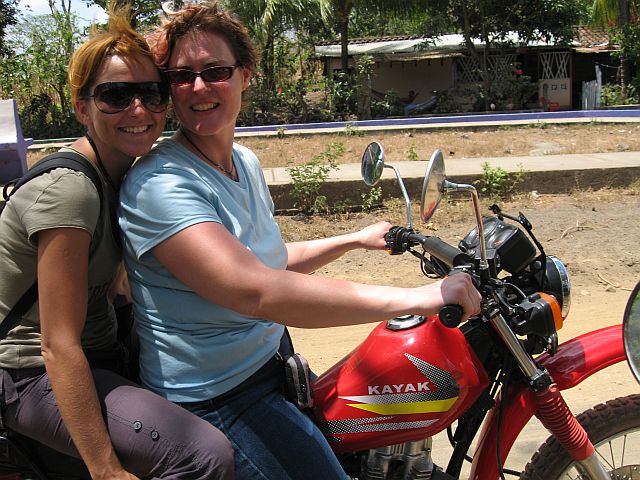 … ? …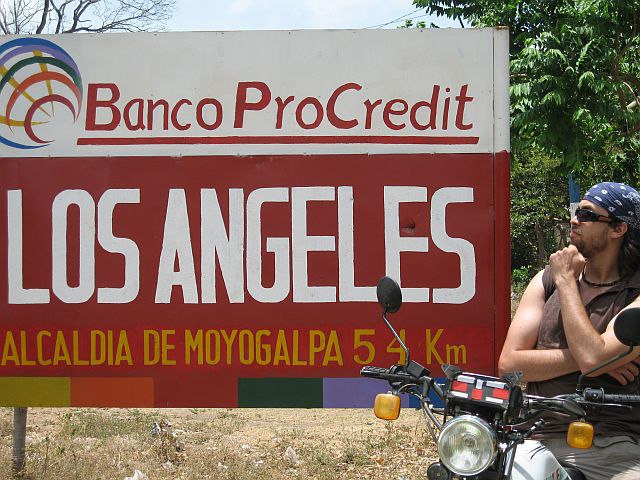 Biker-Puschels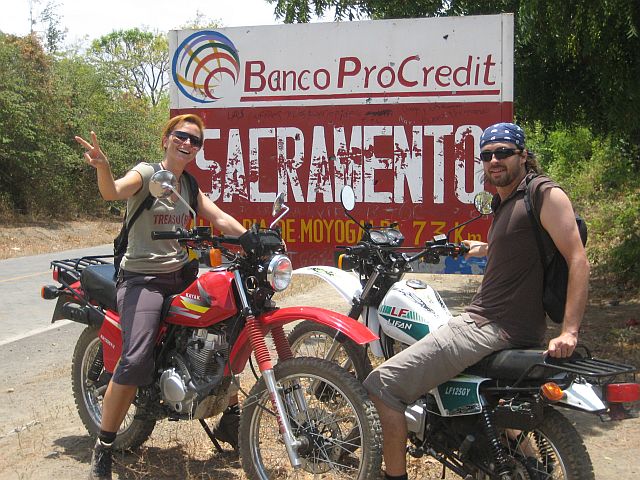 Aber dass wir nicht in Kalifornien sind, wird uns schnell wieder klar, als wir von der naechsten Kuhherde ueberholt werden…
We realize that we're not in California when we find ourselves in the middle of the country scene again.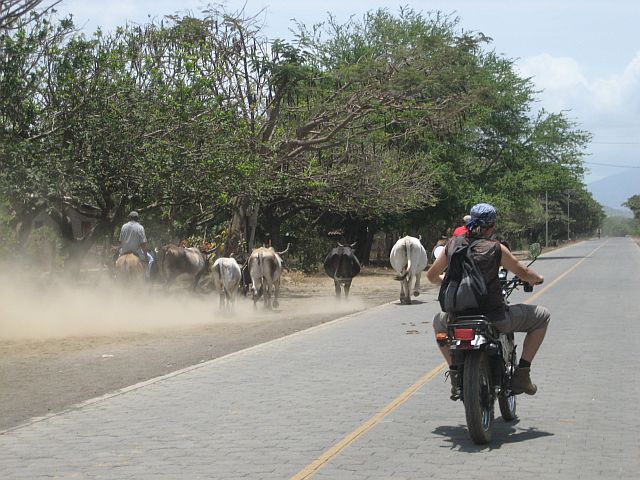 Zum Glueck kommen wir an einem natuerlichen Pool vorbei, denn nach dem anstrengenden Ritt und der Hitze freuen wir uns auf eine Abkuehlung.
Luckily we pass a natural pool where we can finally hop into crystal clear water after a stressful ride in that scorching heat.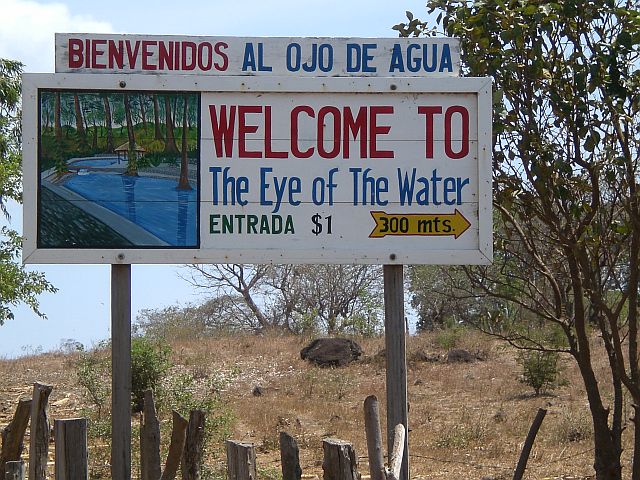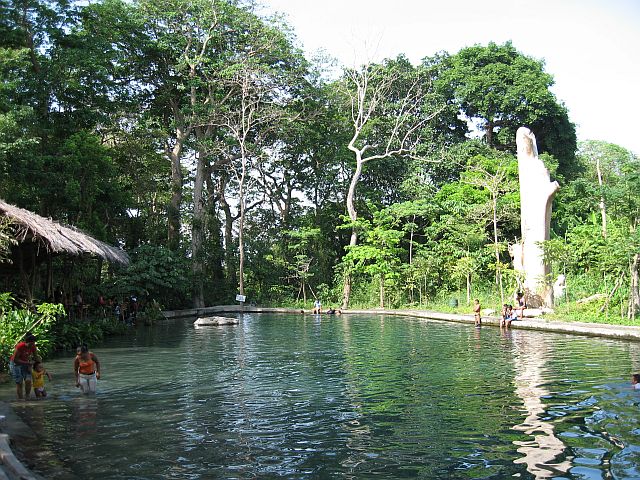 Doch nicht nur wir geniessen das kuehle Nass…das "Flusspferd" ebenso.
But we're not the only ones enjoying the cool water…the "river horse", too.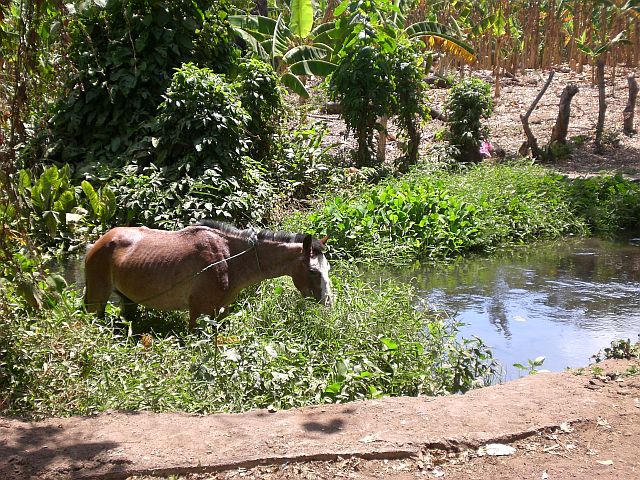 Horsepower… 1 PS?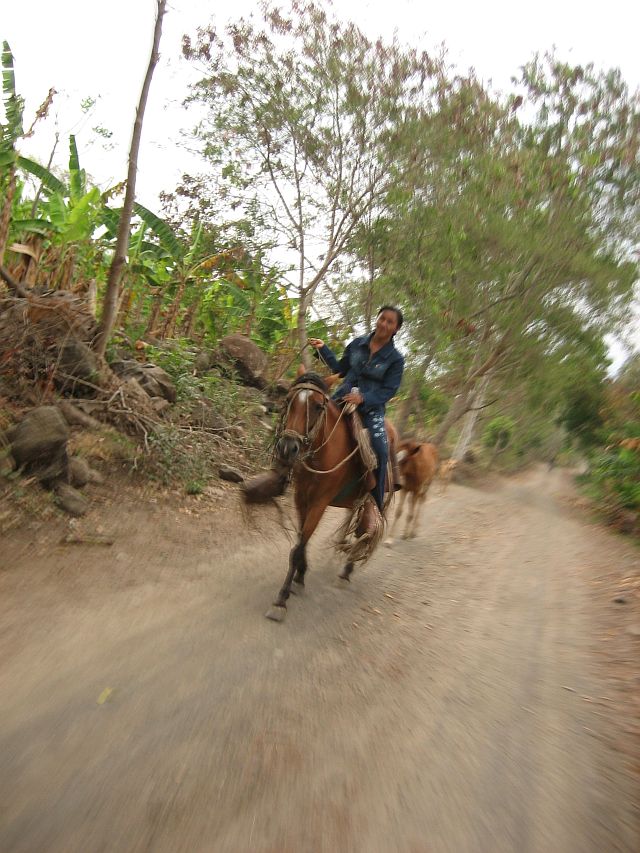 Aber es ist nicht alles traumhaft, was wir auf der Fahrt erleben. Kurz vor Sonnenuntergang tauchen aus dem Nichts Millionen von Fliegen auf. Das Ganze wirkt wie in einem schlechten Horrorfilm, es ist super eklig, man traut sich kaum zu atmen…
But it's not all fun we have to experience on our trip. Around sunset the air is filled with millions of flies and bugs emerging out of nowhere. It's so disgusting. It feels like being in a really awful horror movie. We're even afraid to breath…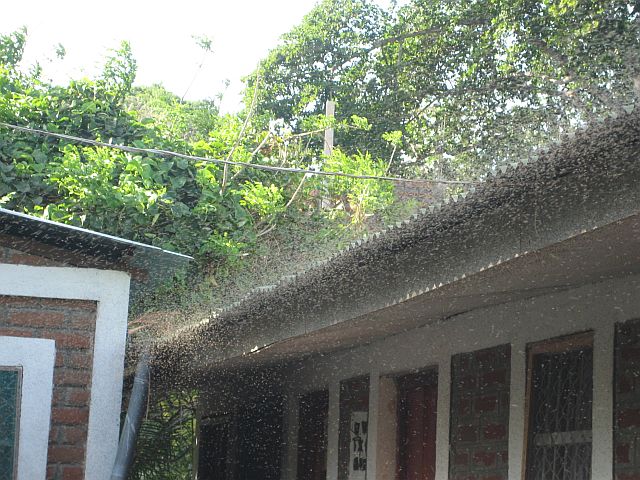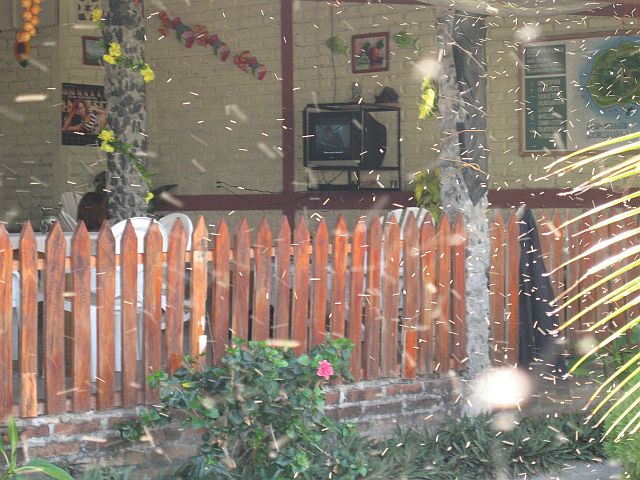 …freundliche Motorradfahrer sind eben an den Fliegen zwischen den Zaehnen zu erkennen! Nach ueber 90 km rund um die Insel kommen wir voellig verdreckt, totmuede, aber uebergluecklich wieder in Altagracia an. Alles was wir jetzt noch brauchen sind: Essen, Dusche & Bett. Was fuer ein toller Tag!
…friendly bikers can be recognized by the flies in their teeth! After circling the island once and almost 60 miles we arrive in Altagracia dirty, tired but very happy. All we need now is: food, a shower & our bed. What an awesome day!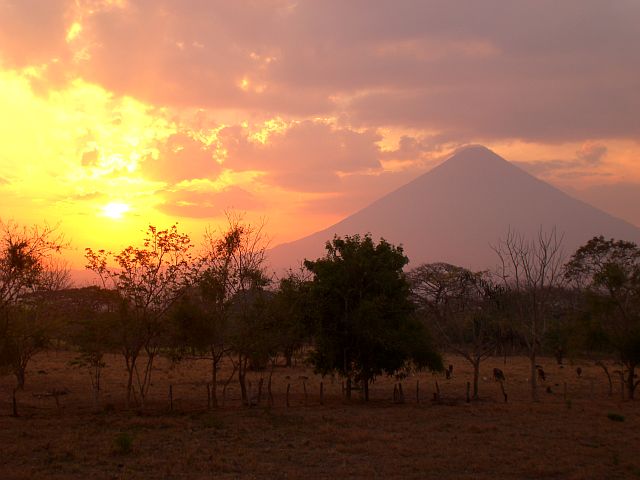 Ometepe ist ja bekannt fuer seine uralten Petroglyphen und Steinstatuen, die Menschen, Tiere, Voegel und geometrische Formen abbilden. Diese kann man zwar ueberall auf der Insel finden, die meisten aber liegen noerdlich des "Volcán Maderas". Und genau dort steht die "Finca el Porvenir" , in der wir am naechstene Tag Quartier beziehen. Der Garten ist nicht nur voll mir den alten Steinen, sondern auch mit regionalen Produkten. Wir haben keine Ahnung, was die Zeichnung auf dem Stein zu bedeuten hat, denken aber, dass sie ganz nett aussieht und alle mal ein Foto wert ist.
Ometepe is famous for it's ancient Petroglyphs and stone statues depicting humans, animals, birds and geometric shapes. They have been found all over the island but are most densely clustered along the northern side of Volcán Maderas. And among them there's the "Finca el Porvenir" where we spend the next night. The garden is not only home to the old stones but to many tropical plants as well. We're not sure about the meaning of the carvings but it looks nice and is worth a picture anyway.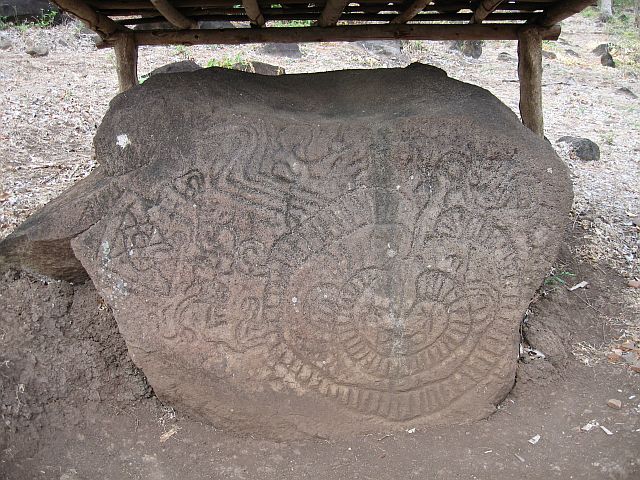 Naturkunde mal anders! Die Ananas – pro Staude gibt's jeweils nur eine Frucht.
Nature study in real life! The pineapple – every plant grows only one single fruit at a time.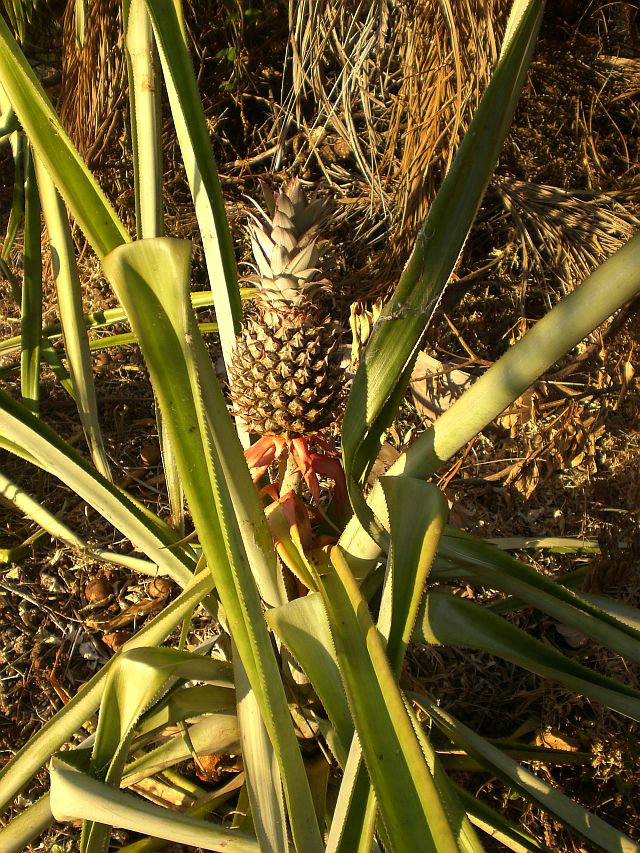 Bananenstauden
Banana tree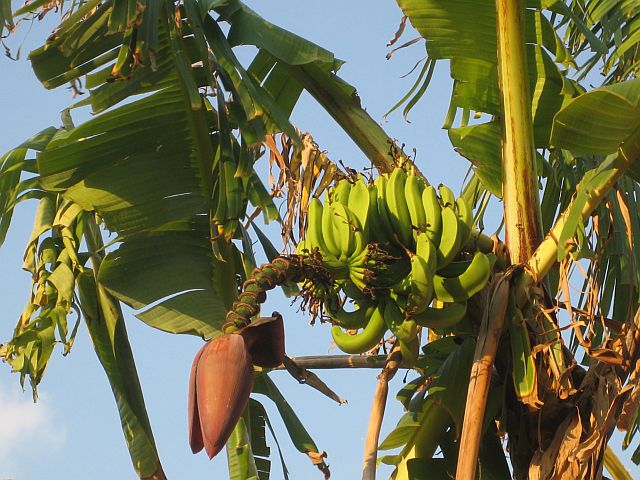 Avocados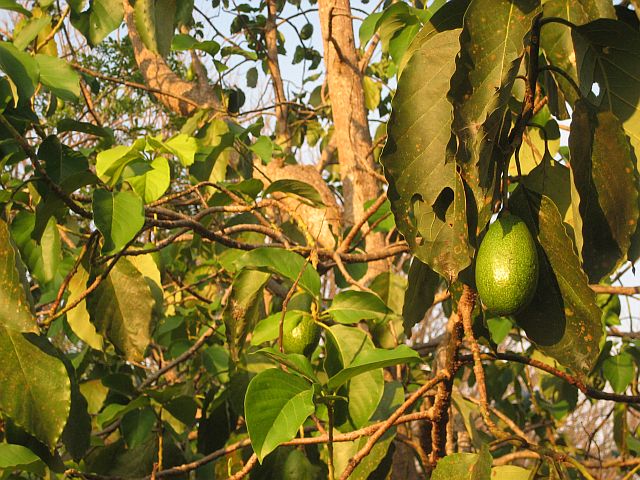 Kakaoschote
Kakao fruit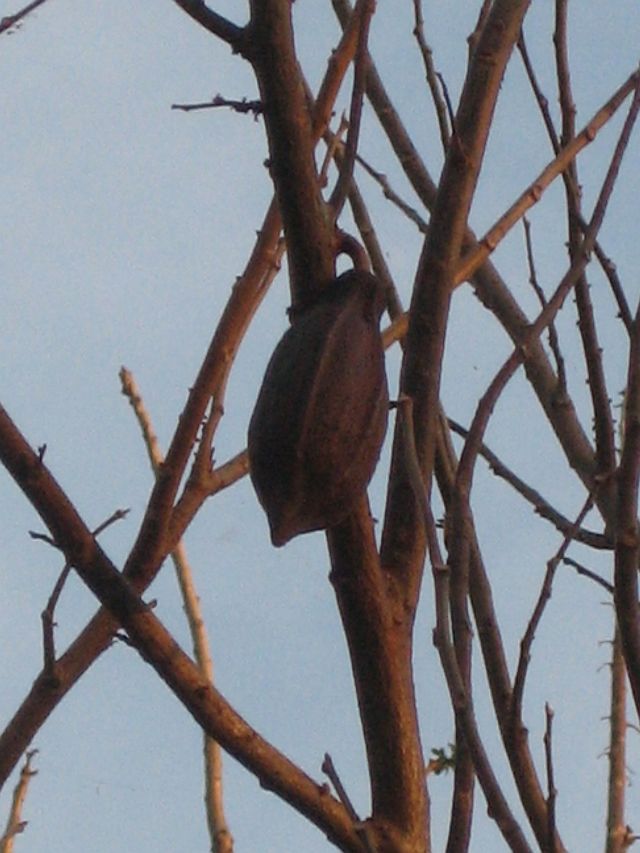 Es ist zwar kein "Stachelbeer-Baum" und auch sonst nichts zum Essen! Sieht aber recht furchteinfloessend aus. Wirklich von Nuzten ist nur sein Holz und die Rinde, wenn man sich grad mal am Ruecken kratzen muss.
Though this tree grows nothing edible, it does look pretty scary. It's good fire wood at least and very efficient for scratching ones back.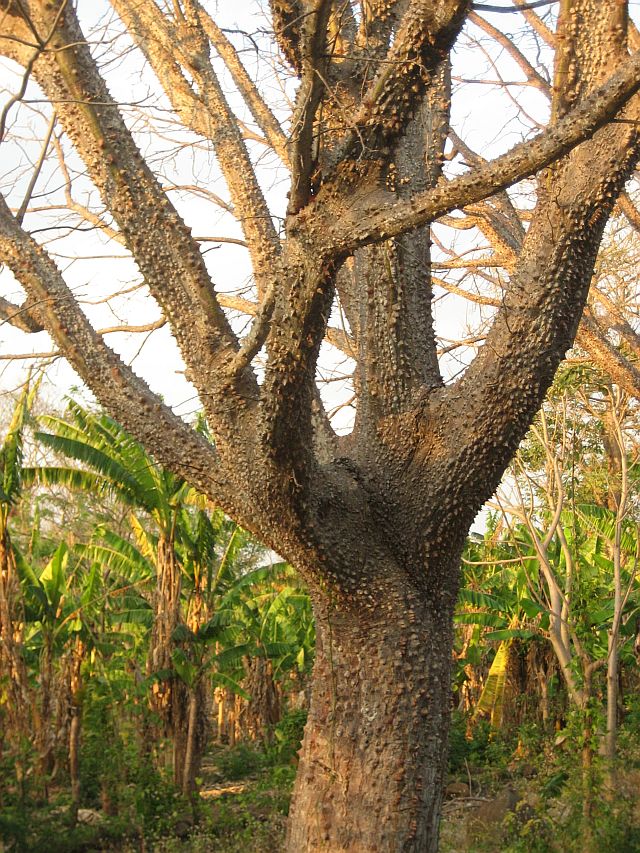 Jicaro Baum – die kopfgrossen Fruechte koennen bis zu 10 kg wiegen und werden nach ihrer Aushoehlung und Trocknung gerne als Aufbewahrungs- oder Transportgefaesse sowie als Musikinstrumente genutzt.
Jicaro tree – the fruits that can get as big as a head and can weight up to 22 lbs. They are used as cups, bowls, music instruments or simply containers for several goods, after being dried.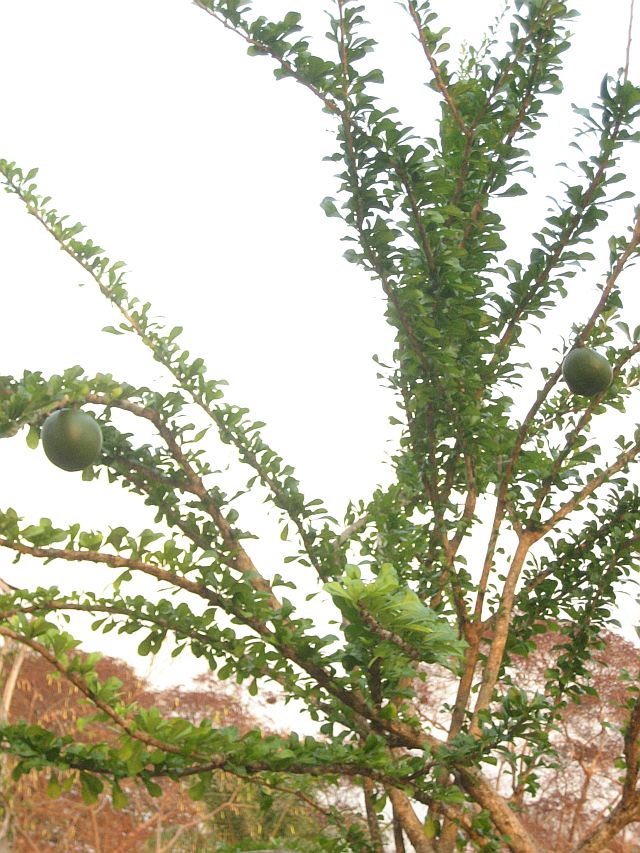 Mangos – haengen vom Baum wie Christbaumkugeln.
Mangos – hang from the tree like Christmas bowls.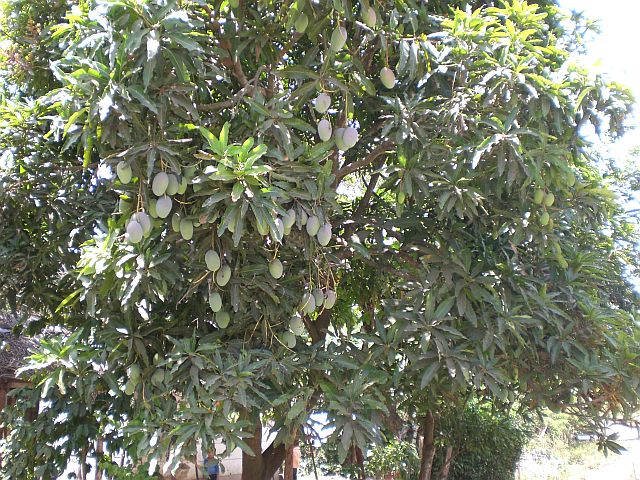 Papaya…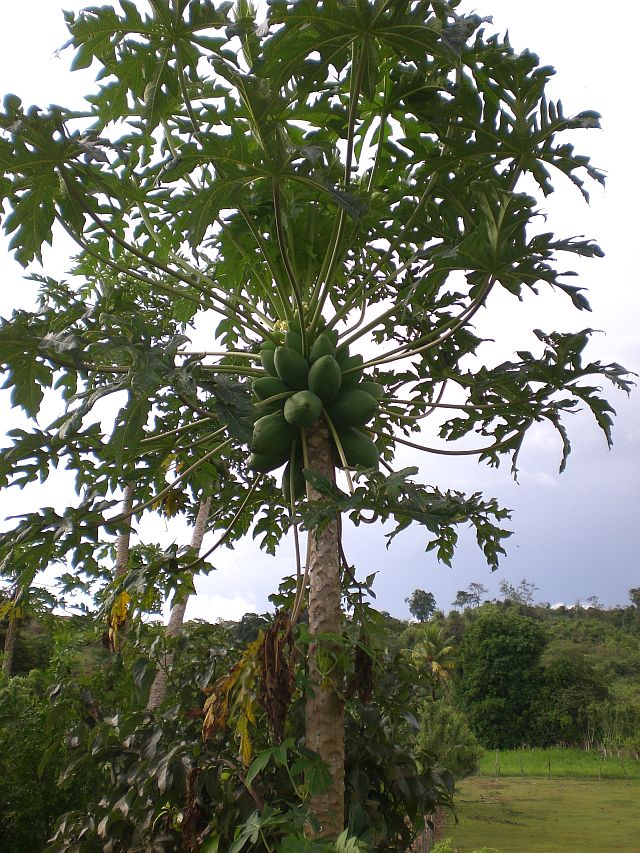 …und nicht zu vergessen: Kaffee! Der hier ist zwar noch nicht ganz reif aber alles weitere wird Karina schon lernen, wenn sie dann mal auf der Plantage arbeitet, um unsere Reisekasse mal wieder aufzubessern.
…and last but not least: coffee! This one here is not ripe yet, but Karina will get to know all the little details once she is working on the plantation making money for our trip.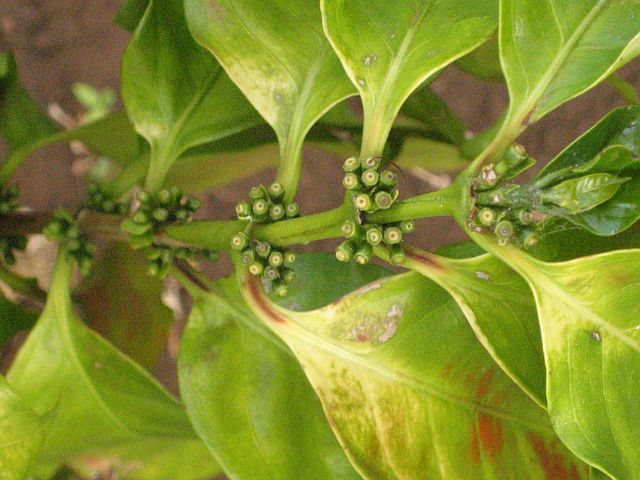 Itschi, wo wir schon einmal dabei sind, die Natur zu erkunden – dieses Exemplar sass tatsaechlich in unserem Zimmer. Suesse Traeume kann man da nur wuenschen! Wenn jemand wissen sollte, um was es sich hier handelt, scheut euch bitte nicht Kommentare loszuwerden.
Yack, well, that is also part of our tour – this exemplar was indeed sitting in our room. Sweet dreams! Any suggestions what this could be? Don't hesitate to leave us comments.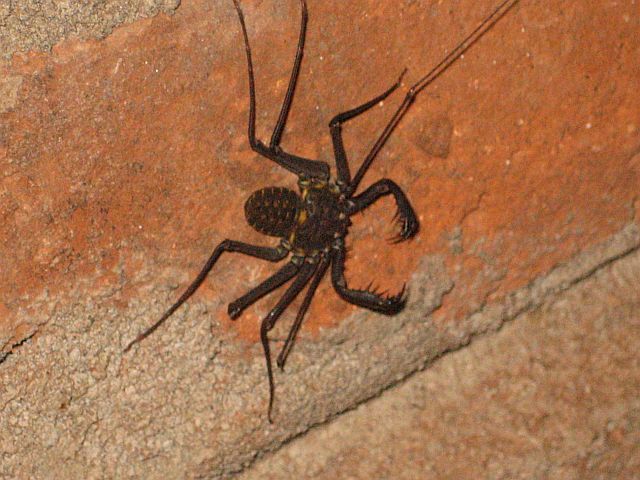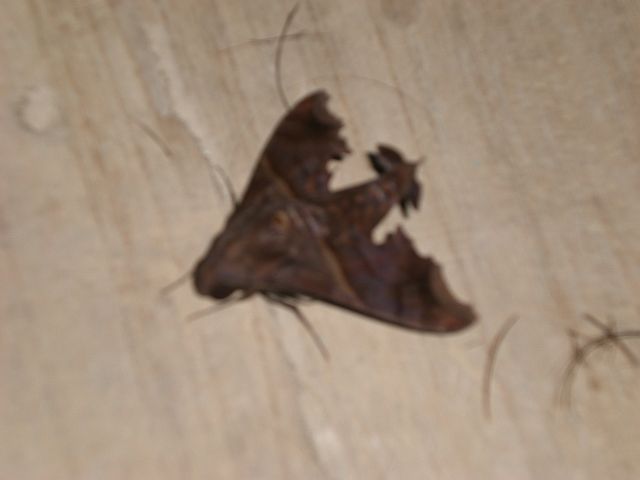 Gott sei Dank gibt's zum Abschluss noch was Nettes zum anschauen. OK, welchen nehmen wir?
Thank goodness! In the end we get to see something really cute. Alright, which one is ours?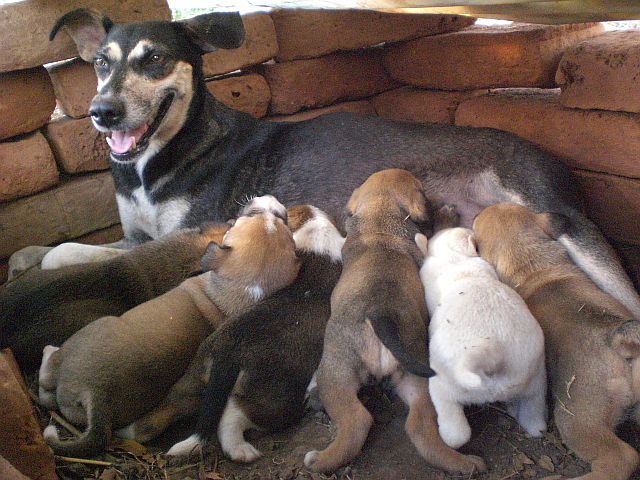 Vielen Dank Jose fuer die aufschlussreicheTour.
Thank you very much, Jose, for the interesting tour.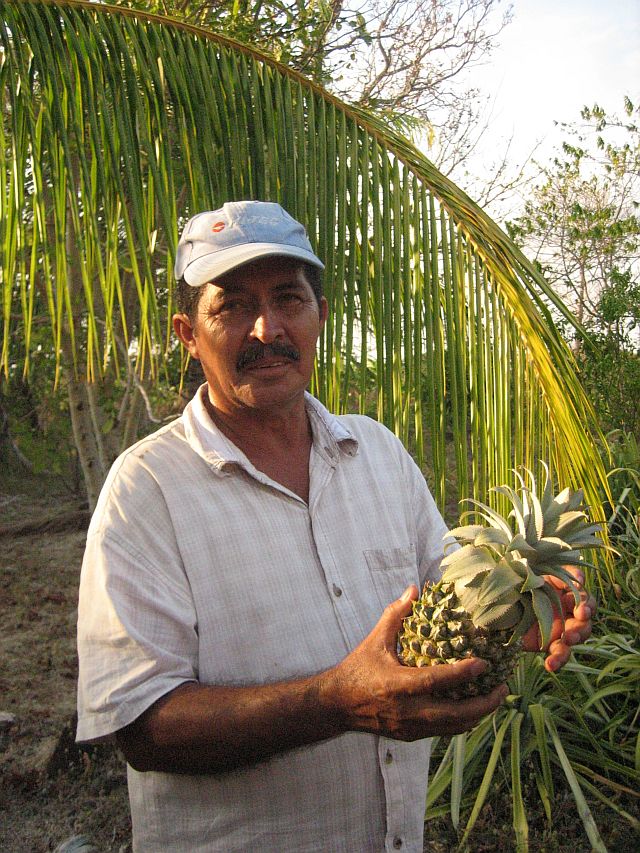 Nach drei wunderschoenen Tagen auf der Insel geht's weiter nach San Juan del Sur am Pazifik….Bitte anschnallen! Wuerg! Ist der Kapitaen etwa schon wieder am Telefon?
After three wonderful days on the island we head to San Juan del Sur by the sea…..please fasten your seat belt! "Gulp!" Is the captain on the phone again?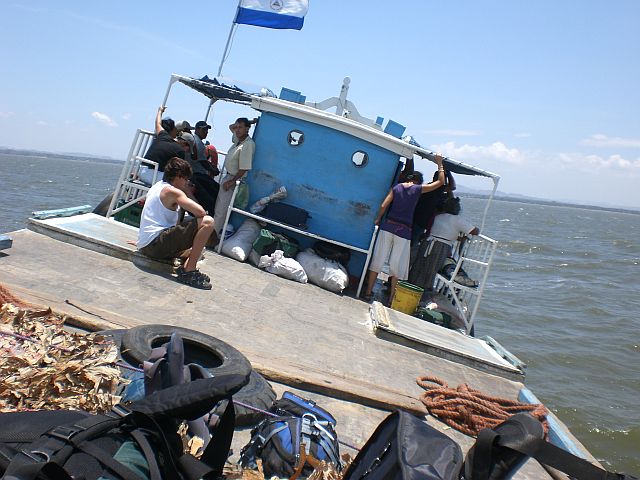 Nach der ganzen Schaukelei ist uns ganz "scha-wummerig"…wir sehen schon die seltsamsten Dinge: zum Beispiel einen Mann mit einem Pferd auf seiner Schulter!?
All that rocking on deck made us quite dizzy. We already see the weirdest things: For instance a man carrying his horse!?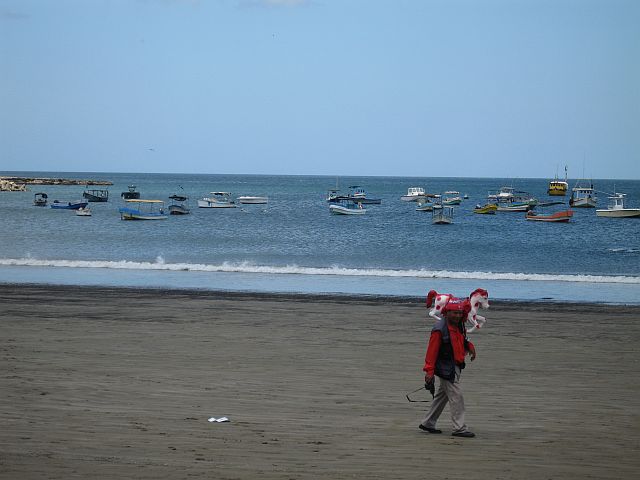 Gemeinsam geniessen wir den malerischen Abendhimmel in der Bucht von San Juan del Sur. Morgen trennen sich leider unsere Wege, da wir nach Costa Rica fahren und Alisa noch eine Woche den Norden Nicaraguas bereisen will, bevor es fuer sie zurueck nach Connecticut auf ihre Farm geht. An dieser Stelle gleich mal etwas Werbung: Alle, die sich mal Urlaub auf dem Land goennen wollen, schaut unbedingt bei: www.horsetalefarm.com rein. Wir haben die Zeit mit dir sehr genossen und freuen uns schon auf ein Wiedersehen auf deiner Farm!
Together we're enjoying the picturesque evening sky hanging over the bay from San Juan. Tomorrow Alex and me will travel to Costa Rica while Alisa is heading to the north of Nicaragua for another week before she has to return to Connecticut where she owns a farm. For all of you guys who always wanted to spend time on a real farm, that's the place to go: www.horsetalefarm.com. Thanks for the amazing time we had. We're already excited to visit you on your farm soon!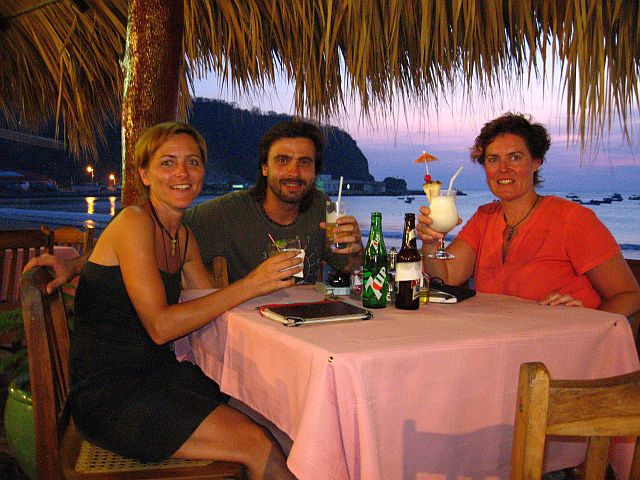 Nicaragua ist neben Guatemala unser absoluter Favorit. Nicht zuletzt weil uns das Land sehr gut gefallen hat, sondern auch wegen der tollen Leute, mit denen wir hier Zeit verbringen durften.
Besides Guatemala, Nicaragua is our top choice in Central America. Not only because we enjoyed the country very much but also spending time with all the great people we met.