September 26th, 2008
Surfer, Vogelkundler, Wandersleut', Naturbegeisterte, Strandasseln und Partyloewen; Costa Rica hat fuer alle etwas zu bieten. Die Wellen sind fantastisch, die Schoenheit der Natur sticht ins Auge und die Einheimischen sind sehr freundlich. PURA VIDA! Hier ist es fast unmoeglich nicht vom Lebensgefuehl des Pura Vida "pures Leben" angesteckt zu werden.
Surfer dudes, bird nerds, hiking fiends, wildlife fanatics, beach bums and party animals all seem to have found something in common in Costa Rica. The waves are prime, the natural beauty is staggering and the locals are friendly. PURA VIDA! In Costa Rica, it's impossible not to get caught up in the feeling of Pura Vida, 'pure life'.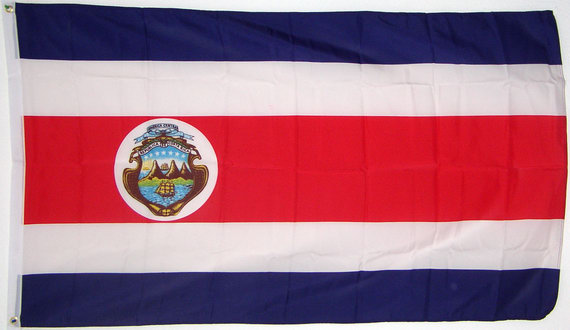 …nach mal wieder einem echten Hoellentrip (die Stunden zu zaehlen, haben wir diesesmal aufgegeben) geht's jetzt zur Abwechslung wirklich mal an den Strand und nicht in die Berge!
…and again: after another hell ride (we gave up on counting the hours this time) for a change we're heading for the beach and not for the mountains this time!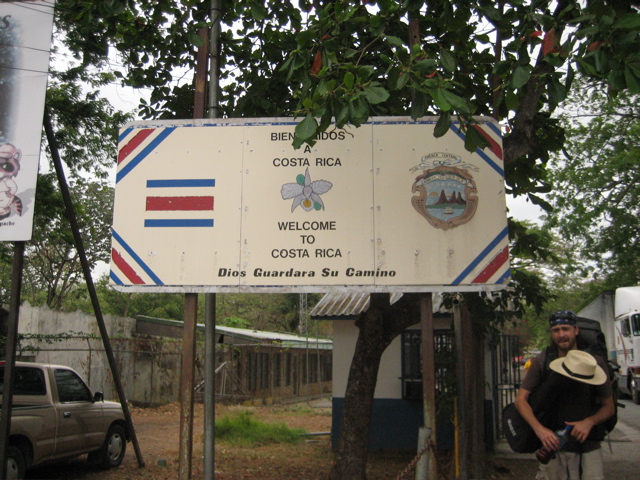 Als erstes steht Tamarindo auf unserer Liste, wir haben gehoert, da soll der Pazifik am schoensten sein, und auch fuer Einstiegssurfer – wie uns – soll es ein wahres Eldorado sein.
First on our list is Tamarindo, we've heard that should be the nicest spot at the Pacific, and also for surfers – and beginners like us – a true Eldorado.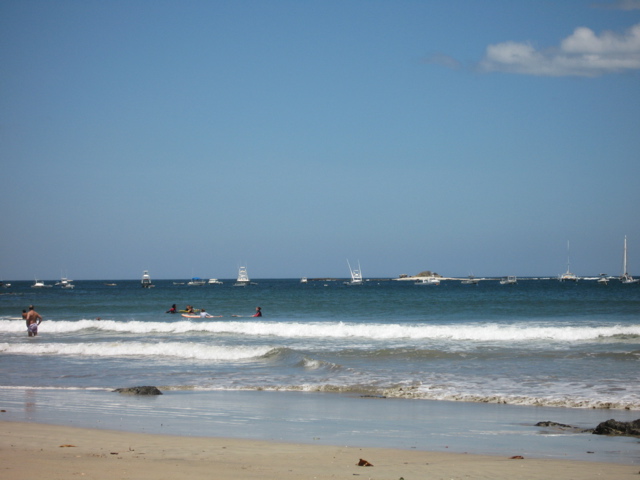 Genau der richtige Ort, die Seele baumeln zu lassen!
Just the perfect place to relax and forget the rest of the world!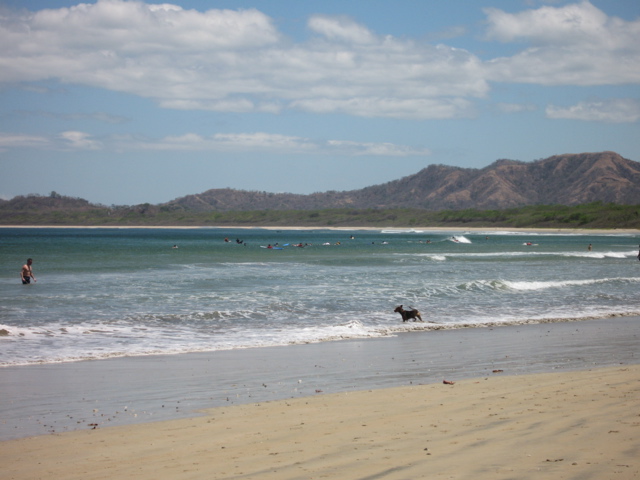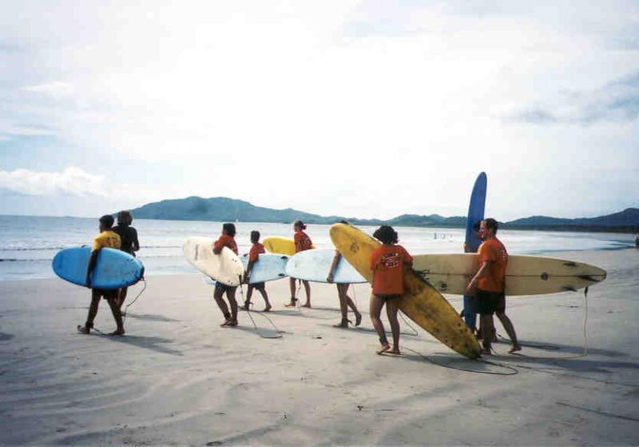 Aber nach einger Zeit plagt uns wieder die Reiselust und so goennen wir uns – zum ersten Mal auf unserer gesamten Tour – den Luxus und leihen ein Auto aus.
But after a while we've got the travel bug and hit the road again and for the first time on our entire trip we treat ourselves with the luxury of renting a car.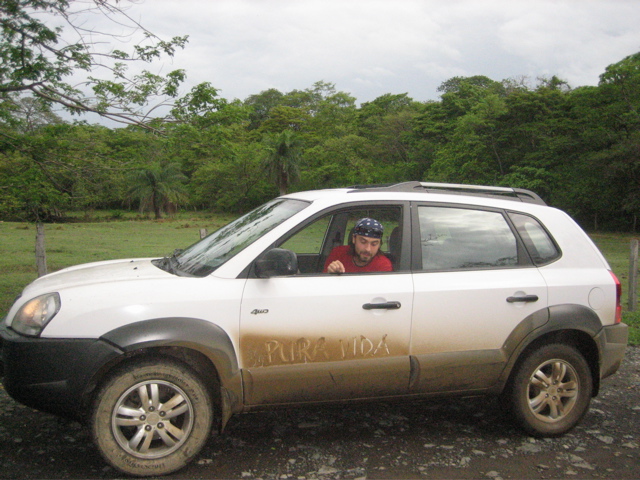 …nach ner kleinen Safari durch den Palo Verde National Park wird auch das sauberste Auto in Mitleidenschaft gezogen, aber was solls, wir haben Spass: PURA VIDA!
…after a short safari through the Palo Verde National Park even the cleanest car gets affected, but the heck with it, we have fun: PURA VIDA!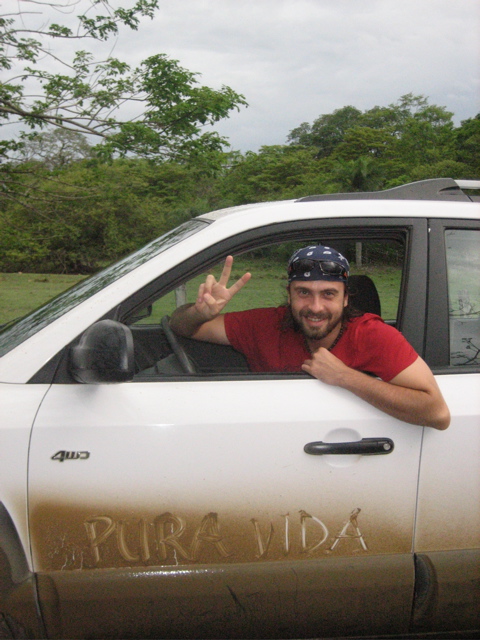 Naechste Station: der Lago Arenal
Next stop: Lago Arenal
Aber bevor wir den Lago Arenal so richtig zu sehen bekommen, muessen wir erstmal einen Zwischenstopp einlegen – das ist sozusagen Pflicht!
But before we really get to see the lake Arenal, we have to take a break – that's our duty, so to speak!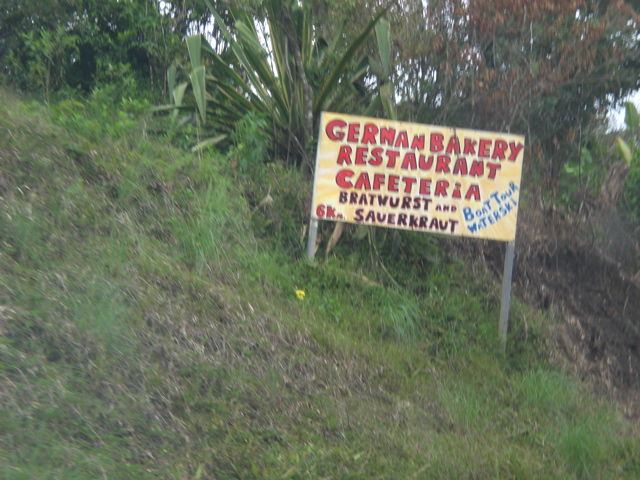 Die Werbetafeln fuer "Tom's Bakery" haengen im Umkreis von 50 km aus – keine Chance, an denen vorbeizukommen.
The roadside billboards for "Tom's Bakery" are posted up within a radius of 30 miles – no chance to pass by!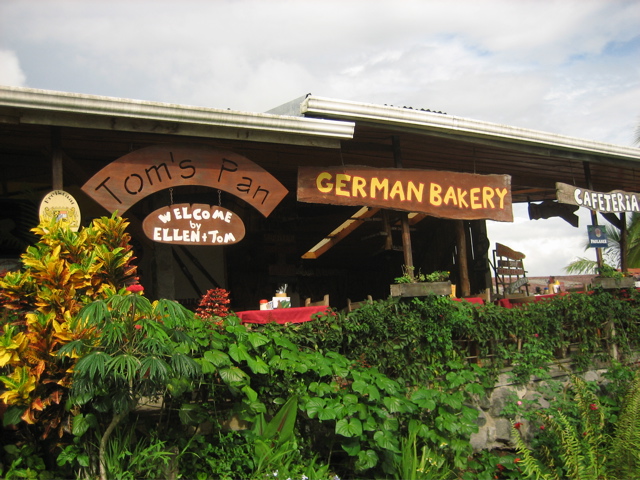 …damit man auch nach mehreren Weissbier noch weiss, wo lang es nach Hause geht!
….just that everybody still knows after some "Weissbier" which direction to take in order to get home!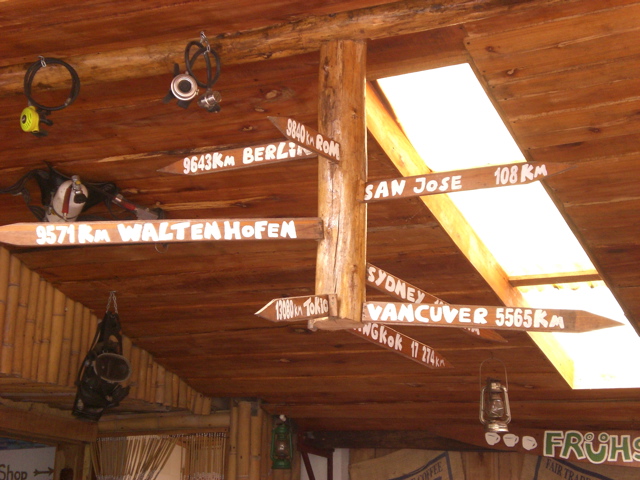 …was fuer die Kehle und die Seele!!
….something for the throat and for the soul!!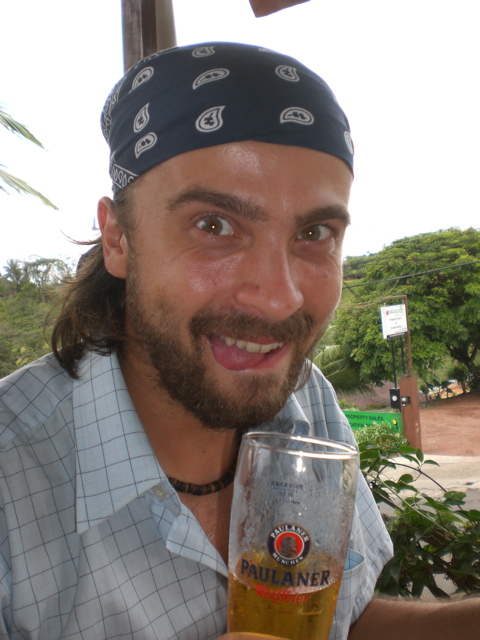 …hmmmm, lecker lecker….yummy, yummy….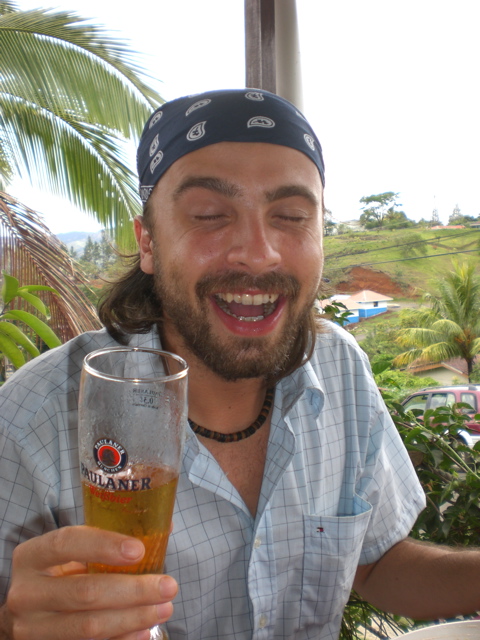 Ein Stueck Heimat…
A piece of homeland….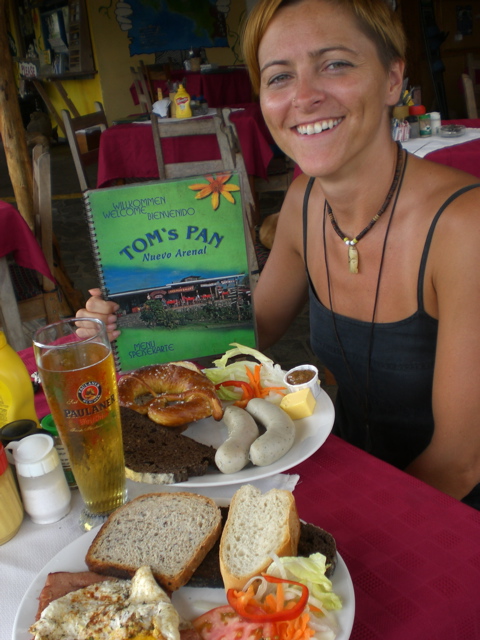 Weiter auf unserer Reise gibt's dann das hier zu sehen: auf den ersten Blick sieht's aus wie ne schweizerische Bergbahn – auf den zweiten stellen wir fest: OK, es ist eine schweizerische Bergbahn – wir trauen unseren Augen kaum. Und im Hintergrund ein dichter Bambuswald!!!

As we keep going we get to see this: at the first glance it looks like a Swiss Mountain Railway – at the second we detect: OK, it is a Swiss Mountain Railway! What the heck is this thing doing here in Costa Rica? Can we trust our eyes? And in the background a dense bamboo forest!!!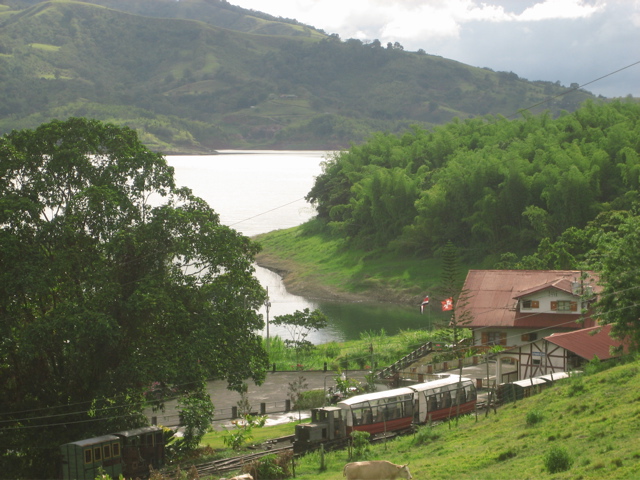 Das passt ja auf keine Kuhhaut…!!!
It beggars all description…!!!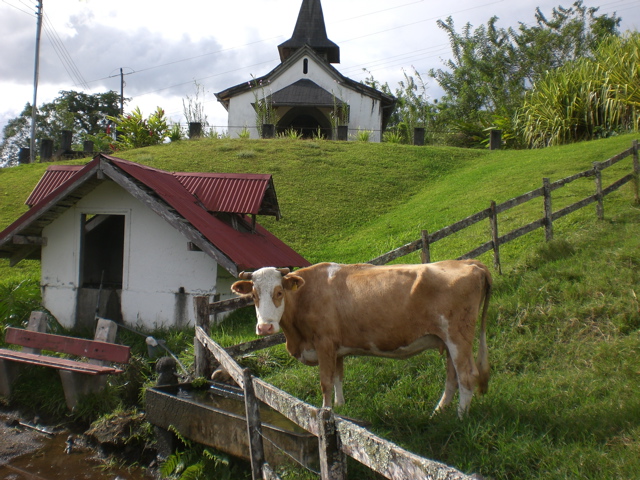 …es sieht sogar so aus als haetten sie auch noch das Gras von einer schweizer Alm importiert.
…it even looks like they also have imported the grass from a Swiss alp.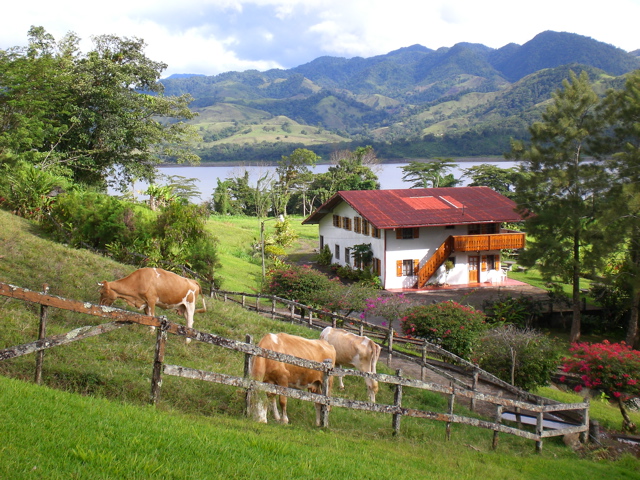 Wie wir spaeter erfahren, gehoert das ganze Anwesen tatsaechlich einem Schweizer, der keine Kosten und Muehen gescheut hat, die Bergbahn nach Costa Rica zu verschiffen. Also vergleicht man nicht ohne Grund Costa Rica mit der Schweiz!? Wir finden's ziemlich amuesant.
As we come to know later the whole stately estate indeed belongs to a guy from Switzerland and he hasn't spared neither expenses nor efforts to ship an original Swiss Mountain Railway direct from Switzerland to Costa Rica. Well, there must be a reason why one compares Costa Rica with Switzerland!? We find it quite amusing.
…und dann darf natuerlich auch ne echte Kapelle nicht fehlen!
…and of course the chapel can't be missed either!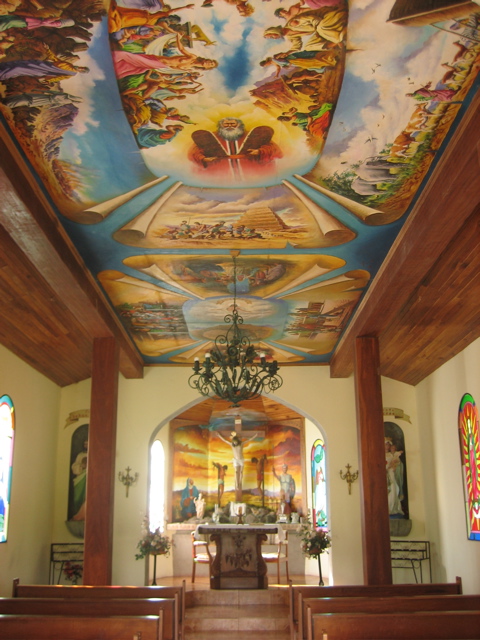 Und dann bekommen wir ihn endlich zu sehen – den Vulkan de Arenal! Er ist der einzige Vulkan Costa Ricas, der staendig aktiv ist. Seit dem grossen Ausbruch 1968 spuckt er nahezu taeglich Lava – wie es sich fuer einen anstaendigen Vulkan gehoert! Riesige Aschesaeulen und Explosionen stehen auch immer wieder auf der Tagesordnung. Damit gehoert er zu den 10 aktivsten Vulkanen weltweit.
And then we finally get to see it – the Arenal Volcano! It is the only volcano in Costa Rica constantly active. Since the big eruption in 1968 the volcano is producing huge ash columns, explosions and glowing red lava almost every day. It is considered one of the ten most active volcanoes in the world.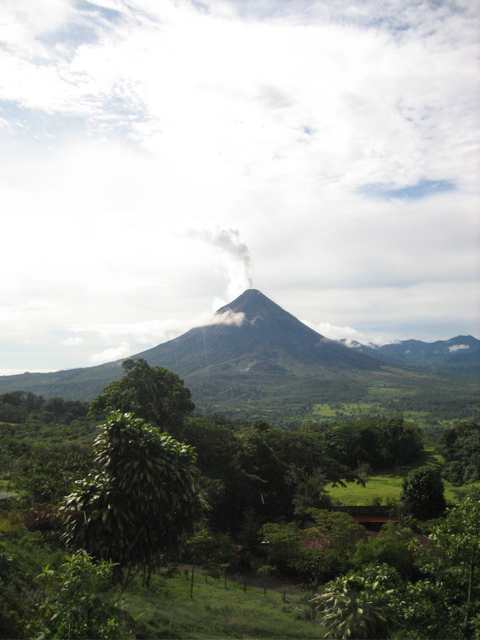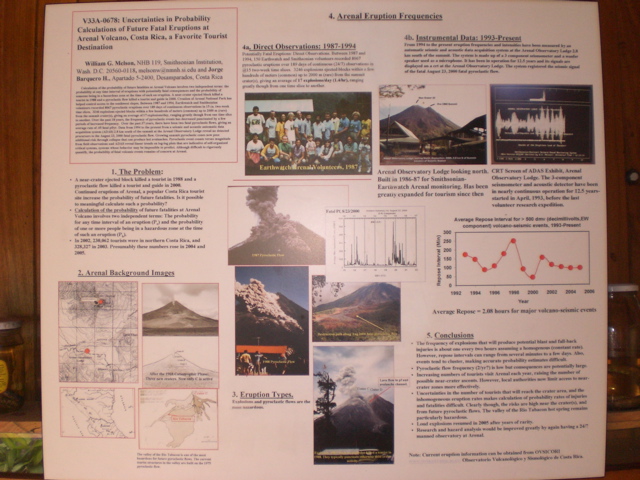 Da der Vulkan allerdings die meiste Zeit von Wolken verhangen ist, beschliessen wir, uns hier auf die Lauer zu legen, denn schliesslich wollen wir die Lava bei Nacht und aus naechster Naehe sehen. Von der Arenal Lodge hat man einen sagenhaften Blick.
Since the volcano cannot be seen very often due to heavy clouds and only shows itself at some rare moments we decide to lurk from the perfect look-out – the Arenal Lodge from which we have a stunning view. After all we really want to see lava at night at close range.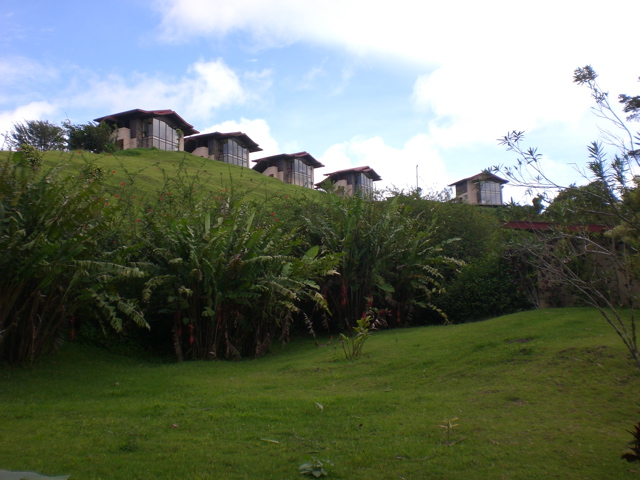 Es ist unglaublich, der Blick von unserem Zimmer ist einfach gigantisch….der Lago Arenal und der Vukan liegen uns direkt zu Fuessen.
It's unbelievable, the view from our room is just fabulous….the Arenal Volcano and the lake lie directly at our feet.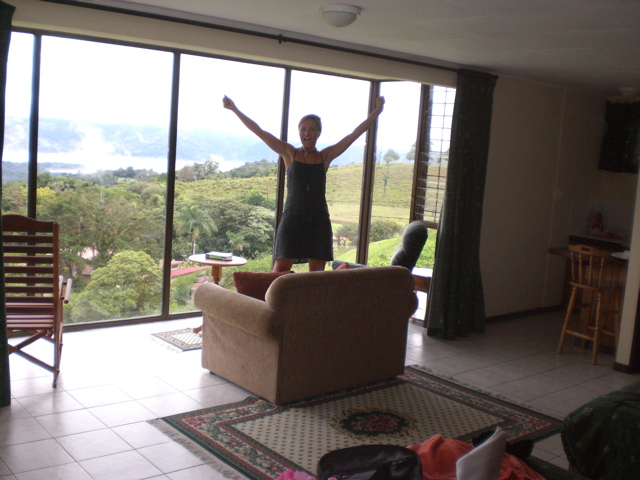 Ein wahres Paradies!
A true paradise!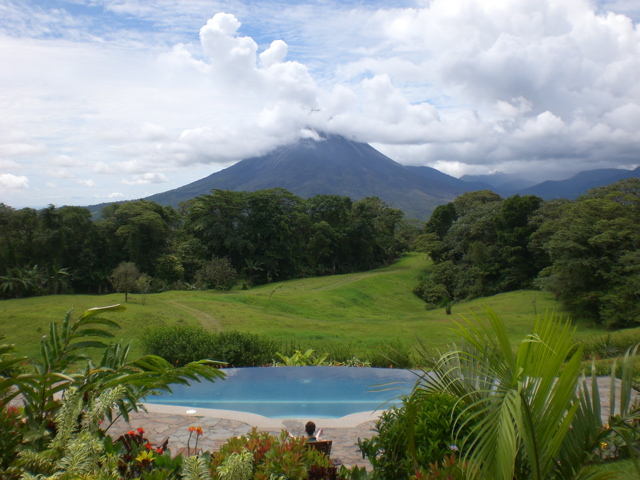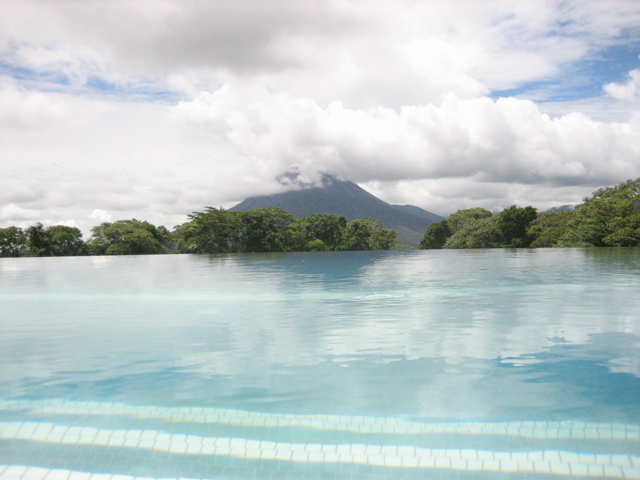 …und so passiert es, dass wir nachts tatsaechlich kein Auge zukriegen, da man so etwas nicht jeden Tag erlebt.
…and so it happens that we actually don't get a wink of sleep at night, 'cause something like this one doesn't get to experience every day!
Stunde fuer Stunde schlagen wir uns die ganze Nacht um die Ohren und bekommen in den fruehen Morgenstunden immerhin das hier zu sehen: wir sind nur noch sprachlos – einfach spektakulaer und faszinierend!
Hour after hour "we burn the midnight oil" and witness in the early morning after all this here: we're just speechless – simply spectacular and fascinating!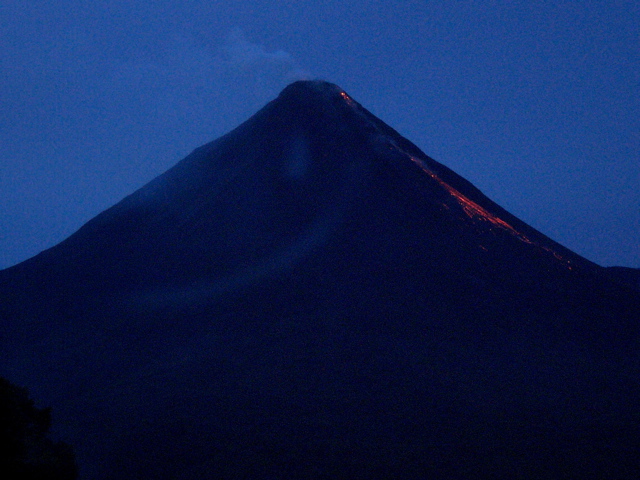 Das Gute daran ist: Wir muessen dazu nicht mal aufstehen!!
The best thing is: We don't even have to get up for this!!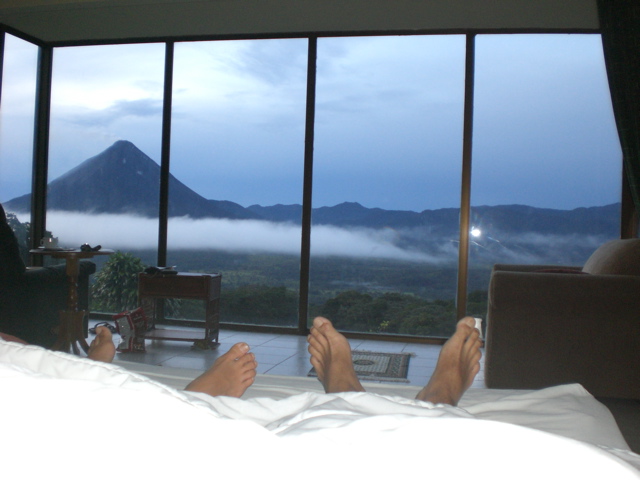 …und in der naechsten Nacht betrachten wir das ganze Spektakel nochmal aus einem anderen Blickwinkel…
…and during the next night we get a glimpse of the vulcano from a different perspective….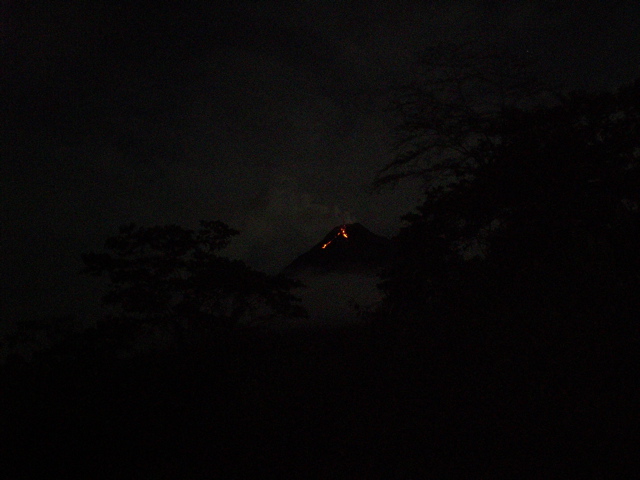 Tagsueber gibt es noch andere Attraktionen in the Arenal Lodge…und all das spielt sich zudem noch unmittelbar vor unserer Haustuer ab.
By day we find other attractions at the Arenal Lodge…..and all this happens right in front of our doorstep.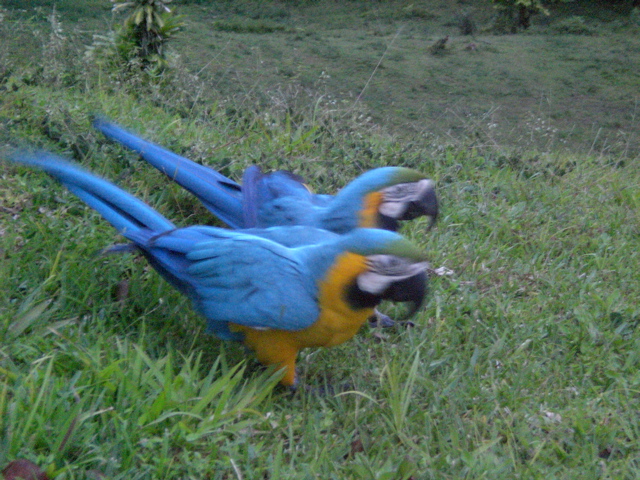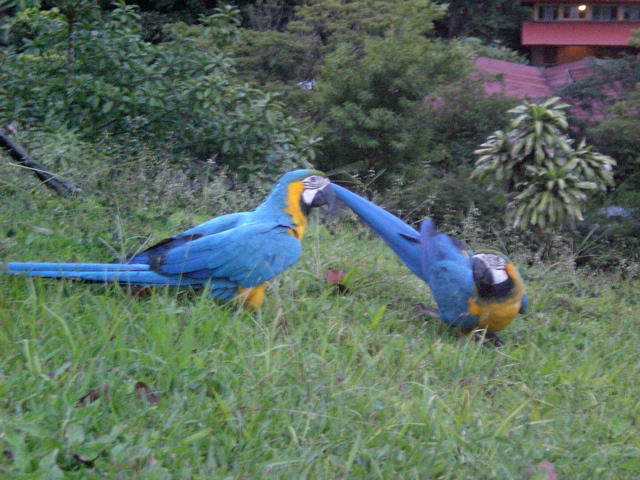 So gehoeren zu dem Anwesen nicht nur die Papageien – die uebrigens frei herumfliegen – sondern auch ein wunderschoener Schmetterlingsgarten. Wir betreten eine Traumwelt aus exotischen Blueten und schillernden Schmetterlingen.
Not only the parrots belong to the Lodge – by the way, they just enjoy their lives in absolute freedom – but also a beautiful butterfly garden. We enter a dream world of exotic blossoms and dazzling butterflies.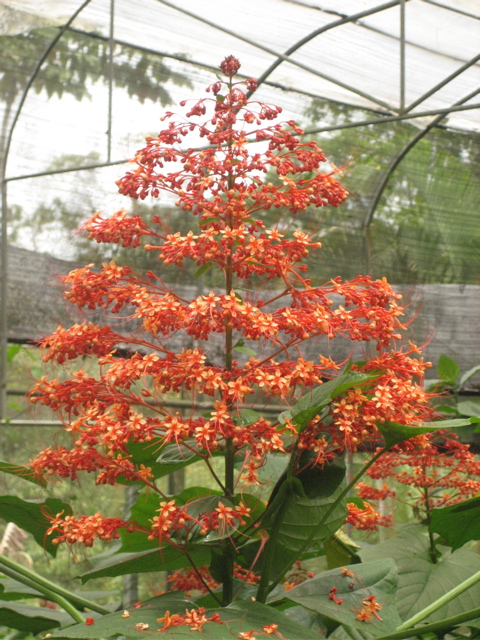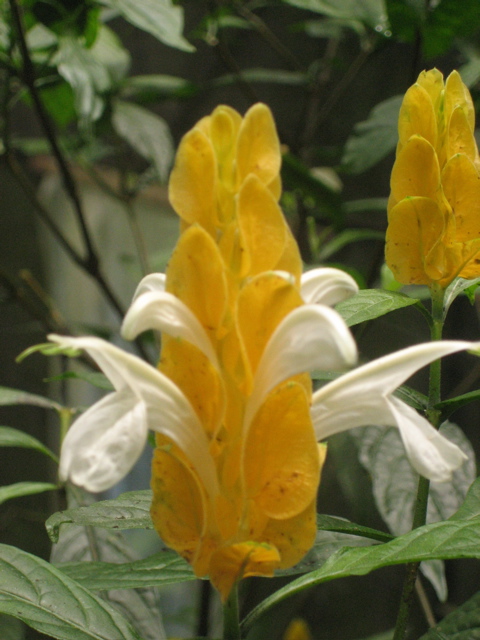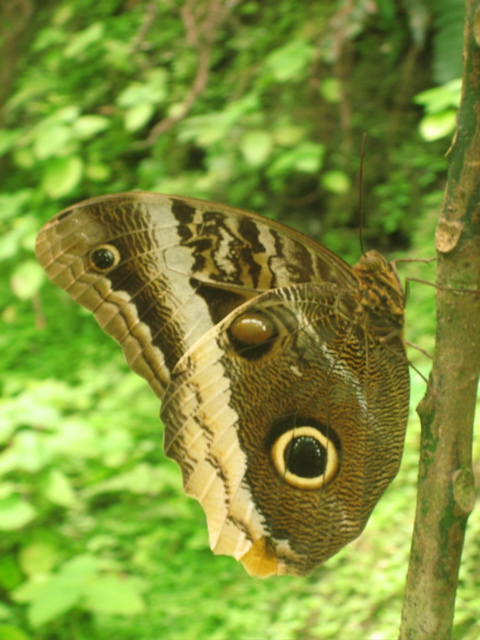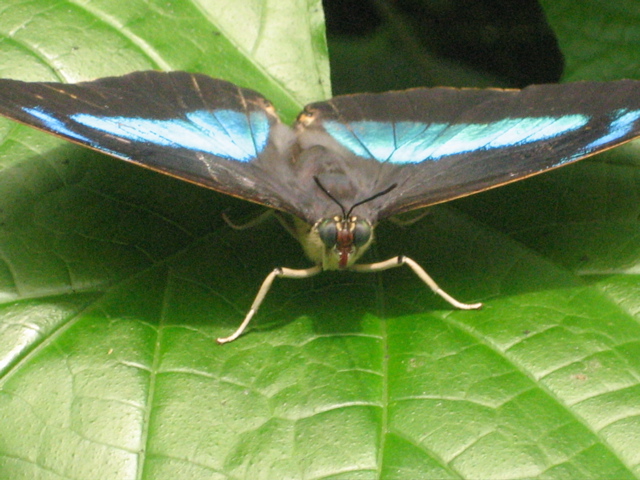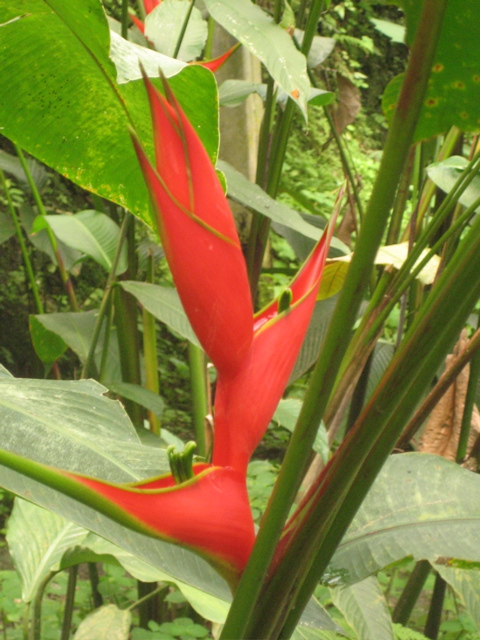 Alex – der Schmetterlingsbeschwoerer oder -betoerer!?
Alex – the butterfly evocator or the bewitched!?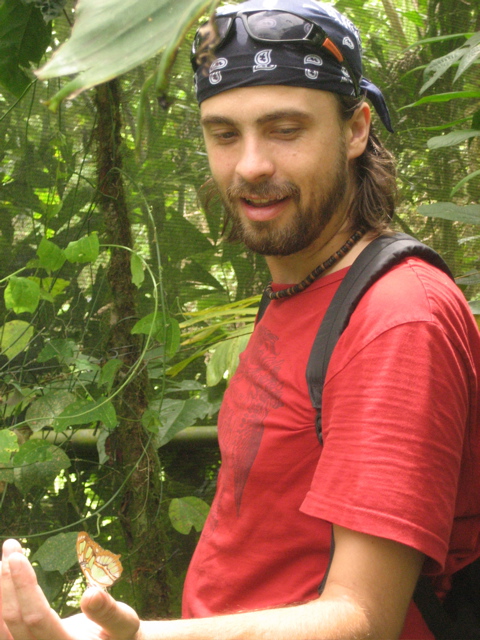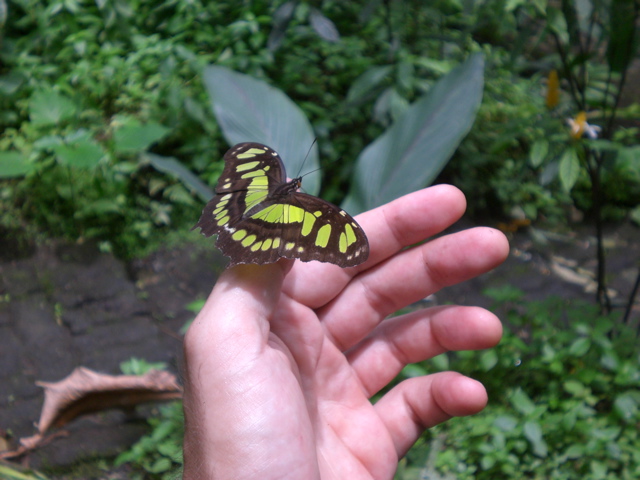 Die "Entbindungsstation" fuer Schmetterlinge???
The "maternity unit" for butterflies???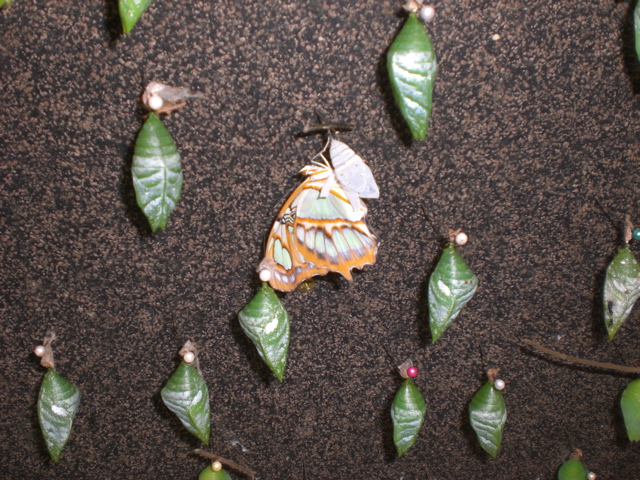 vorher…
before…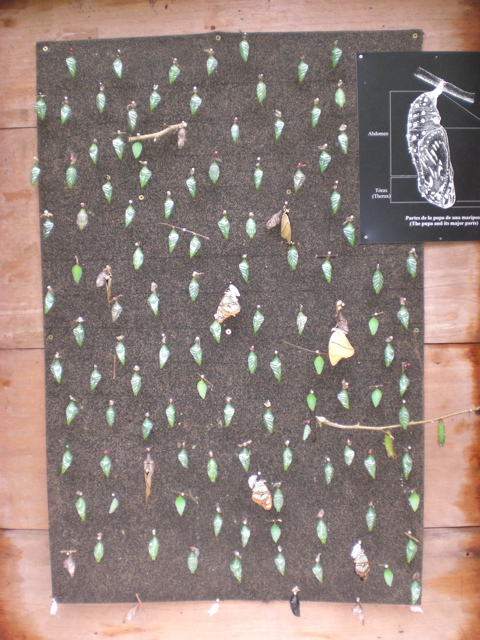 nacher…
after…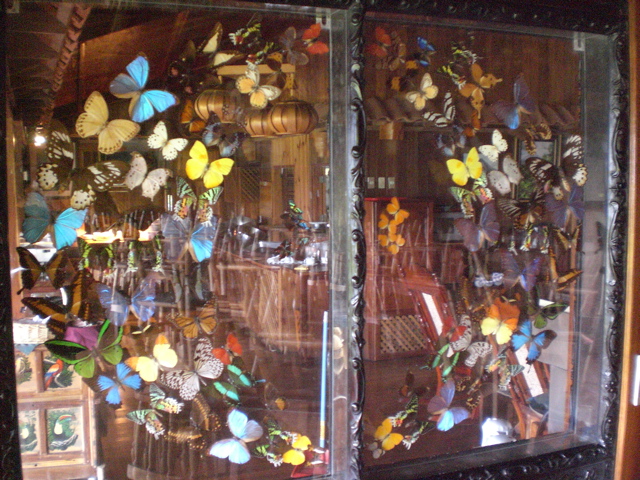 Neben wunderschoenen Schmetterlingen gibts aber auch noch ne ganze Menge anderen "Tier-Kram" in Costa Rica….wir haben Glueck und duerfen diese netten Geschoepfe durch eine Glasscheibe betrachten, worueber Karina ganz besonders erfreut ist. Also wirklich nichts fuers Schlafzimmer!
Besides the beautiful butterflies there are quite a number of other beasts in Costa Rica….but we are very lucky and "are allowed" to gaze at these nice creatures through a glass pane. Especially Karina is very delighted about it. Indeed nothing for the bedroom!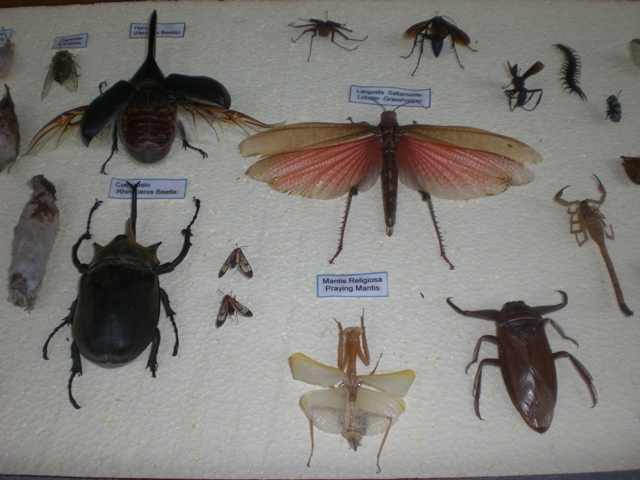 Aber Costa Ricas Tierwelt bietet noch mehr als das: Auch hier protzt man gerne mit etwas mehr PS!
But Costa Rica's wildlife has more to offer than that: Even here one proudly shows off their horse power!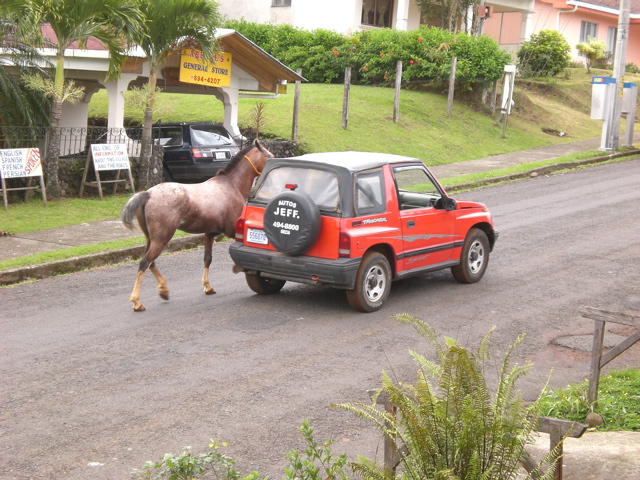 …schon angemeldet zur Fahrpruefung?
…got already registered for the driving test?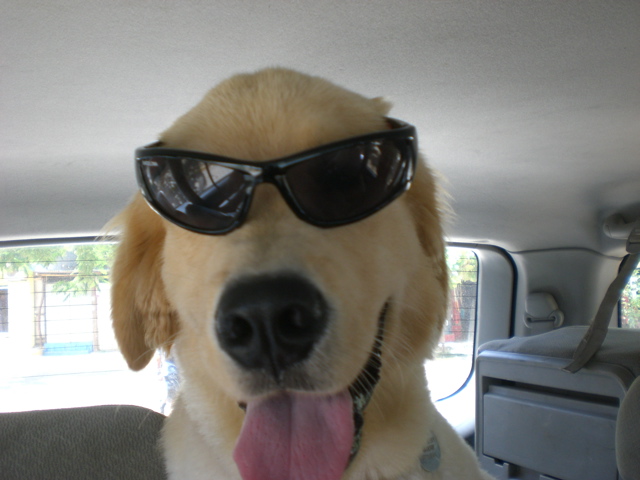 Ob ihm der Badeanzug wohl passt? Egal – Hauptsache das Essen war gut!
Does it really fit into the swimming suit? Whatever – main thing the food was good!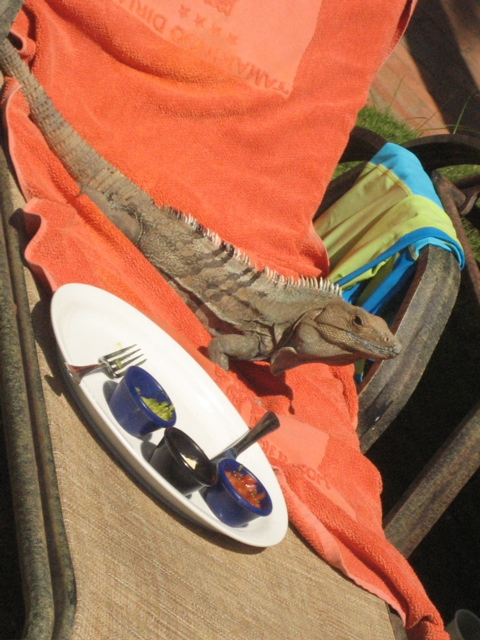 Noch ein Kriechtier?
Another reptile?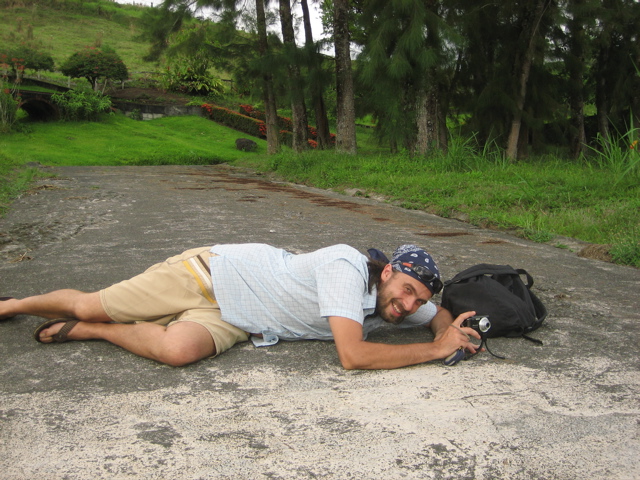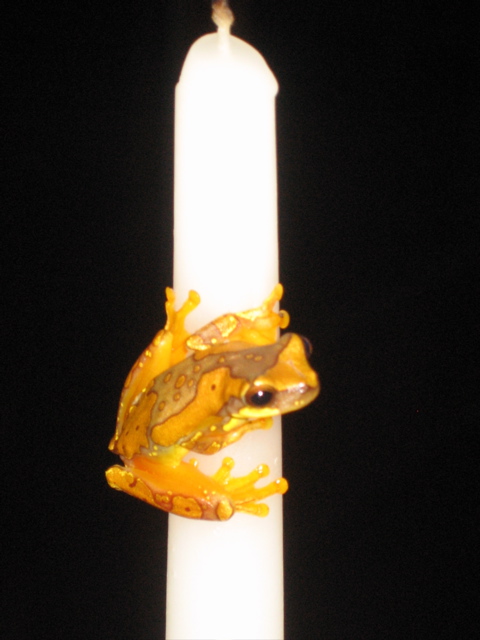 Vorsicht: Suchbild! Ja, der kleine Frosch hat sich tatsaechlich ins Restaurant verirrt und fand wohl keinen besseren Platz als an einer Kerze!
Attention: Have fun and find the hidden object! Well, the little frog got obviously lost and found no better  place than right on a candle in the middle of the restaurant!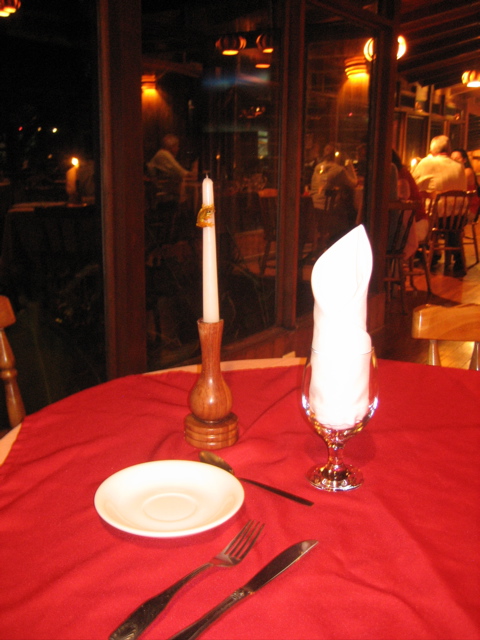 …so, und die wissen also auch was gut ist! Dieser Vogel hier war so dreist, dass er sogar auf unseren Tisch spazieren gegangen ist und da den Zucker geklaut hat.
…so, and they also know what's good! This bird was so bold that it even walked on our table to pinch the sugar from the sugar bowl.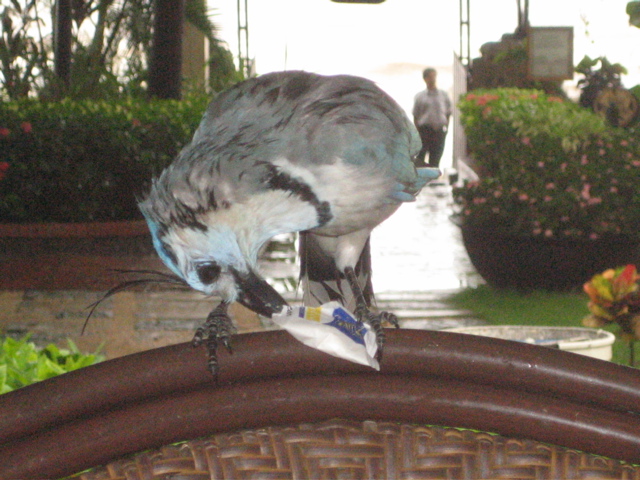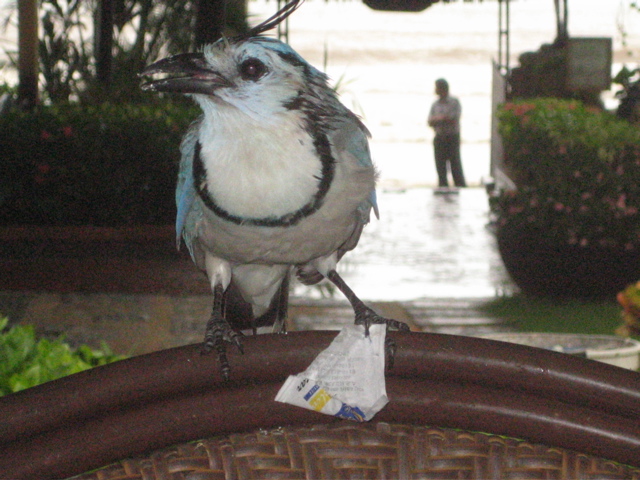 …ja und die zwei haben wahrscheinlich einfach nur Spass!
…yeah, and these two probably just have lots of fun!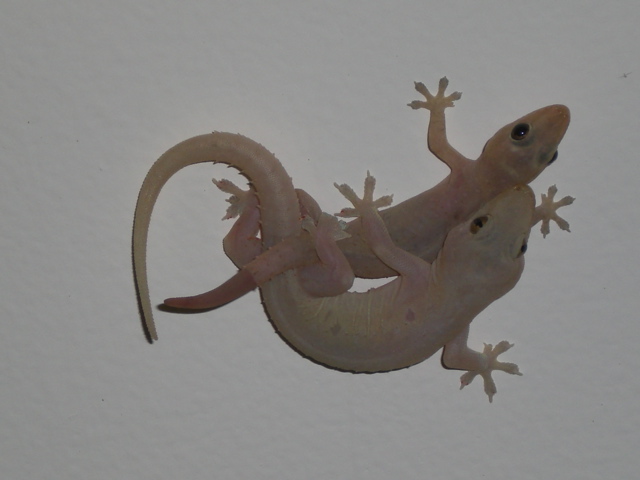 Dieses Exemplar sass genau vor unserer Nase auf einem Hoteldach.
This exemplar was sitting on a hotel roof right in front of us.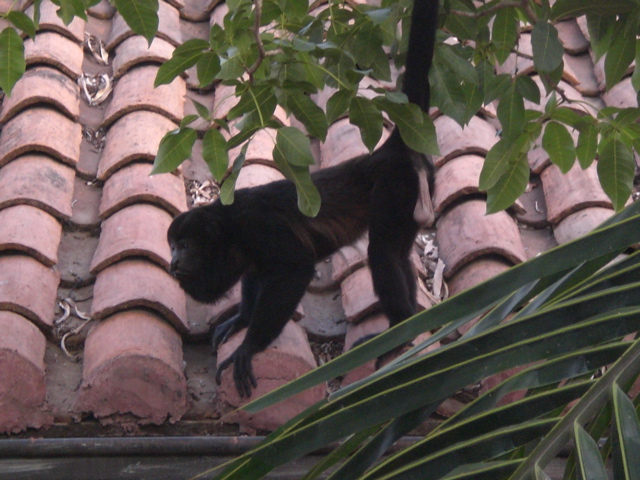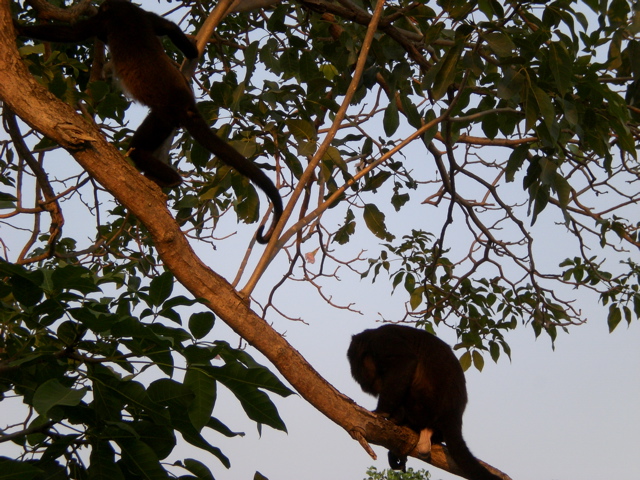 Wir haben uns erzaehlen lassen, dass diese Kakteen gar nicht so lang brauchen, um so gross zu werden, diese hier sollen nur 3 bis 4 Jahre alt sein. Unglaublich!
We were told that these cactuses don't need very long to grow this high. They are to be only 3 or 4 years old. Unbelievable!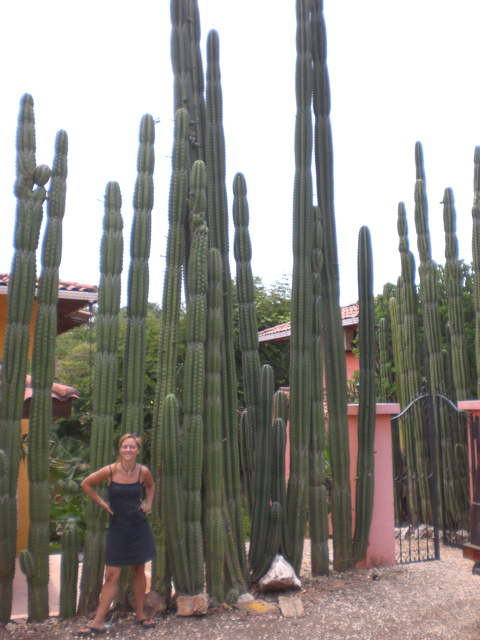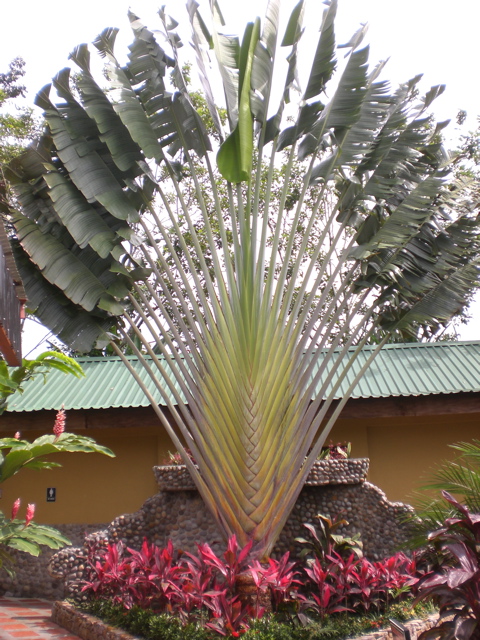 Wieder zurueck am Pazifik geniessen wir noch ein paar Tage am Strand bevor es bald zurueck nach Deutschland geht. So sieht es uebrigens aus, wenn man Kontakt zu den Liebsten zu Hause haelt, hier skypt Karina gerade mit ihren Eltern in Deutschland. Super, dass es Skype gibt.
Back at the Pacific we enjoy a couple of days at the beach before we soon have to return to Germany. By the way this is how it looks like when we keep in touch with our beloved ones, here is Karina talking on Skype with her parents in Germany - there is only to say: thanks to Skype!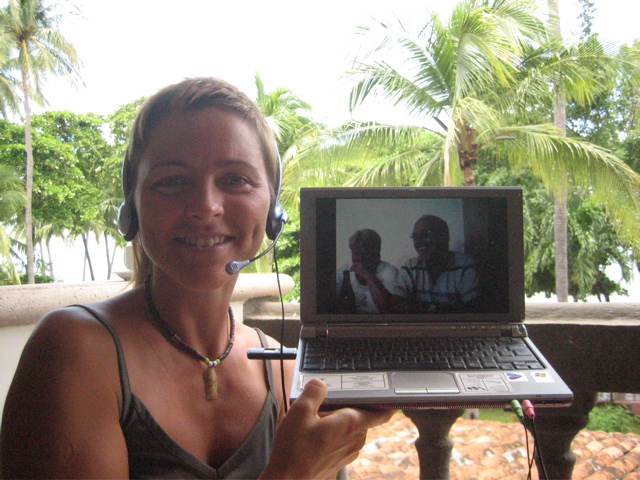 Das ist nun leider der letzte Sonnenuntergang unseres Abenteuers, denn morgen muessen wir leider – nach reichlich fuenf einhalb Monaten – Abschied von Costa Rica und somit auch von Mittelamerika nehmen.
Unfortunately that's the very last sunset of our adventure. Tomorrow we're going back to Germany after almost five and a half months of traveling. We have to say goodbye to Costa Rica and Central America.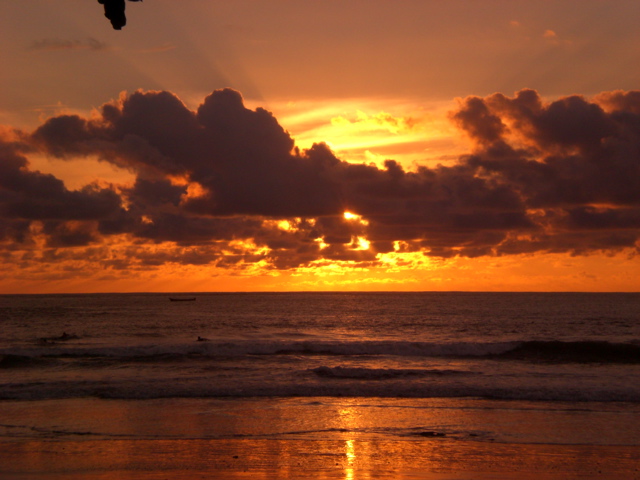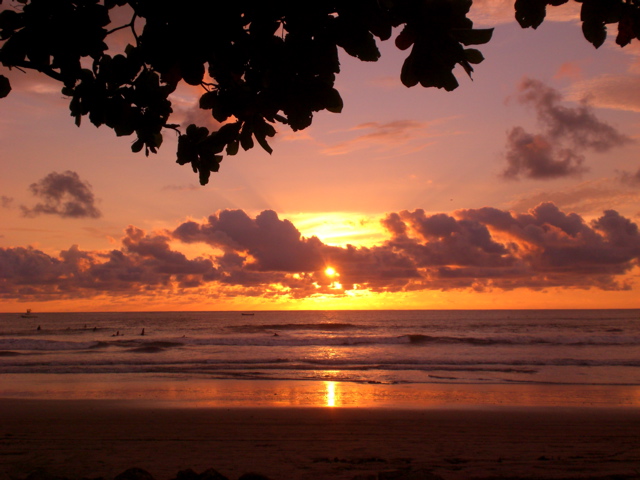 Der naechste Morgen am Flughafen von Tamarindo.
The next morning at the airport in Tamarindo.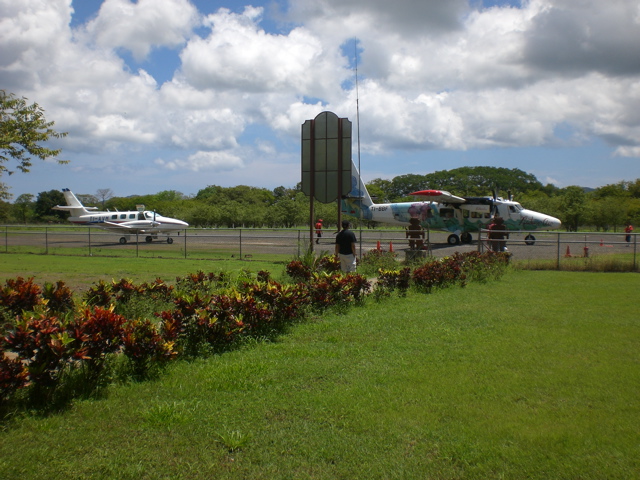 Holy crap! Da fragt man sich doch wirklich, ob man Piloten ueberhaupt vertrauen kann???

Holy crap! Its' really questionable if you generally can trust your pilot???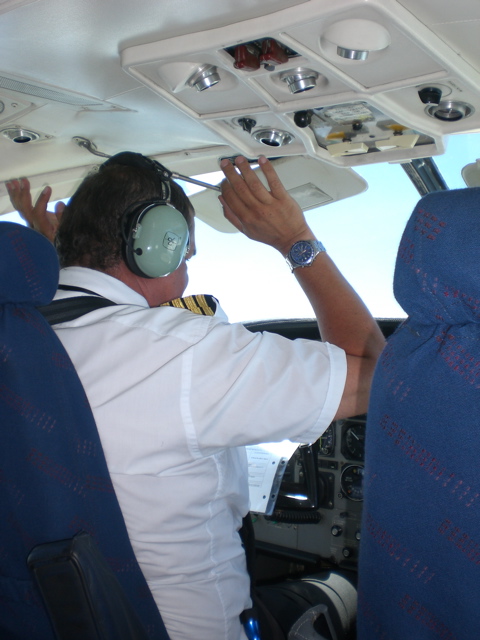 GOODBYE COSTA RICA  -  GOODBYE CENTRAL AMERICA!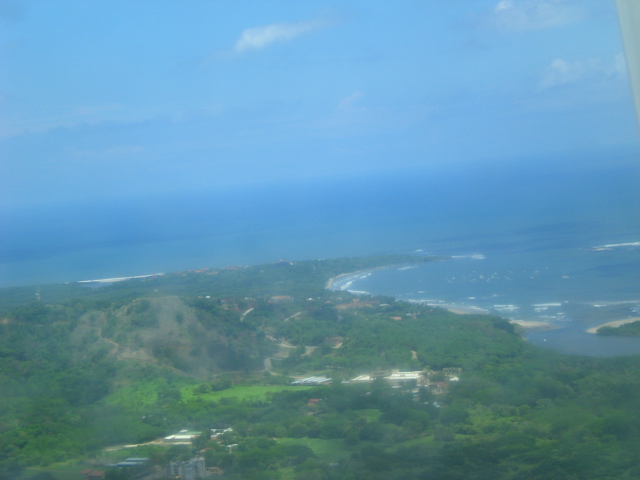 EINE UNGLAUBLICHE REISE GEHT ZU ENDE!!! – AN INCREDIBLE ADVENTURE COMES TO AN END!!!
Nach fuenfeinhalb ereignisreichen Monaten blicken wir auf – fuer immer – unvergessliche Erlebnisse zurueck. Eine Reise, die uns neben unzaehligen landschaflichen Highlights unter anderem auch die Geschichte Mittelamerikas mit seinen unterschiedlichen Laendern, Menschen und Kulturen nahe gebracht hat. Dank unserem Reisefuehrer "Lonely Planet" haben wir neben den notwendigen alltaeglichen Tipps, wie Essen, Schlafen und wie man am geschicktesten von A nach B kommt, auch alle anderen wertvollen Infos ueber Sehenswuerdigkeiten und geschichtliche und kulturelle Hintergruende erhalten. Dieses kleine Buch ist jeden Cent wert und wir wuerden es jedem ans Herz legen, der eine Rucksack Tour plant. Aber auch mit den tollen Menschen, die wir an jedem Ort getroffen haben, waren wir im permanenten Austausch. So ist es zum Beispiel nicht mehr wichtig, was man beruflich macht oder welcher Nationaltaet man angehoert; es zaehlt wirklich nur noch: Wohin? Woher? Wie lange ist man schon unterwegs? The do's and the don'ts? So werden uns viele dieser Begegnungen in ganz besonderer Erinnerung bleiben.
After five and a half eventful months we look back on unforgettable great experiences. A journey, which brought us closer to countless scenic highlights along with plenty of things about Central America's history with its very different countries, people and cultures. Our little helper "Lonely Planet" came in a handy every day and provided us with helpful information concerning accommodation, food and how to get the easiest from point A to point B.  But we also got valuable and comprehensive information about historic sites, places of interest with the entire historical and cultural background. This little book is worth every penny of it and we strongly recommend it to anyone who is planning a journey as a backpacker. But we also were in constant exchange with the awesome people we met at every location. For instance it's no longer important what's your profession or what's your nationality, the only thing which really counts is: Where are you headed next? Where are you coming from? How long have you been traveling? The do's and the don'ts? Many of these amazing encounters will be remembered by us in a very special way.
Hier nochmal die wichtigsten Stationen unserer Reise + Reiseroute! Danke an Alex, der diese Landkarte mal schnell fuer uns massgeschneidert hat!
Here again the distinctive destinations along our route! Thanks to Alex, who just very quickly created this costumized map for us!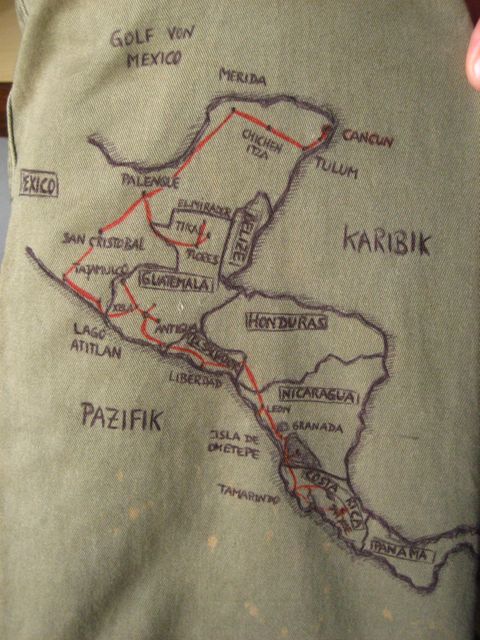 So hat uns unserer Reise nicht nur durch prachtvolle Kolonialstaedte, wie z.B. Merida und San Cristobal in Mexcio; Xela und Antigua in Guatemala und Leon und Granada in Nicaragua gefuehrt, sondern auch zu den grandiosen und beruehmtesten Tempelanlagen der Mayageschichte wie Tulum, Chitzen Itza, Palenque in Mexico und Tikal und El Mirador in Guatemala. Traumhafte Landstriche, wie zum Beispiel der Lago Atitlan, die Laguna de Apoyo, unsere Dschungeltour zum El Mirador im Norden von Guatemala oder unsere ausgedehnte Motorradtour auf der Isla de Ometepe standen auf unserem Programm.
So was our journey not only guided through magnificent colonial cities, such as Merida and San Cristobal in Mexico; Xela and Antigua in Guatemala and Leon and Granada in Nicaragua but also to grandiose and famous temple sites of the Mayan history like Tulum, Chitzen Itza, Palenque in Mexico und Tikal und El Mirador in Guatemala. Many other fantastic highlights have been on our program like the unique landscape around the Lago Atitlan or the the Laguna der Apoyo. As well on our list our unforgettable jungle trip to the El Mirador in the North of Guatemala or our extensive motorbike trip on the Isla de Ometepe in Nicaragua.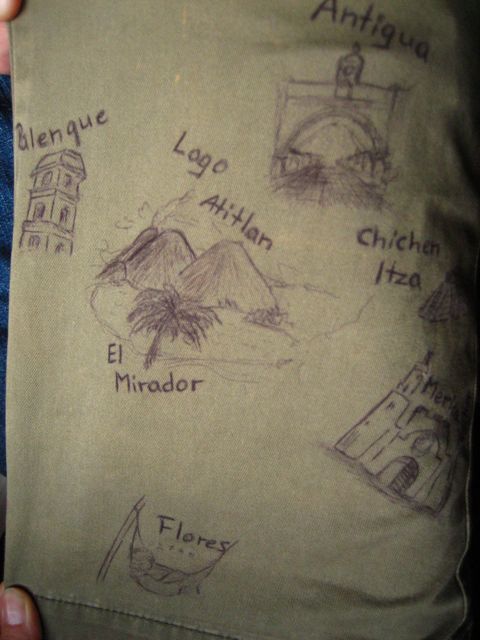 Auf atemberaubende Vulkane kletterten wir, wie den Pacaya oder den Arenal, vorbei an brodelnder Lava, rauf auf die hoechsten Berge, wie bei unserer Extremwanderung auf den Tajumulco, um aufs Dach Mittelamerikas zu steigen; von traumhaften Straenden entlang der Pazifikkueste, durch Moskitoschwaerme oder monsunartige Regenfaelle; halsbrecherische Busfahrten im Chickenbus nahe am Abgrund; an einem Drahtseil zwischen zwei Bergspitzen haengend; in den Osterprozessionen zur "Semana Santa" in Antigua untergehend; die Schulbank in unserer Sprachschule, der "Cooperativa" drueckend oder tortillabackend zwischen Mayafrauen am Markt von Chichi: all das sind wunderbare Erlebnisse und Erfahrungen, die fuer immer in unserer Erinnerung bleiben werden.
We climbed on dizzying volcanoes, like the Pacaya or the Arenal, to pass by sizzling lava, upon the hills like at our extreme hike to the roof of Central America's highest mountain, the Tajumulco; from dreamlike beaches traveling alongside the Pacific coast, through swarms of mosquitoes or heavy rain like it's monsoon; breakneck bus rides in the chicken buses on the verge to crash into the depth; on a steel wire rope hanging between two mountain peaks; vanished in the holy Easter processions at "Semana Santa" in Antigua; hitting the books again in our language school "La Cooperativa" or tortilla-baking at the market in Chichi: all these are wonderful adventures and experiences which will be for ever in our memories.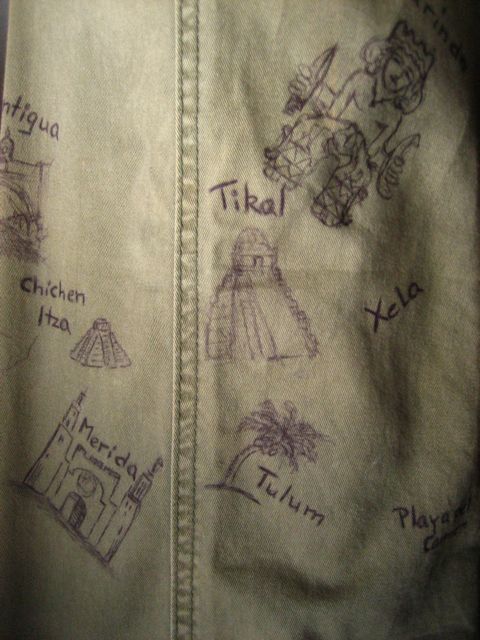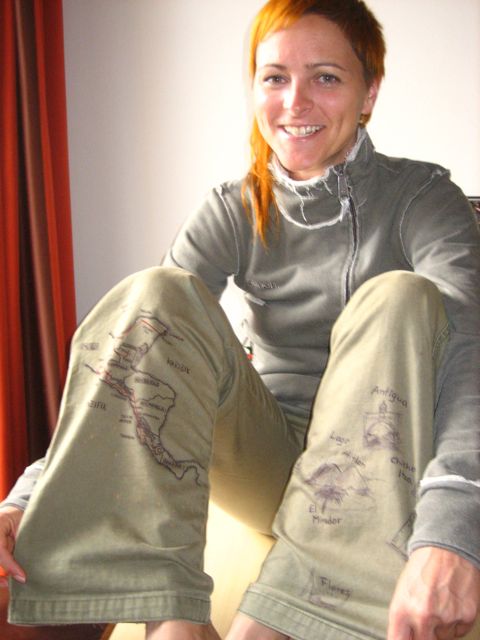 Diese Reise hat unseren Blick und unsere Betrachtungsweise fuer unsere Zukunft massgeblich veraendert.  Wir konnten unseren Horizont fuer die Schoenheit der Natur und der Menschen erweitern. Was Leben alles bedeuten kann, haben uns die vielen Menschen mit ihren unterschiedlichen Kulturen gezeigt. Wir haben erfahren duerfen, dass glückliche Menschen nicht auf das Glück fokussiert sind, sondern einfach leben und die Freuden des Lebens geniessen! Jeden Tag!!!
This journey has definitively changed our approach and our view on how we look at certain things in the future. We could broaden our horizon for the beauty of nature and human beings. What life all can represent was revealed to us by all the people with their different cultures. We came to know that perfectly happy people aren't focused on the purchase of happiness but simply live their lives and enjoy every single moment of it! Every day!!!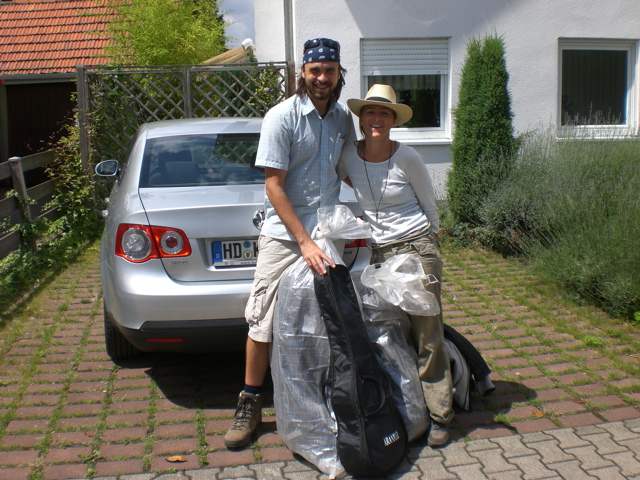 WAS KOMMT ALS NAECHSTES???   WHAT'S GOING TO BE NEXT???
Auch wenn unsere Reise durch Mittelamerika nun zu Ende gegangen ist, wollen wir trozdem mit Puscheltours weitermachen und euch nach wie vor auf dem Laufenden halten, was bei uns so in Zukunft passiert. So duerft ihr euch ueber Berichte aus der Schweiz und New York City freuen. Und wer weiss denn schon, wo's noch ueberall hingeht??? Wir freuen uns jetzt schon drauf, unsere Erlebnisse mit euch zu teilen.
Even though our journey has come the an end, we still want to go on with Puscheltours and keep you guys posted about our future steps. You can look forward to following articles about Switzerland and New York City. And who knows where we'll be headed next??? But we are already thrilled to share our adventures with you guys.
"THE PUSCHELS"  ALEX & KARINA